In this article, we will explore what exactly WeCom (WeChat Work) is and how it can be a key extension for businesses to maximize both their top and bottom lines in China.
Table of Content
Common Challenges Businesses are Facing in the China Market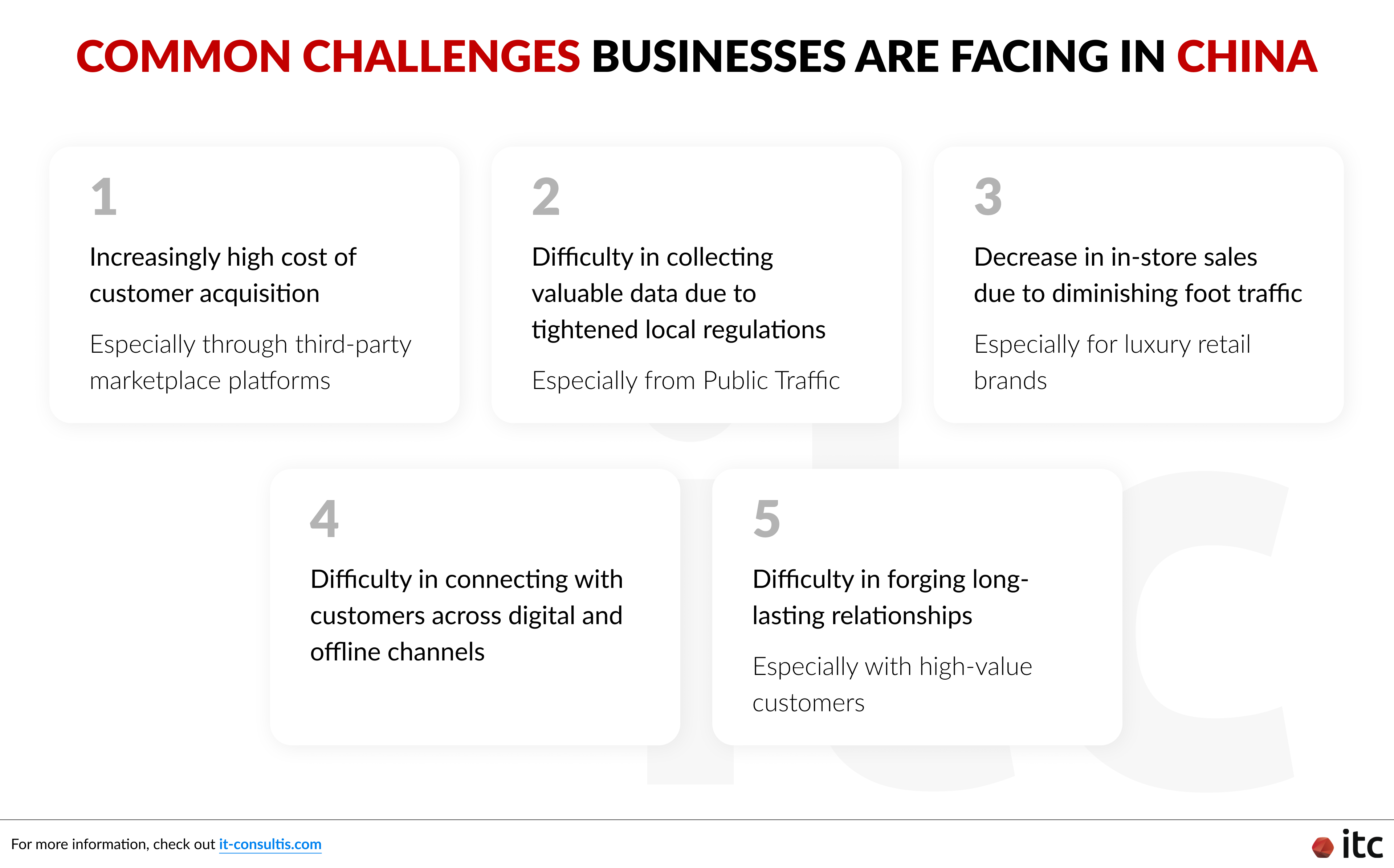 While China has the largest eCommerce market in the world, generating nearly double the revenue of the United States' in 2022, this also causes one of the most significant hurdles for brands operating in China: the increasingly high cost of customer acquisition, especially through third-party marketplace platforms like Tmall and JD.com.
These platforms are popular with consumers in China, but they can make it difficult for brands to compete for customers' attention and cultivate a direct relationship with them.
Additionally, brands are also struggling with collecting valuable data from these Public Traffic platforms due to tightened local regulations surrounding data privacy and security, such as the PIPL.
Furthermore, in terms of physical retail channels, businesses in China have also been witnessing a decrease in in-store sales due to diminishing foot traffic. In 2022, foot traffic in local malls was reportedly down by 30% – 35% for luxury stores.
However, as China reopens its borders and offline retail gains back momentum, developing innovative strategies to connect with customers seamlessly across digital and offline channels, drive online-to-offline and offline-to-online (O2O) traffic, and capture data is ever more important.
Overall, forging long-lasting relationships, especially with high-value customers in China, can be very challenging. The market is highly competitive, and consumers have high expectations for the brands they engage with.
Therefore, brands need to differentiate themselves and create a unique value proposition that is engaging and resonates with their target audience, one of which is via clienteling.
What to Know about Clienteling in China
It is a critical aspect of building brand loyalty and nurturing long-term relationships with top customers in China's competitive market, contributing to:
Establishing a direct connection and building a long-term relationship with the customers
Delivering exceptionally tailored services and content to the target
Complimenting engagement in physical retail and online channels
This is especially valuable for businesses with a high average transaction value and a low number of customers, including: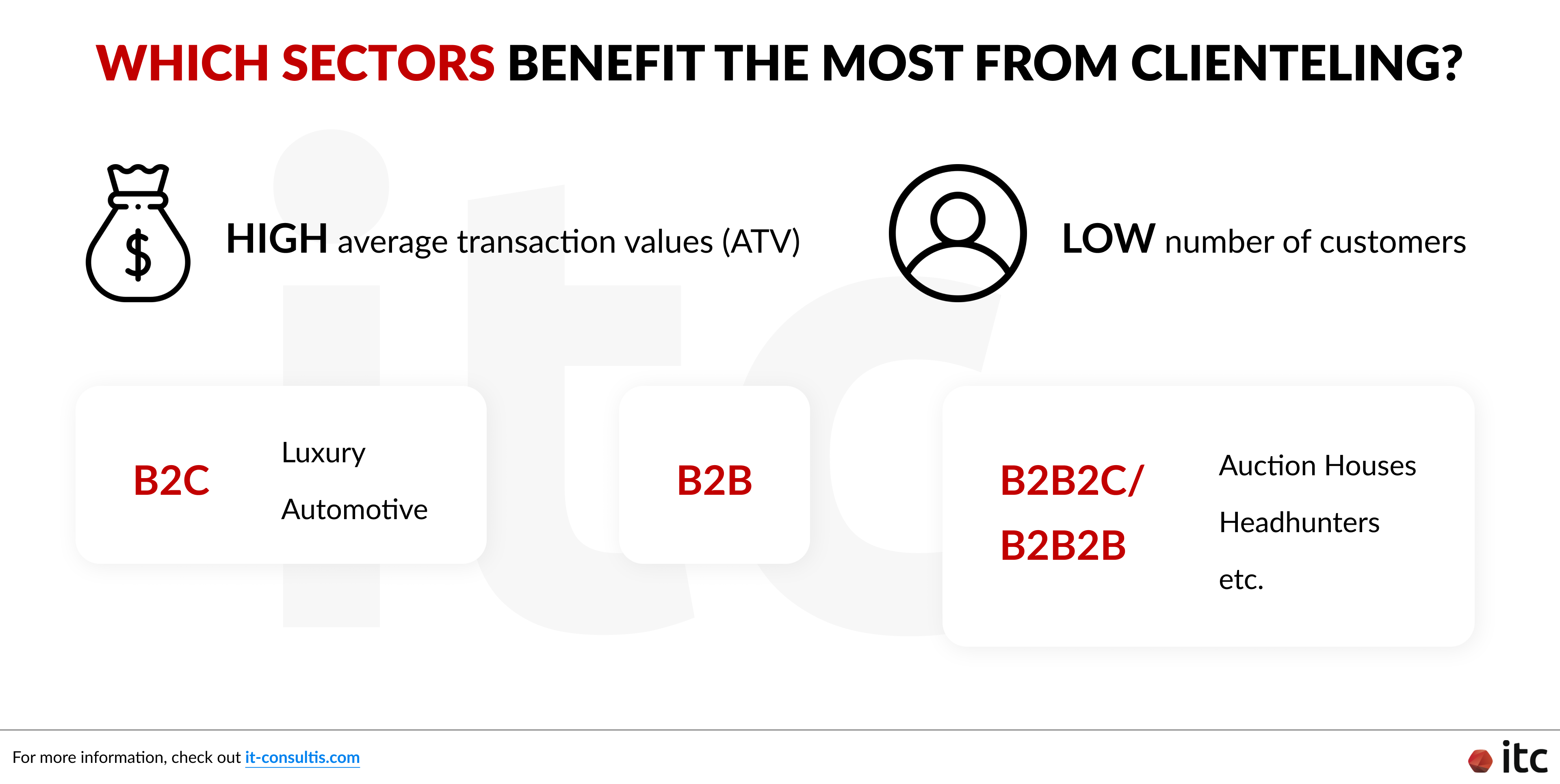 However, there is always room for improvement.
In China, many Sales Associates (SAs), Client Advisors (CAs), and Customer Service (CS) staff are using their personal social accounts on the popular messaging and social media app WeChat for clienteling communication.
This has raised a number of issues (more details will be explored in the WeCom vs WeChat section), including:
Scattered communication with customers across channels
Blurring lines between private and professional communication
Lack or limited ownership of prospects and customers for the brand
Difficulty in managing the clienteling standard operation procedure (SOP)
Inability to streamline cross-team communications and track behaviors
Lack of data insights
Information security risks
To address these challenges, investment in a dedicated clienteling tool integrated with the WeChat ecosystem like WeCom (WeChat Work) can be a game-changer for businesses to up their clienteling game in China!
In the next section, we will explore how exactly WeCom can help businesses overcome the challenges of clienteling in China.
WeCom, used to be known as WeChat Work, is a professional tool developed by Tencent, the parent company of WeChat.
One of the most significant advantages of WeCom is its robust clienteling capabilities. In particular, Sales Associates, Client Advisors, and Customer Service staff can use their WeCom accounts to engage with clients' WeChat accounts, thanks to the interoperability between WeCom and WeChat.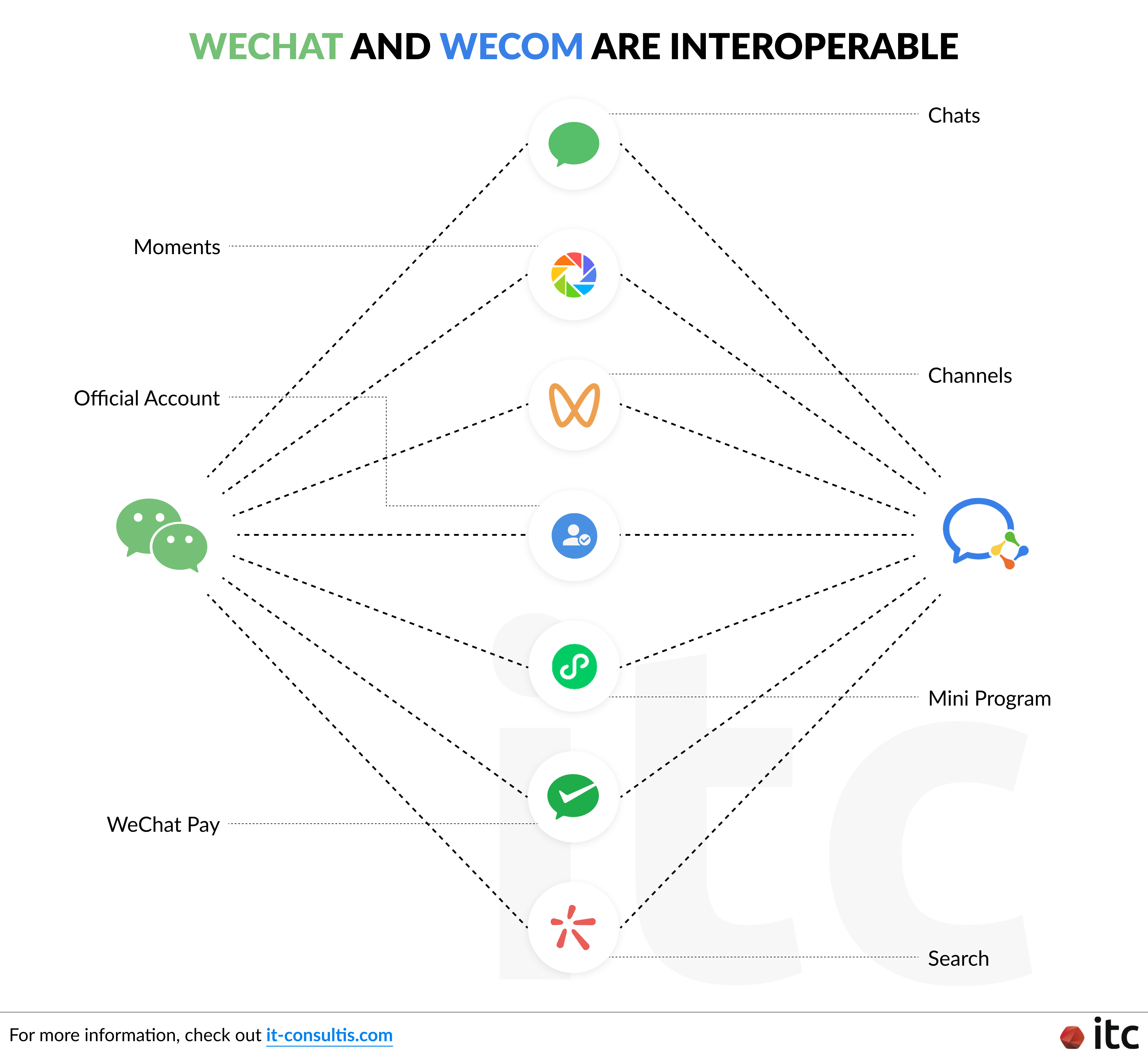 By leveraging holistic data to inform their communication and outreach efforts, brands can send targeted, relevant messaging from a professional platform that resonates with the customers and build a deep and long-term relationship with their most high-value clients.
In recent years, WeCom (WeChat Work) is becoming a key extension to the brands' approach to Private Traffic management – a crucial piece to businesses' digital transformation roadmap in China with more and more companies getting on board.
According to the WeCom Whitepaper 2023 by Tencent Advertising Team: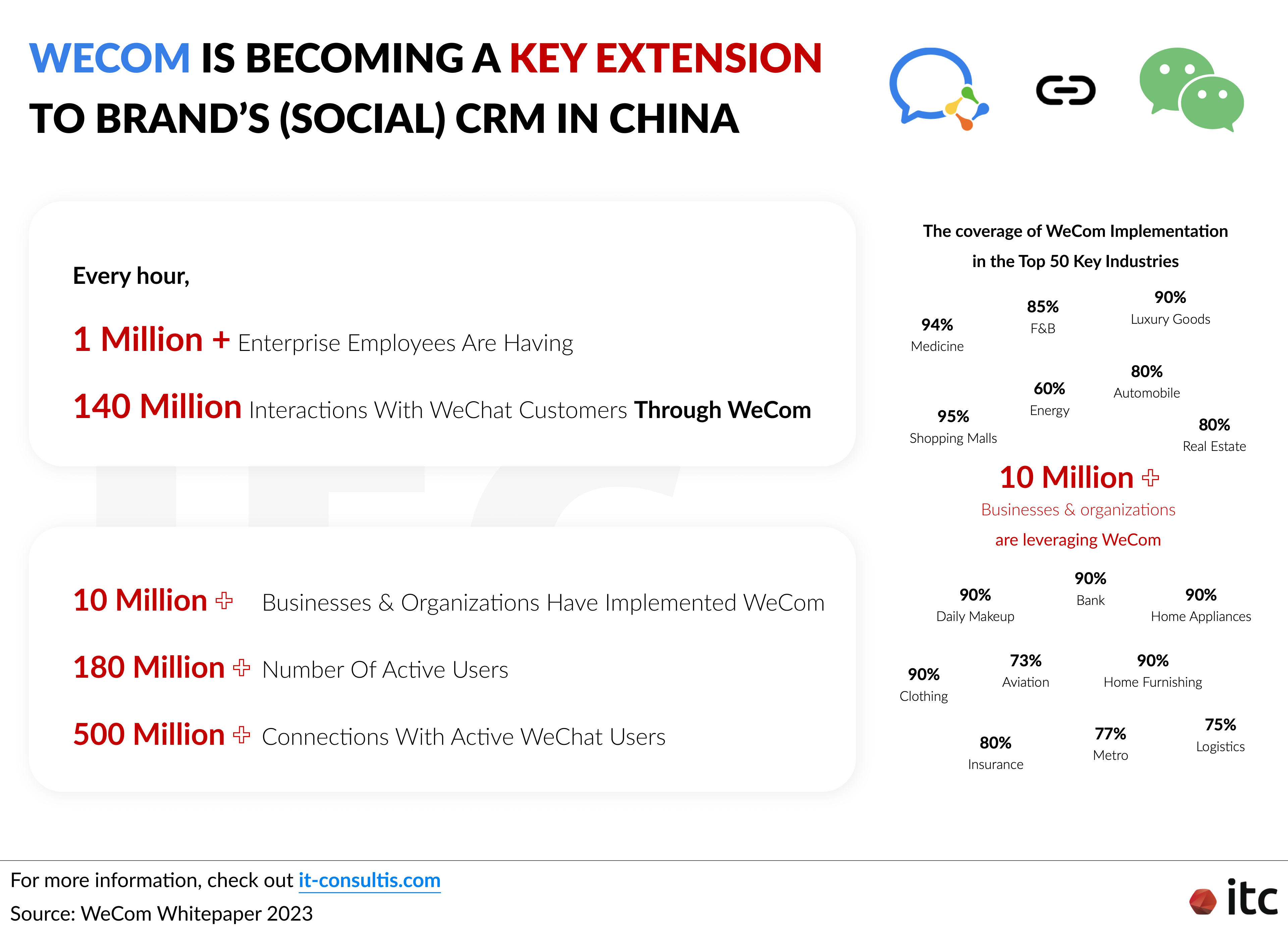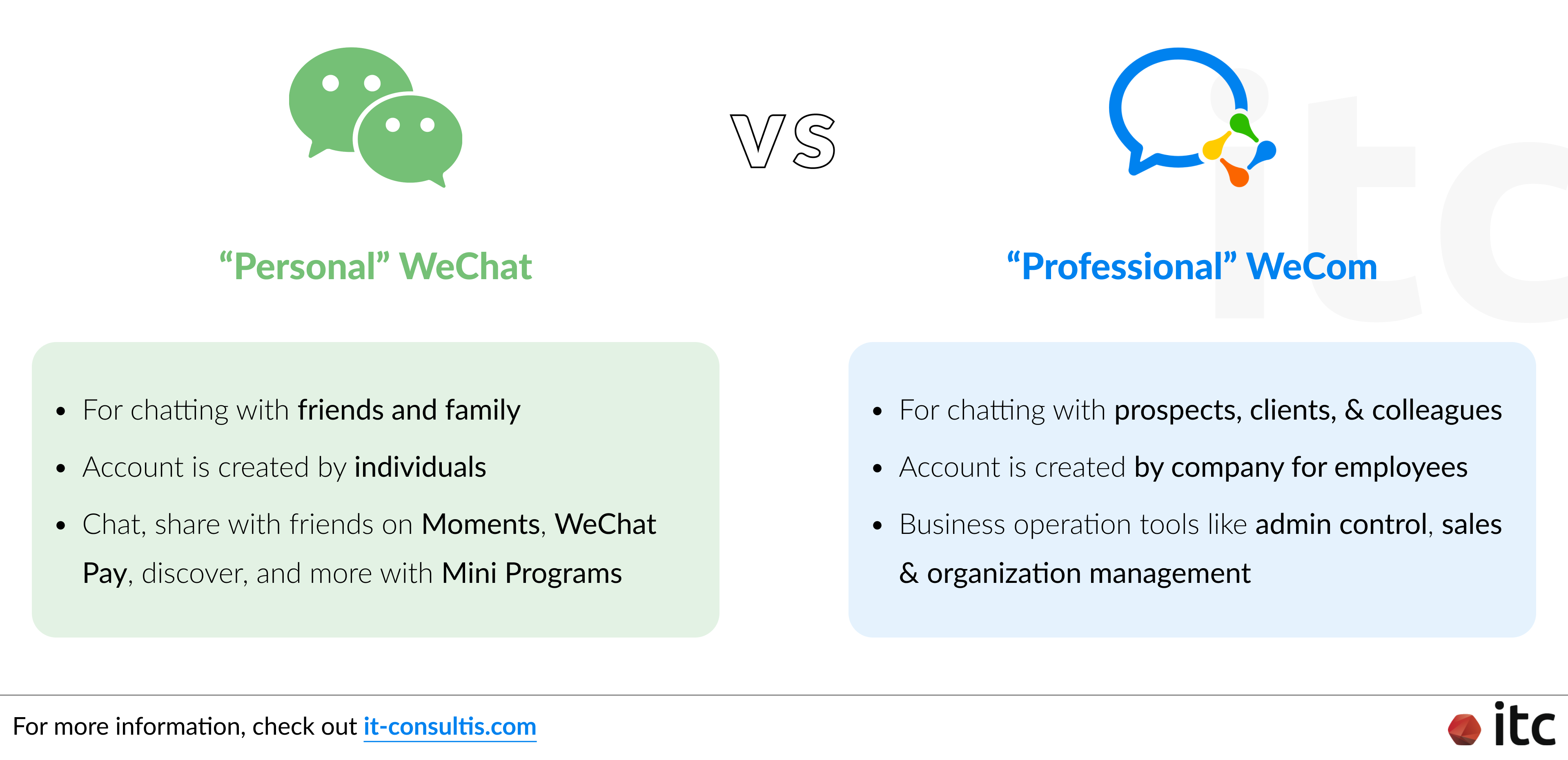 In addition to chatting, the business and employees also have access to business operation tools including admin control and sales and operation management (More details on various WeCom (WeChat Work) functions and capabilities can be found in the next sections).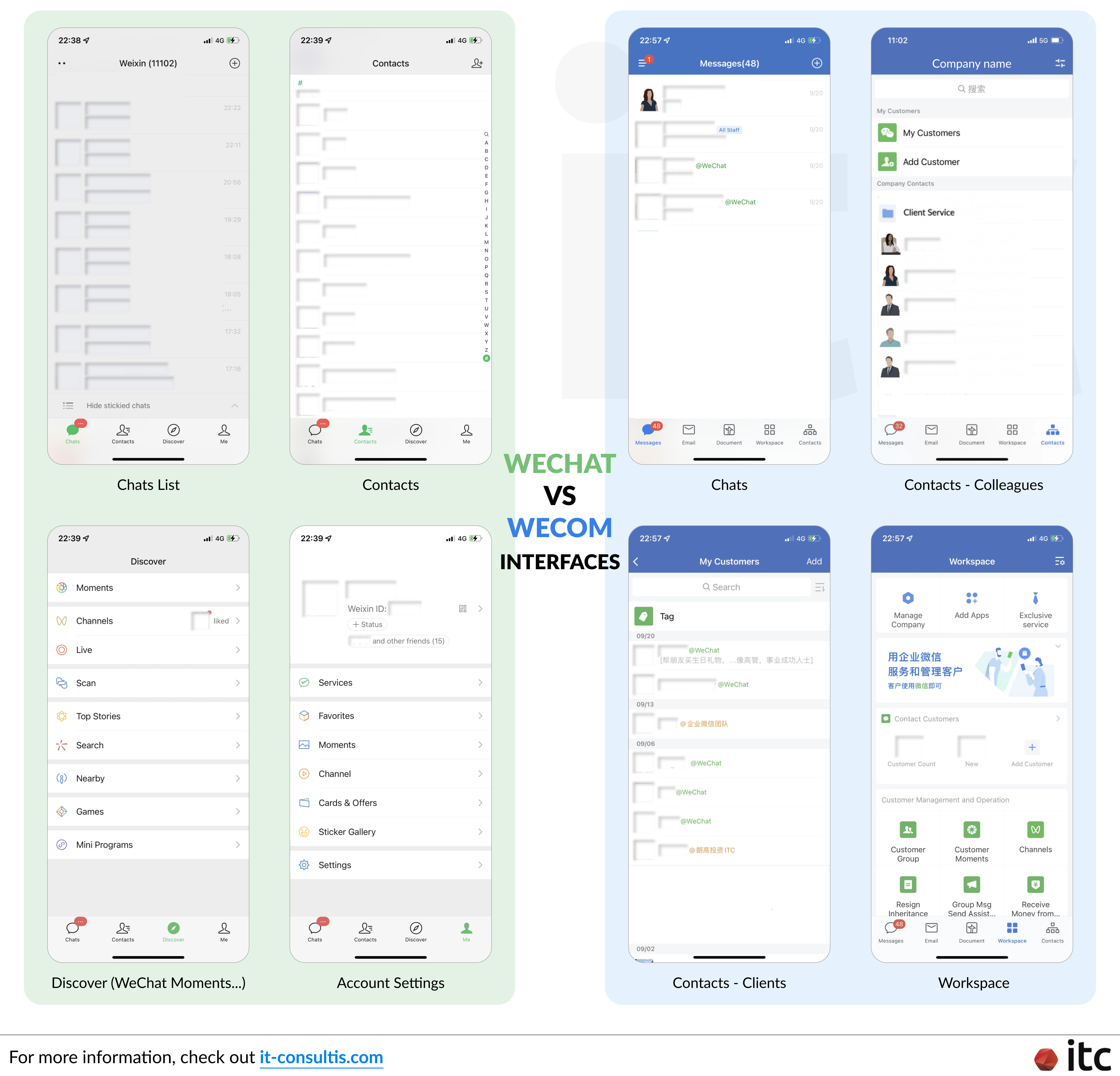 With the robust clienteling features, WeCom (WeChat Work) can help alleviate or completely remove the common challenges SAs, CAs, and CS staff face when leveraging WeChat for communication with customers.
To sum up, by leveraging WeCom, brands can now:
Interconnect the entire WeChat ecosystem and physical retail to deliver seamless and personalized omnichannel customer experiences and drive traffic to other channels (O2O)
Showcase a professional, trustworthy, and consistently on-brand image across the team to the customers
Fully own and control all contacts with dashboards and lead inheritance functions to prevent loss of clients due to internal changes
Set up, implement, and monitor clienteling standard operation procedure (SOP) to deliver quality personalized experiences
Drive data collection and exportation and leverage direct tagging and lead scoring functions to enrich and build holistic 360° customer profiles
Facilitate cross-team communication and collaboration (Marketing, Sales, and Customers departments) and synchronize trackable customer data (including integration capability with the brand's CRM system)
Enable messaging archiving; and prevent information leaking via screenshots with the watermarking function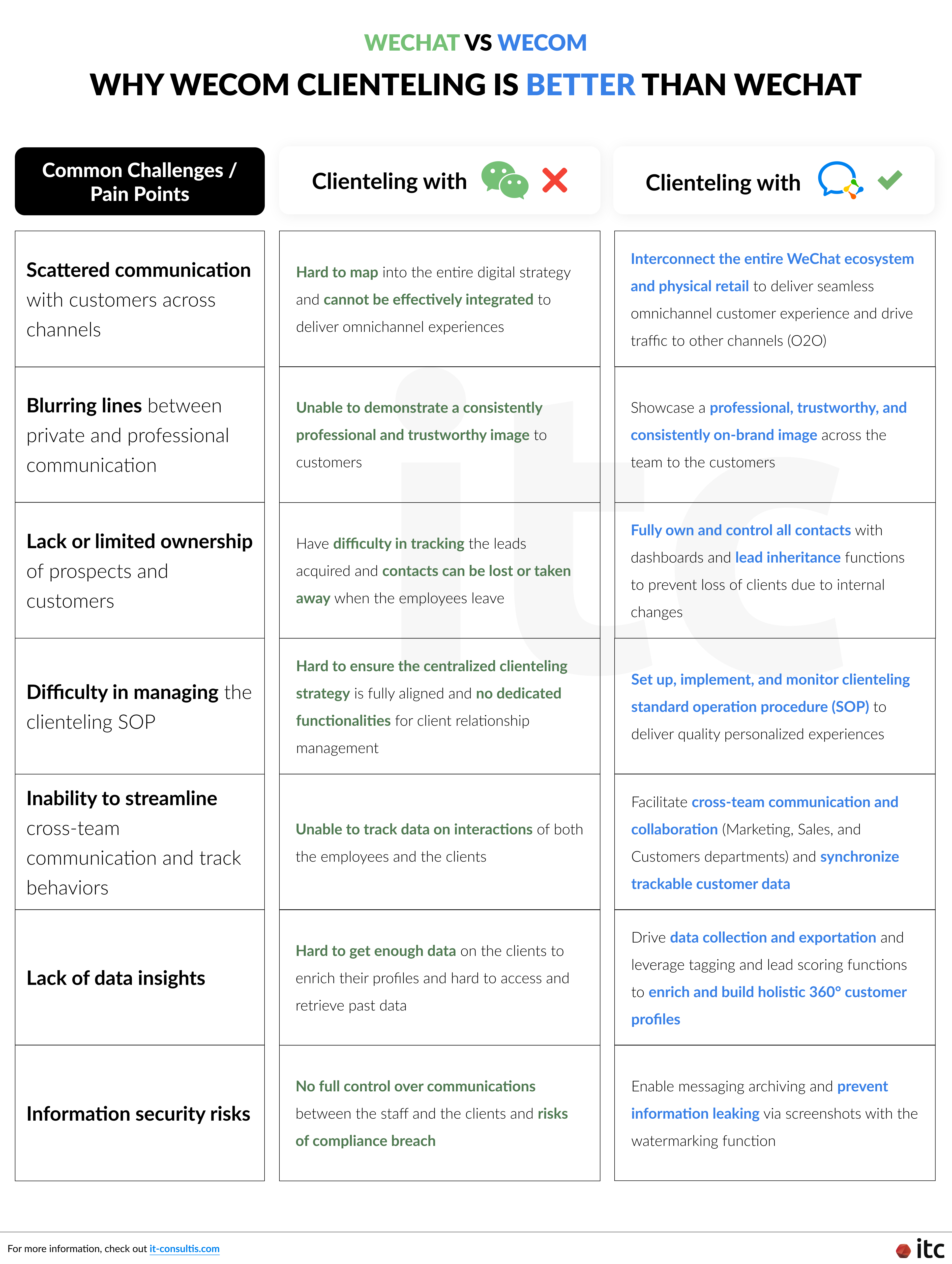 Key Takeaways
Here are the 6 key takeaways about WeCom (WeChat Work) for brands operating in China to keep in mind:
WeCom is a professional and corporate version of WeChat that is strongly tied to the WeChat ecosystem.
WeCom addresses WeChat's weakness in CRM and helps protect brands' ownership of their customer contact databases.
WeCom streamlines the management of branding, marketing, and lead generation to keep the staff well-aligned with the brand's strategy.
Brands can leverage WeCom clienteling to provide highly tailored customer service, improve engagement, and build long-term personal relationships with the top customers, ultimately boosting customer satisfaction and loyalty.
With direct tagging through WeCom, it complements the indirect profile capture by Marketing Automation platforms to enrich and build more holistic customer profiles.
The WeCom platform can also be integrated with the brand's CRM system to achieve data synchronization and help resolve data silo issues.
Overall, WeCom clienteling is a powerful strategy to complement brands' acceleration of digital transformation roadmap in China.
FAQs
How Much does WeCom Cost?
A standard WeCom account is free to use. The advanced features, such as WeChat Pay and WeChat Customers, currently cost 300 RMB (to be paid as a verification fee) every two years. WeCom also has a marketplace full of different third-party APPs, extensions, additional cloud storage space, and phone minutes that can be purchased.
Do keep in mind that the cost is subject to change in the near future.
Is WeCom Available in English?
Yes, WeCom has 2 languages – English and Chinese. Both desktop & mobile apps are available in both languages. In addition, the Admin backend and Help Center are mostly translated. While you might come across some areas that may have not been translated yet – WeCom is generally easy to use for English speakers.
How is WeCom Connected with the WeChat Ecosystem?
WeCom can be interconnected with WeChat Official Account (OA), WeChat Channel, WeChat Mini Program, WeChat Pay, and other scenarios within the WeChat ecosystem.
For instance, customers can reach out to a Sales Associate (SA)'s WeCom account from the brand's WeChat Channel, or SAs can share WeChat OA articles directly on WeCom, or they can receive money from the customers remotely through WeCom, and so on.
When are We Using WeCom to Chat with Customers? Do the Customers Need to Leave WeChat?
No, customers will use their WeChat to engage with the Sales Associates' WeCom. From their end, they will see the SAs with official branded profiles rather than personal WeChat ones.
Do All Staff Need to Have a Company Phone to Use WeCom?
No, they can use WeCom on their own cell phones. The Chinese staff should already have their own WeChat accounts & Chinese Identity Cards.
What Brands are Currently Using WeCom (WeChat Work)?
By 2023, over 10 million brands in various B2C, B2B, and B2B2C/B2B2B industries and sectors in China have invested in WeCom integration, including those in luxury retail (Gucci, Louis Vuitton, Dior, Cartier, Moschino, etc.) and others in Education, F&B, Medicine, Automobile, Real Estate, Banking, Aviation, Traveling, Headhunting, and so on.
Companies can easily meet regulatory compliance requirements and reduce the risk of legal or security issues.