Onboarding customers onto WeCom (WeChat Work) is only the first step to establishing meaningful connections. Transforming the initial brand interactions into loyal, repeat customers requires ongoing efforts to maintain engagement and stay on their top-of-mind.
Brands need the right strategies, effective approaches to change management, and well-defined standard operating procedures (SOPs).
In this article, we will uncover what brands need to take into consideration to optimize branding and maximize visibility on WeCom to elevate customer engagement, lead generation, and retention.
Table of Content
When comparing WeChat's personal contact card to WeCom's professional branded contact card, there's a significant difference.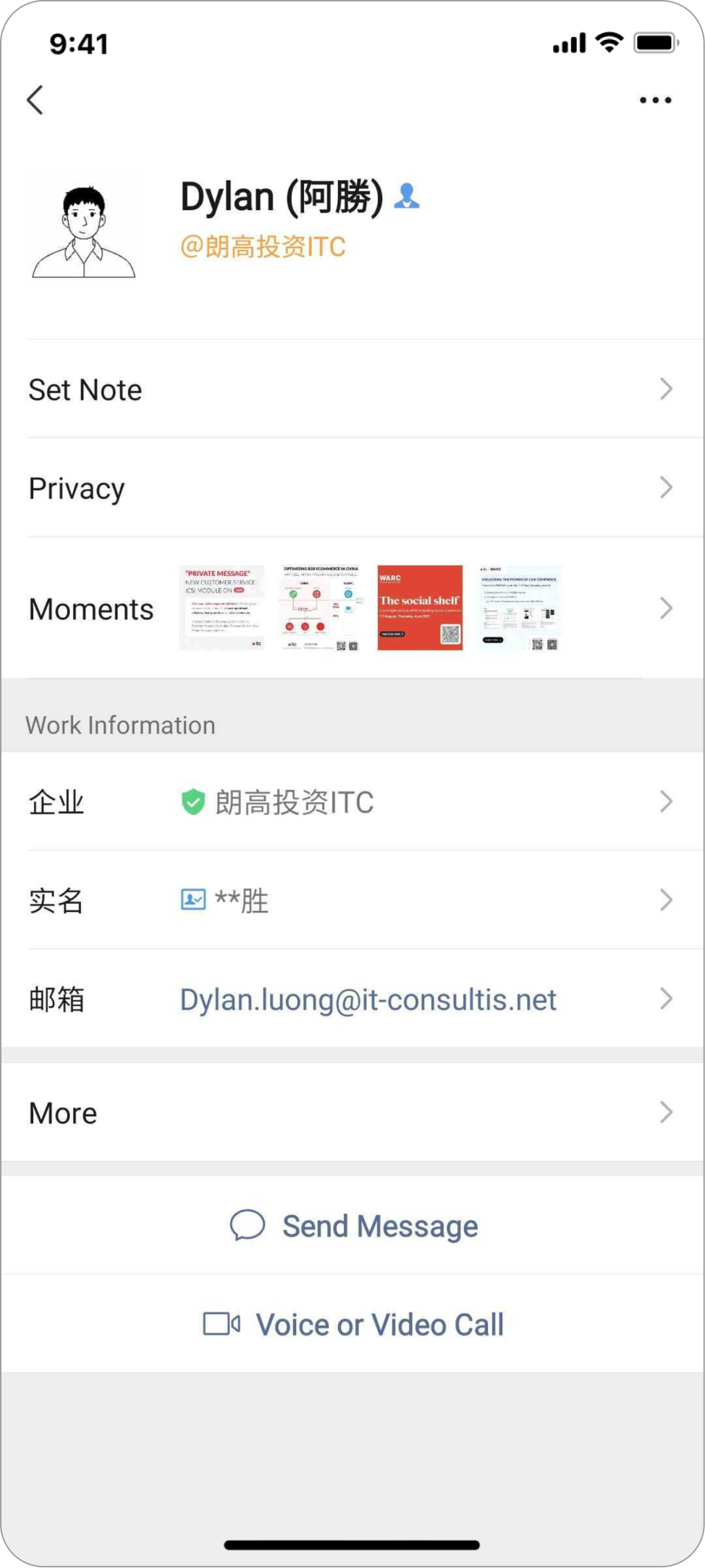 This branded contact card serves as a free "mobile billboard" for your company, and its effectiveness increases the more employees the company has. Each time a customer adds their WeCom, they gain access to not only the fundamental details but also access to key brand channels, such as:
The official website
WeChat Mini Program
WeChat Channels
The employee's WeCom Moments
2. Post WeCom Moments: Free Moments Advertising & Direct Marketing
WeChat Moments is one of the core features of the WeChat super app, functioning similarly to the "news feed" on Facebook or Twitter in the Western ecosystem.
They allow users to share updates, videos, Official Account articles, and more. However, Moments on WeChat offer a higher level of intimacy and privacy, as, most of the time, only people in your circle of friends (contact list) can see your posts.
According to China Internet Watch (2023) and Statista (2023):
780 million active users are on WeChat Moments
Over 120 million active users are posting on WeChat Moments every day
The majority of WeChat users access Moments every time they open the app
Now, what exactly are WeCom Moments? They are essentially Moments posted by professional WeCom accounts, distinct from personal WeChat accounts.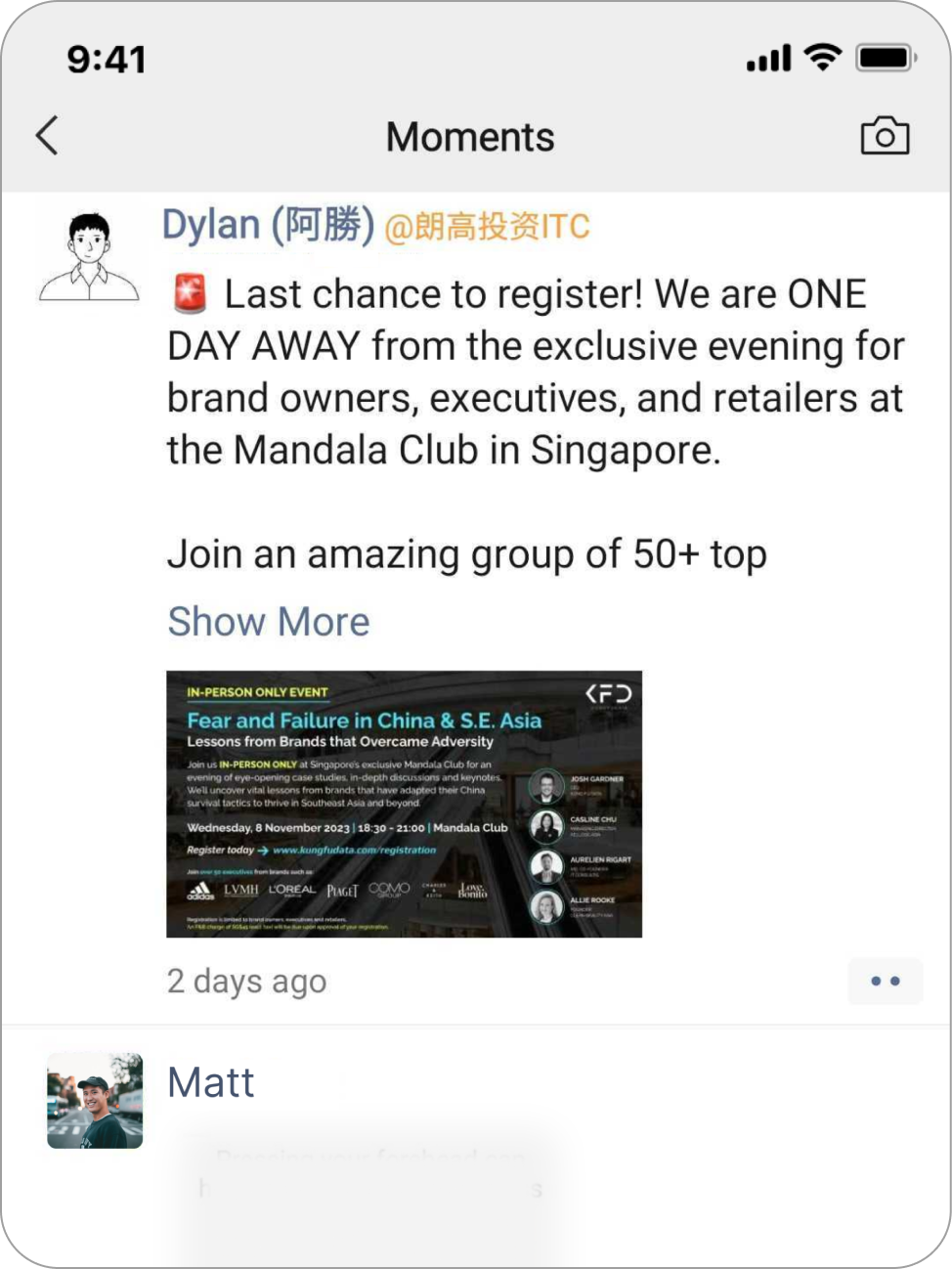 As the competition for customer acquisition intensifies due to the growing number of platforms (e.g., Douyin, Xiaohongshu/RED, Tmall) and players in the market, and WeChat limits the visibility of Official Account articles, WeCom Moments emerge as brands' next go-to option for capturing user attention right within their personal feeds.
On certain campaigns, the brand visibility can soar to 60-70%, and the expense of retargeting users is notably lower.
To ensure well-targeted WeCom Moments publication that can enhance lead generation and conversion, here are 3 key aspects for brands to consider:
a. Consistency in Messaging
The crucial distinction between personal WeChat Moments and professional WeCom Moments is that Sales Associates now represent the brand, publishing under the brand's name.
Therefore, everything they post must convey a consistent, professional, yet personal message and appearance that aligns with the brand image, reinforcing the brand's position in the minds of customers.
What's more, unlike before, the Moments publication can now be overseen and managed by the brand, preventing inconsistencies and inaccuracies.
b. Publication Methods
How can WeCom Moments be published? There are two common approaches:
Employees individually post the Moments themselves.
The administrators set up the Moments to be posted and notify the employees to publish. This method grants brands significant control over when and how branded WeCom Moments are shared while still allowing employees to add personal touches.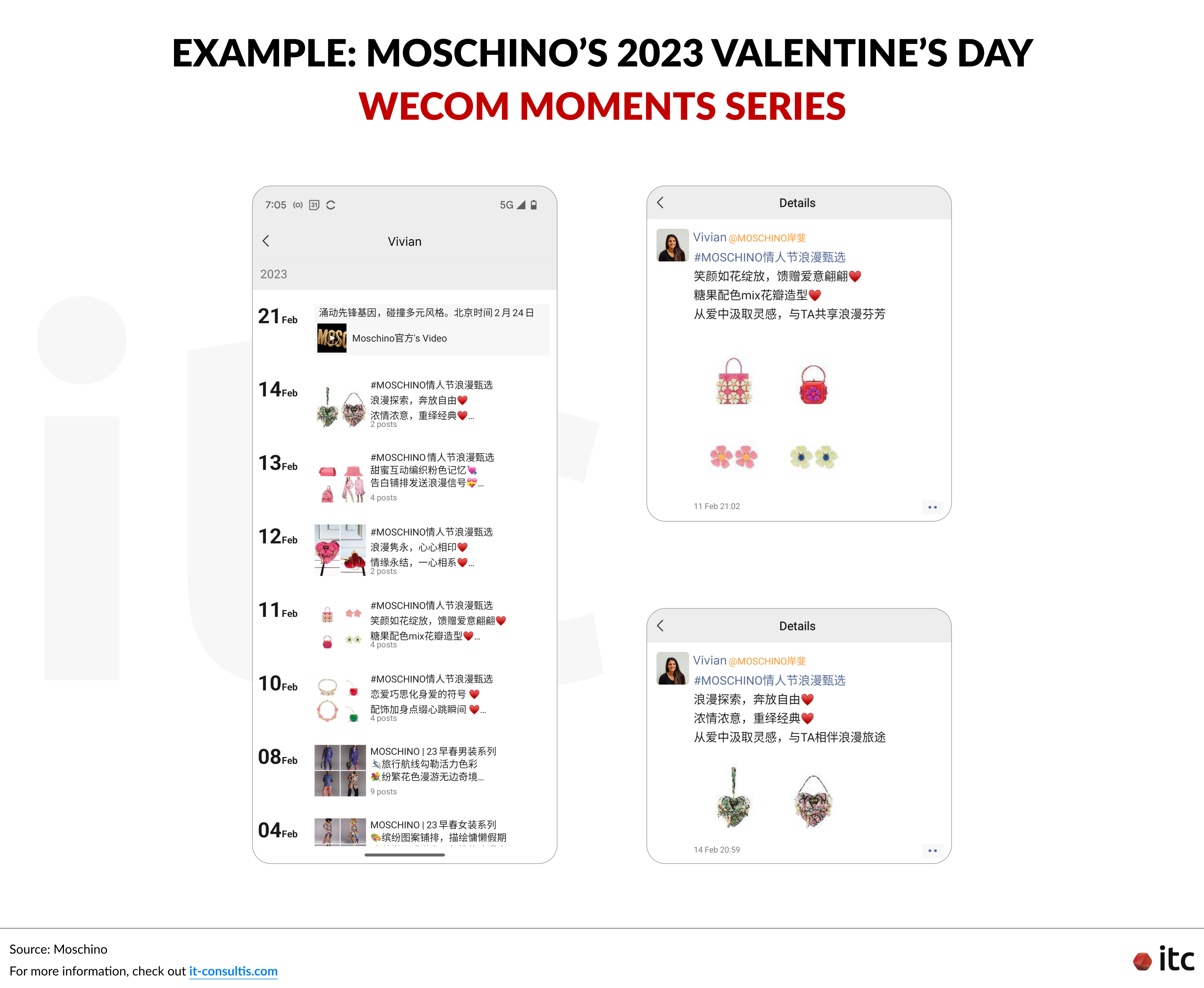 Besides the new WeCom Moments appearing on customers' feeds in real-time, brands can also enable the display of Past Moments from the WeCom contact card, as seen in the above image (left screenshot).
c. Key Content Approaches
Depending on the marketing goals and what the brand aims to highlight, Moments can be customized to serve the following 4 key content strategies (though not limited to these):
Announcing new product launches
Promoting events or campaigns
Sharing WeChat Official Account articles
Notifying users about live streams
These considerations will help brands make the most of WeCom Moments and enhance customer engagement and brand visibility.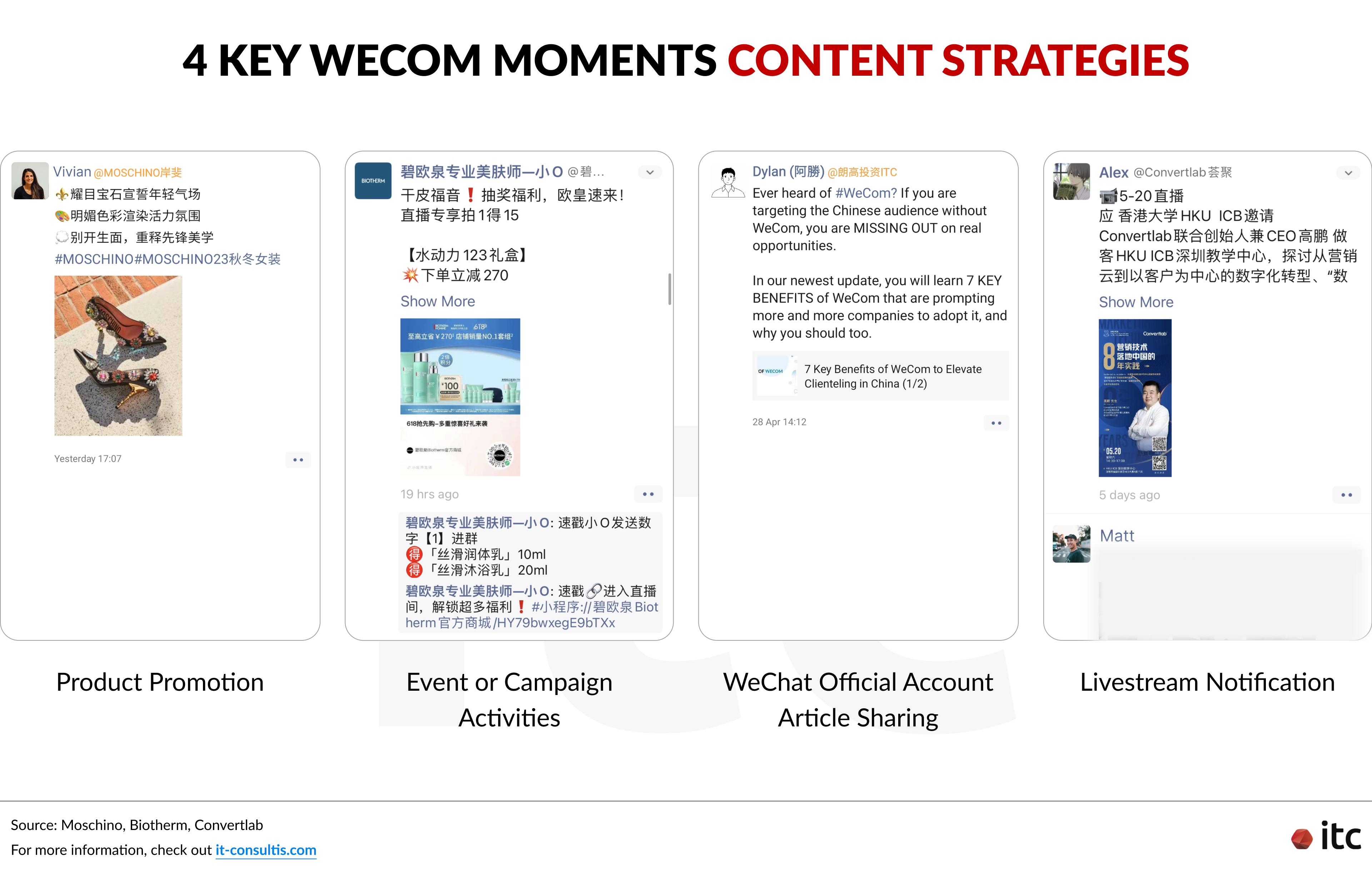 3. Personalize Welcome Journey: Positive First Impression
Welcome Journey
The first interaction between a business and a customer is vital. It significantly influences the customer's initial perception of the company.
In addition to setting up a standard Welcome Message with a touch of personalization, such as addressing the customer by name, brands can also craft Welcome Messages with enticing offers to encourage customers to connect and remain engaged with the Sales Associates' WeCom accounts. This could include discounts or service vouchers.
Moreover, brands can break away from using the same Welcome Message for all customers and situations. By utilizing third-party supporting tools like the ITC Clienteling Solution, brands can generate parametric WeCom QR codes and design tailored Welcome Journeys for specific customer segments or entry points/channels.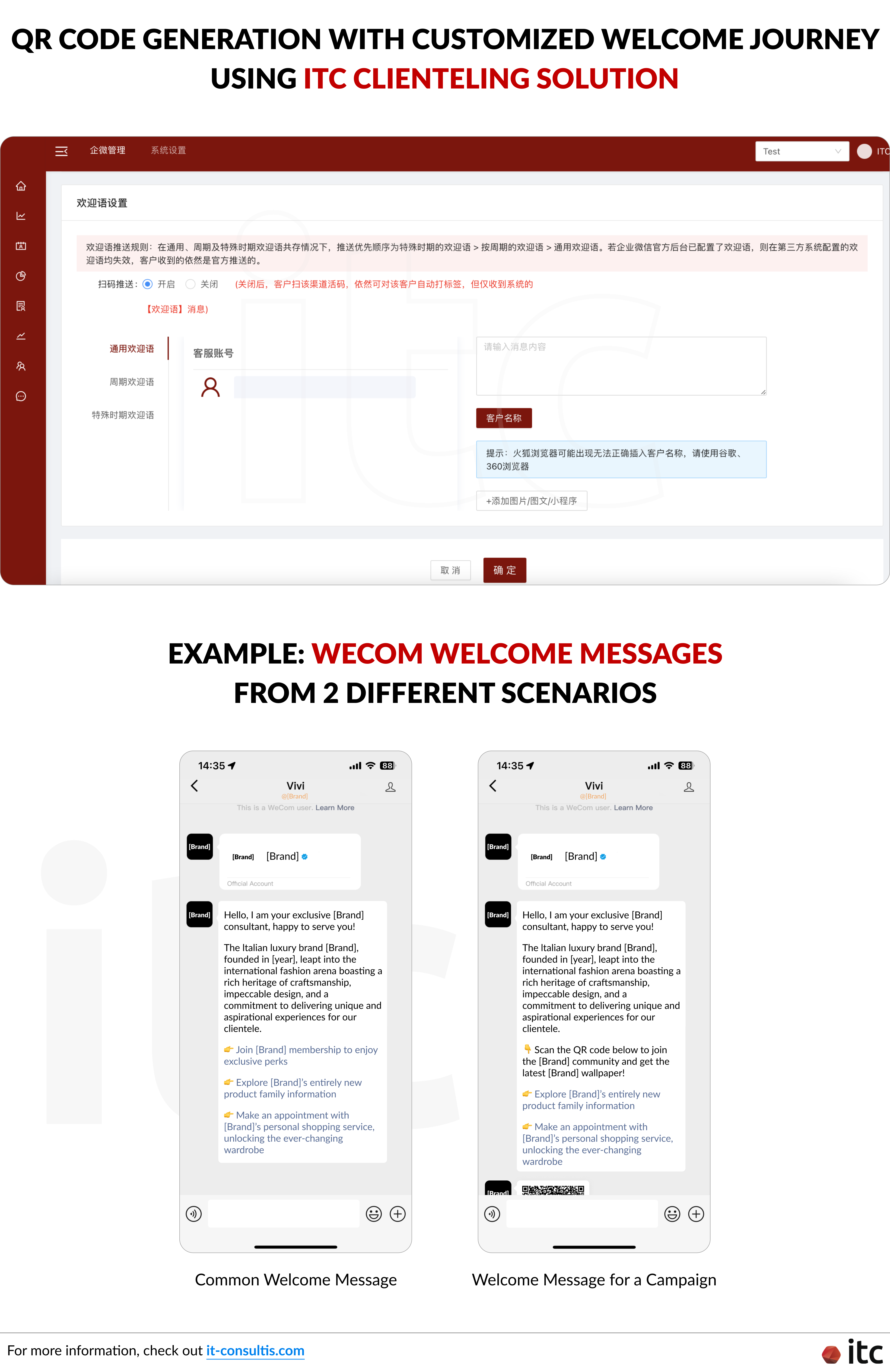 Automatic Customer Profiling
The ITC Clienteling Solution can also provide admins with automatic customer profiling options. This includes adding automatic remarks, descriptions, and tags to simplify customer segmentation.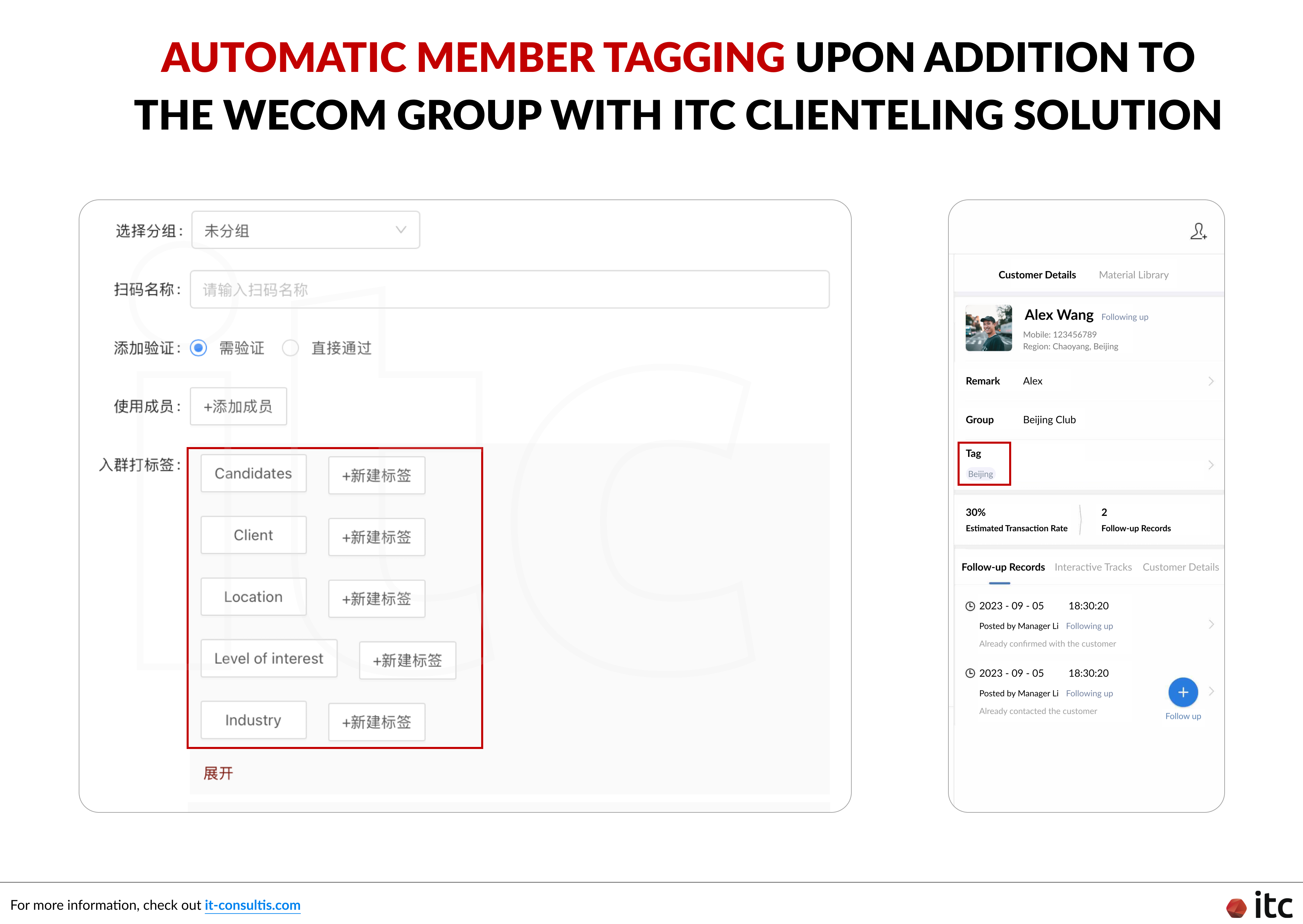 While WeChat offers mass messaging, it comes with limitations. For instance, on the iOS platform, Sales Associates cannot send bulk messages; they have to send messages individually (WeCom Private Operation: From Entry to Mastery, 2022).
Moreover, sending too many messages to the same recipients on WeChat may trigger spam warnings, disrupting operations.
With the support of WeCom tools like the ITC Clienteling Solution, admins can create message templates and assign tasks to Sales Associates to deliver them to the right audience at the right time, including group chats.
Taking it a step further, brands can set up a communication calendar and automate reminders to keep team members on track for task execution.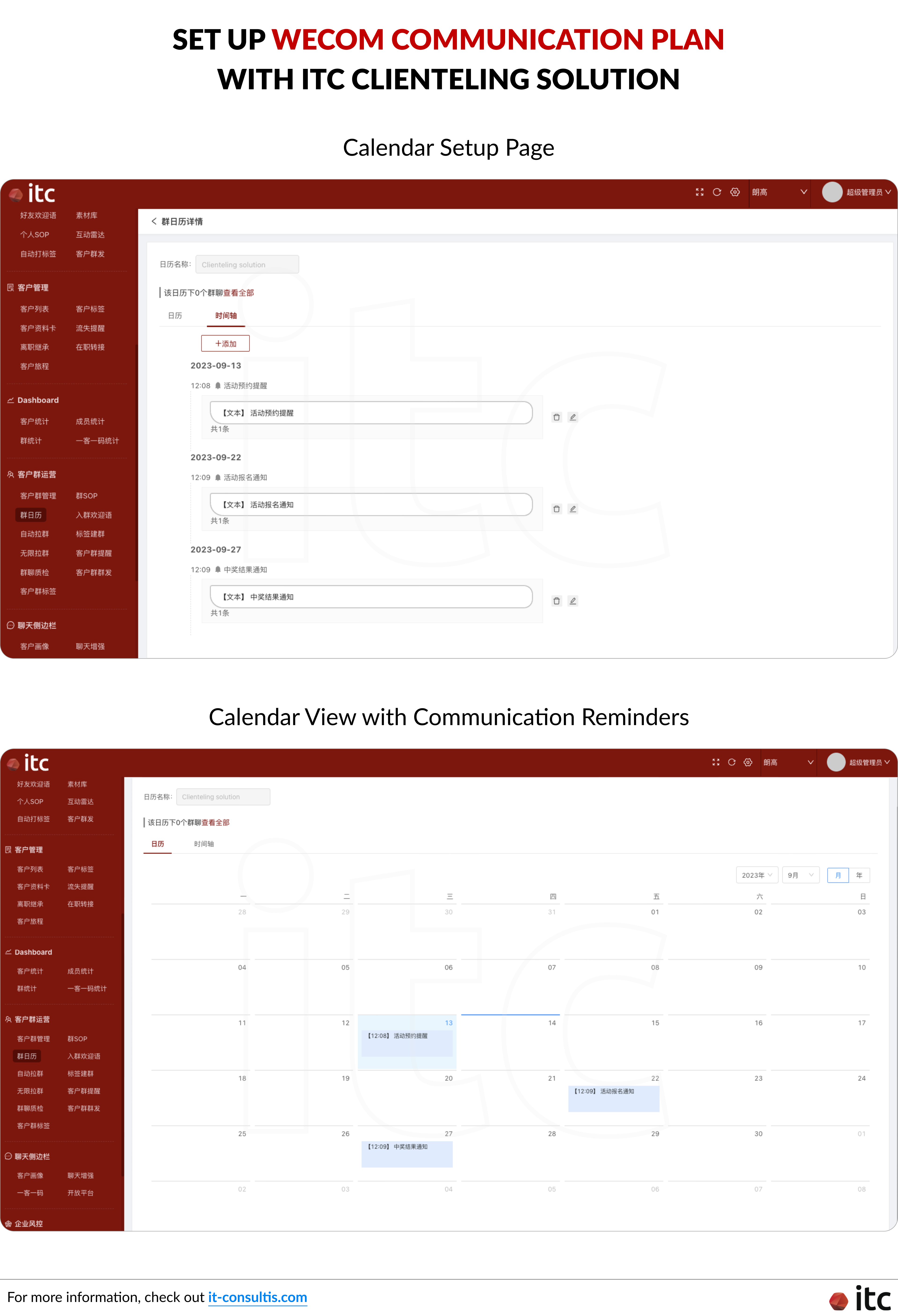 Here are some common content strategies for brands to send engaging and personalized mass messages to customers:
Request feedback or share recent developments
Offer valuable tips
Guide customers to check Past Moments
Promote a new product launch
Share a new WeChat Official Account article
Send reminders or follow-ups
To Wrap Up
As we onboard customers onto WeCom, it's not just about the initial connection; it's about keeping them engaged and at the forefront of their minds.
In addition to effective change management and well-structured SOPs, by fine-tuning the right features, strategies, and messages within WeCom, along with the support of tools like ITC Clienteling Solution, brands will be on the right track to boosting customer engagement, lead generation, conversion, and retention.