In this article, we will tackle the challenges of transitioning from clienteling via WeChat and exploring key WeCom (WeChat Work) strategies for attracting and seamlessly onboarding customers.
Table of Content
As customers are on the most popular social media and messaging apps, Sales Associates (SAs), Client Advisors (CAs), and Customer Service (CS) staff, more often than not, are using the same platforms as their customers, even though they are not optimized for professional clienteling.
In the West, it's commonplace to rely on platforms like Whatsapp, SMS, and email, while in China, WeChat dominates.
As WeCom has emerged in recent years with dedicated clienteling capabilities to serve customers on WeChat, brands are eager to explore its potential. However, many encounter hurdles when onboarding customers from staff's WeChat accounts to the enterprise's professional WeCom.
In particular, businesses may face some internal pushback from the Sales Associates. They often consider the customers they have amassed as part of their valuable data assets; thus, transferring these customers to WeCom might be perceived as jeopardizing their clientele, as they consider these customers their own assets.
Moreover, WeCom's functionalities significantly differ from those of WeChat, and the platform continues to evolve. Therefore, users might find it challenging to adapt to these changes.
In the next section, we will explore 3 common methods for Sales Associates to invite both existing and new customers to add their WeCom accounts.
Do keep in mind, that while brands have the option to directly reach out and add customers on WeChat, it's important to understand that this approach is not without its risks and limitations (WeCom Private Operation: From Entry to Mastery, 2022):
The acceptance rate tends to be low, especially when there's no prior context or clear benefits. Customers often hesitate to accept connection requests from WeCom accounts that appear out of nowhere. If the account has not been authenticated either, the lack of credibility would further deter customers from accepting it.
There is a risk of the WeCom account getting limited in accessibility or even blocked if the system detects seemingly abnormal activities (e.g., actively adding too many people in a day).
The following methods not only minimize these risks but also attract a more accurate and substantial number of customers to WeCom naturally every day.
3 Ways to Onboard Customers to WeCom
Just like in WeChat, where people often exchange business cards in communities or 1-on-1 chat to connect or introduce another person, WeCom offers a similar feature.
Sales Associates can share their WeCom business cards with WeChat users or WeChat groups, inviting them to add their WeCom account.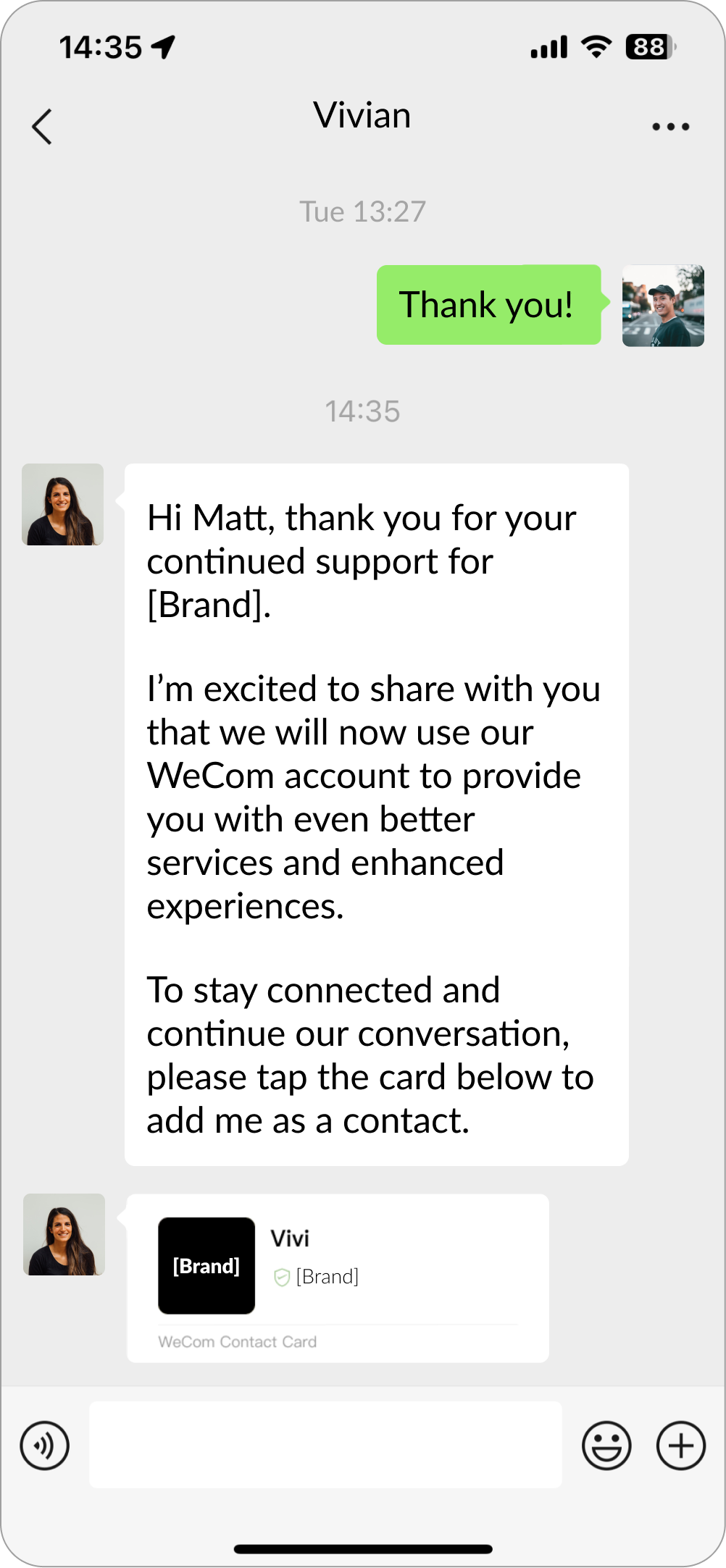 In WeCom, employees can generate their own QR code from the WeCom app on their phone to share it with their network. Customers can scan the code to add the employees as friends.
Another way to generate a WeCom QR code is through the WeCom backend using the "Contact Me" feature. Sales Associates can either showcase and share these directly on WeChat or print them out and put them into their name tags for onboarding customers from offline channels (e.g. at the physical stores and events).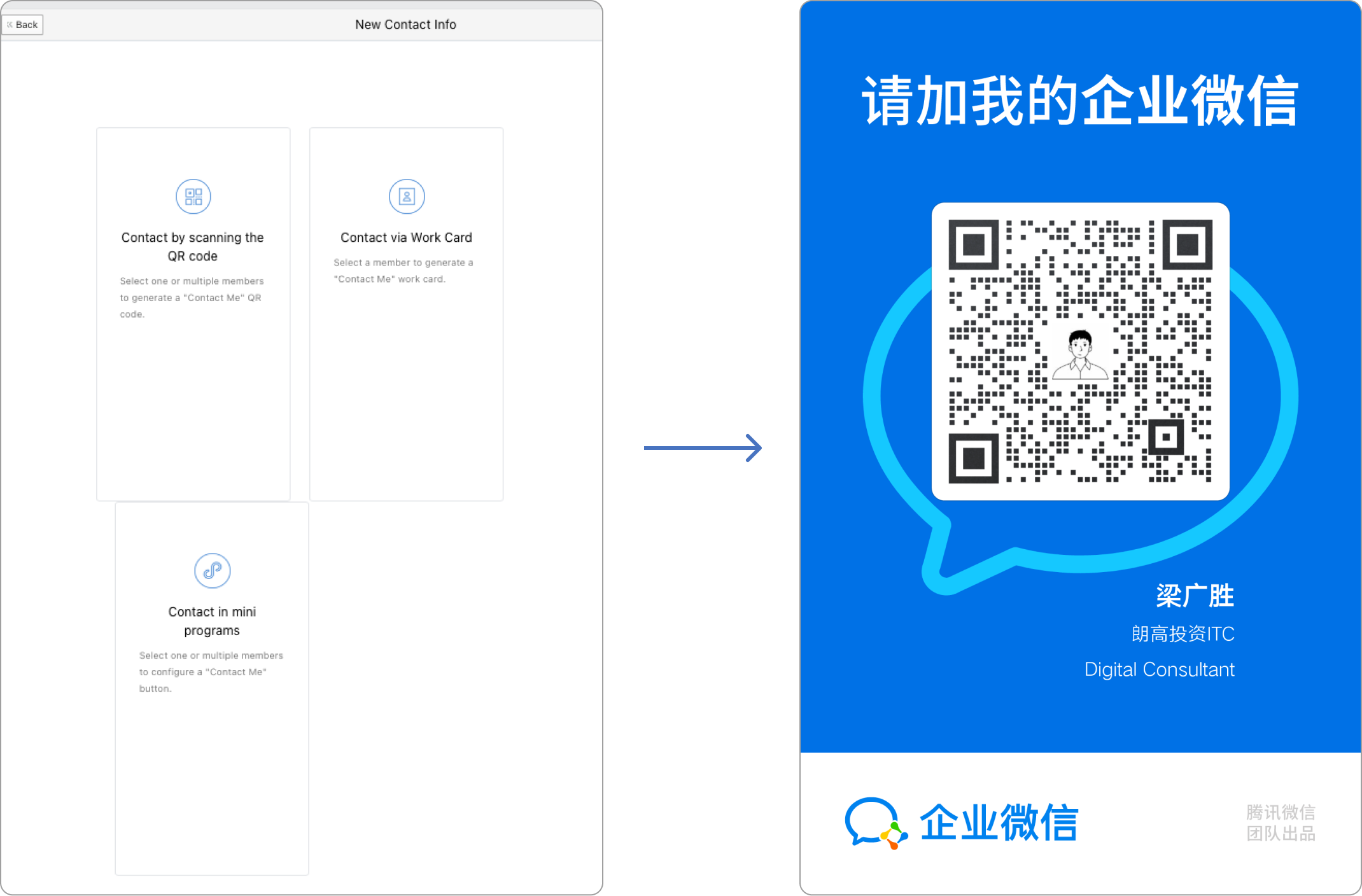 Brands can also integrate these QR codes into their WeChat Official Account and Mini Program, especially for exclusive events. This approach helps collect more customer data and drive a seamless online-to-offline (O2O) clienteling experience.
For scenarios where businesses expect a large number of customers to be onboarded, there is an option to generate the "Multiple people can contact me" WeCom QR code. When customers scan this code, an employee is randomly added, relieving the competitive tension among employees while reducing the risks of abnormal activities.
However, it's essential to note that QR codes generated by WeCom's native functions are limited in capability. They cannot record the scanning channel or source (e.g., from a specific WeChat group, WeChat Official Account, or an event). Furthermore, those generated by the WeCom app cannot be modified after generation.
One of the most notable features is generating a parametric QR code based on different sources with a customized Welcome Journey.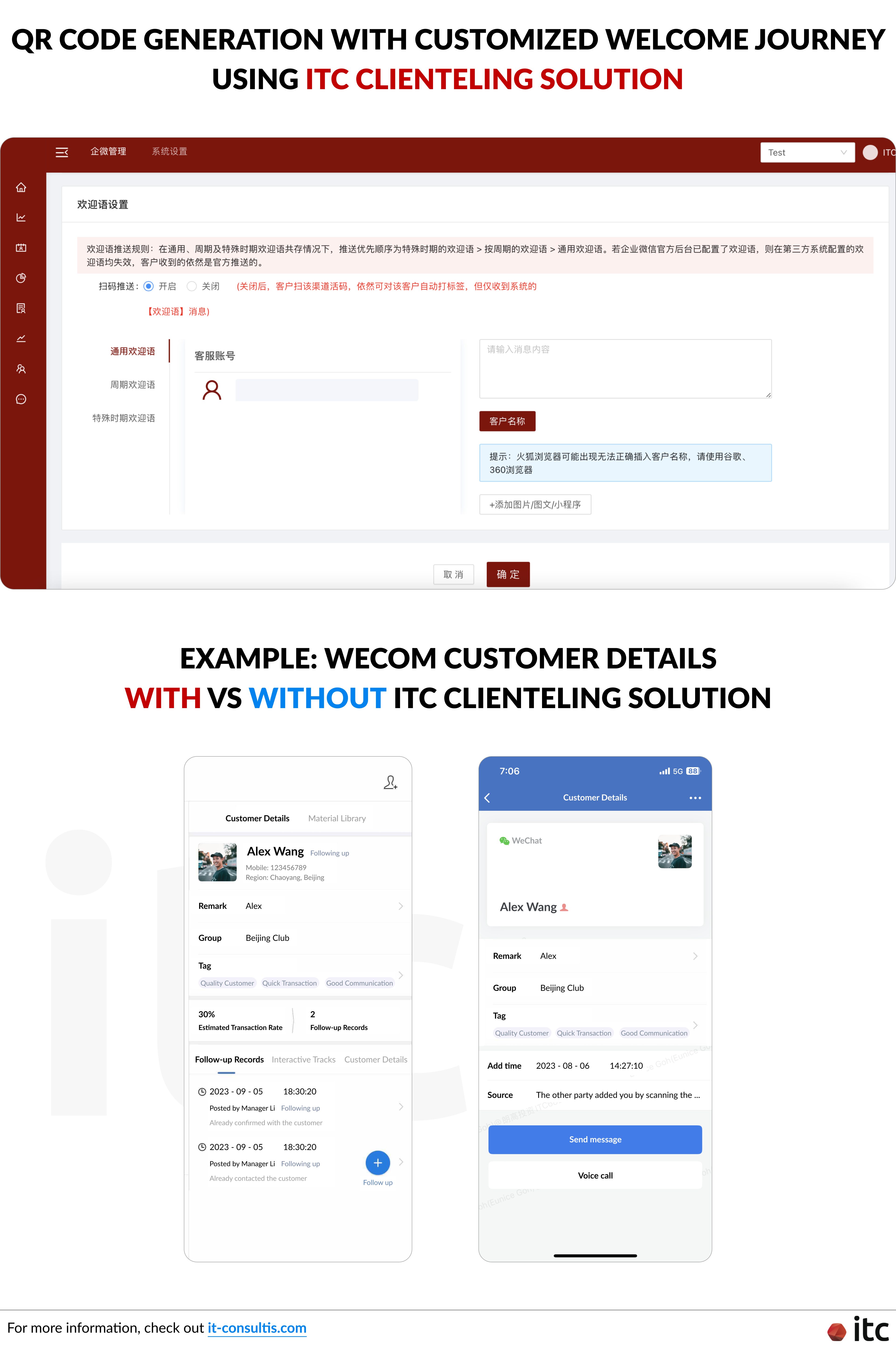 ITC Clienteling Solution can enable brands to elevate multi-channel customer acquisition, featuring group QR codes, regional QR codes, and more diverse forms to attract customers across various promotional scenarios. They can trigger automatically in conjunction with the set-up SOP, ensuring a streamlined and efficient process.
Other than 1-on-1 conversations with WeChat customers, WeCom group chats are also a great window to connect with customers, especially for FMCG businesses and beauty retailers.
Businesses can bring customers into a community for unified operations, such as sharing coupons, exclusive event invitations, and updates.
Here are 2 common approaches:
Brands can simplify group access by letting customers scan a QR code to join. While this approach is straightforward and has a high join rate, it has a drawback. Once a customer leaves the group, it's challenging to find and reconnect with them, resulting in lead and customer loss.
A better strategy involves onboarding customers into Sales Associates' personal WeCom accounts first for primary retention. Then, invite them to join the group for secondary retention. This keeps customers connected to both Sales Associates and the brand's communities.
To facilitate this, brands can configure a customized Welcome Journey for the parametric QR code. The system will automatically send the group invitation link or group QR code along with a Welcome Message when a customer adds a Sales Associate's WeCom.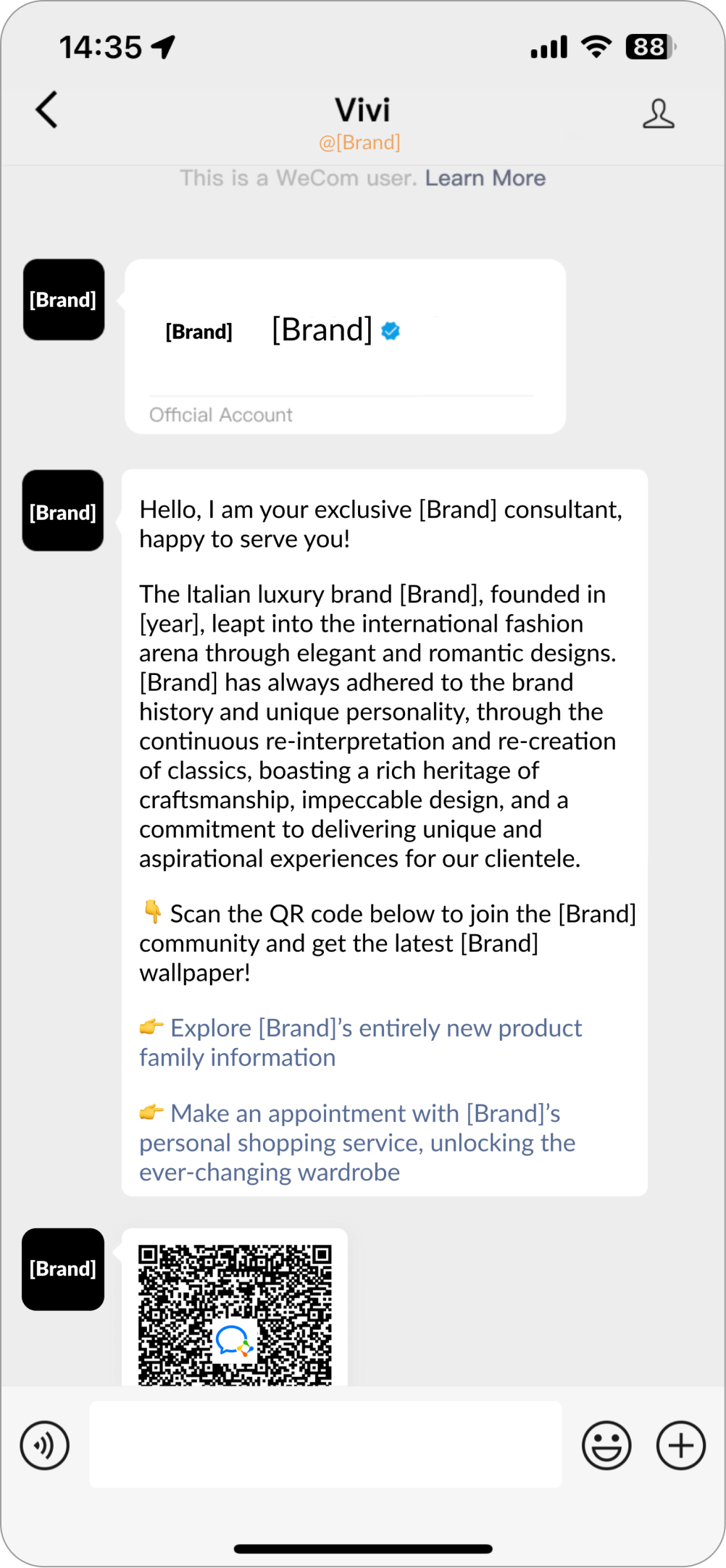 For the WeCom group chat QR code, brands can generate one directly from the WeCom backend, but there's a drawback – group management is mostly manual. To overcome this and reap more benefits, consider generating a parametric group QR code with third-party tools like ITC Clienteling Solution to enable:
Automatic group enrollment to eliminate manual customer acquisition and overcome WeChat's limit of a maximum 5 groups
Automatic tagging once the customer enters the group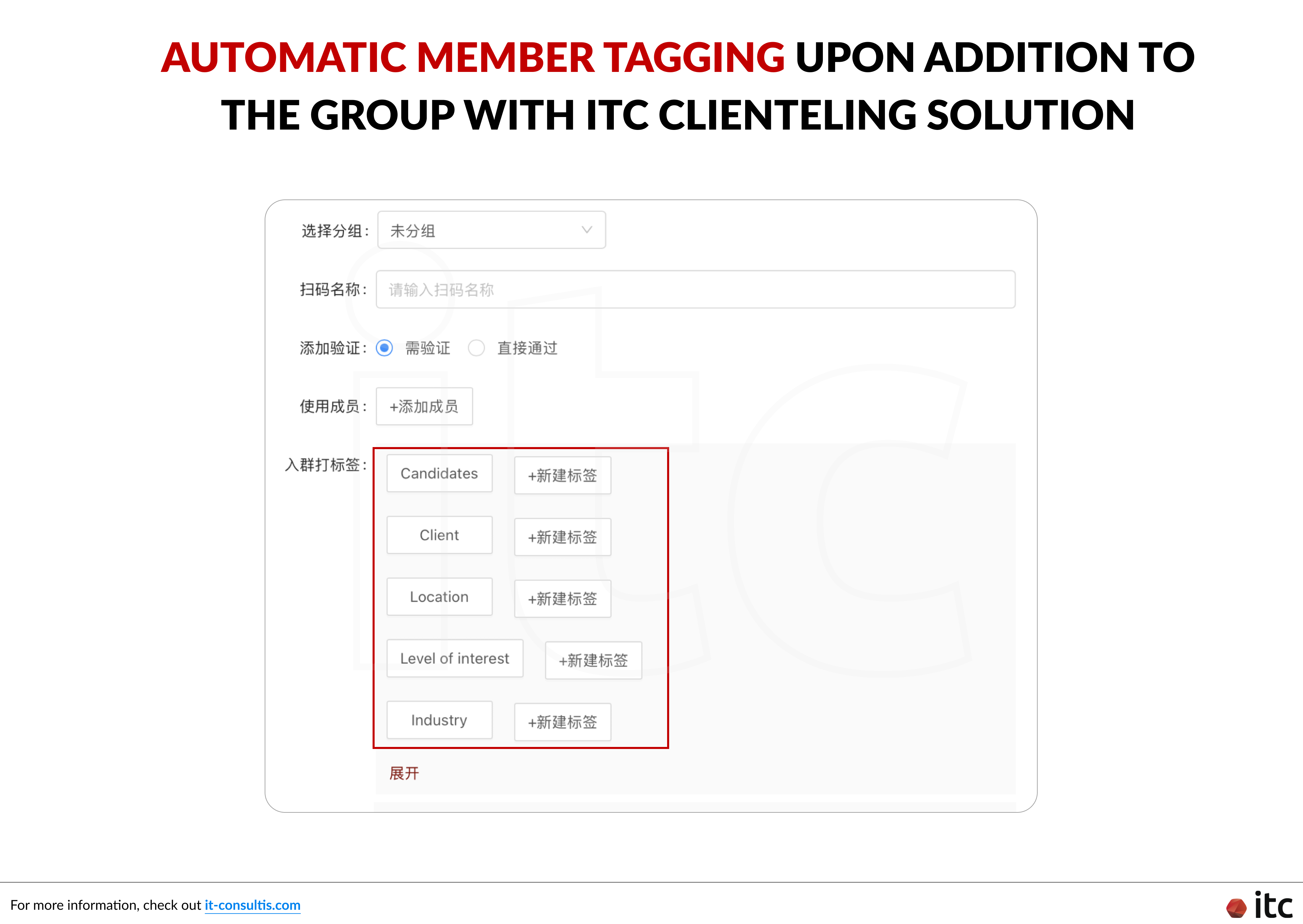 b. Group Fission Marketing Before Adding to Sales Associates' WeCom
Brands can also consider leveraging social fission marketing, especially for FMCG brands to attract new users. By providing incentives for joining and sharing, brands can encourage users to become advocates, spreading the word to their friends.
With new users joining the group via fission marketing, the staff can then incentivize them to add their WeCom account.
Strategies to Attract Customers to Add WeCom
Must-Do Benefits
The essence of must-do benefits is customers have to do something to receive a necessary product or service.
For instance, landlords may ask residents to add their WeCom account to facilitate secure rent payments via WeCom Pay. The essential idea is that customers must act to achieve their goals.
Discount Benefits
Discounts and sales promotions are always attractive schemes to attract and acquire more customers. For example, for customers who come to the store, Sales Associates can encourage customers to add their WeCom account by offering an immediate discount when making a purchase. This not only enables customers to enjoy savings but also drives O2O (offline-to-online) traffic.
Gift Benefits
Other than discounts, brands can also entice customers to opt in for extra gifts. For instance, a restaurant may offer a free drink if customers add the store owner's WeCom account.
For enterprises, the customer acquisition cost following this method would be very low, yet it can enhance the customer experience while establishing another digital channel for brands to stay visible.
Service Benefits
The essence of service benefits is to provide value-added services to elevate the customer experience.
For example, a shoe boutique can guide customers to add the Sales Associate's WeCom and receive a free shoe brushing service. Customers can schedule this service through WeCom and, when they come to the store the next time for the appointment, they can explore the latest shoe styles, potentially leading to additional purchases. This is also a great example of O2O customer journeys with WeCom.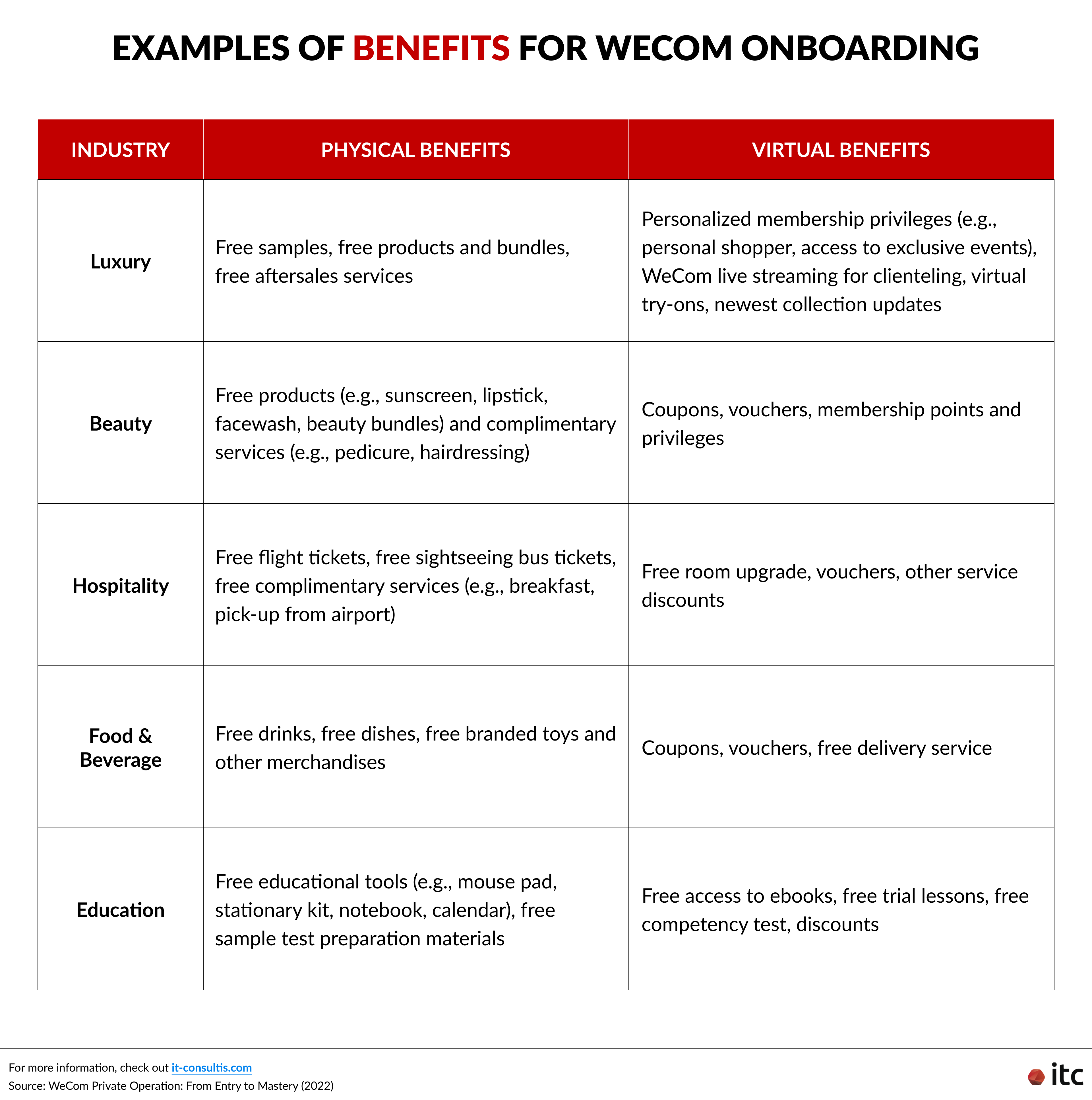 To Wrap Up
Navigating the shift from WeChat to effectively engaging customers on WeCom presents both challenges and opportunities.
Internally, businesses must address potential pushback and adapt to evolving platform functionalities with the right playbook, SOPs, and approach to education, training, and incentivization.
Externally, by following the WeCom (WeChat Work) strategies outlined here, which encompass methods to onboard customers and enticing benefits, brands can make this transition smoother and more fruitful, tailoring their approach to their specific industry and customer needs.
Success on WeCom awaits those who embrace the right strategies and recognize the distinctiveness of digital transformation in China.