In this article, we will discuss the 7 key benefits of WeCom (used to be WeChat Work) that are prompting more and more companies to adopt it, and why you should too.
Table of Contents
What is Clienteling and Why is it Important?
Clienteling is the art of crafting brand experiences and engaging with each customer on a personal level, based on the collected data. It is one of the key elements to identifying and building long-term relationships with top customers to promote repurchases.
This is especially necessary for brands that have a high average transaction value (ATV) and a low number of customers, such as B2C luxury groups, automotive brands, and B2B, B2B2C, B2B2B businesses…
In the West, while many clienteling tools have emerged in the market, most clienteling communication is still relying on common platforms that customers use to stay in touch, such as Whatsapp, SMS, and Instagram. The same can also be observed in China.
As Tencent WeChat is the most popular messaging and social media app in China, many Sales Associates (SAs), Client Advisors (CAs), and Customer Service (CS) staff, more often than not, use their personal WeChat for clienteling.
However, there can be many issues with using such a personal communication tool as WeChat to deliver professional corporate services, including: inconsistent customer experiences, lack of standard and efficient targeting approaches, decentralized data collection and consolidation, and loss of customers during handover, just to name a few.
Therefore, enterprises should consider investing in a dedicated clienteling tool tied to the WeChat ecosystem like WeCom (WeChat Work). Continue reading to learn what makes it worth it!
Tencent WeCom (or WeChat Work) is often referred to as a professional and corporate version of WeChat. It is most well-known for its versatile clienteling features and seamless interconnection with the WeChat ecosystem, which ultimately help resolve WeChat's weakness in CRM and protect brands' ownership over their customer database.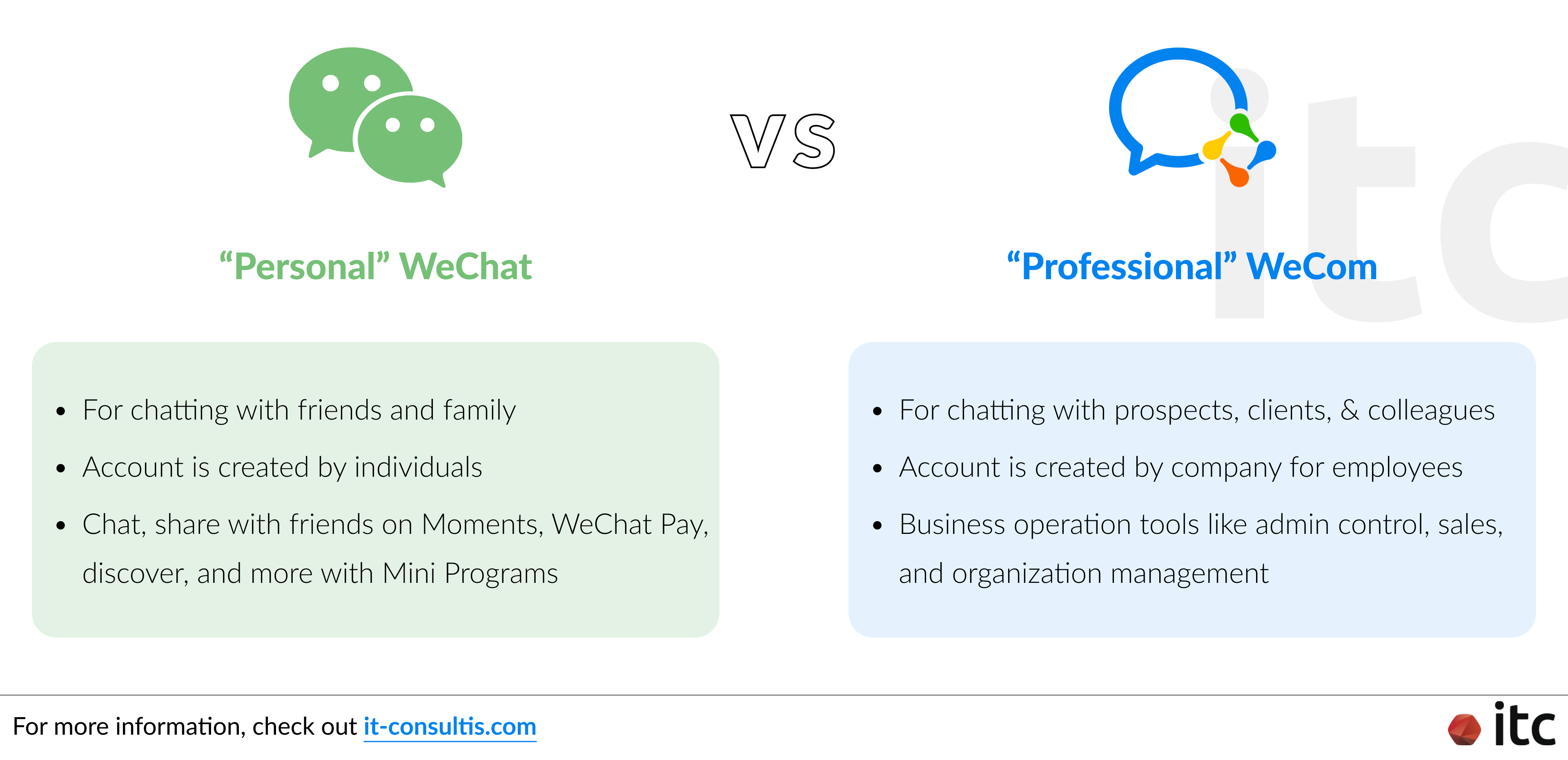 1. Optimize Bespoke Online and Offline Customer Experience
As mentioned above, the WeCom app is interoperable with WeChat. This allows the brand's Sales Associates or Client Advisors to directly connect with customers and direct them to different touchpoints within the Tencent WeChat ecosystem.
Different levels of interoperability include establishing commonality between WeCom and WeChat's:
Chats
Moments
Channels
Official Accounts (OAs)
Mini Programs (MPs)
WeChat Pay
Search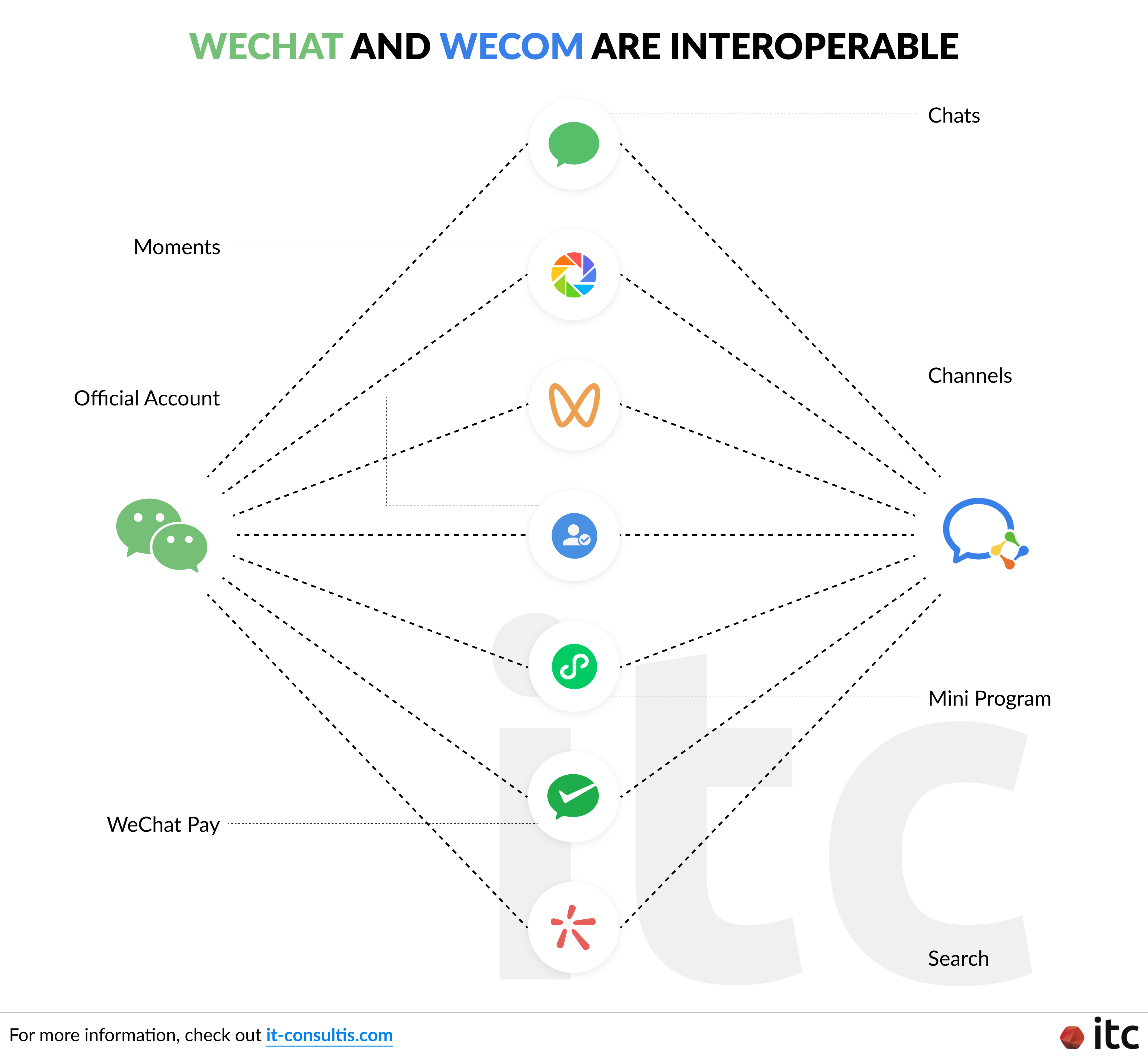 The first level is the interconnection of WeChat Chats and WeCom Chats.
Once a customer adds a Sales Associate, either via scanning their WeCom QR code or getting redirected from other entry points, they will enter the Chats with the SA on WeChat. However, despite being on the same chat, the Sales Associate is actually using the WeCom application.
Other than the Chats function, the WeCom interface also shows the SA their Workspace. This allows them to manage their customers and interactions, including pushing content tailored to their interests (e.g. WeCom Moments, WeChat Official Account articles, Channels videos, eCommerce WeChat Mini Program, and Live streaming).
As a result, via Tencent WeCom, Sales Associates and Client Advisors can deliver a bespoke online experience for customers throughout the WeChat ecosystem.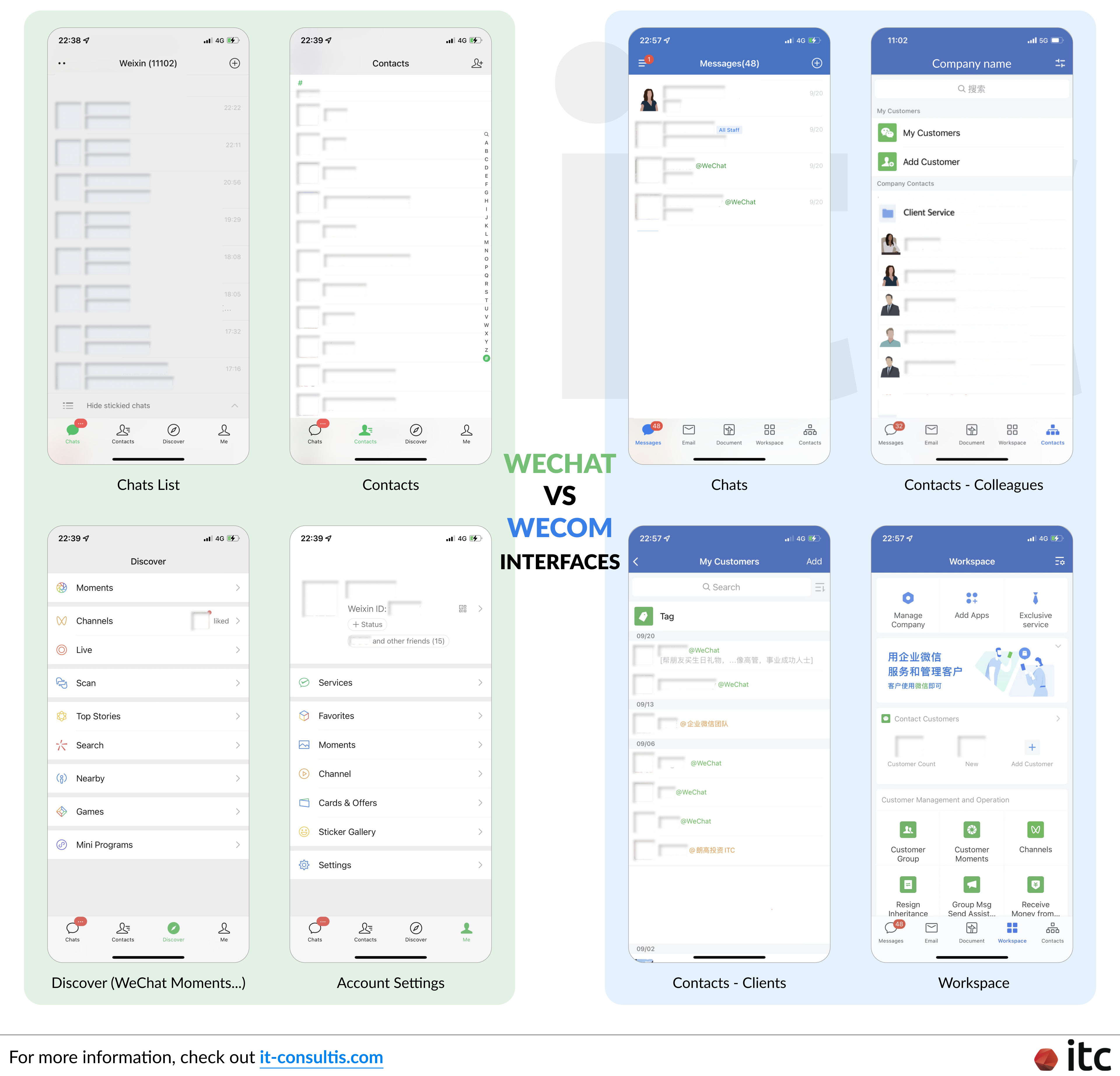 Aside from WeChat, enterprises can also establish synergies between WeCom (WeChat Work) and other Private Traffic channels like websites, apps, and so on.
In addition, Sales Associates and Client Advisors can also leverage the knowledge of the user's online interactions on Chats and other digital touchpoints to enrich the offline clienteling experience (more on this in the next section)!
As a result, SAs can also leverage WeCom to embark customers on O2O journeys and further enrich both online and offline experiences. For example:
Online-to-Offline: A customer finds a Customer Service WeCom QR code in a skincare brand's WeChat Mini Program and gets connected with a SA. After talking on Chats, the SA then notifies the customer of a promotional offline spa service with tailored treatment catering to the issues they previously discussed. The customer goes to the offline store to enjoy the bespoke service and even buys some recommended body lotions.
Offline-to-Online: A customer meets an SA when browsing face washing machines at an offline store and is happy to scan their WeCom QR code to connect on WeChat for further assistance. As the SA gains a better understanding of the customer's preferences, they send several product recommendations and direct them to make a purchase on the brand's eCommerce Mini Program.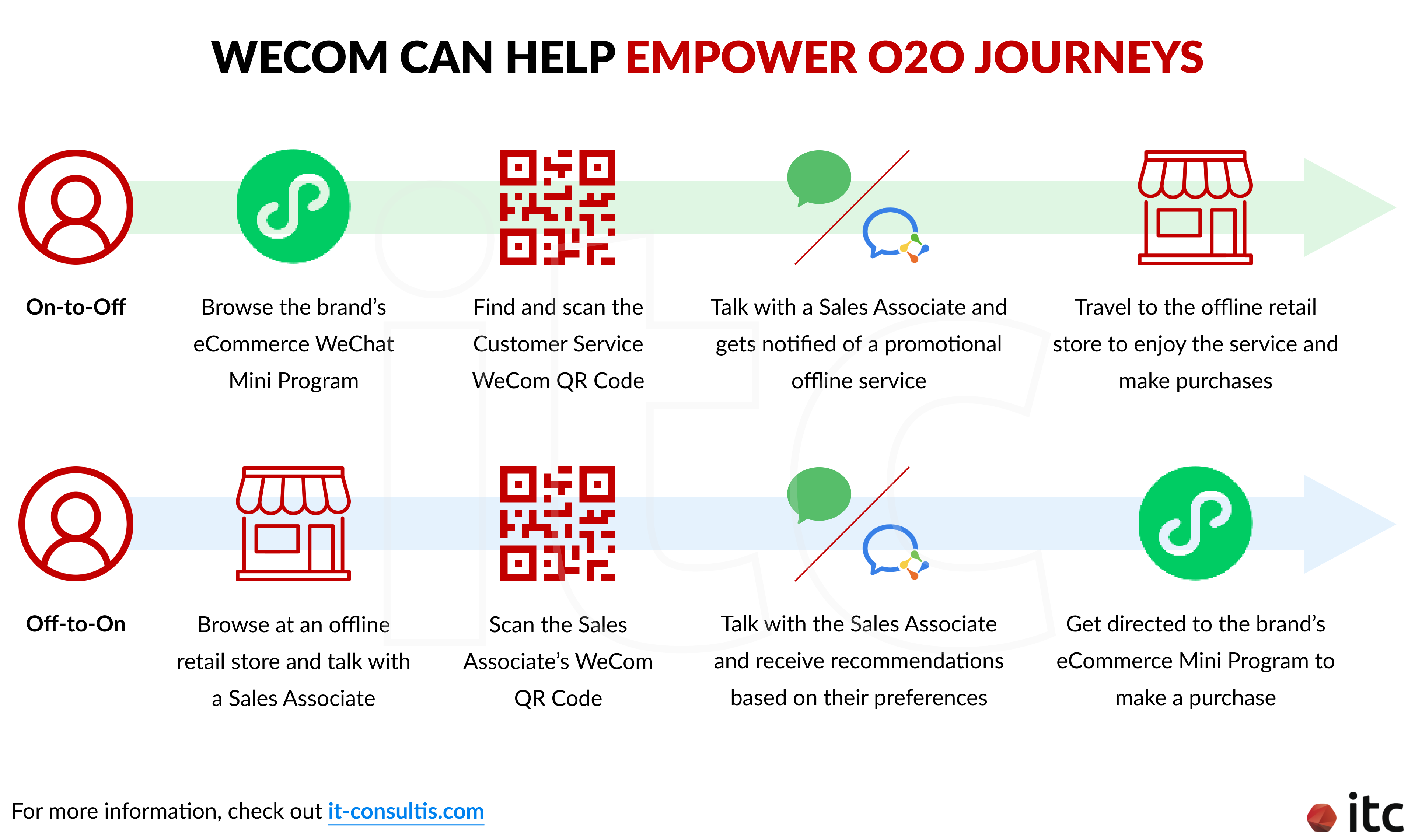 2. Personalize 1:1 Engagement & Services
According to a 2021 Euromonitor survey, almost half of the Chinese respondents were "willing to share data for personalized offers and deals", which is considerably higher than their counterparts in the US, North Asia, and Western Europe.
With one-on-one clienteling, customers certainly expect a more personal and tailored service with higher flexibility than talking with a chatbot/auto-reply/rapid-reply.
To elaborate, when using WeCom (WeChat Work), companies can make the most of: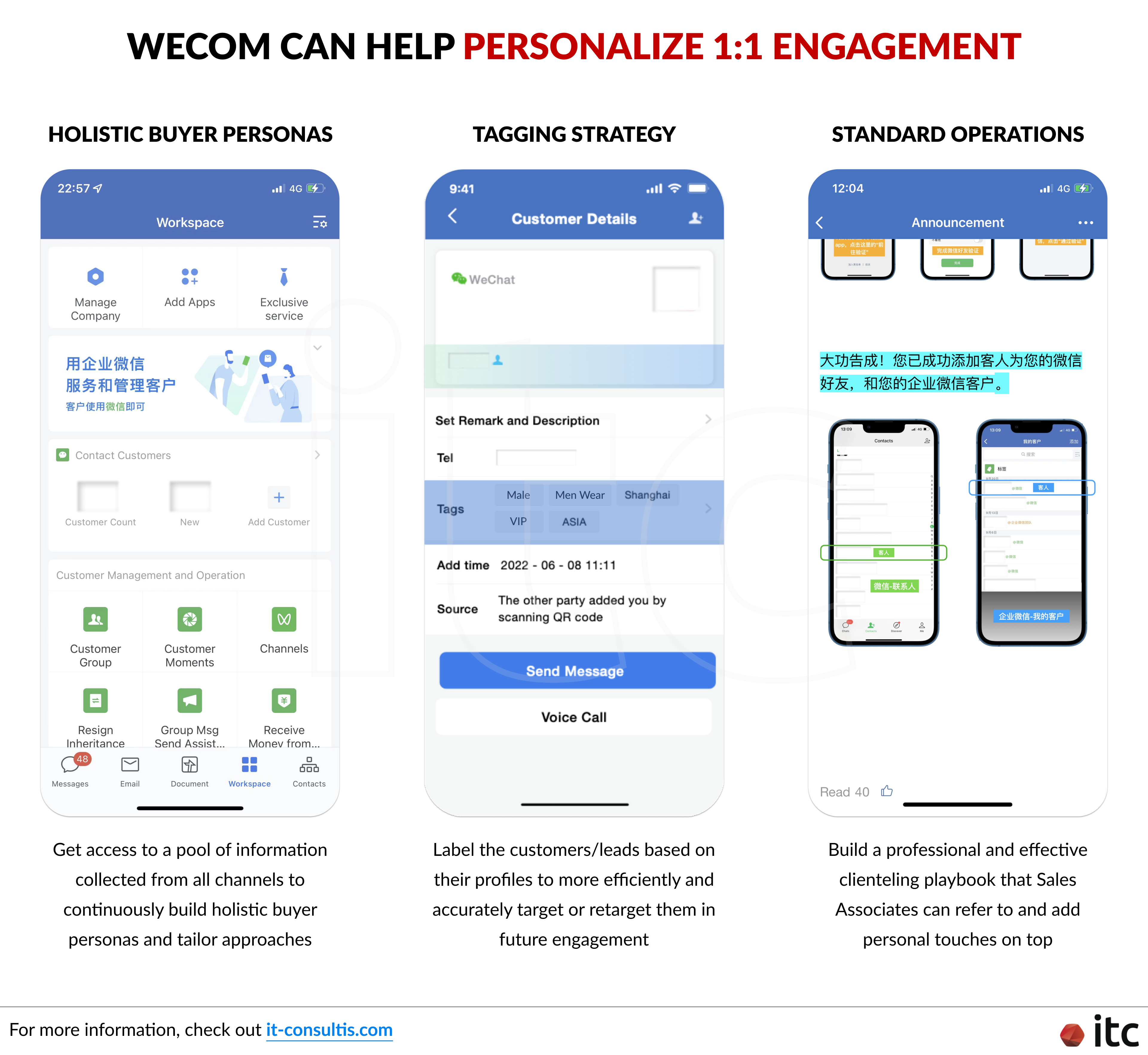 a. Build and Leverage Holistic Buyer Personas
In order to tailor the services, Sales Associates and Client Advisors need to understand what the customers are looking for.
Fundamentally, they can use WeCom as an additional channel to communicate with the customers and gather valuable information on their characteristics, interests, and needs.
Additionally, the SAs and CAs can also get access to the pool of information collected from other channels, including offline retail and WeChat, from which they can continuously build holistic omnichannel buyer personas.
Based on these, they can offer more personalized recommendations and push the right content at the right time to successfully nurture the customers to conversion both online and offline.
b. Employ Tagging Strategy to Improve Targeting Accuracy
Although clienteling and WeCom strongly emphasize one-on-one interactions, it can be difficult for Sales Associates and Client Advisors to keep up with all customers/leads manually.
Even if the data are all consolidated in one area, without proper organization, it can still take a long time for SAs and CAs to go through them before engaging.
Additionally, there are cases where a piece of content is suitable to push to a large number of clients; for example, a popular promotion. Having to manually send them one by one to individual customers can unnecessarily take a lot of time as well.
This is where tagging can come in handy, and it would not be available if Sales Associates stick to using their personal WeChat to connect with customers.
If you are familiar with Marketing Automation, you must have heard of the tagging strategy. It involves labeling the customers/leads to more efficiently and accurately target or retarget them in future engagement.
As more customer insights are generated later on, more tags can be added to each customer/lead. Companies can also better optimize the categories, labels, and tagging structure over time to improve precision. The ultimate goal is to push the right content to the right users at the right time.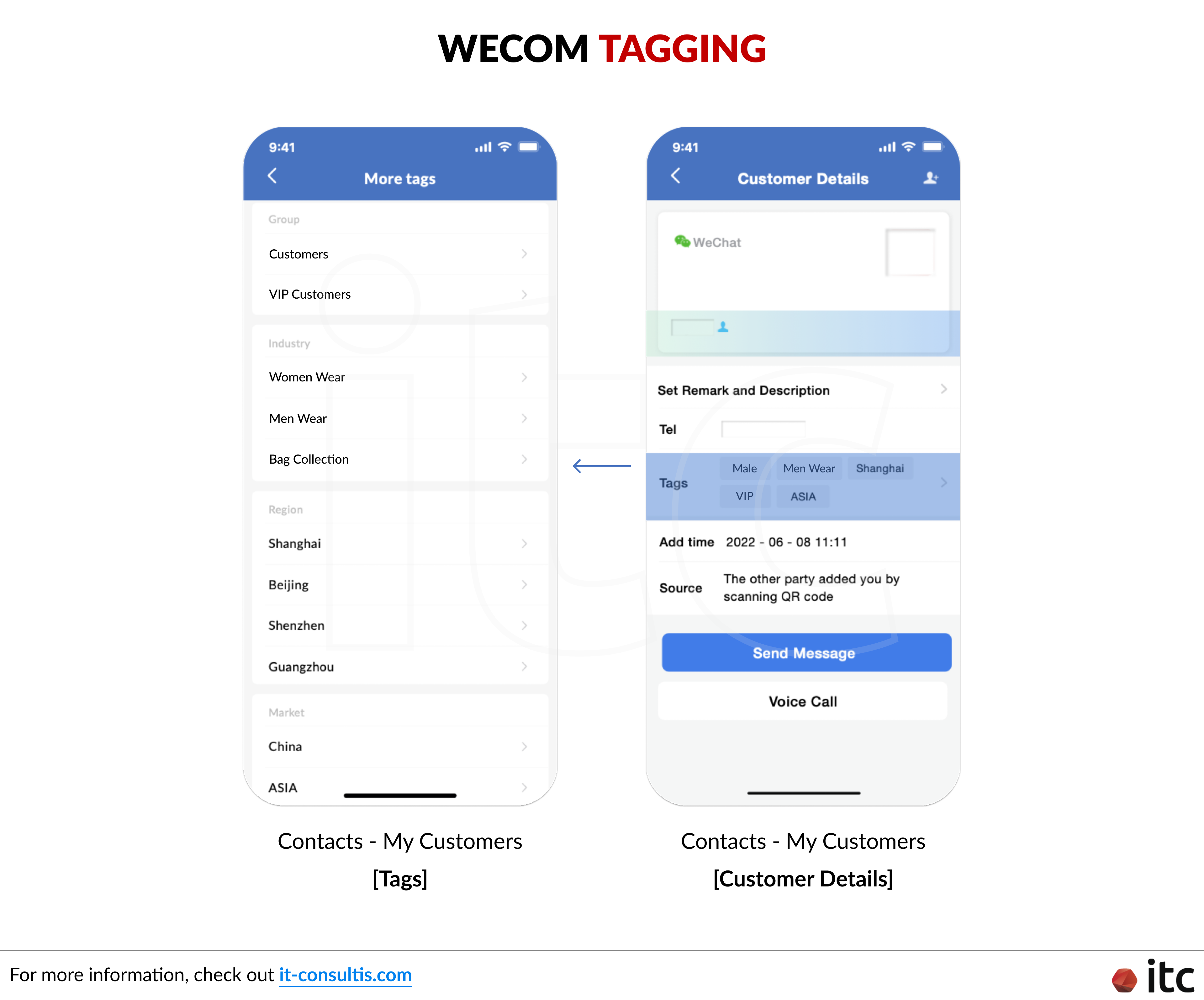 Another point that sets WeCom tagging apart is that it is a type of direct tagging based on real-person engagement with the users. Thus, it can complement the indirect tagging approach of Marketing Automation platforms based on users' online behavior tracking.
In other words, WeCom tagging contributes to building a more comprehensive tagging strategy to enrich the 360-degree user profile, which Marketing Automation tagging alone is missing.
It should also be noted that tagging for WeCom requires manual inputs by the SAs or CAs. This means they need to be well-trained to ensure WeCom tagging accuracy, leading us to the next point.
c. Establish Standard Operations to Boost Clienteling Effectiveness
To enrich the buyer's profiles and build a professional, effective clienteling playbook that Sales Associates can not only refer to but also add personal touches on top, enterprises need to optimize the standard operations. This includes preparing:
A well-defined Welcome Journey to direct leads to the right content
Standard Operation Procedures (SOPs) to help SAs learn and know what to say and do to encourage customers/leads to provide more information, add appropriate WeCom tags, and nurture them to conversion
A WeCom Moments strategy and execution playbook
3. Systematize Transactions with Customers
During clienteling, the customer may decide to make a final purchase and have the Sales Associate make the order for them. Therefore, it is not uncommon to find SAs using their personal WeChat to collect customers' payment transfers and later add them to the company's system. However, this process lacks standardization, transparency and is subject to high chances of human errors.
By activating WeCom payment, which involves binding WeCom with the company's WeChat Pay vendor account:
The management team can ensure the legitimacy and security of the transactions
Store managers can go through the details of every order via the WeCom backend to process them and easily deal with cases of returns and refunds
The money transfer process from customer to the company is simplified for the Sales Associates, improving efficiency and minimizing errors
Once WeCom Pay is activated, the company and the staff can enjoy various payment features, including:
Receiving money from external users (especially for Sales Associates)
Paying external users
Receiving money from employees (exclusively on WeCom)
Paying employees (exclusively on WeCom)
Receipt via QR Code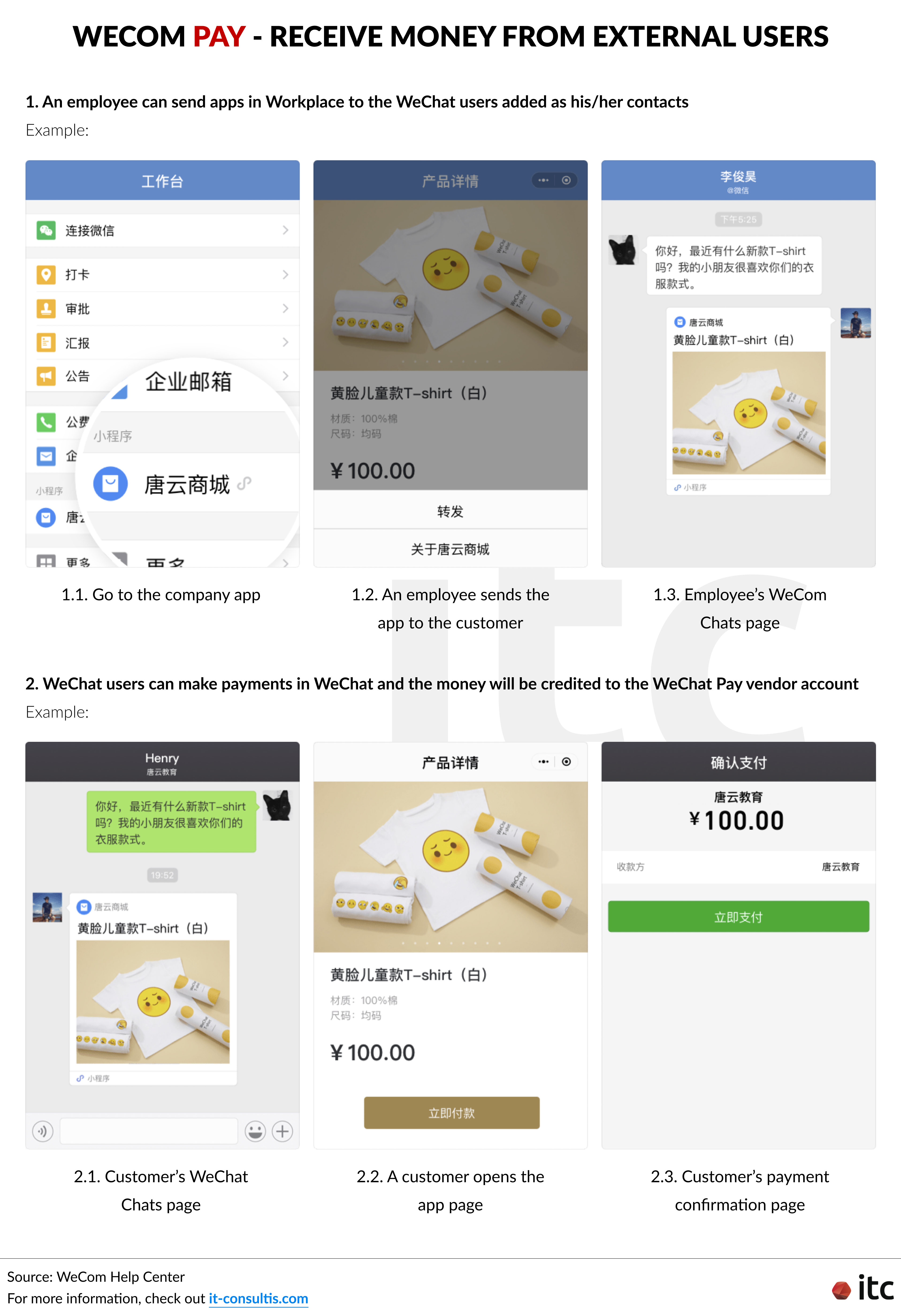 4. Enhance Customer Lifetime Value (LTV) & Build Brand Loyalty
As an official portal for one-on-one communication between the SAs and the customers, WeCom (WeChat Work) helps maintain a professional look and feel that is consistent with the brand image on both offline and digital touchpoints.
The consistency does not stop there. As discussed earlier, WeCom allows the staff to deliver personalized clienteling services and embark customers on a seamless journey across various channels. This includes offline retail, Chats, Official Account, Channels, Mini Programs, and Moments, helping maximize touchpoints with customers.
Furthermore, as the Sales Associates continuously engage with a pool of active WeChat users (rather than inactive ones or unidentified bots), they can develop more personal long-term relationships with active customers.
5. Drive Data Collection and 100% Ownership
Below are some of the challenges that companies commonly face before leveraging Tencent WeCom:
Individual Sales Associates connect with clients via their personal WeChat
They may not log the obtained customers' information into a centralized system
When they leave, the data and customers can get lost
Once the Company manages to onboard all of its staff on WeCom, it can streamline direct data capture and ensure 100% ownership. Everything from the customer's demographic and behavioral characteristics to personal preferences and interests throughout the life cycle can be collected to generate valuable insights, fully owned by the Company.
However, the WeCom onboarding process may not be very smooth-sailing due to the difficulty in implementing company change management and gaining internal buy-in.
To ensure internal adoption, the C-suite and Management levels need to motivate and incentivize staff to use WeCom (WeChat Work) so that customer data are no longer scattered.
6. Integrate with the Brand's CRM
WeCom itself can also do basic tracking, grouping, and clustering. But that is not all.
As mentioned earlier, other than the data the Sales Associates or Client Advisors collect from direct interactions with the customers offline or via WeCom, the staff can also gain access to the customer data acquired from other channels. These include Private Traffic domains like WeChat (e.g. Official Account, Channels, Mini Program, website) and, possibly, Public Traffic marketplaces (e.g. Tmall, JD.com), though what could be extracted from these third-party platforms is very limited.
To elaborate, in every digital touchpoint, brands need to establish a unique identifier for each client to easily identify unique customers across channels.
For example, companies can establish the customer's mobile number as the unique identifier. At each touchpoint, there would be call-to-actions (CTAs) to customers to share their mobile numbers so that the company can match them in the database.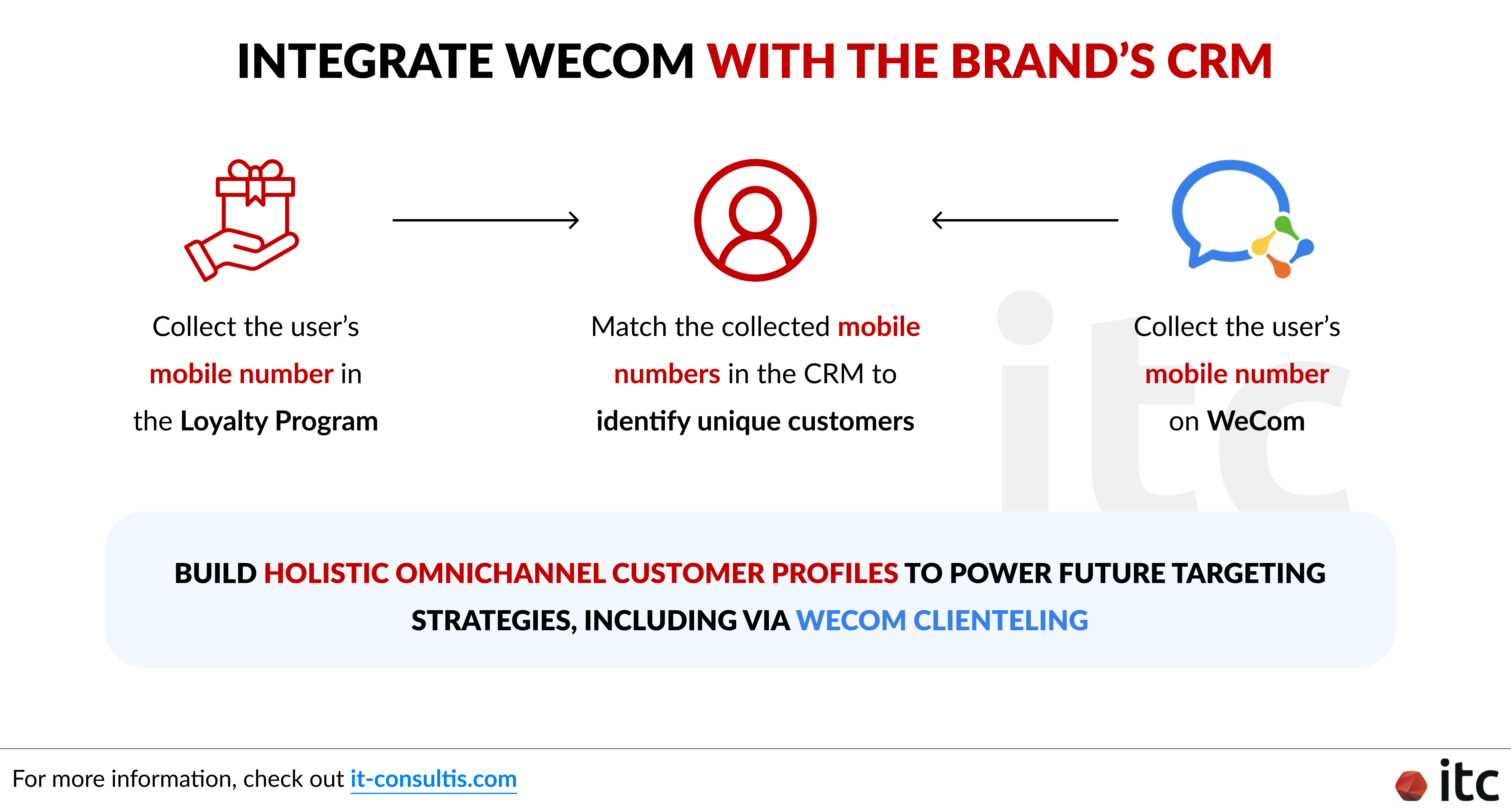 Furthermore, as all of the customer data are centralized in one place, even if a staff member leaves the team, the information of and connection with the customers that they are responsible for will not get lost. For more details, continue on to the next section.
7. Streamline Internal Collaboration and Enhance Efficiency
Another key benefit of WeCom is as an internal collaboration tool, which is what WeChat Work used to be promoted as before the rebranding.
Once an employee resigns, switches duty, or leaves the company altogether, managers can simply re-assign their customers/customer groups to the successor on WeCom (WeChat Work).
The successor can catch up with the progress and take over the management of the customers. Thus, this enables a smooth takeover process, significantly minimizes the loss of customers due to internal changes, and enhances the Customer's Lifetime Value.
In addition, as discussed since the beginning, the overall efficiency of both online and offline clienteling operations for Sales Associates and Client Advisors can also be improved thanks to WeCom, especially for:
Personalizing engagements and content pushes
Facilitating O2O journeys for customers
Assisting with placing orders and making payment transfers
Moreover, leading a customer to conversion requires a lot of effort from different staff members and departments, especially between the Marketing and Retail or Sales teams.
In the WeCom system, all the staff can use the same console to share customer data, assign tasks with different permission levels, and collaborate simultaneously with features like:
External and internal contacts list
Calls
Mute (admin only)
Group chats (can hold up to 2,000 users)
To-do list
To sum up, Tencent WeCom (WeChat Work) is a powerful enterprise-level communications tool offering advanced clienteling and collaboration features all in one central platform. It can be fully interconnected with all your digital and offline touchpoints, especially WeChat, and integrated with your CRM systems.
With the above 7 benefits of WeCom, brands can utilize this tool to facilitate a seamless interactive journey with customers and maximize their top line (revenue) and bottom line (profits) both online and in-store.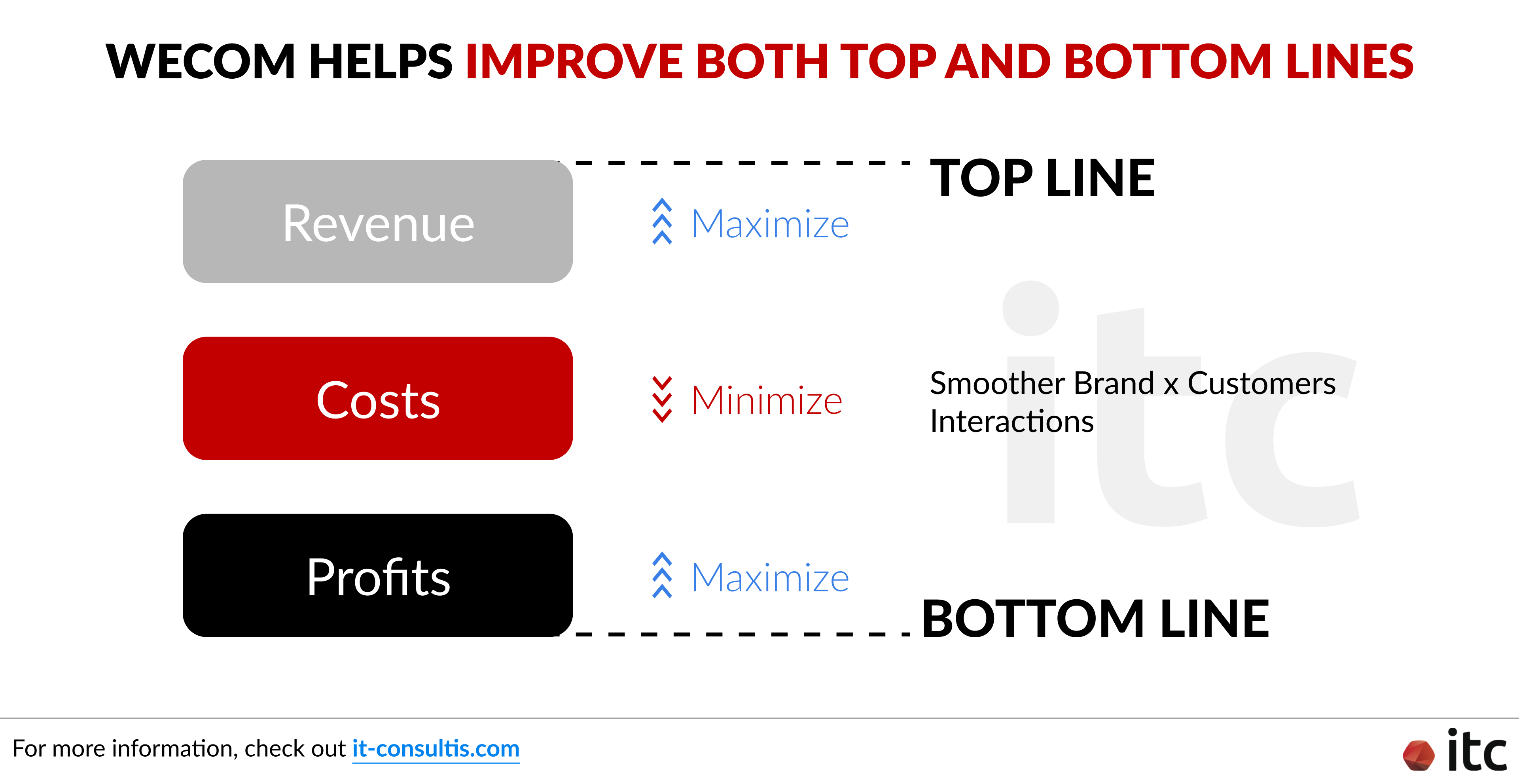 However, it may be hard for brands to set up WeCom, devise WeCom strategies, and implement system integration with little expertise and on-hand experience.