In this article, we will show you an overview of eCommerce in China, how it would likely evolve in the future, and a brief guide to succeeding in China e-Commerce market.
China is one of the most outstanding emerging economies in the world. And one of the biggest contributions to its development comes from eCommerce transactions.
However, China's unique limits on Internet usage - The Great Firewall - and cultural context have shaped its eCommerce ecosystem and online shopping habits rather differently from other countries.
Therefore, if you intend to approach this one-of-a-kind market, you need to know what it is like to make appropriate moves. All you need to know will be available below.
How Large is China's eCommerce Market?

Did you know that China is the largest eCommerce market in the world BY FAR?
If not, the following e-Commerce-in-China statistics from Statista should speak for themselves:
China e-Commerce market contributed over 38% to its GDP, compared to America's 10.2% (2020)
Nearly 25% of China's retail sales of physical goods were conducted online, while the global average was only 18% (2020)
More than 50% of the global e-Commerce retail revenue came from China. This is higher than the total sales of Europe and the US combined (2021)
The digital buyer penetration rate in China is now around 57% (~ 780 million people). This is also the largest in the world (2021)
And the effects of the COVID-19 pandemic have only accelerated this expansion.
As you can see, China is way ahead of the game compared to the rest of the world. And, this includes developed economies with established eCommerce platforms like the US. So...
What's So Special About E-commerce in China?
Mobile Commerce
One of the most important factors you should keep in mind is the mobile penetration in China. It is not only high - among the top 10 smartphone penetration rate - but also deep, which has immensely affected people's online shopping habits.
According to Statista, the number of mobile online shoppers in China was expected to reach 842 million in 2021. That is around 84% of the total number of Internet users in the country! This means most people who have access to the Internet choose to shop via their mobile devices.
For instance, take a look at the Alibaba Group. It is the leading e-Commerce conglomerate in China that offers services in all B2B, B2C, and C2C sectors. By Q1 2021, its number of mobile monthly active users (MUA) had already reached 925 million. There was an over 9% year-on-year increase from the same period in 2020!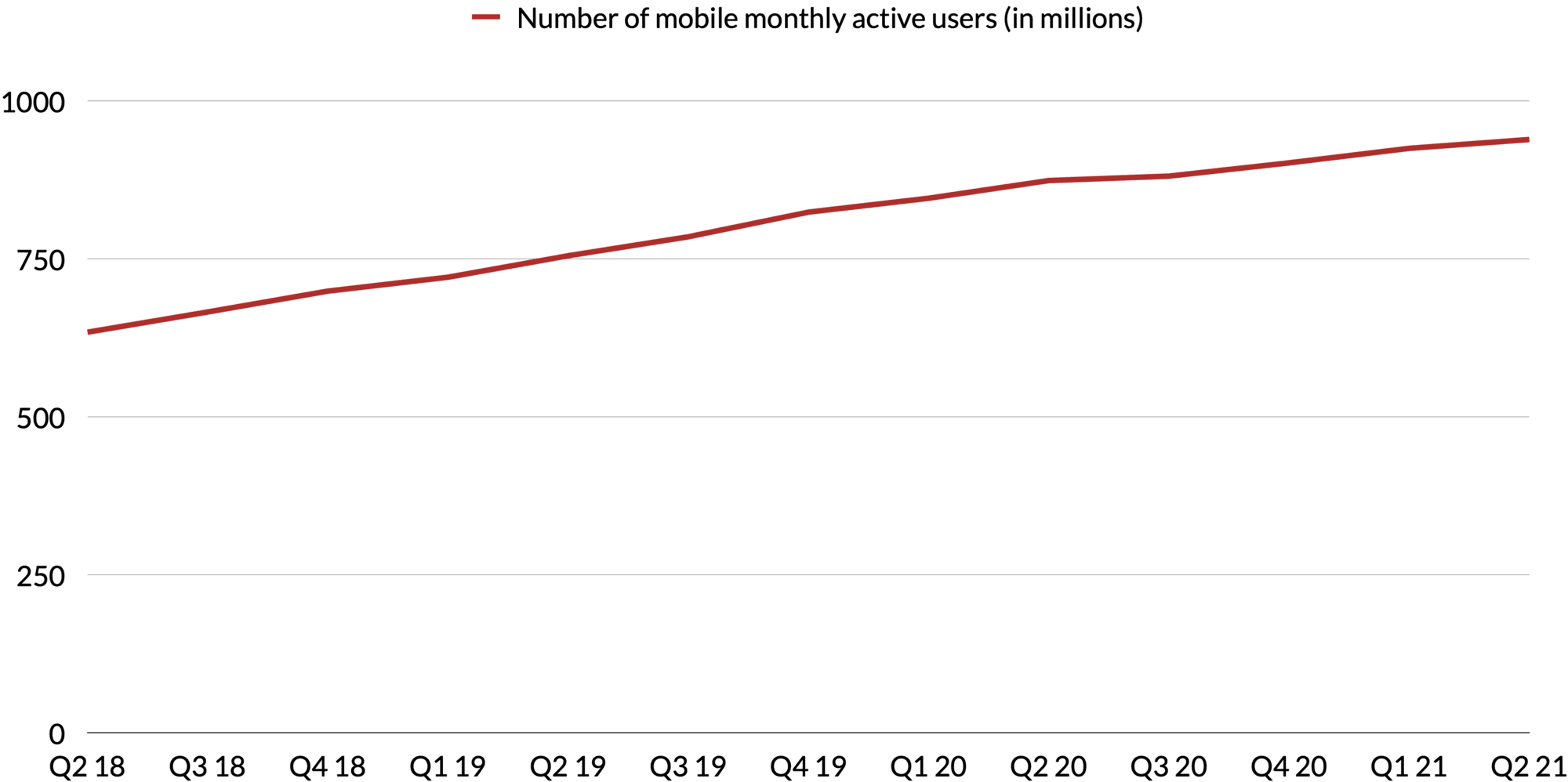 The development of m-Commerce has also enhanced the significance of:
Mobile eCommerce strategies
Mobile payment methods like Alipay of Alibaba
Applications
Sub-applications like WeChat Mini Programs (MPs)
Social Commerce
Like many other figures mentioned so far, China also leads the chart as the largest social media market in the world.
Despite the imposition of the Great Firewall and the lack of global social media giants, such as Facebook and Twitter, China still managed to develop its own versions of social media.
Moreover, backed by the incredibly high rate of mobile penetration, these players have integrated themselves into every aspect of people's daily life. Therefore, they are extremely well-engaged compared to their Western counterparts.
One notable example is WeChat, the most popular social media messaging app in China. It reported over 1.2 billion monthly active users (MAU) in 2021! But messaging is not the only feature that it offers.
This super-app has also introduced Official Accounts (OA). They are official hubs or pages for brands to directly interact with their consumers. And, so far, over 20 million OAs are currently active.
In addition, brands can also create their own mini eCommerce platforms on WeChat called WeChat Mini Programs. MPs are light, fast, cost-effective, easy to navigate, and most importantly, deeply embedded into the WeChat ecosystem:
Help brands get access to users' WeChat profiles (with permission)
Directly sharable in the chats
Integrated with other WeChat features, including the digital wallet WeChat Pay, Member Cards, and Coupons
By now, WeChat MPs have over 830 MUA, becoming an increasingly crucial part of the growing eCommerce market in China.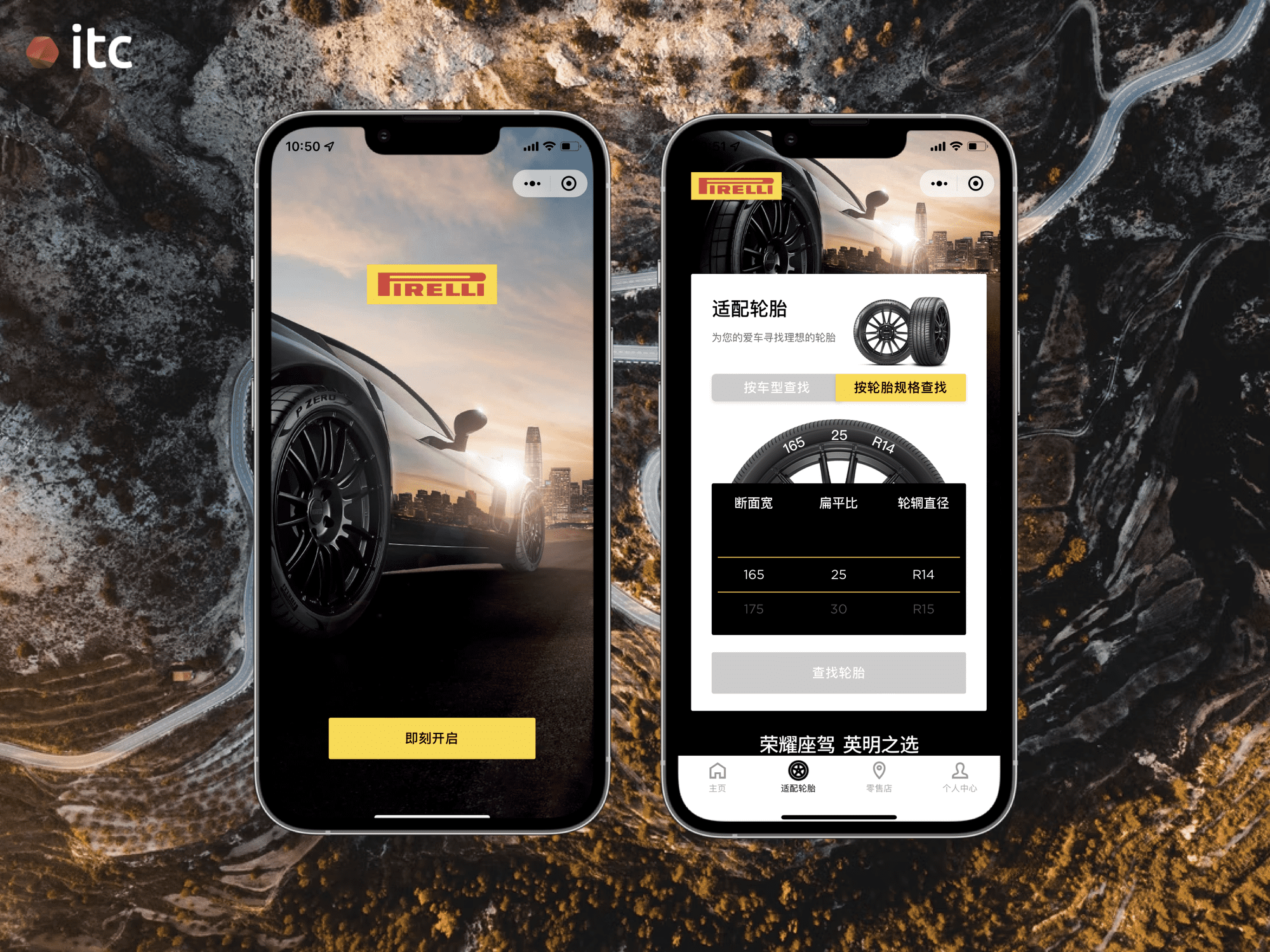 And of course, it does not stop there. There are many more Social Commerce features available to brands, on WeChat as well as other social media platforms.
Furthermore, these brand awareness-building and engagement attempts happen right where customers interact with their friends, families, celebrities, etc. This facilitates community building, sharing, and endorsements by KOLs/KOCs, leading to the discovery of and favor for products/services through word-of-mouth.
To wrap up, as you can see from the WeChat example, the platform tries to squeeze itself into Chinese people's lives as much as possible. And this is not unique to WeChat.
The eCommerce market in China is very big but hardly specialized, unlike the platforms in the West. Here, the line is extremely blurred between eCommerce and social media communication.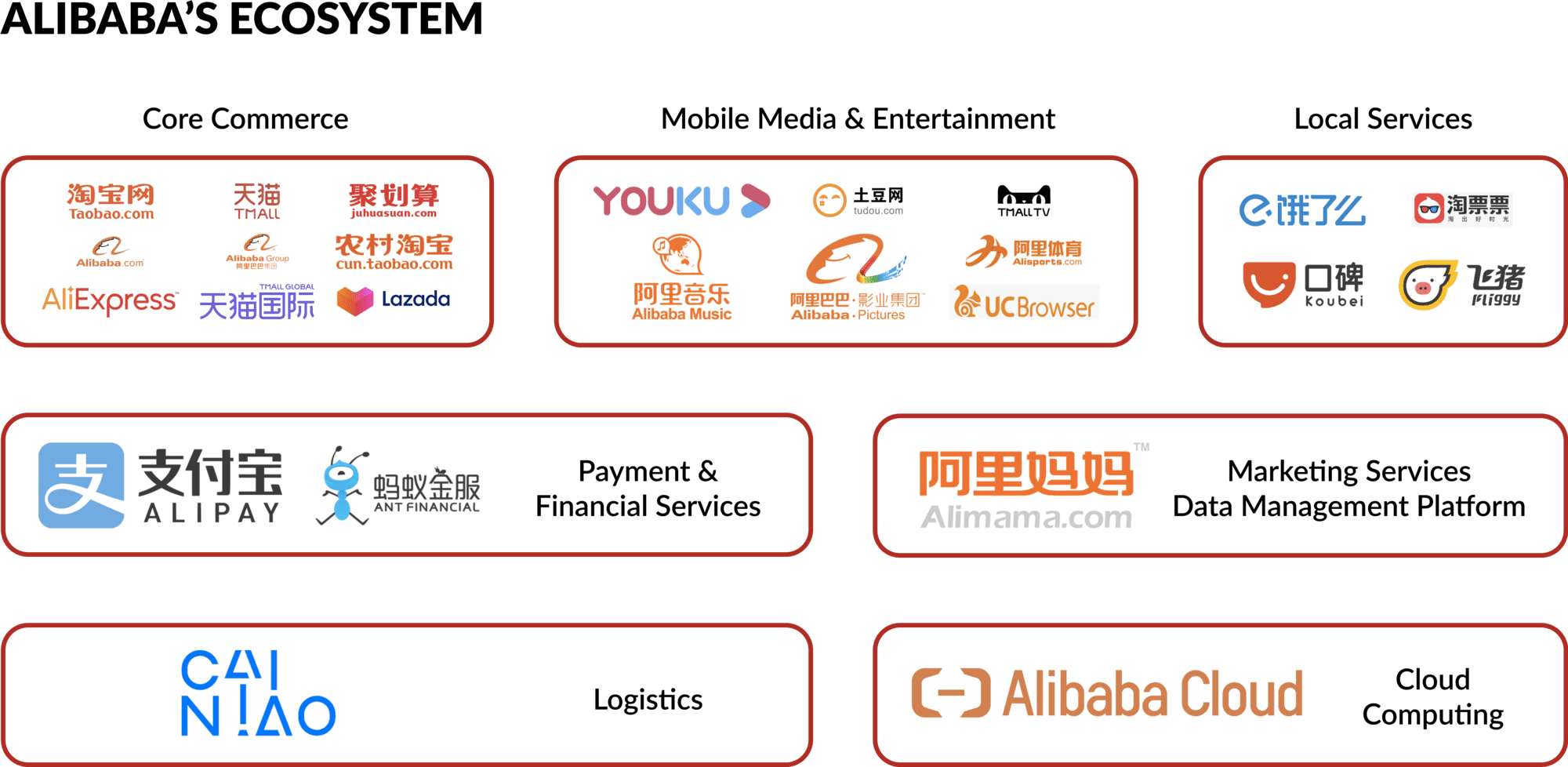 Every platform tries to do as much of everything as possible. They strive to become complete ecosystems to offer an immersive experience for users, from the beginning of the funnel to the final purchase.
What is Private Traffic vs Public Traffic?
Although the line is getting more blurred over time, there is still a fundamental distinction between Alibaba and WeChat that you should keep in mind - the differences between "public traffic" and "private traffic". This is especially important for brands who want to join the eCommerce market in China.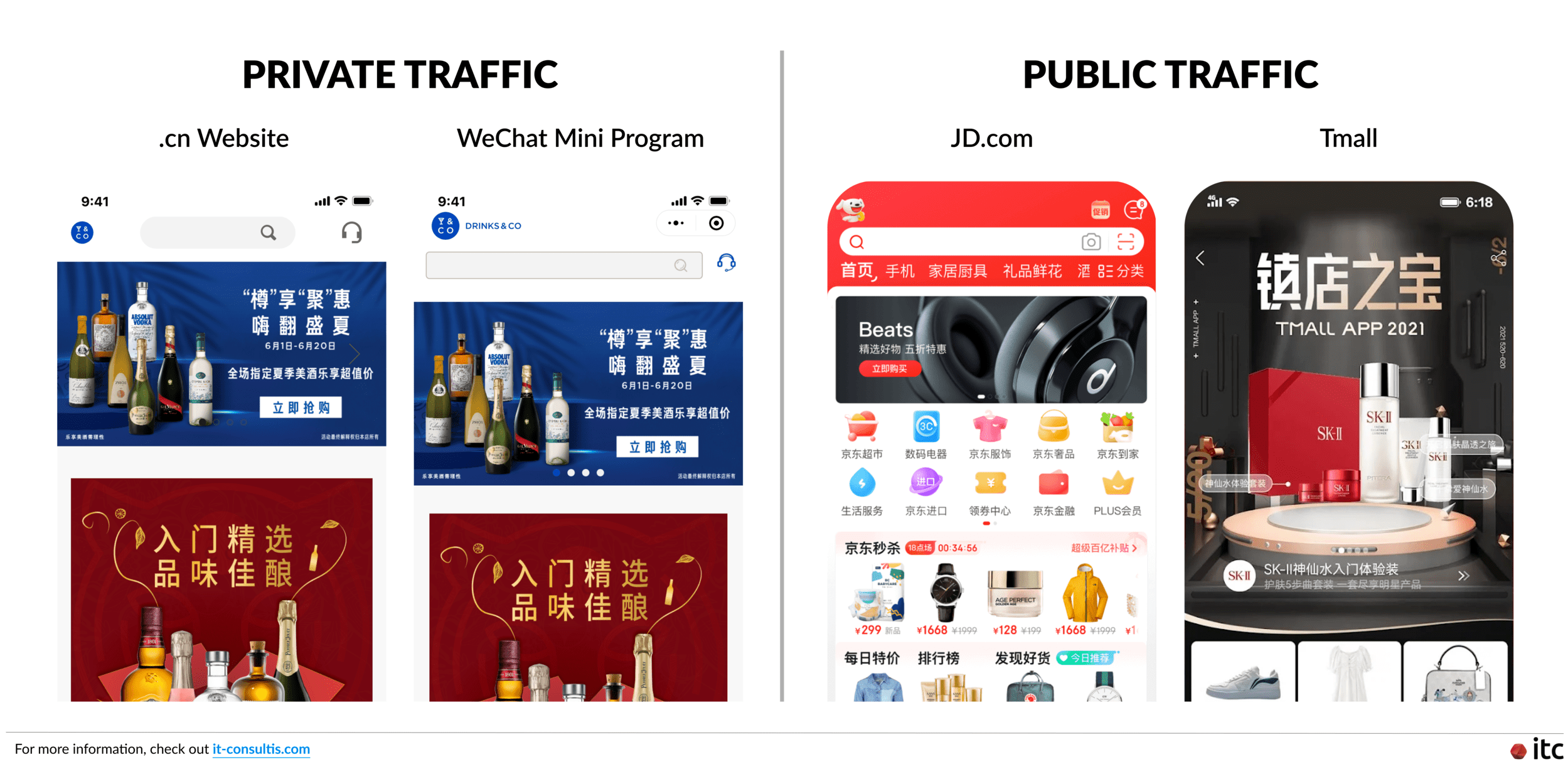 Public traffic is traffic on public marketplaces like Alibaba.com (B2B), Taobao.com (C2C), Tmall.com (B2C), and JD.com. Each brand can:
Register its own store
Build its own store environment
Compete with other brands on the same platform for the attention of customers.
However, since this is basically a store inside a virtual mall, brands do not own the user data acquired.
In addition, the public eCommerce market is extremely concentrated. By 2021, the 3 top B2C platforms - Tmall, JD.com, and Pinduoduo - have already accounted for nearly 80% of the market.
Contrary to public traffic, private traffic is traffic on the brands' own channels. This includes their .cn website and the WeChat Mini Program we repeatedly mentioned above.
These channels allow them to own 100% of the user data which can be utilized for future marketing purposes. As a result, they can also avoid rising complexities related to secondary and third-party data capturing, consolidation, and processing due to the Authorities' crack-down on personal information protection.
Due to the growing competition on public platforms, acquisition costs have increased. Thus, many brands are diversifying their investments by aiming for private traffic as well.
Nevertheless, public traffic is still necessary for building brand awareness and online presence and generating sales in large volumes. This is simply because it offers more exposure and campaign opportunities, which is especially necessary during the initial market penetration.
Another thing is, competition on private traffic channels like WeChat is also growing much more intense.
The social platform is becoming more closely associated with e-Commerce and more brands are flooding in to reach their target market. Thus, users have become less inclined to open brand messages and push notifications.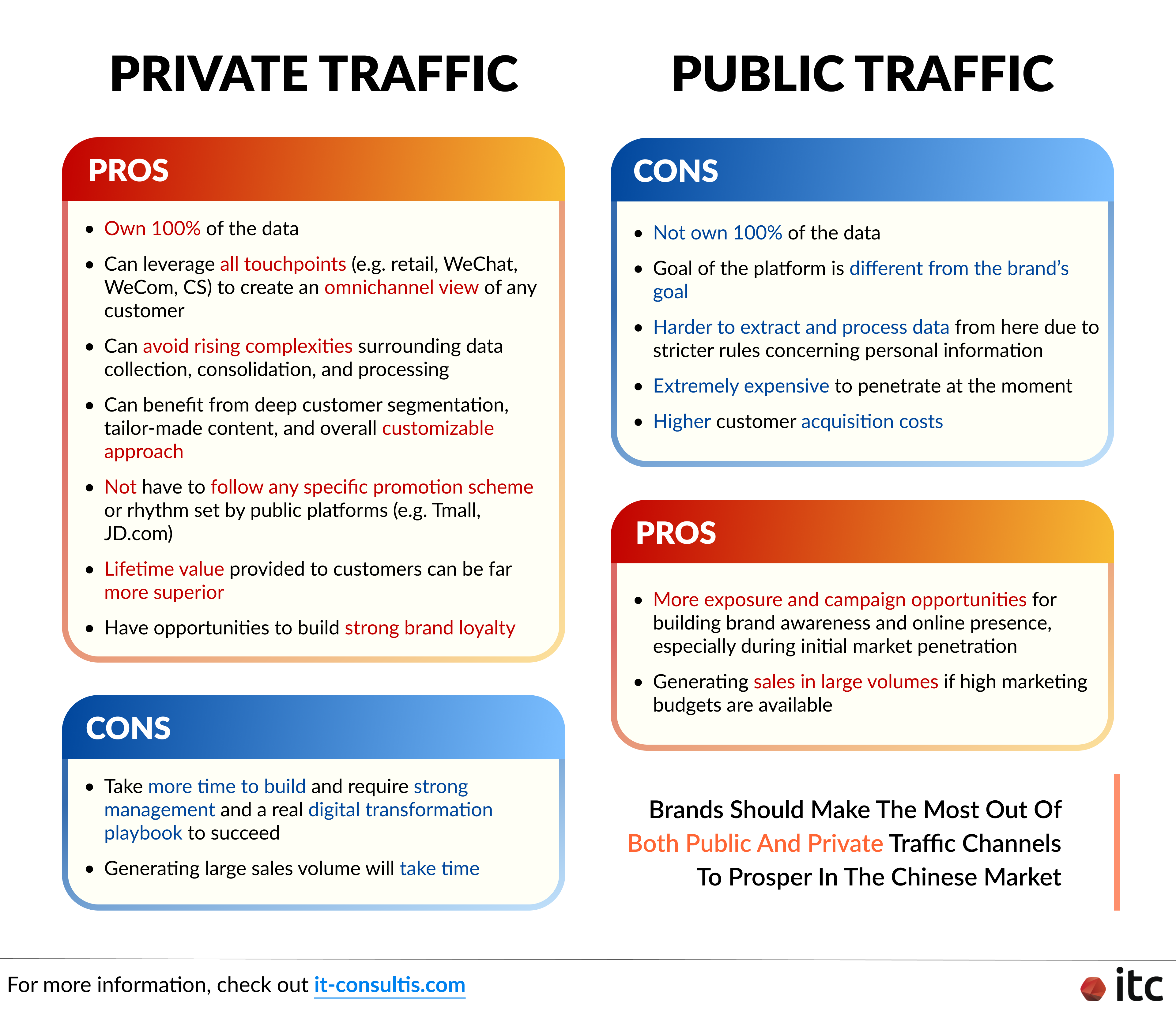 Therefore, companies now need to build:
Omnichannel Capabilities
With the growing number of touchpoints and the increasing online shopping demand, brands need to incorporate end-to-end omnichannel strategies. As a result, they can effectively reach customers and create seamless multi-device and online-to-offline (O2O) experiences.
One of the most common (and best) approaches to "omnichannel" in China is leveraging both online and offline touchpoints.
In fact, despite the acceleration of online shopping since the COVID-19 pandemic, offline channels are not becoming obsolete. Instead, the latter witnesses a more rapid growth as well, as "there's more of a shift toward a true omnichannel integration".
To elaborate, brands can utilize their online platforms to drive users from online to offline (O2O), especially with the help of Marketing Automation, CRM, and social CRM tools and WeCom to boost operational efficiency and conversions.
However, keep in mind that, in China, the line between CRM and social CRM is very blurry due to how big of a role social media play in e-commerce, as aforementioned. Thus, it is important for brands to leverage social CRM tools, specifically for WeChat, the largest social network ecosystem in China, to drive users to offline stores and events.
For instance, Moschino utilizes social CRM tools and WeCom for its WeChat Official Accounts to:
Connect users with real Sales Associates
Directly capture data
Push personalized content, product promotions, and events invitations
Those who are interested can come to the offline event or physical store to try on the product in person and make a purchase in-store.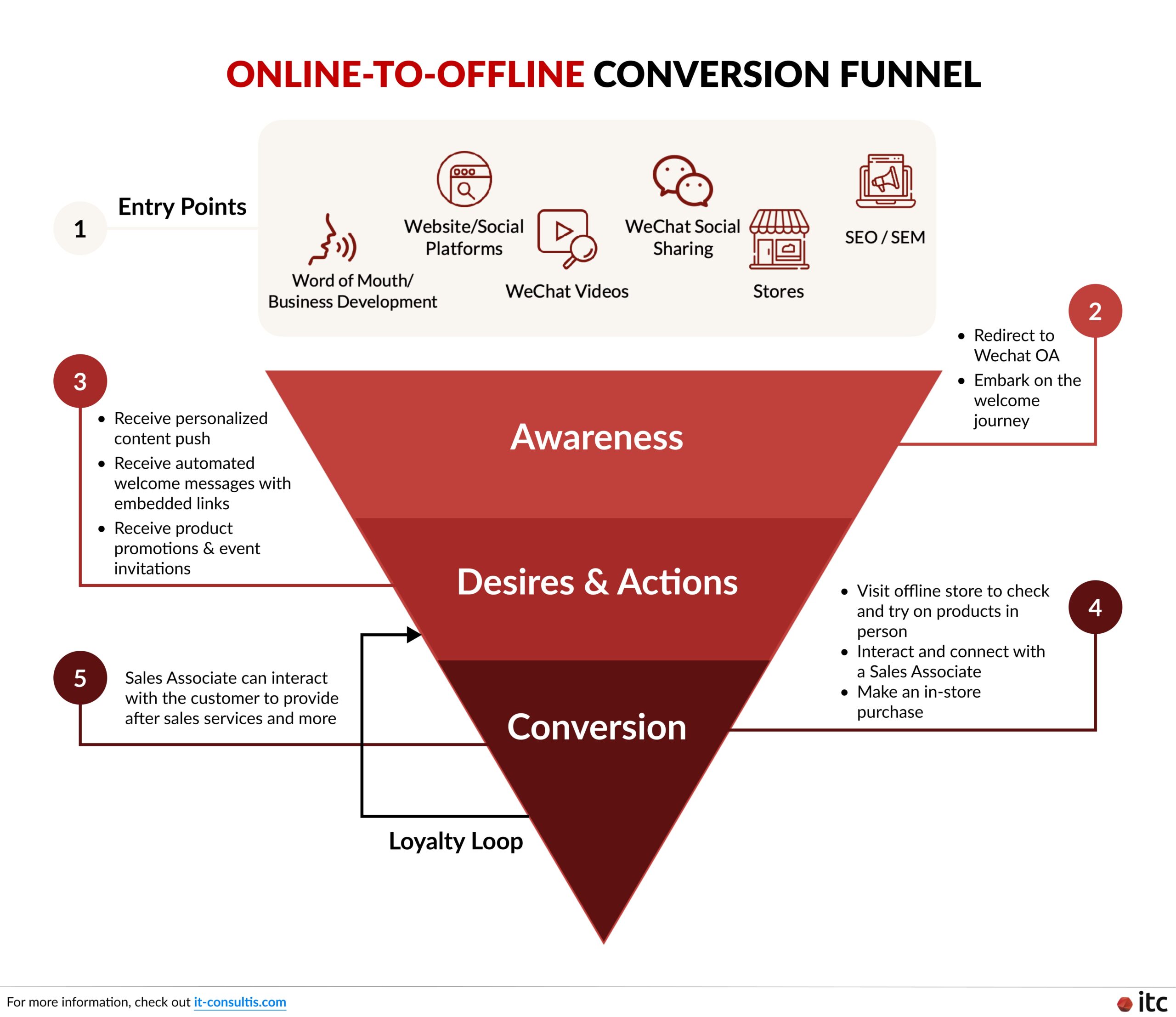 If you need help with setting up your own enterprise-level social CRM systems, consult with experts at ITC to automate your marketing process on WeChat and maximize your ROI!
Moreover, according to a KPMG study, nearly 70% of Chinese consumers reportedly have looked up information and reviews of a product on their smartphone or tablet while in the physical shop!
The seamless omnichannel experience enables users to make the most of both touchpoints to gain more information and, eventually, become a customer.
Furthermore, in recent years, it is also not uncommon for consumers to experience a brand's WeChat Mini Program at a physical store or event. The trendsetters for this ultimate omnichannel experience are mainly retail luxury brands, such as Burberry.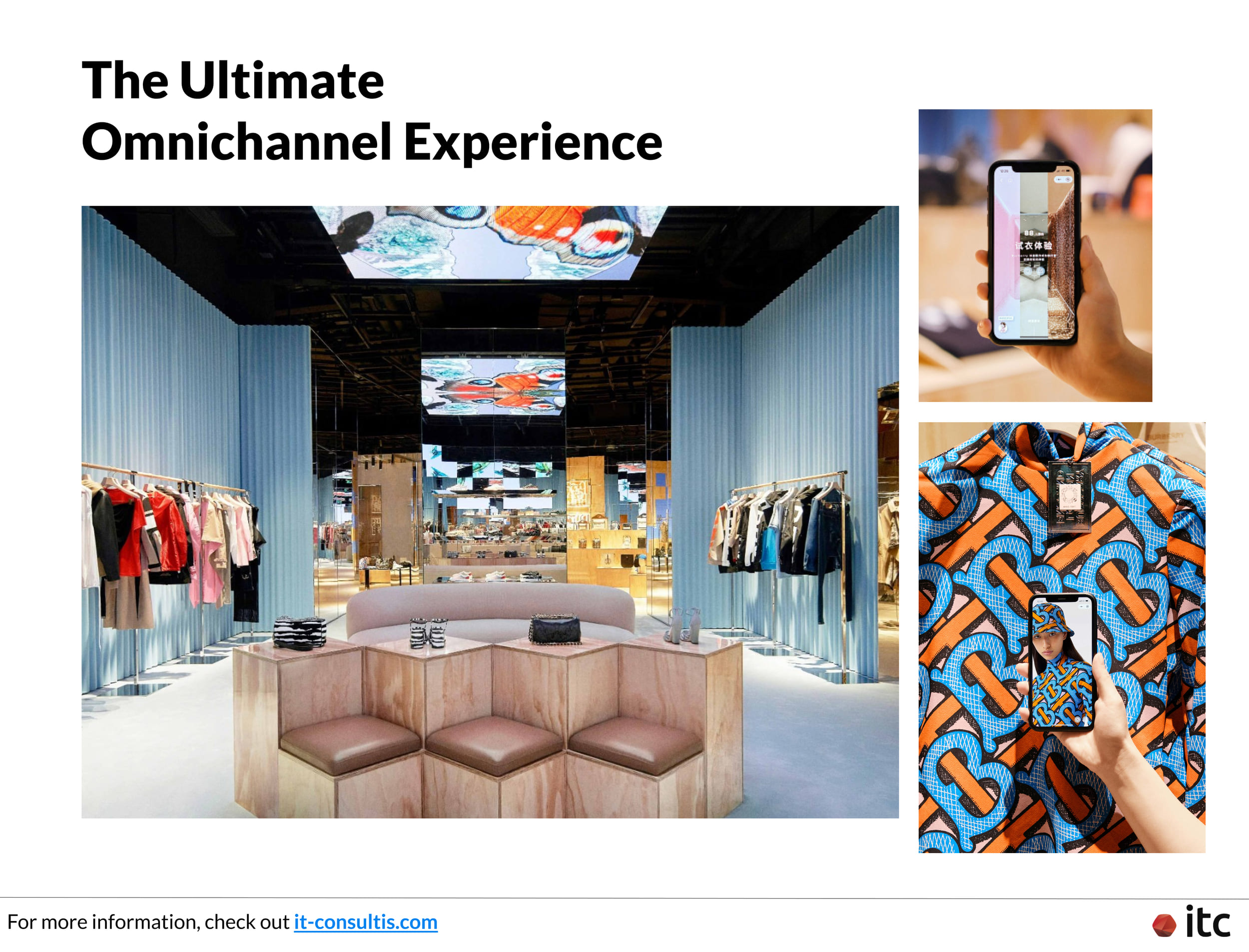 In 2020, Burberry partnered up with Tencent to open the first social retail store in Shenzhen. The concept blends both the social networking and physical retail elements to deliver a unique immersive retail experience of the future.
In particular, the bespoke WeChat Mini Program allowed users to enjoy different features (e.g. store tours, product information, in-store appointment bookings, dedicated services, etc.). But it did not stop there.
Users could also utilize the Mini Program to interact directly with the offline space! They could scan specialized and parametric QR codes installed throughout the site to check products' information and gain "social currency" to receive more exclusive content for their digital character, customized emoji, or exclusive Hongbao cover.
Most importantly, all of these experiences could be easily shared with their communities on WeChat. And, this truly innovative omnichannel integration will likely get expanded to the rest of the Burberry network in China, making it a foreseeable future of retail.
In addition, when it comes to a seamless multi-device experience and efficient content management, the best way to approach this is by building a headless architecture. It essentially separates the "head", the frontend components that the users see and interact with, from the backend.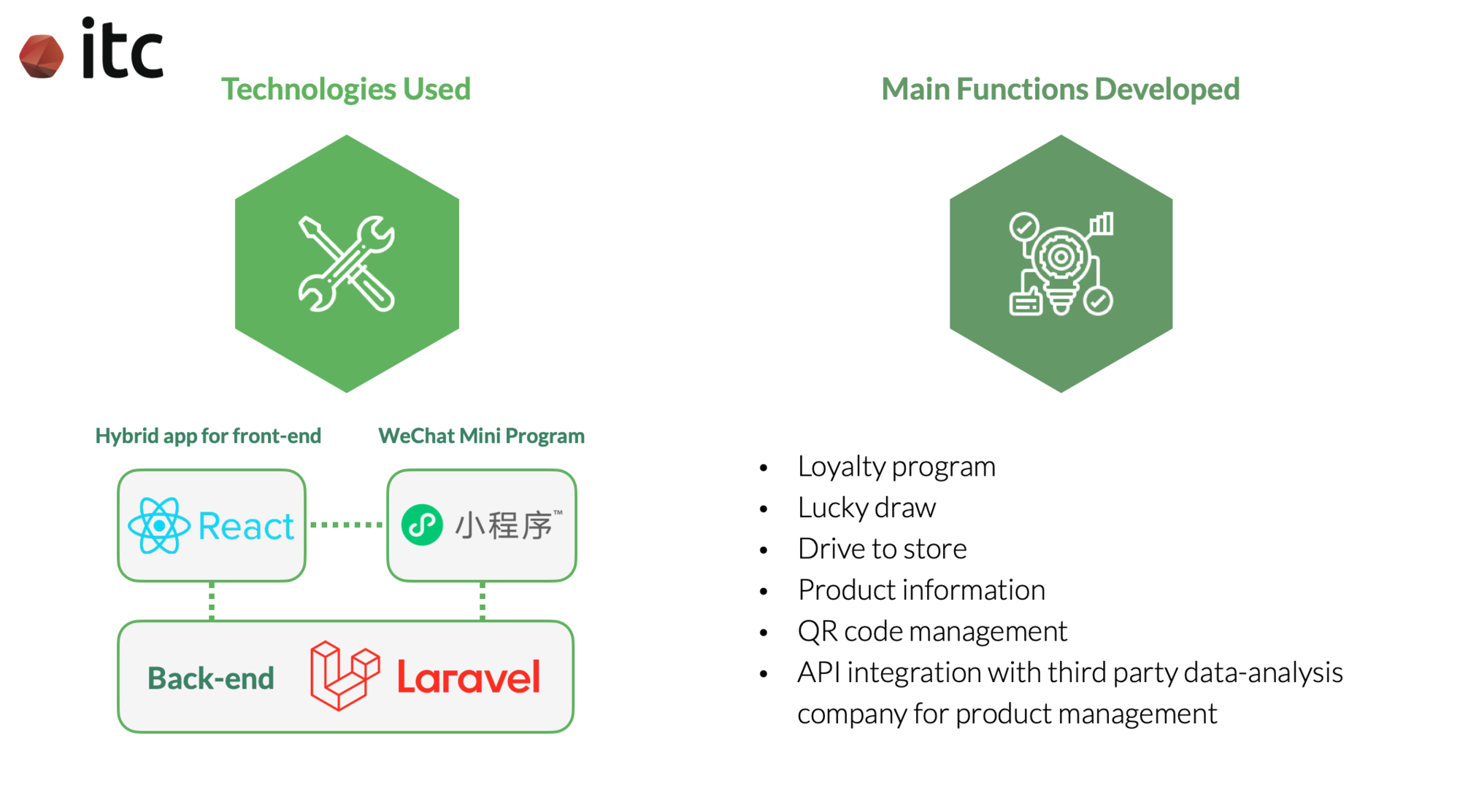 This enables brands to have just 1 backend and multiple frontends for multiple private platforms. Ultimately, it facilitates a more efficient content management process in addition to the user experience consistency.
In fact, IT Consultis (ITC) has consulted and helped many brands conduct this strategy in China. For instance, we built:
A Hybrid app (ReactJS) and a WeChat Mini Program (MP Interface) for BASF connected headless by just 1 backend framework - Laravel
A Drinks&Co website (ReactJS) and WeChat Mini Program (MP Interface) for Pernod Ricard connected by Magento
Furthermore, competent omnichannel capabilities will also help brands mitigate risks and be better prepared for uncertainties. This is especially crucial after the recent impacts of the COVID-19 pandemic.
If you are unsure where to start, do not hesitate to contact ITC. We also offer digital transformation audits and overarching omnichannel strategy consulting and implementation (e.g. bespoke Mini Program development) to oversee your success journey from start to end.
Other Trends in the eCommerce Market in China
Digital Wallets
To begin with, Chinese consumers are a different crowd, far different from Western shoppers.
This can easily be concluded from an observation made early on by Jack Ma. The mogul of one of China's most popular online retailers - Alibaba learned that "Many Chinese do not use credit cards".
Naturally, this has posed a problem for eCommerce sites.
Ma's simple workaround was to add the digital wallet feature - Alipay - to his Alibaba ecosystem. This service allows customers to deposit money in a bank account.
Afterward, the money is kept in escrow and released to the seller only after the customer has received the goods.
The escrow system has cultivated a sense of protection among vendors and buyers, encouraging them to do more business.
This has since become one of the biggest trends in the China eCommerce market. Multiple other platforms have also developed their own versions of digital wallets to foster a seamless eCommerce experience within their ecosystem, such as Tencent's WeChat Pay.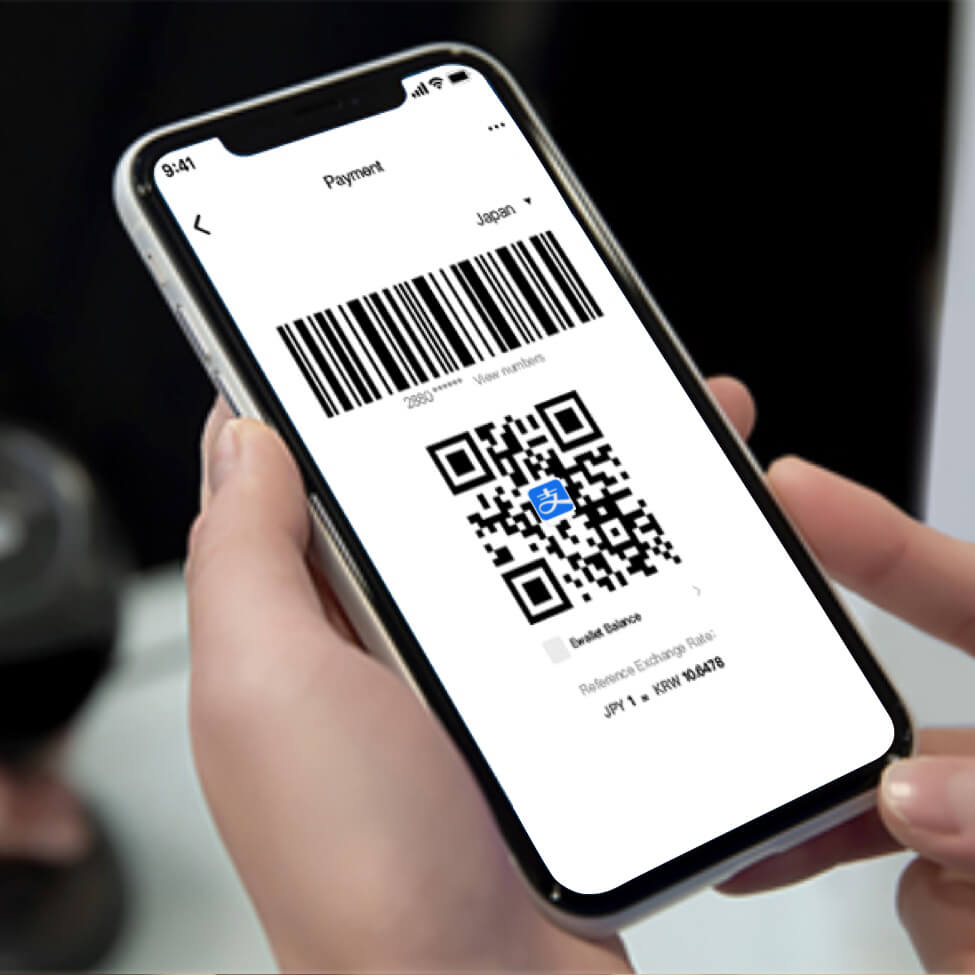 QR Economy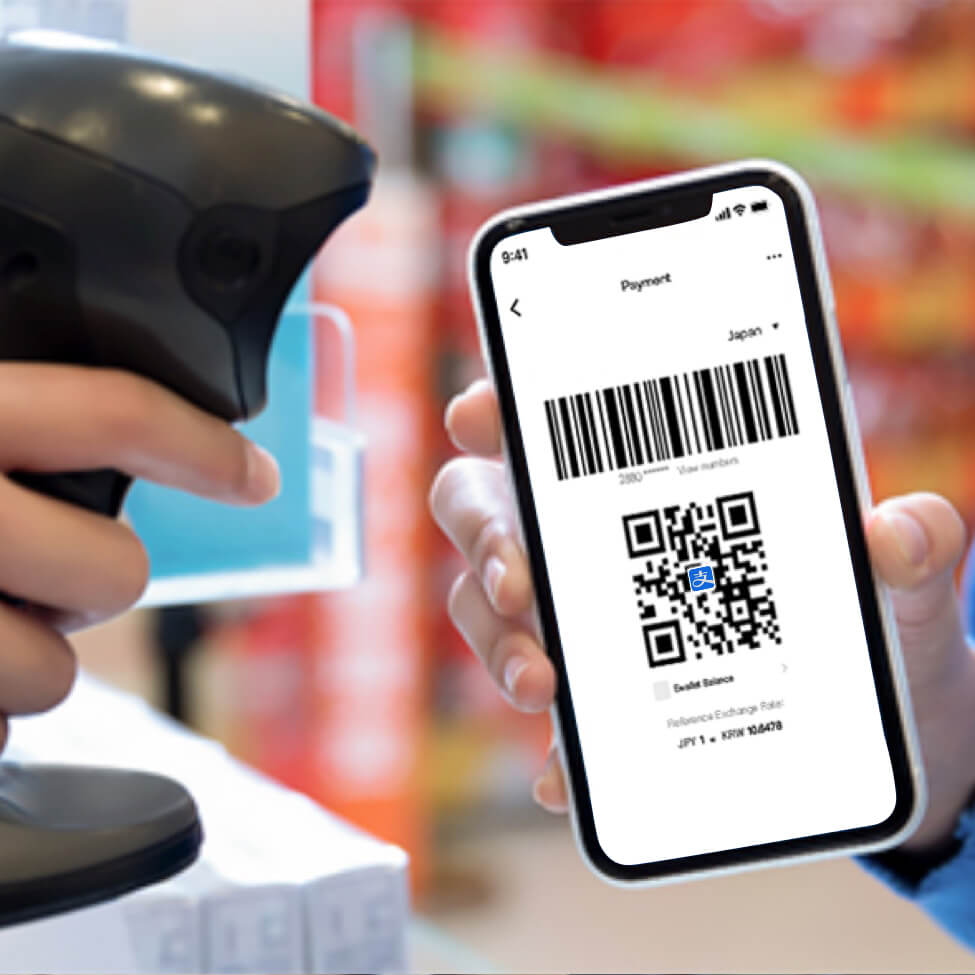 Along with these mobile payment apps, QR codes are also a very prevalent part of the eCommerce market in China.
According to a report by China UnionPay, in 2020, around 85% of users used QR codes to make payments. The volume of business transactions via QR codes also skyrocketed nearly 26% year-on-year in the 1st quarter of 2020 alone.
QR codes integrate well with digital wallets and provide a smooth contactless flow of information and data. Therefore, they became even more popular during the COVID-19 pandemic! By reducing unnecessarily close interactions, QR codes have helped save time and costs for preventative measures.
Live Commerce
This is another trend that has been fueled during the pandemic.
Livestreaming eCommerce, or Live Commerce, takes the form of the old-school shopping channels on TV and live auctions. But, it happens in a different space - eCommerce and social media platforms.
Consumers could not access physical stores, yet, found product photos at online stores untrustworthy. Therefore, the demand for Live Commerce accelerated out of the need for a live demonstration of the products' quality without direct contact.
In 6 months, this trend had already generated $400 billion for China in 2021, souring 85% from 2020! It has now become one of the significant parts of the country's eCommerce market, accounting for nearly 12% of the total retail sales online.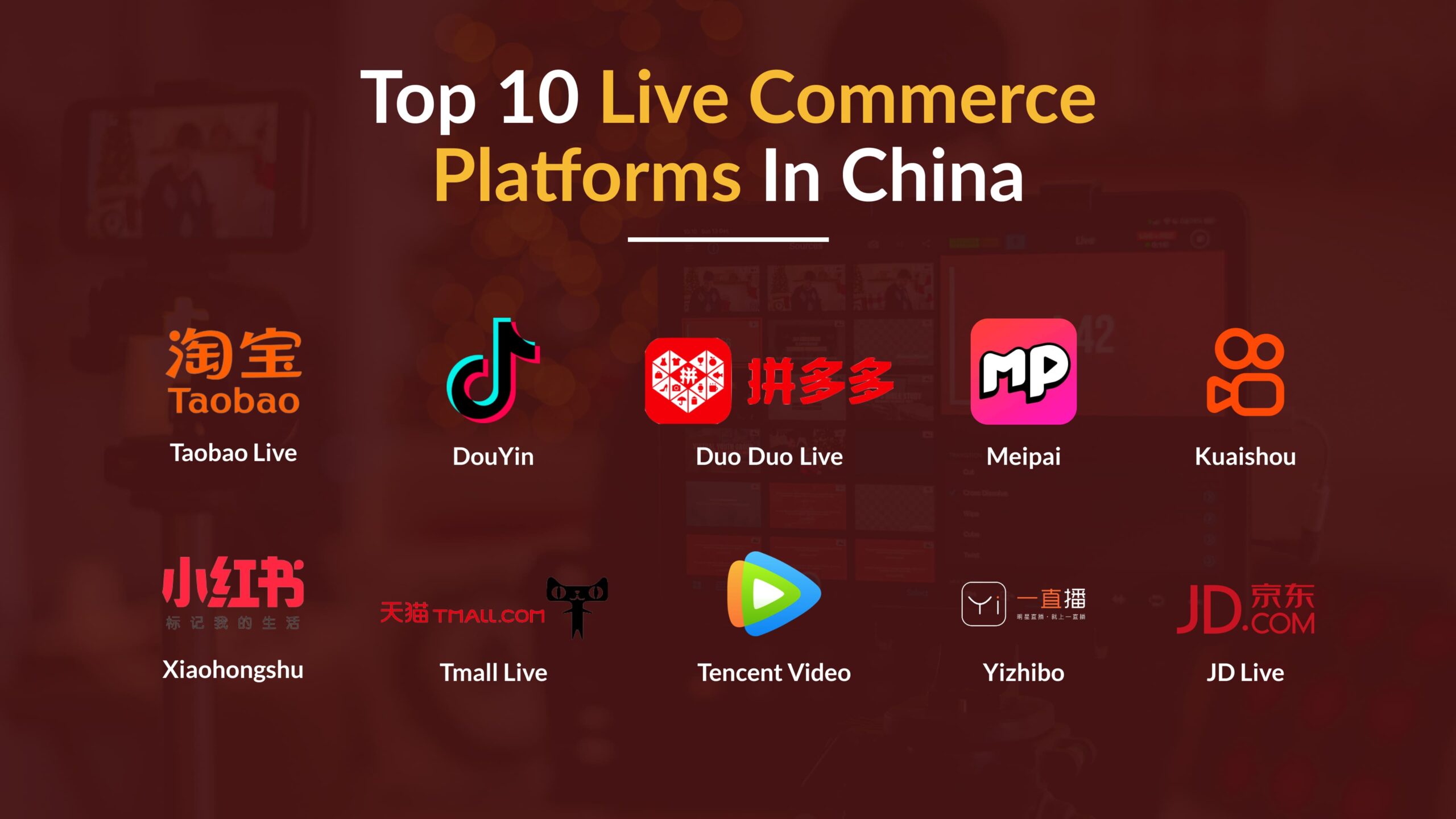 What is the Future of eCommerce in China?
Two things are certain for now - mobile and social networks will continue to shape eCommerce in China.
With the rise of low-priced yet top-of-the-line smartphones in the country, more and more people will be going online.
Shopping in the future will also likely evolve to become online-first. Offline services will simply be complementary to and integrated with the fundamental ones offered on the consumers' mobile devices.
At the same time, giant e-Commerce spaces will continue to enhance their services and explore new ways to effectively draw consumers' attention.
Additionally, social media will incorporate more e-Commerce features to make the most out of its user base and facilitate more seamless communication between brands and their target market. This means the line will likely become even blurrier in the future.
Companies can also expect new analytics tools to emerge. With aggregated data from all platforms and valuable insights, businesses can take more holistic approaches to adapt to the ever-evolving customer needs.
And, going forward, the increasingly fierce competition is pushing brands to improve their visibility as much as possible. They should deliver a seamless and convenient multi-device and O2O experience by:
Engaging with customers in all possible touchpoints
Developing dynamic inventory management systems
Optimizing the content management systems
Enhancing the logistics frameworks
Personalizing services and recommendations
On the customers' side, for better or worse, these dynamics are changing the way the Chinese view their relationship with wealth, consumption, and status. And, only time will tell how this would influence Chinese cultural values as a whole.
Lastly, the innovative mindset and insane growth of the eCommerce market in China have prompted many to suggest the industry's future is in China.
Many of its Western counterparts can definitely learn a thing or two by appropriately employing some of the innovative tactics in their own market to stand out from the crowd and emulate the success found in China.
Need Help with e-Commerce Penetration in China?
IT Consultis has had over 12 years of experience in helping businesses with their digitalization journey, as a digital transformation and eCommerce agency in China.
We have consulted and developed many digital assets for brands to enhance their omnichannel capabilities, optimize their visibility in multiple touchpoints, and deliver a consistent and convenient experience to customers.
Therefore, if you have any questions at all about your e-Commerce opportunities in China, send ITC a message via email or WeChat to gain more expert insights and recommendations!
FAQs
When did e-Commerce Begin in China?
The eCommerce business in China started to emerge in 1997 - 1998 and has been evolving quickly since the foundation of Alibaba in 1999.
Is China the largest eCommerce market?
Yes, China is the largest eCommerce market in the world as it generates over 50% of the global eCommerce retail sales.
Which e-Commerce is Best in China?
Out of the most popular China e-Commerce platforms, Alibaba's Tmall is the top e-Commerce retailer in the country. The top 3 - Tmall, JD.com, and Pinduoduo - have already accounted for nearly 80% of the total online retail market in China.
Why is there No Amazon in China?
Amazon joined the eCommerce space in China in 2004 and left in 2019 due to intense competition from the local platforms. From 15% in 2011 - 2012, its market share dropped to just 1% in 2019.
The company was losing in terms of shipping speed and product variety. Its differentiating factors, including high credibility, also diminished as local players took more serious measures to deal with counterfeit goods.
Moreover, Amazon was not as aggressive in its marketing efforts. This caused it to lose visibility to local giants that frequently implement large sales promotions and advertising campaigns.
Amazon has now shifted its focus to cross-border eCommerce in China. Its cloud services are still accessible in the country as well.
Why is the Chinese e-Commerce Retailing Market Booming?
Here are the 6 main reasons why the Chinese e-Commerce retailing market is booming:
In addition, the poor retail infrastructure in less developed cities has also driven many consumers online for better access to a wider range of products/services.