In this article, we will explore 5 main factors all brands should know that make marketing automation in China so different. You will also learn why exactly both B2B and B2C businesses should leverage it, especially for WeChat with Social CRM, to maximize your lead generation efficiency.
Unlike in the Western world where collecting emails and doing email outreach automation is the norm for lead nurturing, emails never really caught on in China. Some never check their emails, while others do not even have one.
And that is just one tiny element that sets marketing automation in China apart from its Western counterparts.
But before further convincing you of its importance, let us cover the basic understanding of marketing automation.
What is Marketing Automation?
Marketing automation is the process of automating and streamlining marketing tasks to boost operational efficiency and more effectively target customers for a single campaign or throughout their life cycle. It provides significant support for brands' traditional and digital marketing strategy implementation.
Thanks to marketing automation software and technologies, marketers can save time, costs, and resources on implementing critical marketing practices, including:
Segmentation
Persona mapping
Developing and visualizing personalized user journeys
Data collection, tracking, integration, and organization
Insights generation
Pushing targeted content
Lead nurturing, scoring, and generation
How is Marketing Automation in China Different?
1. Mobile Penetration & Mobile Commerce
If you are familiar with the eCommerce market in China, you would know that mobile devices play a significant role in people's shopping habits as well as everyday life. In fact, well over 80% of Internet users in China are mobile online shoppers, typically with a handy smartphone.
Other than online purchases, these devices also follow the users everywhere throughout the day to assist with daily activities. These includes:
Making payments at offline point-of-sales (POS)
Doing research on products and services
Interacting with brands
Consuming branded content
Thus, whether you are a B2C or B2B business, to effectively reach your target customers and/or clients in China, your marketing automation strategies have to take into account platforms and channels native to and/or accessible via mobile devices. The biggest examples are:
Social media platforms like WeChat
Stores on public marketplaces like Tmall and JD.com
Applications
SMS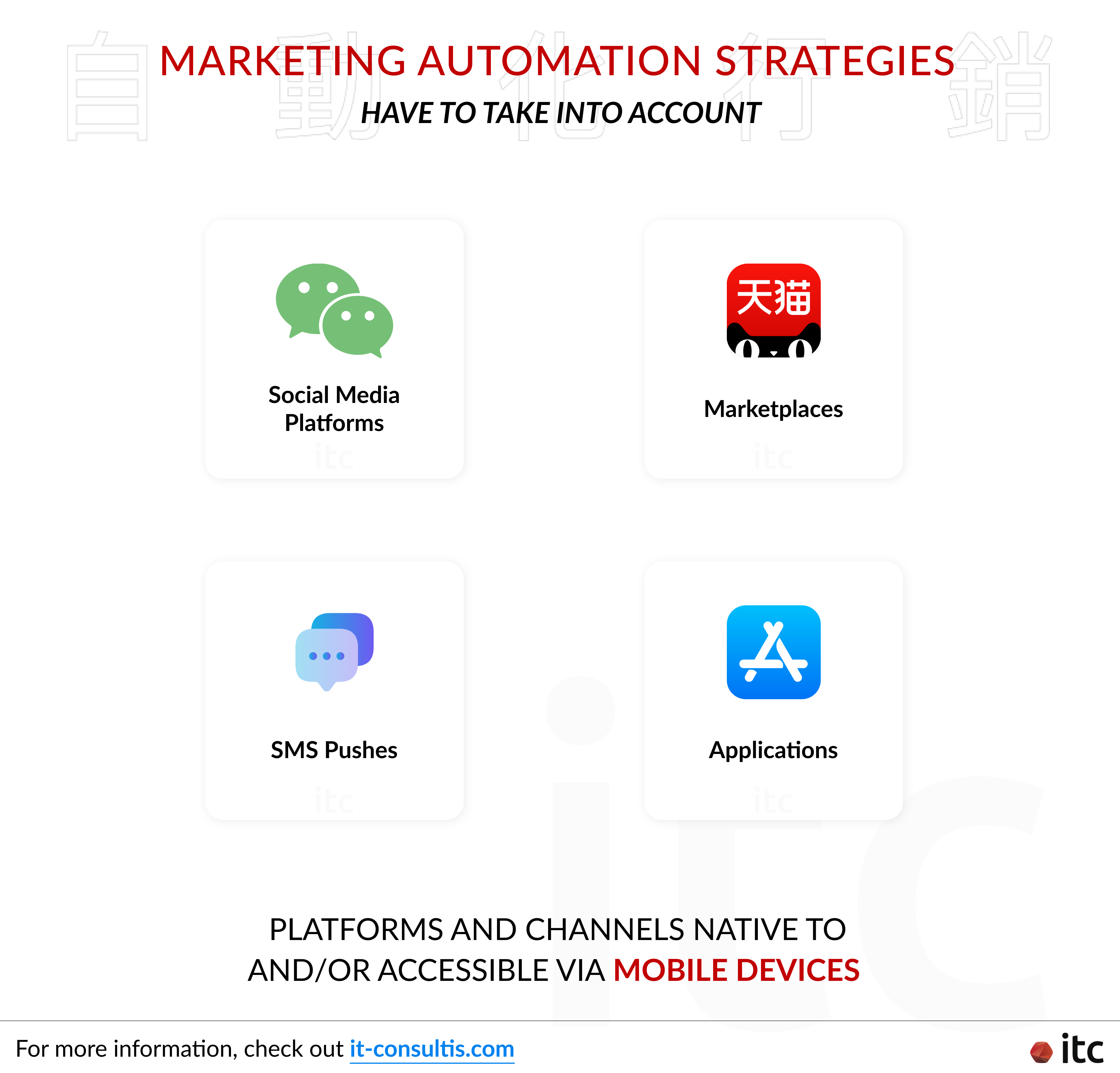 Another factor that fundamentally shapes marketing automation in China is how deeply integrated social media is into people's everyday life and how blurry the line between "social" and "commerce" has become.
This is especially the case when it comes to WeChat - the biggest social media player in the country. By 2021, the super app has garnered over 1.2 billion monthly active users (MAUs), pushing it into the top 5 most popular social networks worldwide!
According to Statista, in 2021, over 50% of Chinese consumers reportedly spent at least 2 hours a day on WeChat, while 25% even spent over 4 hours!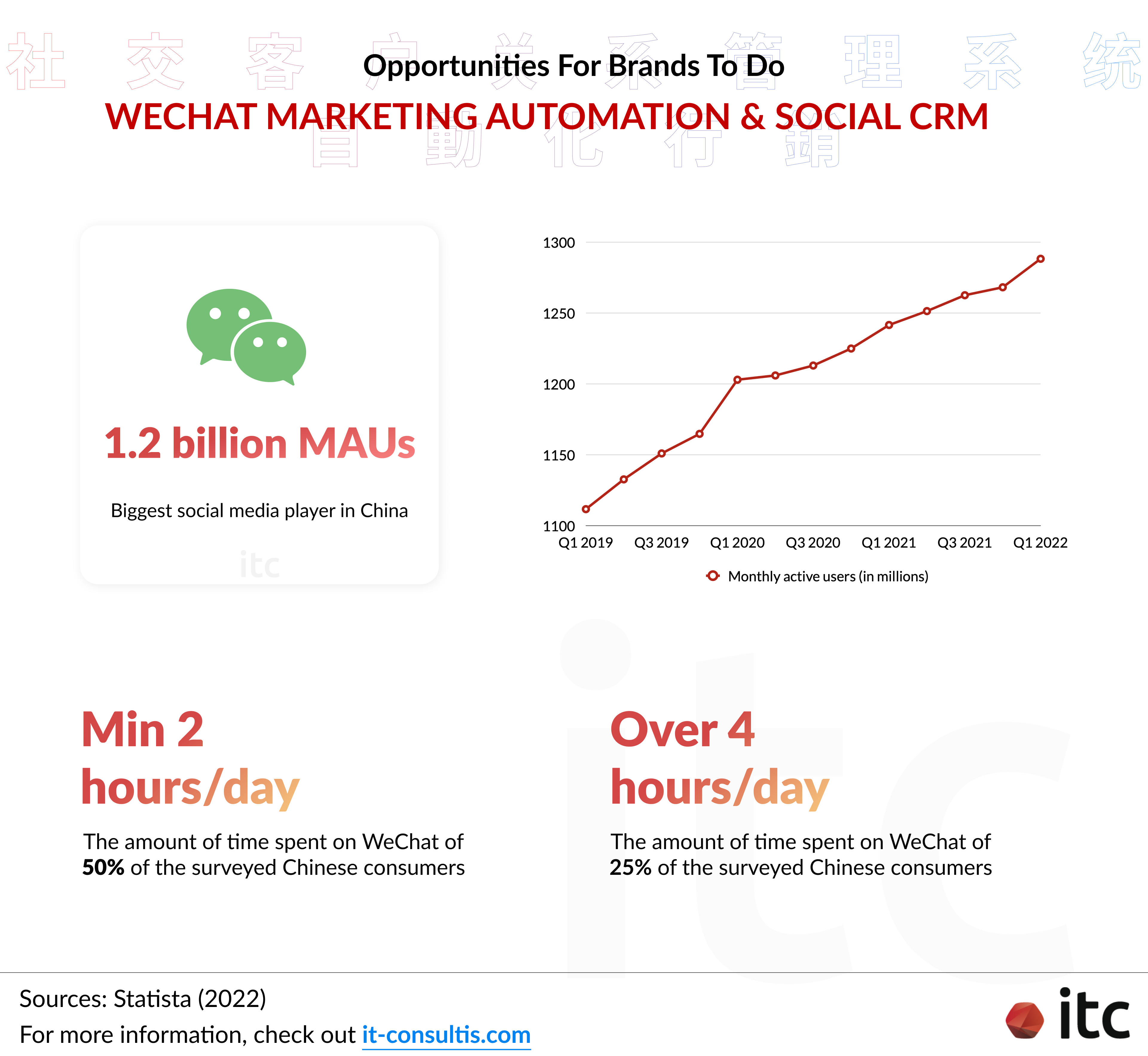 In terms of transactions, the super app generated around 2.46 trillion yuan in gross merchandise value (GMV) in 2019. And this figure is expected to soar to 13 trillion yuan by 2023!
These figures are the results of the variety of interconnected functions and features that WeChat offers within its ecosystem, including:
Convenient messaging solution that powers over 45 billion messages a day
WeChat Official Accounts, where over 20 million active brands can facilitate direct communication with their target customers and clients, in the form of direct messaging and targeted content pushing
WeChat Mini Programs, where brands can provide certain aspects of their product and service offerings in the form of a sub-app within WeChat
QR code function for contactless data transfer
WeChat Pay as a digital wallet for both online and offline payments
Most importantly, WeChat Official Accounts, Mini Programs, and other WeChat-native features and content are directly sharable to private chats! Thus, this can ultimately help spark word-of-mouth, build brand awareness, and generate leads.
In short, users repeatedly return to WeChat throughout the day as they alternate among different channels and functions within the ecosystem, enabling direct or indirect engagements with brands.
Moreover, private traffic channels like WeChat give brands 100% data ownership. This is a huge advantage over public channels (e.g. Tmall, JD.com) where the brand's access is much more limited.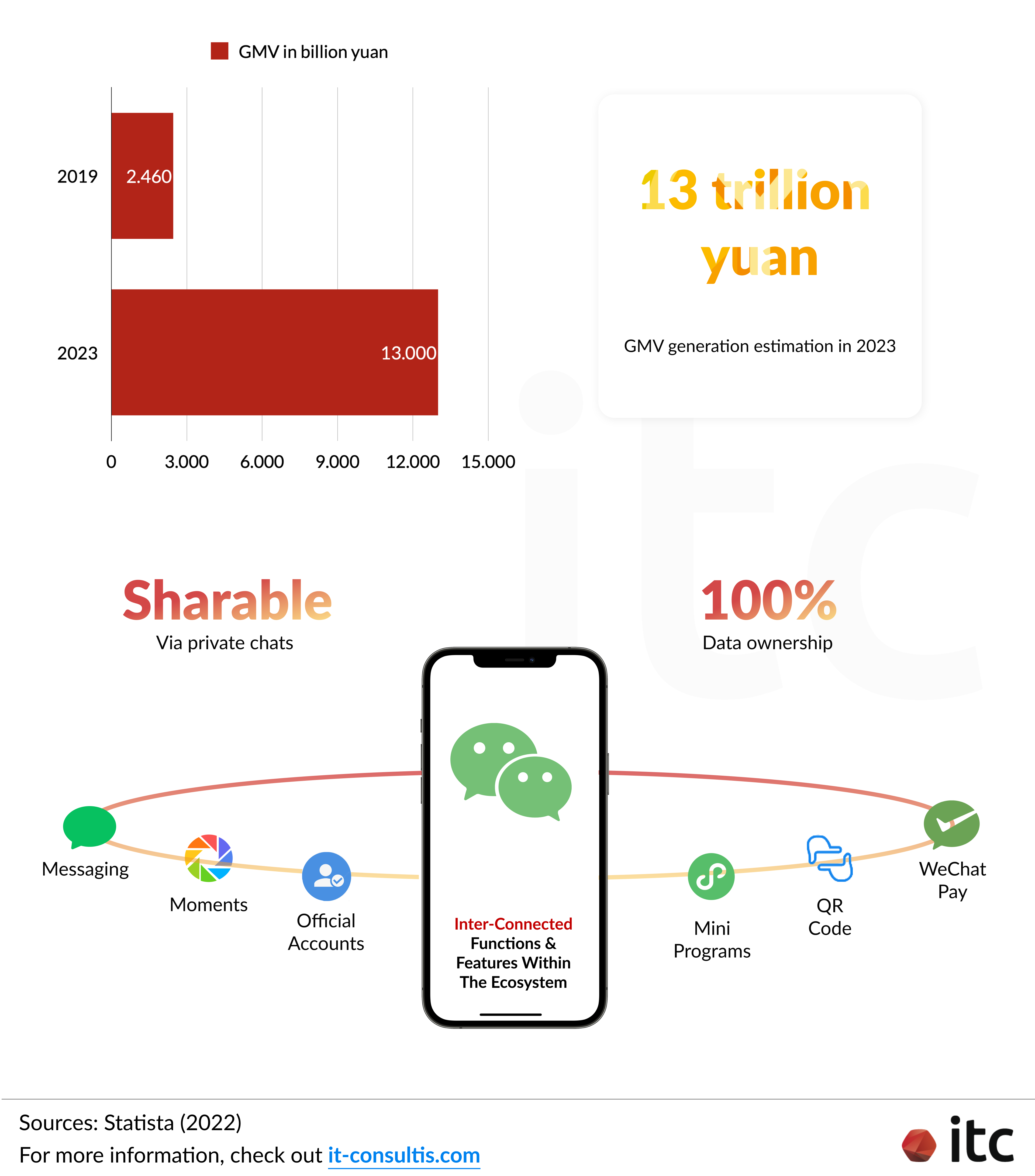 Therefore, WeChat is one of the most valuable touchpoints that cannot be missed for marketing automation in China, which can most prominently be applied to:
Direct data capturing and tracking
User journey mapping
Segmentation
Lead nurturing via direct communication
Targeted content delivery
3. Omnichannel Experiences - From WeChat to Offline Store with Social CRM and WeCom
In addition to the prevalence of mobile and social commerce in China, the omnichannel approach that many brands in China are taking can shape their digital marketing in China and marketing automation strategies as well, especially for data capturing and lead nurturing.
And the best way to reach a "true omnichannel integration" is by providing a seamless user journey between both online and offline channels. More specifically, brands should make the most out of their private traffic touchpoints on WeChat (i.e. Official Accounts, Mini Programs, etc.) and take an O2O initiative to effectively drive customers to physical stores.
One notable example of this marketing automation approach is Moschino, an Italian luxury fashion brand. In China, the brand utilizes Social CRM for WeChat to efficiently manage its interactions with customers via its WeChat Official Account.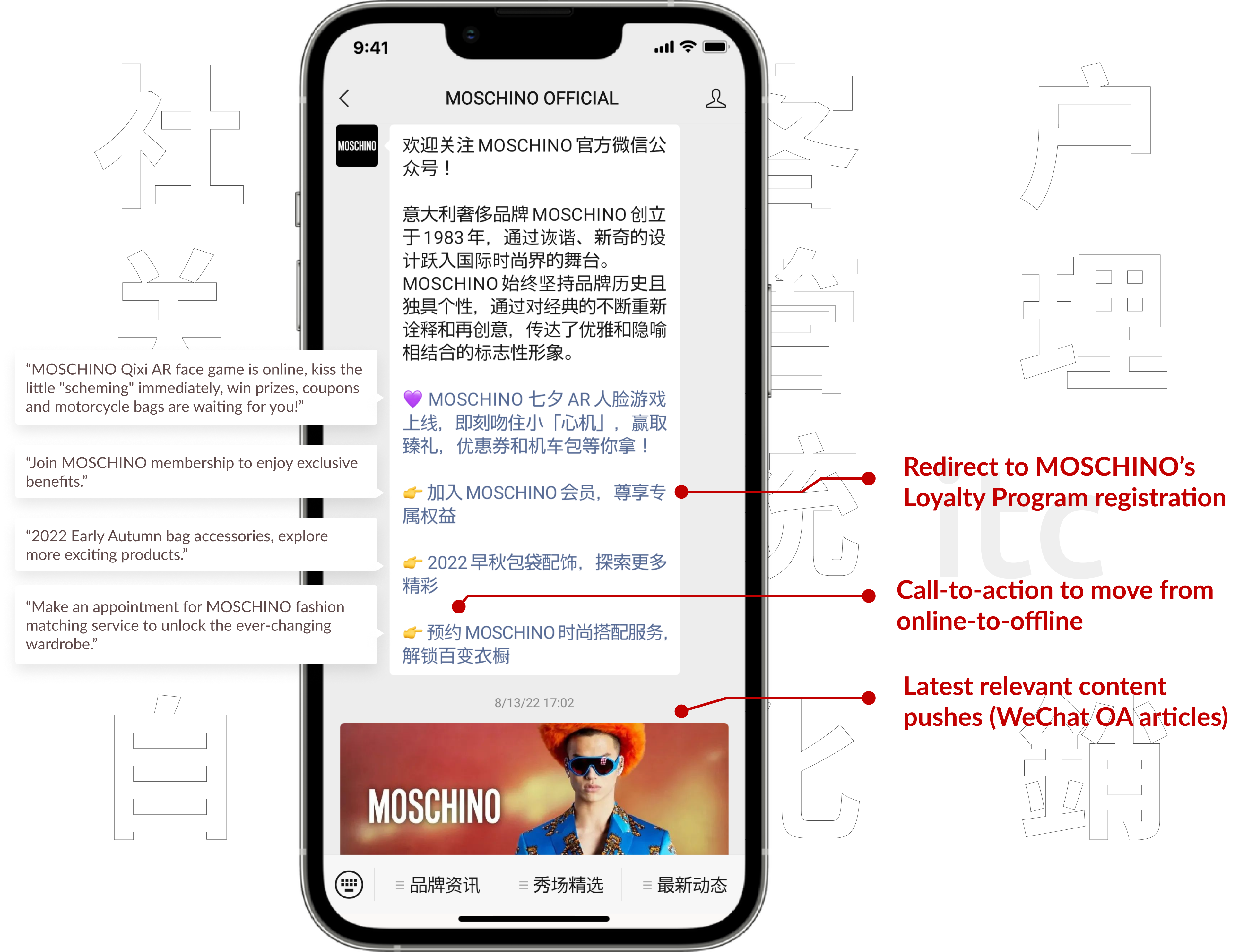 As the interactions evolve and more details about the individual are collected, the social CRM (sCRM) tools for WeChat can automatically identify (segment) and direct them onto a calculated user journey where more relevant content is pushed, including the newest clothing pieces of the season.
Furthermore, Moschino also utilizes this marketing automation strategy to direct customers to offline stores and events, successfully boosting both online and offline traffic and sales.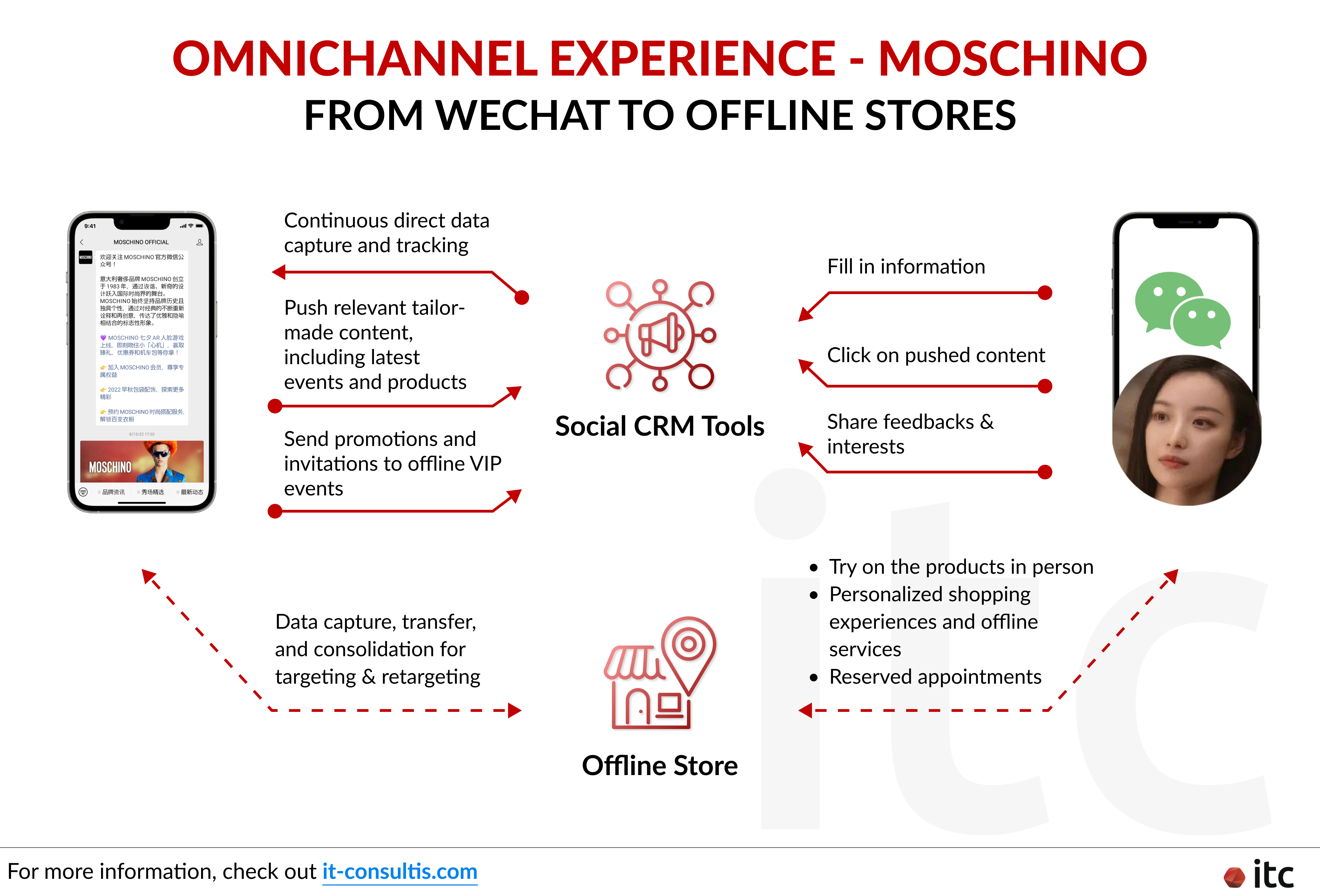 4. Chinese Consumers' Personalization Demand
A 2021 Euromonitor survey found that over 45% of the Chinese participants were willing to share personal data in exchange for personalized offers and deals. This is substantially higher than the proportions of their counterparts in North Asia, America, and Western Europe, which range from 25 to 35%.
However, it is very difficult, time-consuming, and costly to manually manage the heightened demand for personalized user experience. Thus, many companies have resolved to marketing automation to tailor their approaches for each targeted customer.
Similar to Moschino, a well-known International Education Group - also leverages Social CRM tools on both the Brand and School-level to personalize communication with different target audiences, including prospective parents, students, job seekers, alumni, and others, as part of its digital marketing strategy in China.
The personalized journeys redirect users to the right places and content, successfully boosting engagement and leads.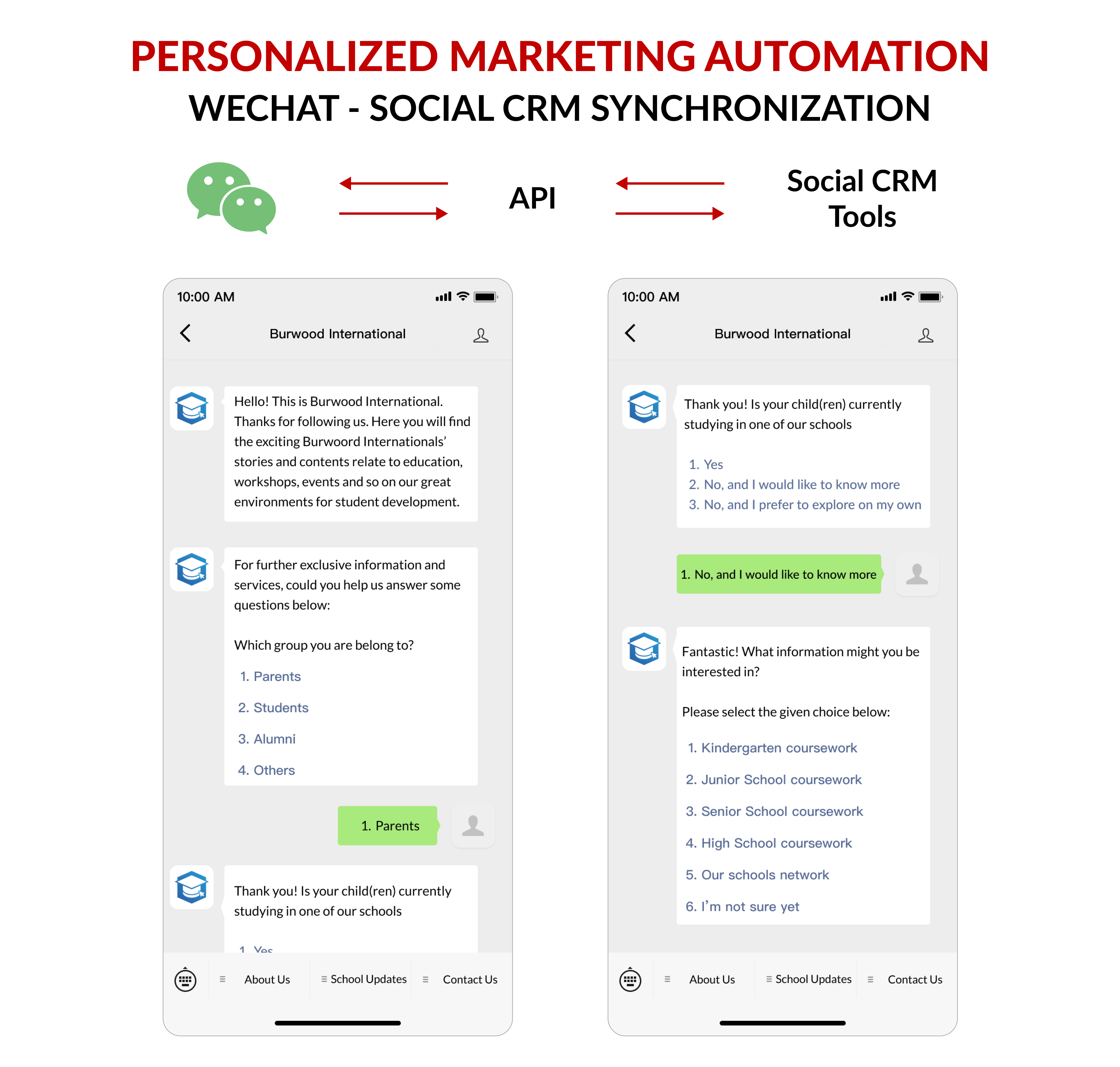 And, based on their responses, we developed a tagging strategy to effectively identify and segment each user (i.e. Parents, Students, or Job Seekers). Next, the brand can nurture leads by sending targeted messages and high-quality content pushes that are customized and relevant to their interests.
Ultimately, thanks to the performance tracking, analysis, and further improvements on the Social CRM tools, the prestige International School Brand could efficiently drive different user segments down the conversion funnel via these digital initiatives!
5. Data Regulations & The Rise of Private Traffic Platforms, Social CRM, and WeCom
While omnichannel and personalized user experiences are desirable in China, due to the strict cybersecurity and data protection rules (prominently, the recent Personal Information Protection Law or PIPL), there has been a foreseeable significant shift in how marketing automation can be applied to these aspects.
Overall, local data regulations have also added another layer of complexity to all business operations, including the implementation of marketing automation tactics. In particular, the PIPL requires all entities to:
Inform the users of how their personal information will be collected, processed, and exported (if any)
Obtain their consent before implementing any of the above
Give convenient access to opting out of or withdrawing consent for data processing activities, including marketing automation practices
And this will have an especially hard hit on omnichannel data centers. According to Douglas, ITC's Digital Experiences Manager, China:
Therefore, establishing the digital assets of brand-owned first-party data will become essential by empowering your Private Traffic like WeChat Official Account and Mini Program. As a result, Social CRM and WeCom solutions for WeChat will have a higher demand.
Moreover, brands also need to figure out how to acquire important information without appearing too intrusive, which can negatively affect their brand image. One solution is by providing a more user-friendly journey with added values, which is possible with a well-planned tagging strategy."
You can try to figure it out yourself, but more preferably, consult with Marketing Automation and sCRM experts like ITC to start optimizing your data capture and maximizing your ROI as soon as possible.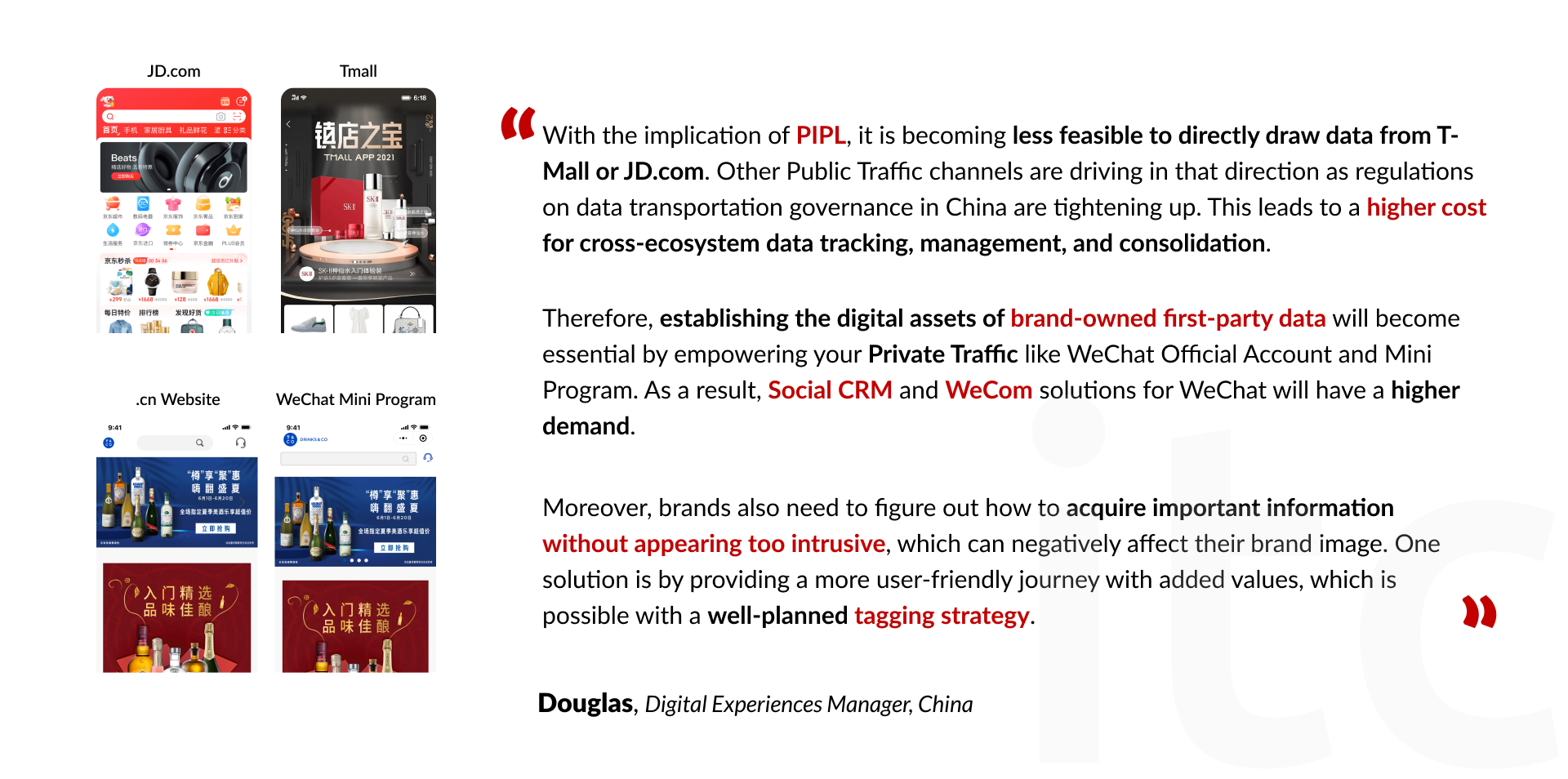 Why do Businesses Need Marketing Automation in China (especially Social CRM)?
To sum up, brands should leverage marketing automation and sCRM for their WeChat channels in China for:
Direct data capture, tracking, and processing
Building holistic tagging strategies
Logical user journey mapping
Customizable targeted messages and content pushing
Monitoring performance
Building integrated content management and CRM hub
Lead nurturing and generation
Retargeting and enabling the loyalty loop
Driving traffic to private channels (WeChat)
Facilitating omnichannel user experience, including driving O2O customer journeys
Boosting sales for all the key channels
FAQs
Is Marketing Automation in Demand in China?
Yes, due to stricter regulations surrounding cybersecurity and data privacy protection, it is becoming increasingly harder for brands to pull data from Public Traffic platforms like Tmall and JD.com.
Thus, building and enhancing Private Traffic channels by leveraging Marketing Automation solutions and Social CRM frameworks are key to establishing and streamlining brand-owned first-party data flow. Brands can deliver an elevated, personalized user experience and acquire important user information for data-driven decision-making, while boosting operational efficiency.
How Big is the Marketing Automation Industry in China?
By 2021, the Marketing Automation market in China was estimated to reach $8.1 trillion, one of the most energetic sectors in the country.