Continuing our last Social CRM case study in China, this time, you will learn about our sCRM and Marketing Automation strategies for the School-level of a prestigious international education group in China to expand its lead generation capability.
Marketing Automation and Social CRM (sCRM) Initiatives for the School Level
Objectives
Thus, it was advisable to implement these approaches for 1 Pilot School and use it as a reference for future rollouts at other schools under the Brand.
In addition, the schools also lacked fundamental awareness and knowledge about Marketing Automation initiatives and system operations. It was necessary to:
Construct an M.A guidebook and operational Standard Operation Procedures (SOP)s based on the M.A onboarding experience from the Pilot School
Provide educational workshops on the functions and methodologies behind Marketing Automation
Below are the solutions and results of our M.A and Social CRM (sCRM) deployment at 1 Pilot School in Shanghai:
Solutions & Results
1. Identify Different Follower Profiles for Personalized Content Engagement
Similar to the Marketing Automation efforts for the Brand-level, in order to identify different targeted personas from the existing and future WeChat Official Account followers, the Pilot International School also needed to:
Continuously enrich the user profiles by identifying them with comprehensive tags based on the source, behavior, and preference
Deliver tailored content engagement based on the identified user profile by leveraging the automatic journey enabled by M.A
2. Accelerate Lead Generation & Management
Due to a lack of strategic engagement approach to retain followers after following the WeChat Official Account, many potential leads were lost at the School level. For example:

New Followers
While looking up international schools to apply their child to, a prospective parent may follow different WeChat Official Accounts, including the well-known Pilot School's. However, there is little to no engaging content pushed back to them (I.e. in the form of a Welcome Message or Welcome Journey). The parents may also have a hard time searching for who and how to contact and where to find accurate up-to-date information. As a result, they may lose interest and unfollow

Existing Followers
Similarly, if an existing follower does not find value in how the content is organized and pushed by the WeChat Official Account, they may ignore and forget about it after 1 or 2 months, turning into a "hibernating" follower
Therefore, it was absolutely necessary to:
Establish effective, well-mapped Welcome Journeys upon onboarding to collect data and direct users to the most relevant content
Ease the search for information with keywords autoreply and clear, efficient content centers in the H5 page format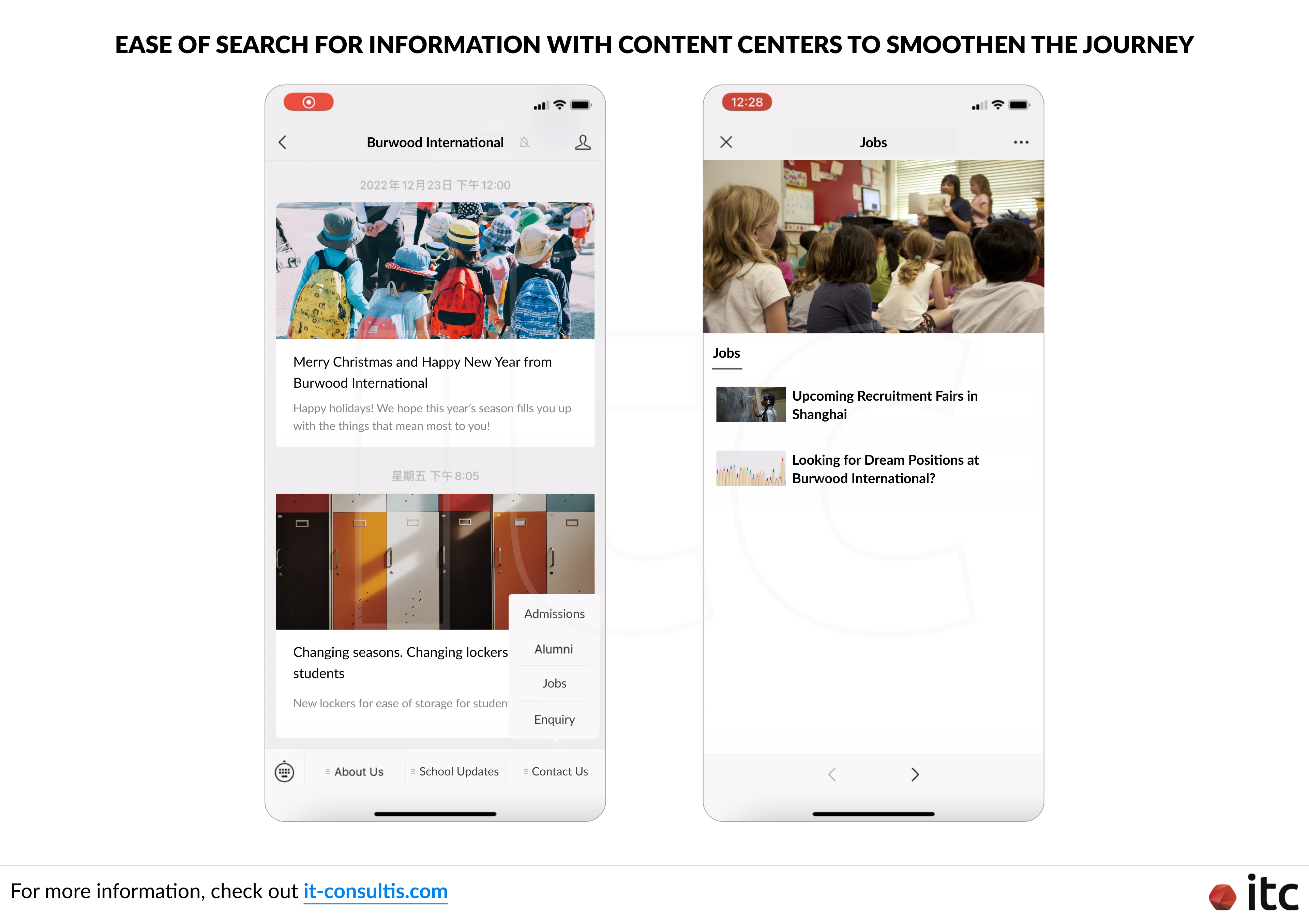 In addition to the potential leads, Marketing Automation and Social CRM (sCRM) can also help the International Schools screen out more Marketing-qualified leads (MQLs) automatically to admissions by:
Driving subsequent follow-ups based on the information submitted by prospects via the Enquiry form and capturing data
Developing a lead scoring system in the sCRM backend to provide MQLs admissions in a timely manner
This not only eases the follower's access to information but also provides a clear step for the School to identify qualified leads that are lower down the Conversion funnel.
With these new setups, the School witnessed more than double the engagement level of new followers, a considerable improvement in online enquiry among new followers, and collected other valuable insights on user engagement.
3. Improve Data-driven Insights for Strategy Decision-Making
Thanks to the direct data capture and consolidation throughout the user journey on the School's Private Traffic platforms (i.e. WeChat Official Account and website) and holistic tagging, Marketing Automation and Social CRM can empower the School's departments, especially for the Marketing team to:
Make more informed decision-making
Gain insights through ongoing profile enrichment to drive more targeted engagements and boost follower stickiness
To Wrap Up
Finally, we are glad to say that the client perceived our work as excellent, and was very satisfied with the Marketing Automation and Social CRM strategy playbook for WeChat.
Below is what the Group Digital Marketing Manager of the Global Education Group shared about their cooperation with IT Consultis:
"ITC has been working closely with both our China and global teams to implement our Marketing Automation Roadmap in China across multiple institutions in the Global Education Group. They have brought integrity and subject matter expertise throughout the project. They are true experts in WeCom and sCRM."

Going forward, ITC will continue empowering the prestigious International School Brand in China with system data integration, WeCom communication solution, and holistic full-fleshed sCRM operations.
---
Check out our previous article to learn more about the Marketing Automation and sCRM initiatives for the Brand-level of this international education group!
Looking for another M.A and Social CRM case study in China? Check below!
FAQs
What is Marketing Automation (M.A)?
Marketing Automation is essentially the adoption of tools and services that can automate different marketing or sales activities to boost efficiency, streamline activities and goals, improve transparency, and enable tracking and analyzing large amounts of data.
How can Schools Utilize Marketing Automation Solutions in Education?
Marketing Automation can help benefit different teams in the school (e.g. Marketing, Admissions, etc.). The schools can improve the lead acquisition rate, reach prospective parents and students more effectively, boost engagement, and automate the lead nurturing process in the long term. In addition, they can also enhance internal efficiency and improve data insights generation, analytical capabilities to better evaluate channels' performance and effectiveness.
What is Social CRM (sCRM)?
Social CRM (sCRM) is a tool that generates, manages, and nurtures social contacts by connecting with social media. As WeChat is the most popular in China, Social CRM for WeChat is essential to help brands directly create, manage, and track assets for various social media enablers, including H5 pages, event management, live streaming, and more.