In this article, we explore the power of WeChat Mini Programs and Adobe Commerce in elevating the shopping experiences for B2B buyers in China.
Table of Content
Challenges in China's B2B E-Commerce Landscape
With China's online B2B market projected to grow rapidly and exceed $2,700 billion by 2025, the stakes have never been higher for businesses seeking to establish a stronghold in this thriving market.
However, amidst this consistent growth lies a series of unique challenges that B2B enterprises must navigate to seize their share of success:
Challenge 1. Long Sales Cycles
B2B transactions often involve complex decision-making processes and longer sales cycles compared to B2C eCommerce, which can go from product discovery to conversion in mere minutes.
To address this, the B2B channel should offer seamless experiences and provide valuable content and resources to effectively move them forward through the lengthy customer journey.
Challenge 2. Multiple Sales Channels and Global Reach
B2B brands often sell through multiple channels, including:
Brand-owned platforms
Public marketplaces
Offline sales teams
Managing inventory, pricing consistency, and customer experience across these channels can be complex, particularly when operating globally and dealing with multiple languages, currencies, and regional regulations.
Challenge 3. Complex Technical Integration and Customization
Another key aspect to take into consideration is integrating the eCommerce backend with other business systems (e.g. inventory management, ERP, CRM, OMS, etc.)
The data flow should be streamlined while remaining compliant with local legal requirements, such as the China PIPL (Personal Information Protection Law).
Moreover, technical difficulties may also arise surrounding customization requirements to align the eCommerce platform with specific business processes. This is especially the case if brands do not have the right technological foundation for China's unique digital ecosystem from the beginning.
Challenge 4. Complex Product Catalog
B2B eCommerce brands often deal with extensive and complex product catalogs. Managing and categorizing them effectively, ensuring accurate product information, and facilitating easy search and navigation for buyers can be a significant challenge.
Challenge 5. Lengthy Ordering Process
B2B transactions often involve personalized pricing based on individual buyer requirements, including factors like order volume, customer loyalty, and negotiated contracts. Thus, brands need to incorporate convenient contact methods or a robust pricing and quoting system that integrates seamlessly with the eCommerce platform.
Challenge 6. Legacy Systems with Outdated Processes
Lastly, well-established enterprises, particularly those with a long history or international footprint, often operate within a framework of legacy systems and antiquated processes.
These deeply ingrained systems can present a formidable obstacle for enterprises on the digital transformation journey, including in eCommerce.
Employees accustomed to these familiar procedures may resist transitions to newer methods, impeding the smooth integration of innovative technologies.
Additionally, these legacy systems often lack up-to-date APIs and documentation, which can complicate efforts to assess data flows and interface with more contemporary systems.
This underscores the need for a delicate transition, where embracing innovation harmonizes with preserving established practices.
Why WeChat Mini Program is a Key B2B Touchpoint in China?
Due to the Great Firewall and local regulations, the China digital ecosystem has evolved very differently from the rest of the world. Other than a lineup of "Chinese" equivalence applications, China has also boasted the rise of WeChat Mini Programs (MPs).
As over 1.3 billion monthly active WeChat users can use the Mini Programs on mobile without ever leaving the ecosystem, they have evolved to become one of the key channels for businesses operating in China, especially for being:
A Private Traffic domain deeply integrated with the WeChat ecosystem
Mobile-centric
Cost-effective
Why Adobe Commerce (Magento Commerce) for B2B eCommerce in China?
Navigating the complexities of B2B e-commerce in China demands a technology solution that is not only powerful but also adaptable to challenges in the local digital ecosystem.
Adobe Commerce (Magento Enterprise) stands out as a compelling choice, overcoming barriers imposed by China's Great Firewall and data security & protection laws to offer a seamless and fully localized experience for businesses – functionally, visually, and legally.
Its headless integration also ensures smooth integration with both local and global systems, streamlining operations and data flow.
Additionally, its customizability, scalability, comprehensive out-of-the-box features for B2B, and relatively competitive pricing make Adobe Commerce a practical solution for B2B enterprises to maximize ROI in China's vibrant market.
Best Practices for Building Adobe Commerce-powered WeChat Mini Programs
1. Build & Manage Advanced Catalog & Configurable Products
To streamline complex product catalogs, brands can leverage Adobe's robust catalog management capabilities, including building:
Custom catalogs: To best showcase the brand's product & service offerings. Brands can also customize personalized catalogs that align with the buyers' profile, industry, location, or purchase history.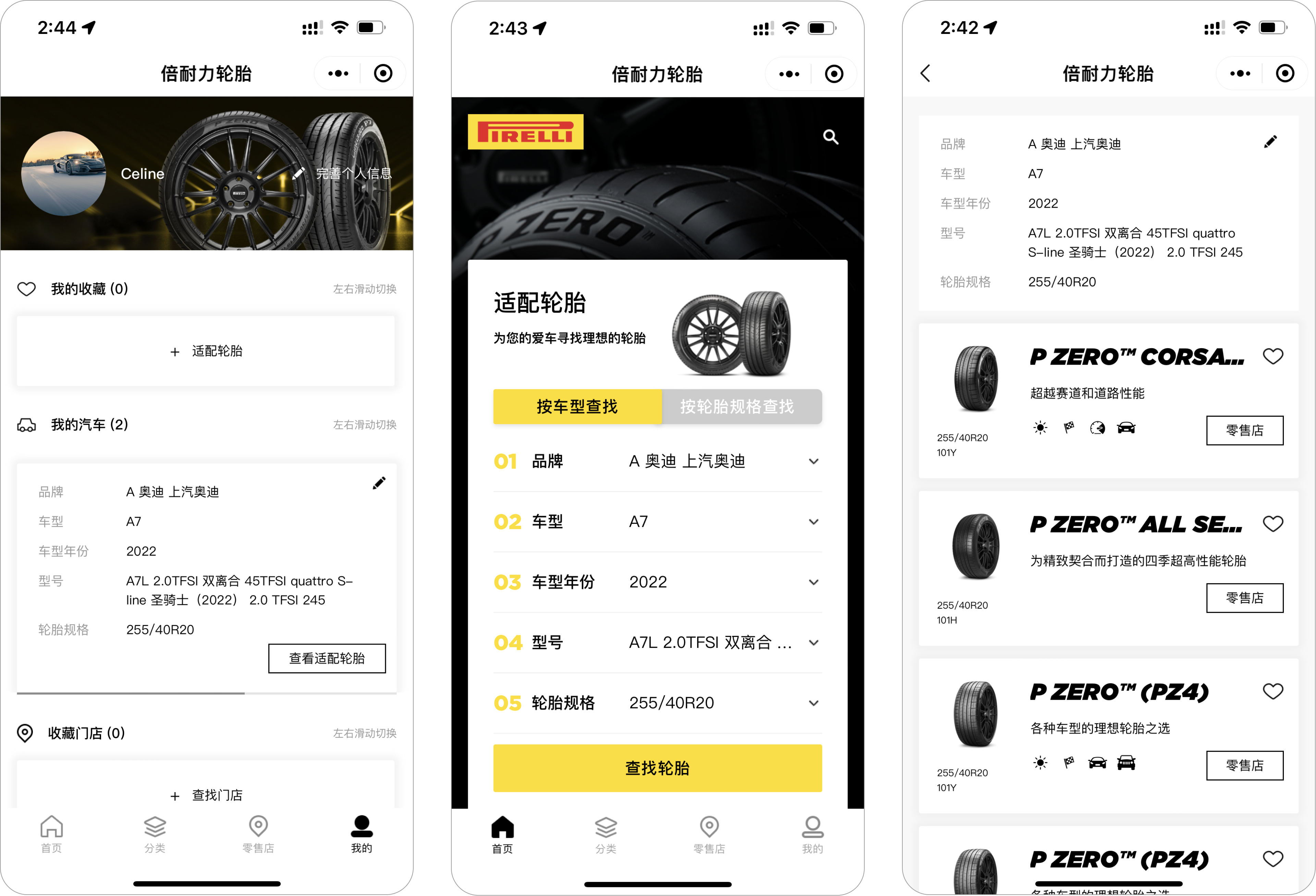 Custom category hierarchies: To create tailored category structures based on unique business requirements, customer segments, or industry-specific needs, ultimately achieving an intuitive navigation system and efficient product management.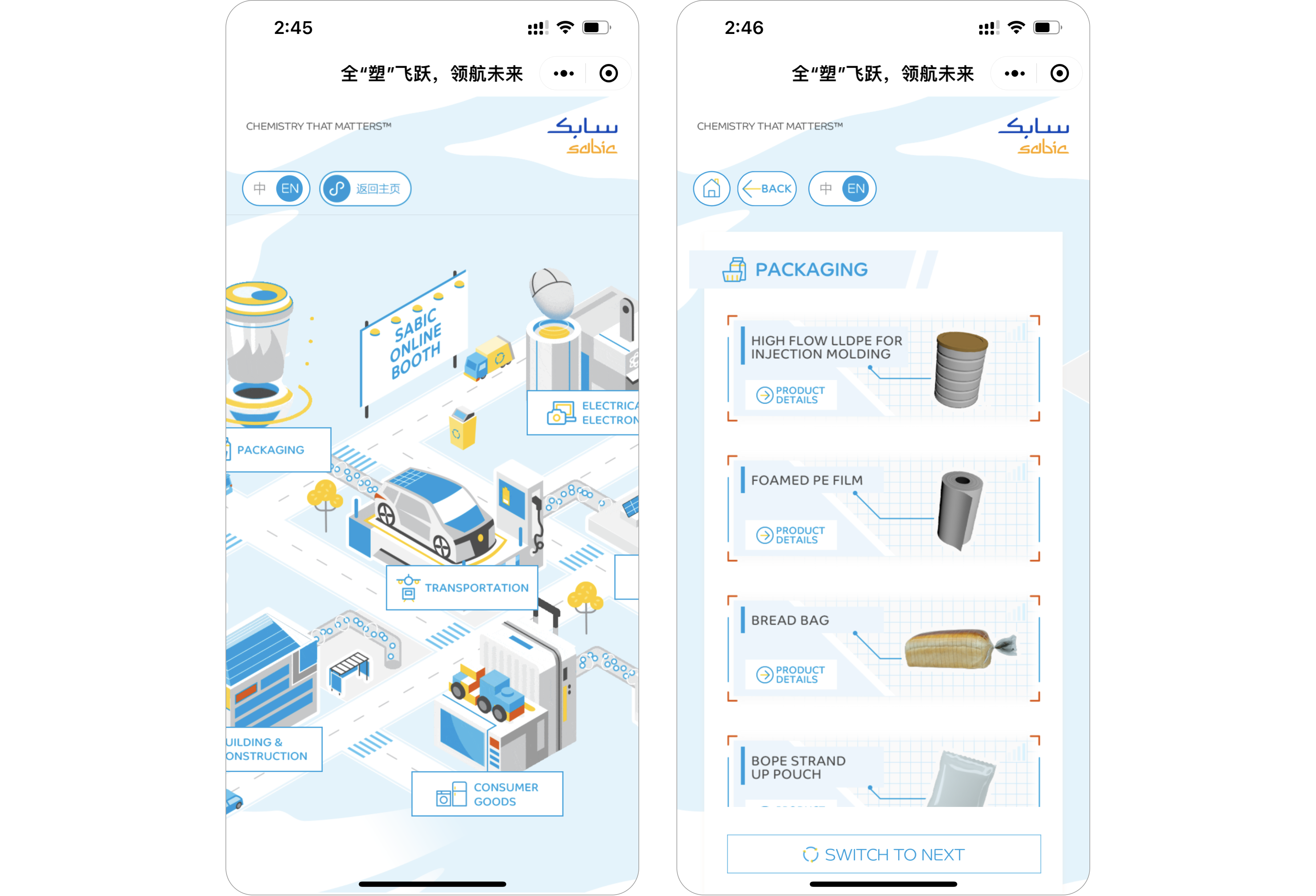 Configurable products: To consolidate all possible complicated variations (of different attributes) of a product into a single page, making it easier for buyers to customize their purchases while simplifying product management for the enterprise.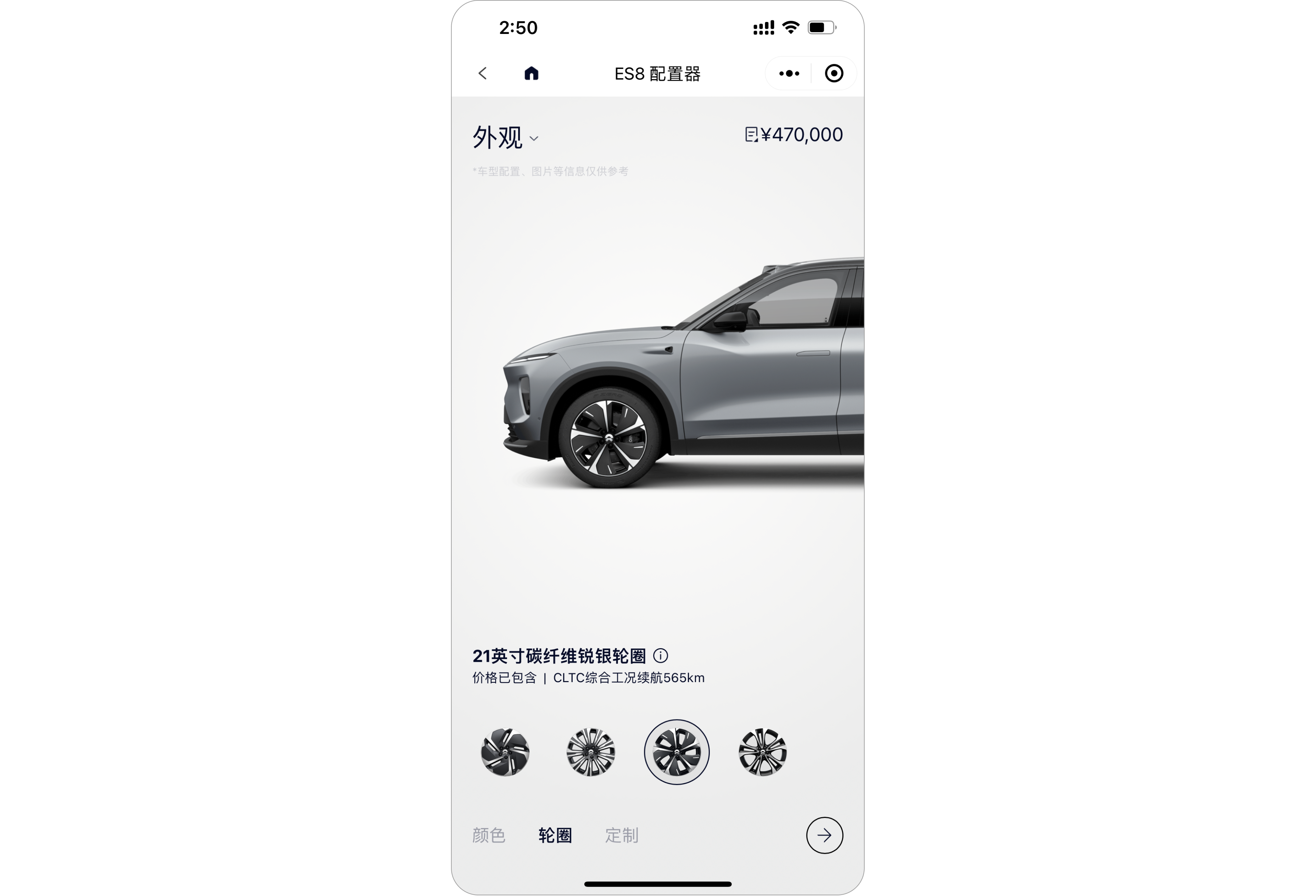 2. Integrate Business Systems Locally & Globally
For enterprises with a global presence in addition to their local business in China, especially with more complex business models like B2B2C and B2B2B, one of the most common concerns is whether it is possible to:
Integrate the eCommerce WeChat Mini Program with the local business systems and other storefronts (if any)
Interconnect their China-dedicated systems with their global ones (in other countries)
The answer is yes, with the right technological back-end foundation. Via a set of APIs, brands can hook the same back end (Adobe Commerce or Magento) with multiple front ends, including the e-Commerce Mini Program and all relevant business systems.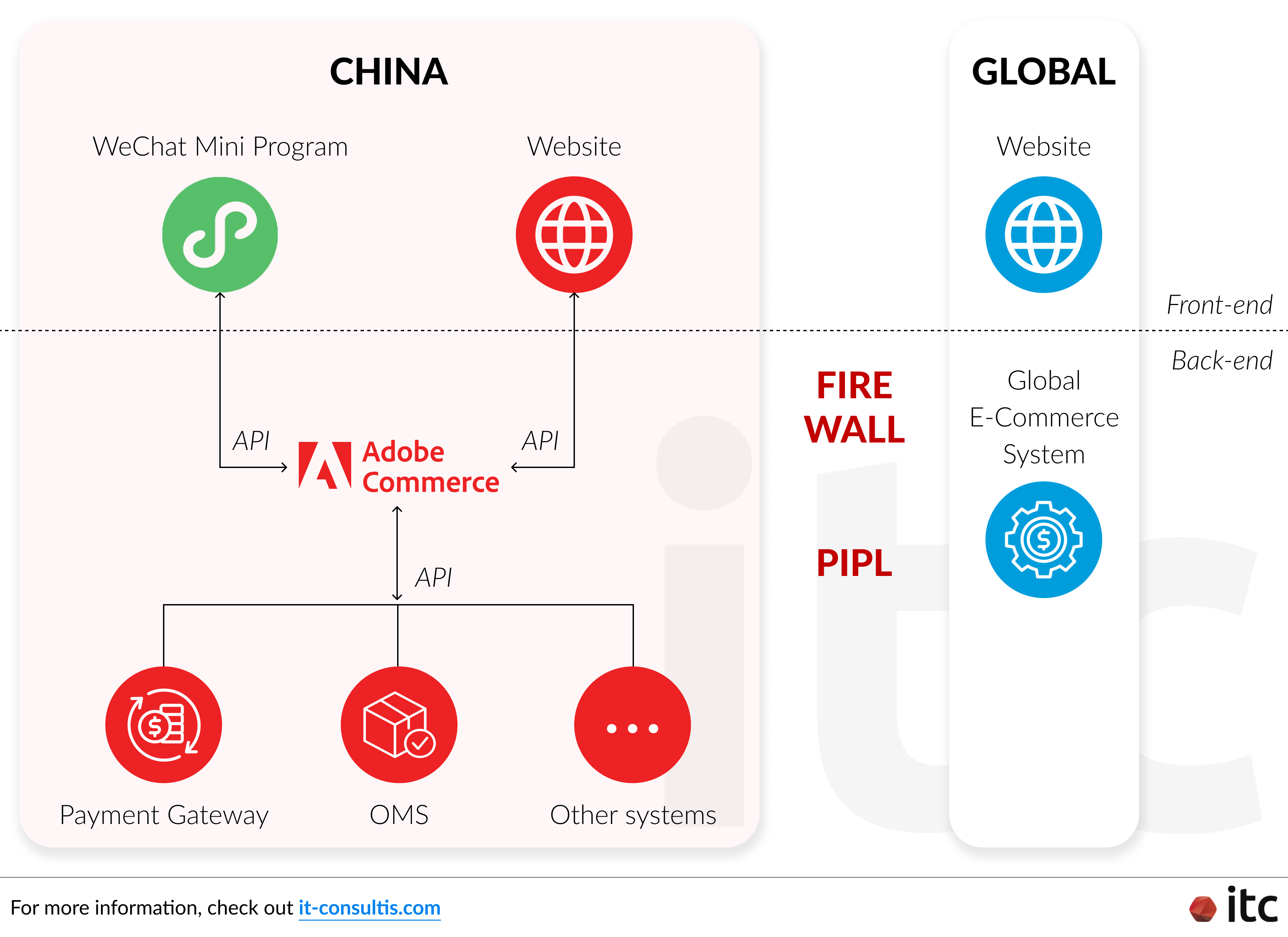 This should allow the brand to streamline the data flow, minimize errors, and generate unified customer profiles to empower omnichannel experiences and future targeting approaches.
In B2B commerce, other than the complex sales cycle, pricing is not a one-size-fits-all approach either due to different business factors (e.g. order volume, purchase frequency, contract length, etc.)
Many B2B companies leverage online channels like Mini Program or website more as a platform to educate prospects, showcase their product catalogs, and prompt them to contact the Sales team for more details instead.
WeChat Mini Programs offer the advantage of easily integrating with other WeChat services like Customer Service and WeCom, delivering a seamless journey from self-research to personalized clienteling.
For example, Hilti Corporation, a Liechtensteiner multinational manufacturing company sets up a direct portal to WeChat Customer Service – a live chat function with Hilti's Sales team about any specific product or service.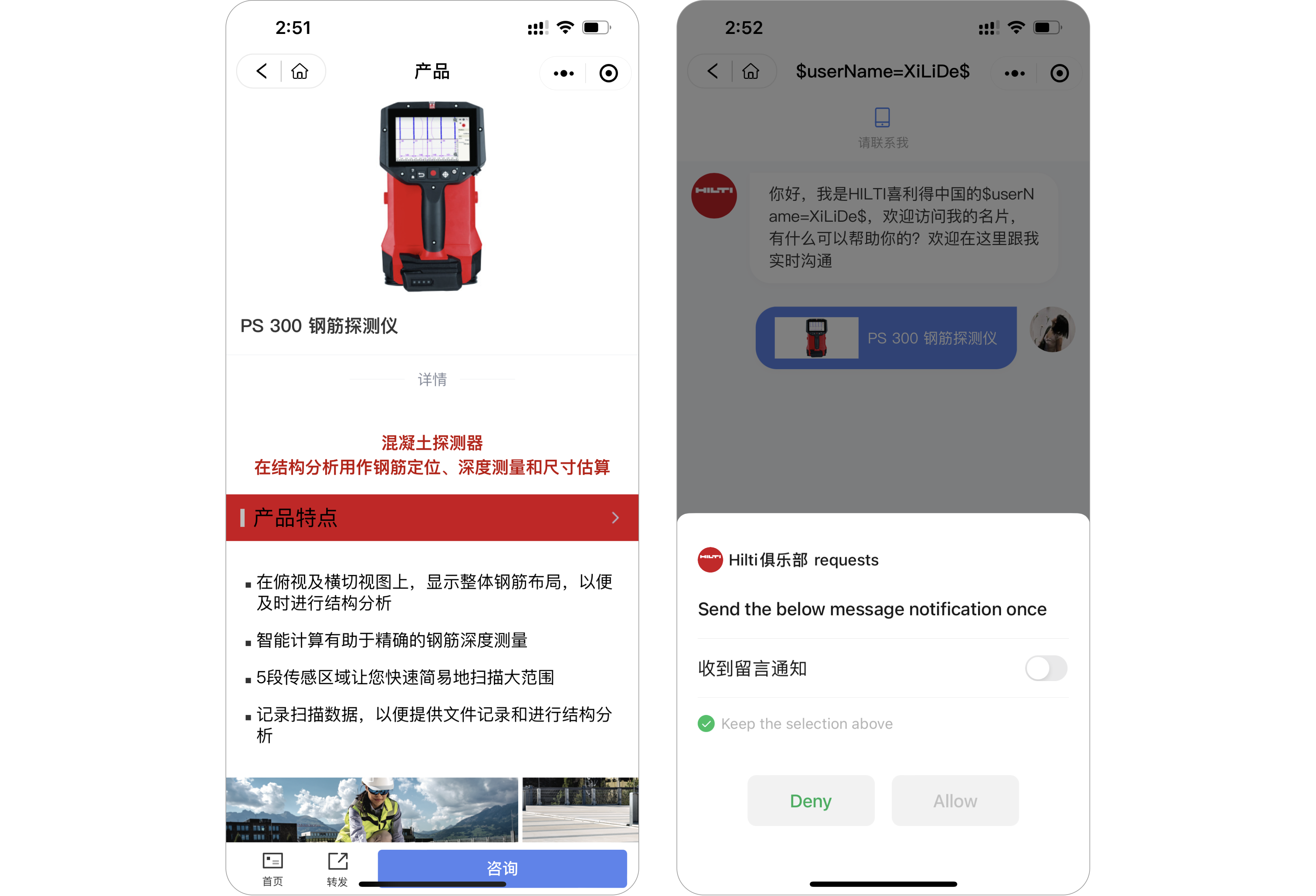 Another way is incorporating an easy-to-fill contact form for prospects to leave their inquiries and requests.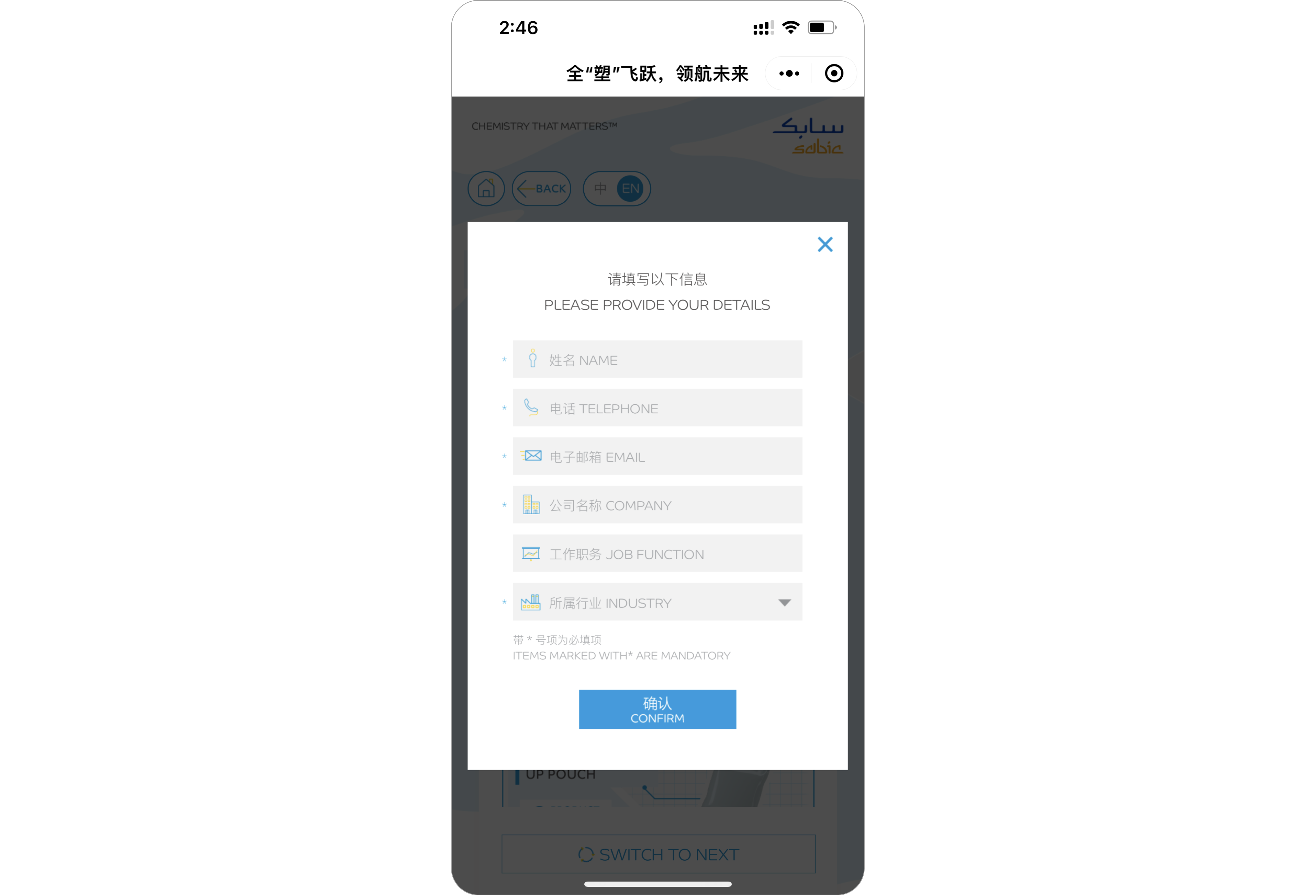 With Adobe Commerce, brands can also empower real-time notifications for Sales Associates and Customer Service reps to ensure prompt responses and efficient lead management.
4. Enhance Branding with Content Management Capabilities
The eCommerce WeChat Mini Program for B2B businesses should also host necessary content to empower prospects' (lengthier) research process. This includes:
Product catalog
Product information
Educational resources (product guide, technical specifications, use cases, industry insights): This can be in the form of readable/downloadable documents, articles, etc.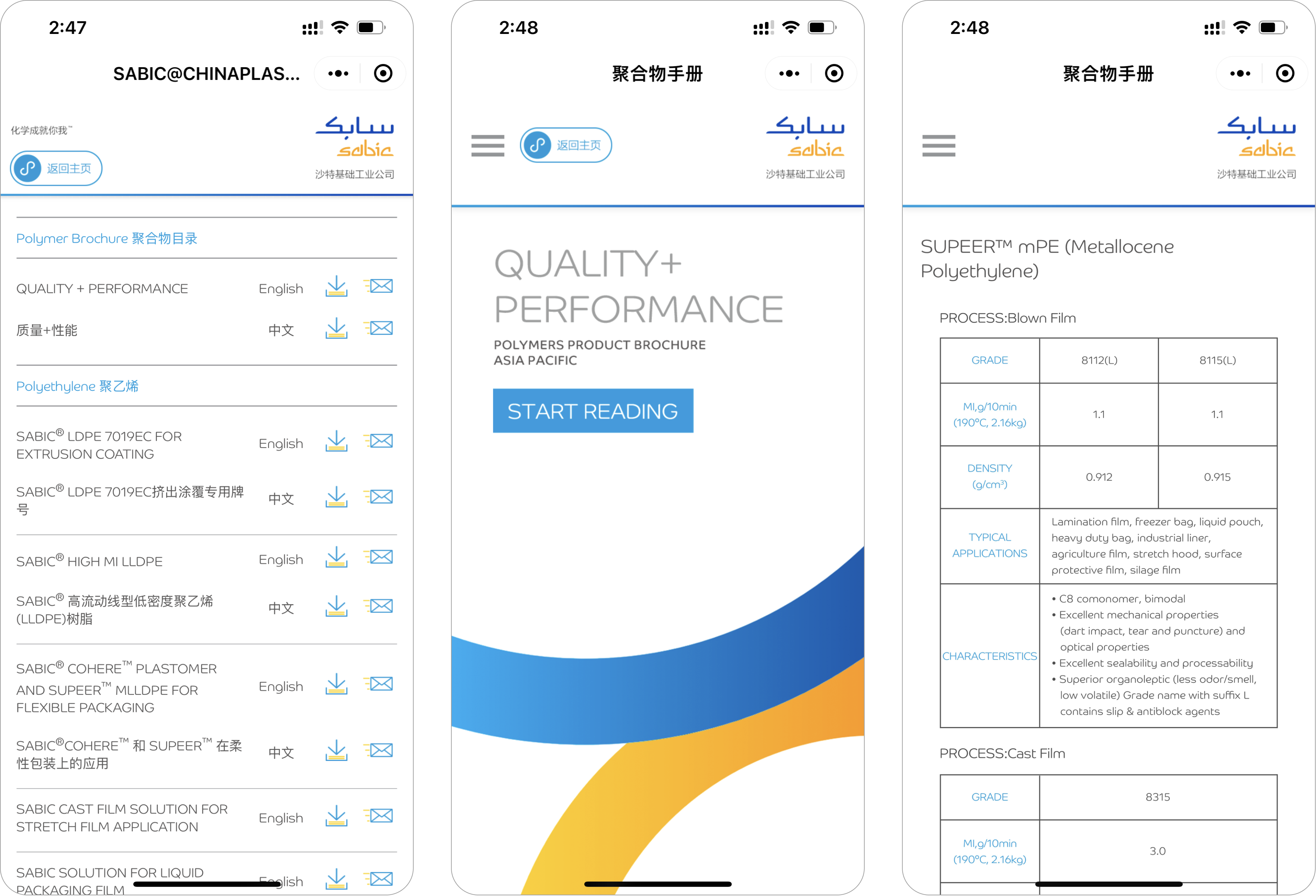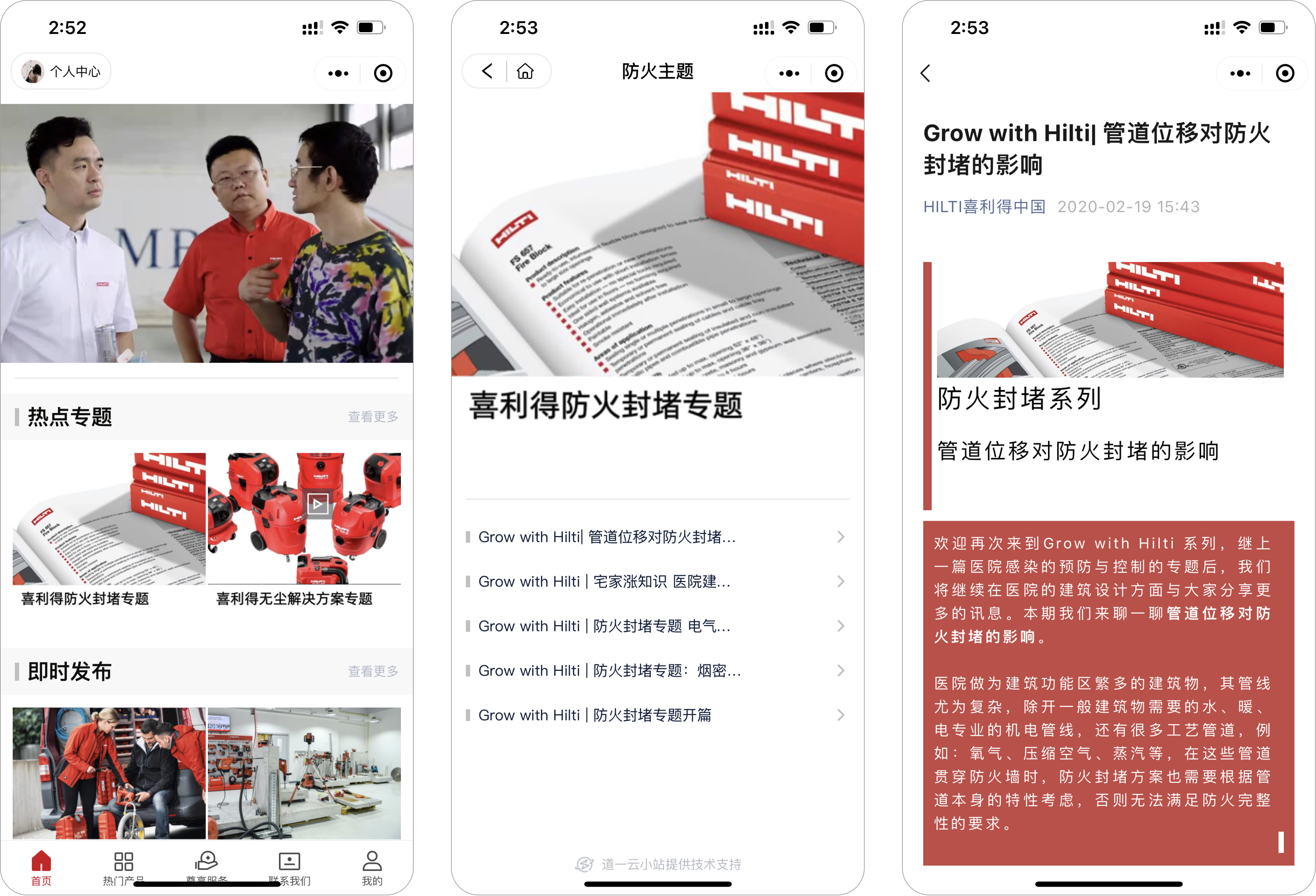 5. Permissions Management
Adobe Commerce has a built-in system that allows companies to register and set up a hierarchy of individuals with specific permissions for various activities within the B2B WeChat Mini Program.
This feature is particularly valuable for larger B2B clients seeking control over who can manage order requests, placement, quotation signing, and other critical processes, ensuring secure and streamlined operations.
In particular, businesses can define tailored roles and access levels that match their organizational structure and workflow. For example, sales associates may have access to the customer data, while managers can view the bigger-picture sales report and analytics.

The system also maintains an audit trail of actions performed by different users within the organization. This transparent record of activities can be valuable for accountability, analysis, and identifying potential areas for improvement.
Additionally, for companies with complex order approval workflows, permissions management can enable smoother order approval processes, eliminating bottlenecks and expediting order fulfillment.
6. Custom Pricing
As mentioned previously, where transactions involve higher values and complex pricing like B2B, eCommerce channels like WeChat Mini Programs are often used to raise brand awareness rather than for immediate conversion. Instead of fixed prices, B2B brands direct users to contact Sales Associates or submit a form for custom quotes.
However, many do offer a more specific price point that can be purchased directly or a range for initial reference.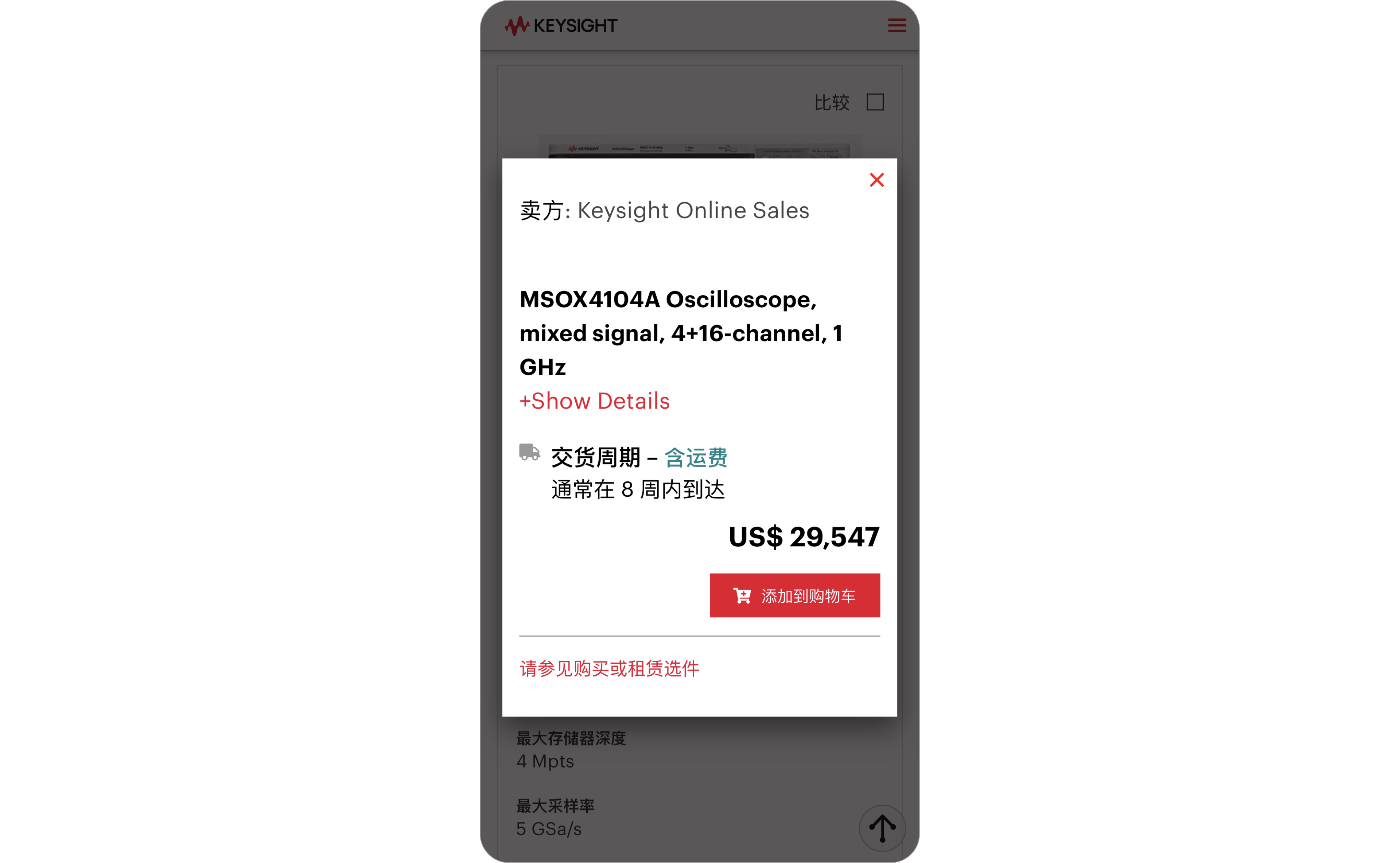 Brands can also take a step further with Adobe Commerce by offering personalized promotional offers, custom pricing tiers, or volume discounts for individual users based on their needs and past recorded preferences, behaviors, and purchase history, facilitating a smoother ordering/re-ordering process.
To Wrap Up
Adobe Commerce (Magento Enterprise) can help brands overcome the unique challenges faced in the B2B eCommerce landscape in China. And with seamless integration with WeChat Mini Programs, businesses can tap into the massive WeChat ecosystem and its private traffic domain to accelerate lead generation.