In this article, we'll explore 5 reasons why Magento (Adobe Commerce) can be the most powerful technology for your e-Commerce platform development, especially in China.
At IT Consultis (ITC), Magento-based websites and WeChat Mini Programs make up the bulk of our e-Commerce projects both in China and global markets.
While there are other powerful and well-known technologies, such as Shopify, from our experience, this solution has proven time and time again that it is the most capable to leverage for e-Commerce businesses.
Table of Contents
Read on to find the answer to the question:
Why Use Magento (Adobe Commerce) for e-Commerce in China?
1. Magento (Adobe Commerce) Work in China!
Due to the Great Firewall and local data security and protection laws like the Personal Information Protection Law (PIPL), the digital ecosystem in China evolves very differently from the rest of the world. As a result, many technologies, while extremely commonplace globally, DO NOT actually work in China.
In the eCommerce sector, these include Shopify. If you are wondering "Does Magento work in China?", the answer is: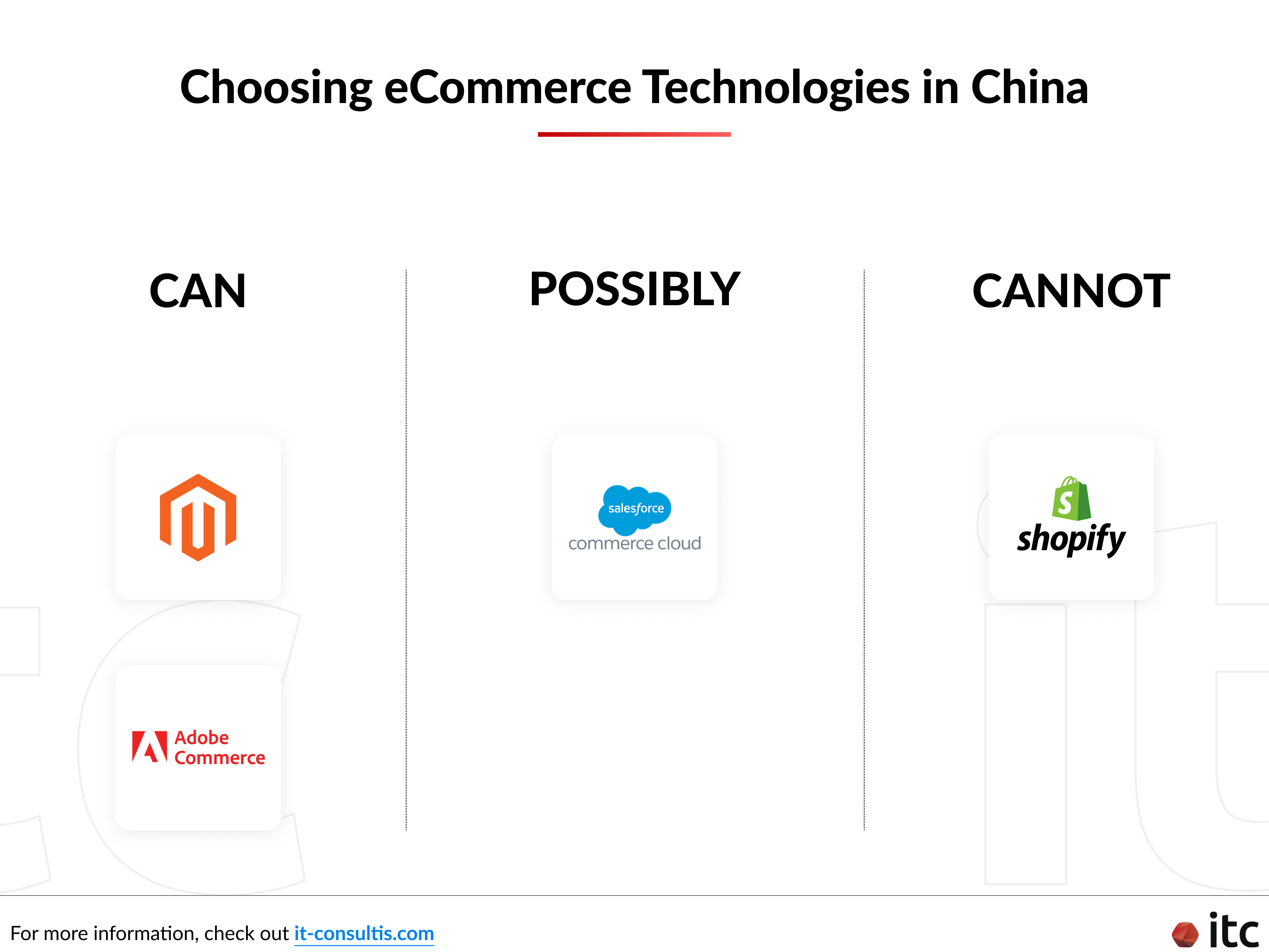 To elaborate: The PIPL applies to all entities that process data from China. Therefore, it is extremely important for global brands that are trying to penetrate or expand their presence in the country to make sure they stay PIPL-compliant, especially when conducting Cross-Border Data Transfer* to their global systems abroad.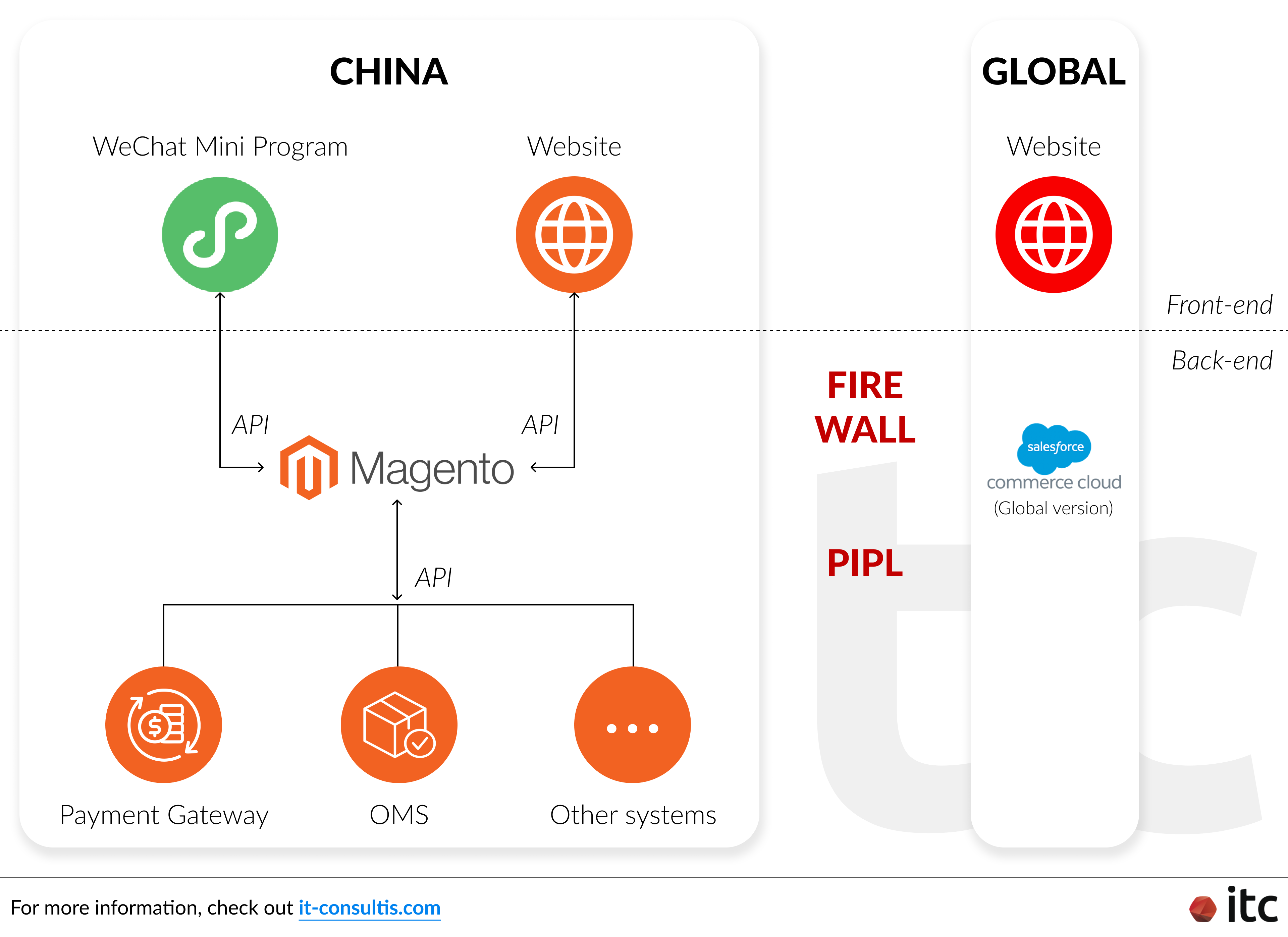 Generally, ITC advises brands to develop dedicated digital channels for China with a feasible backend. If their global technology does not work in China, they will need to build those China-dedicated digital enablers with a different solution.
In this case, if you are leveraging the Global version of Salesforce Commerce Cloud (not the China version) for your global e-Commerce engines, for instance, you will need to opt for Magento (Adobe Commerce) when building your eCommerce website or eCommerce WeChat Mini Program in China.
In addition, brands have to take eCommerce hosting into account as well. Other technologies often enable hosting on cloud platforms, which is an attractive option in the rest of the world. However, due to local data regulations, brands need to host their e-Commerce channels on their own infrastructure in Mainland China, which is possible with Adobe Magento.
But that is not all. Even if you are already using Magento (Adobe Commerce) for eCommerce outside of China, you will still need to develop a separate one for the Chinese market and connect it with the global systems to avoid all possible PIPL compliance and accessibility issues. This will also lower business risks of getting blocked or affected by the Great Firewall.
Furthermore, this will better ensure that the user journey on your Magento eCommerce website or WeChat Mini Program can be tracked and integrated with marketing automation and CRM tools in the future to return a better conversion rate.
*It is critical to note that Cross-Border Data Transfer (CBDT) is different from Cross-Border Data Collection (CBDC). While CBDT's regulations do not apply to CBDC cases, processing data from CBDC still falls under PIPL.
2. Headless Connection - Local & Global System Integration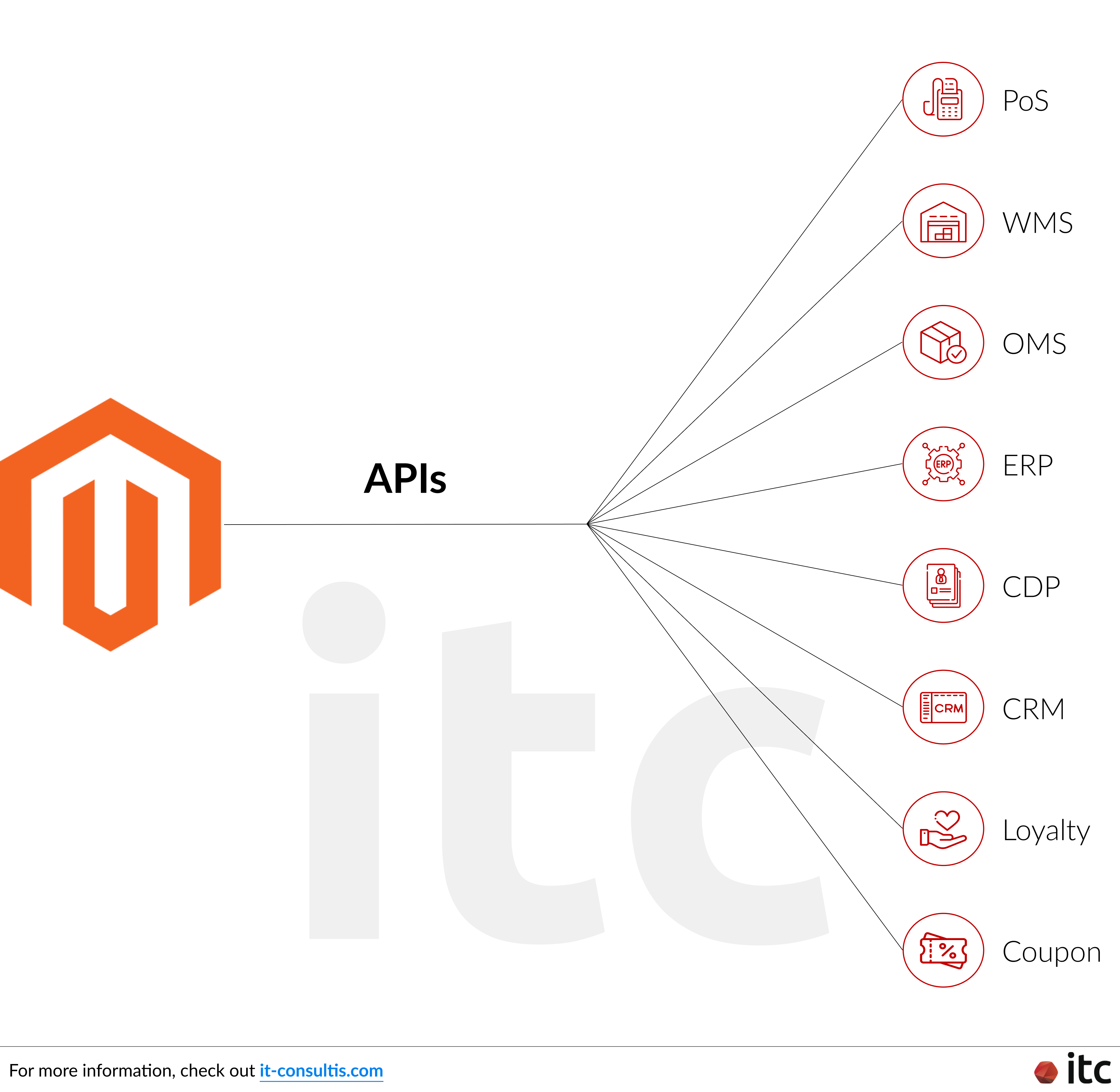 Brands can build and manage e-Commerce WeChat Mini Programs and websites to serve all target customers from one platform - Magento (Adobe Commerce).
System integration also allows brands to stay compliant with the China PIPL and enjoy the collection, consolidation, and circulation of all data from your private and public traffic and offline retail channels with your back-end systems, including the:
Order Management System (OMS)
Customer Relationship Management (CRM)
Enterprise Resource Planning (ERP)
Business Intelligence (BI) system
Warehouse Management System (WMS)
Point of Sale (POS)
Customer Data Platform (CDP)
Loyalty System
Coupons
Partner Systems (e.g. Logistics, Payment, etc.)
As a result, brands can easily optimize resource management and allocation and streamline internal collaboration, while building more holistic user profiles to serve future targeting and retargeting efforts. This includes providing a personalized and seamless user digital user experience.
One notable example is Brandy Melville, a booming clothing brand that is especially popular with the local youth.
Brandy Melville localized their e-Commerce assets by leveraging a Magento-powered e-Commerce application, including integrating it with their WMS, CRM, and local payment methods - Alipay and WeChat Pay. The Magento (Adobe Commerce) digital enabler is powering thousands of orders daily, with the number on peak days reaching 5 digits.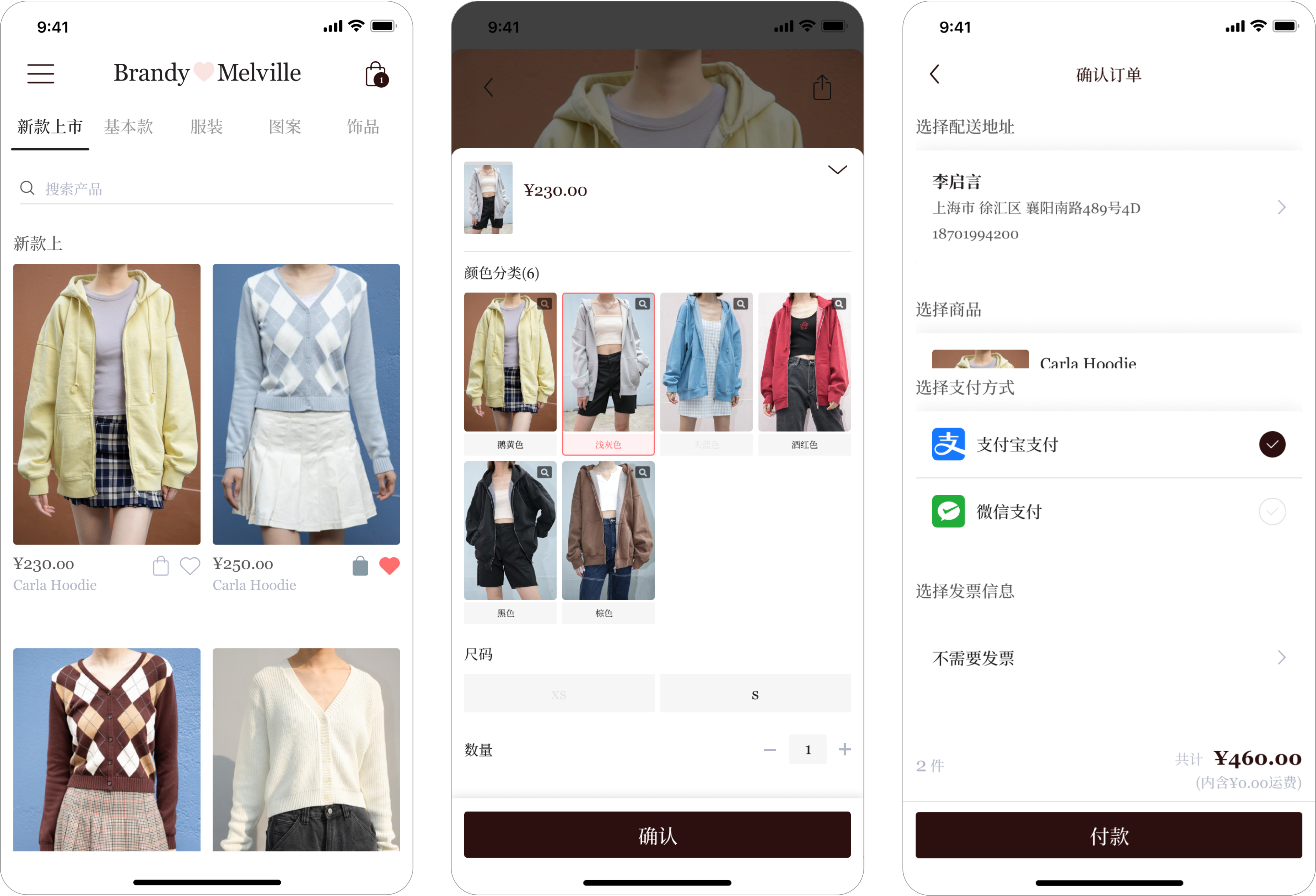 Moreover, if your brand is already managing your public traffic from public e-Commerce platforms, hiring more human resources is hardly necessary to manage your new private e-Commerce channel.
This is especially prevalent in the Chinese market. Many growing brands attempt to gather attention initially via public markets like Taobao and Tmall before creating their own private platform - an eCommerce website and/or eCommerce WeChat Mini Program.
On the global scale, once you have established a dedicated China digital system, you can start mapping out the different data flows and interconnection with your global system. Make sure to take into account the China PIPL and regulations regarding cross-border data transfer.
It is generally recommended to work with a Chinese law firm to ensure that all system integrations between your China and global tech structures are PIPL-compliant.

3. Maximizing Performance for China and Global Markets
Performance is key on eCommerce websites as a few hundred milliseconds delay can have a huge impact on your conversion rate.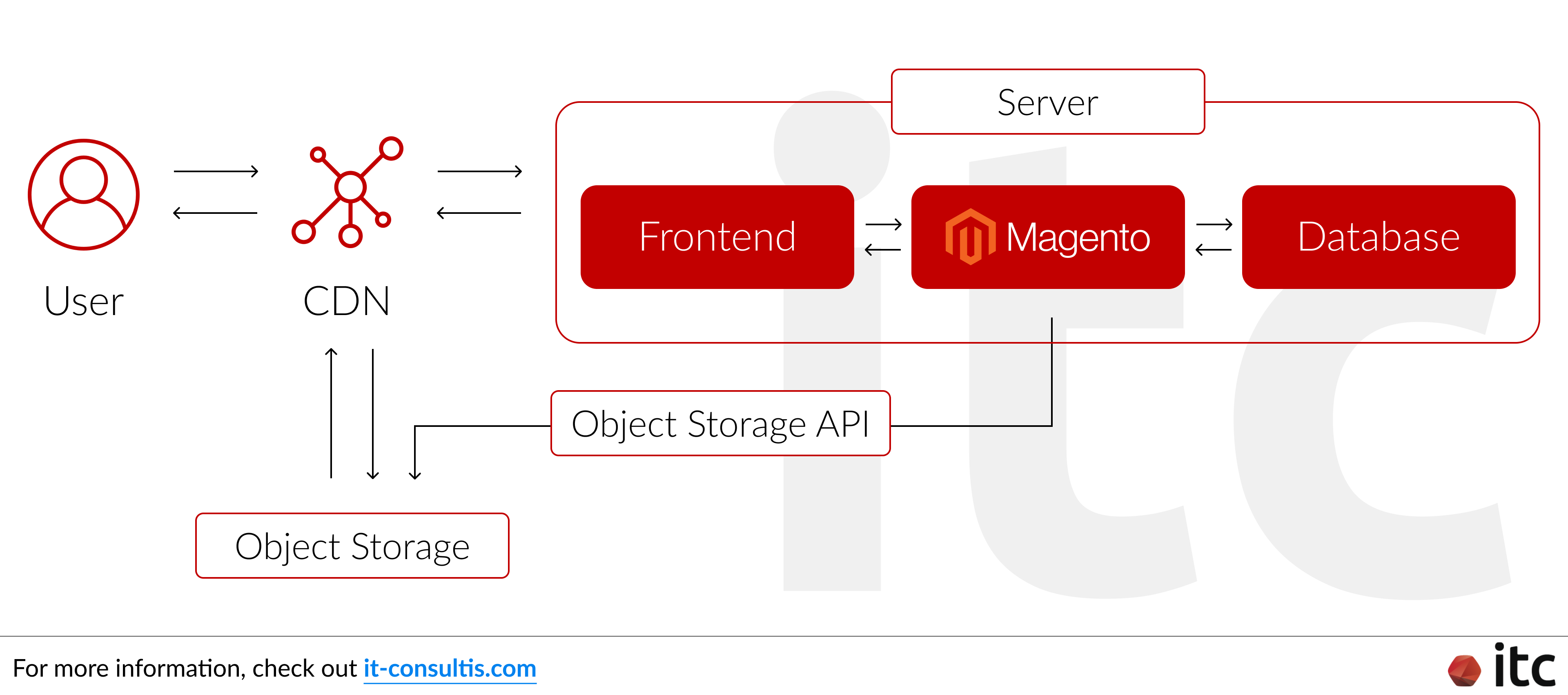 However, hosting your eCommerce website and Mini Program in China alone may not be enough. Brands likely also need to leverage a Content Delivery Network (CDN), especially if a large amount of traffic (more than 5,000 requests/second) is expected.
The CDN can help quickly transfer cached content to the users, reducing the number of requests to the main servers. This in turn relieves the pressure on the servers while delivering the needed content to the users in a heartbeat.
To be fully flexible, our Magento developers also offer advanced caching techniques such as Varnish, which includes optimizing the database. As a result, we can do some research in a database of 150k SKUs under 400ms.
While the eCommerce site performance for users in China is blazing fast with a Chinese Mainland Only CDN, it may not be accessible outside of the country. This further emphasizes the need for dedicated Magento website development (or Mini Program) in China, which would then be connected with the global infrastructure.
Another option is opting for a Global CDN, which would be accessible anywhere, though it will be a bit slower for Chinese users. If you are on the fence about either option, remember that you can always change the CDN in the future.
4. Impressive Customizability & Scalability for B2C, B2B, B2B2C, and B2B2B
One of the biggest advantages of Adobe Magento (or Adobe Commerce) is its adaptability, which is something many other platforms cannot offer.
You can create rich, tailored consumer experiences that seamlessly match your presence on other channels - public traffic domains (e.g. Tmall, JD.com) and offline retail stores. Essentially, as a shop owner, you are in complete control over the look and feel of the user experience on your Magento website or Magento WeChat Mini Program, as well as the back-end workflows to fit your business processes, including customizing the one-click checkout payment method.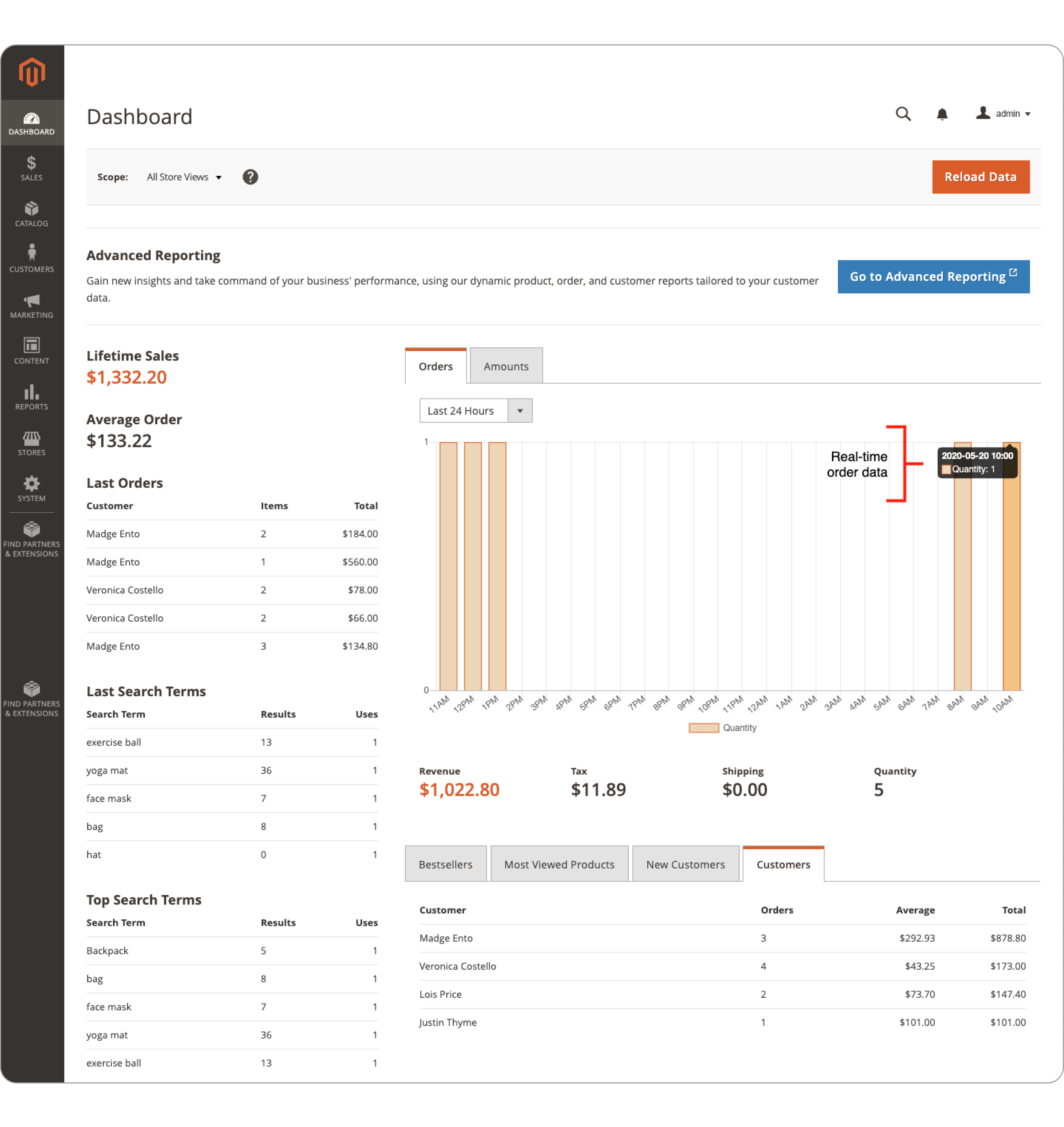 The results you can achieve by developing an eCommerce website on this platform are better than what you would get through CMS plugins such as WooCommerce on WordPress or Drupal Commerce on Drupal.
At ITC, we leverage out-of-the-box eCommerce features and create new dedicated Magento modules that best suit our clients' needs. These include a robust stock management system, customer segmentation, pricing management, local payment system integration, and multi-storefront setup.
Depending on their specific needs, brands can either opt for either the Magento Open Source vs Adobe Commerce (Magento Enterprise):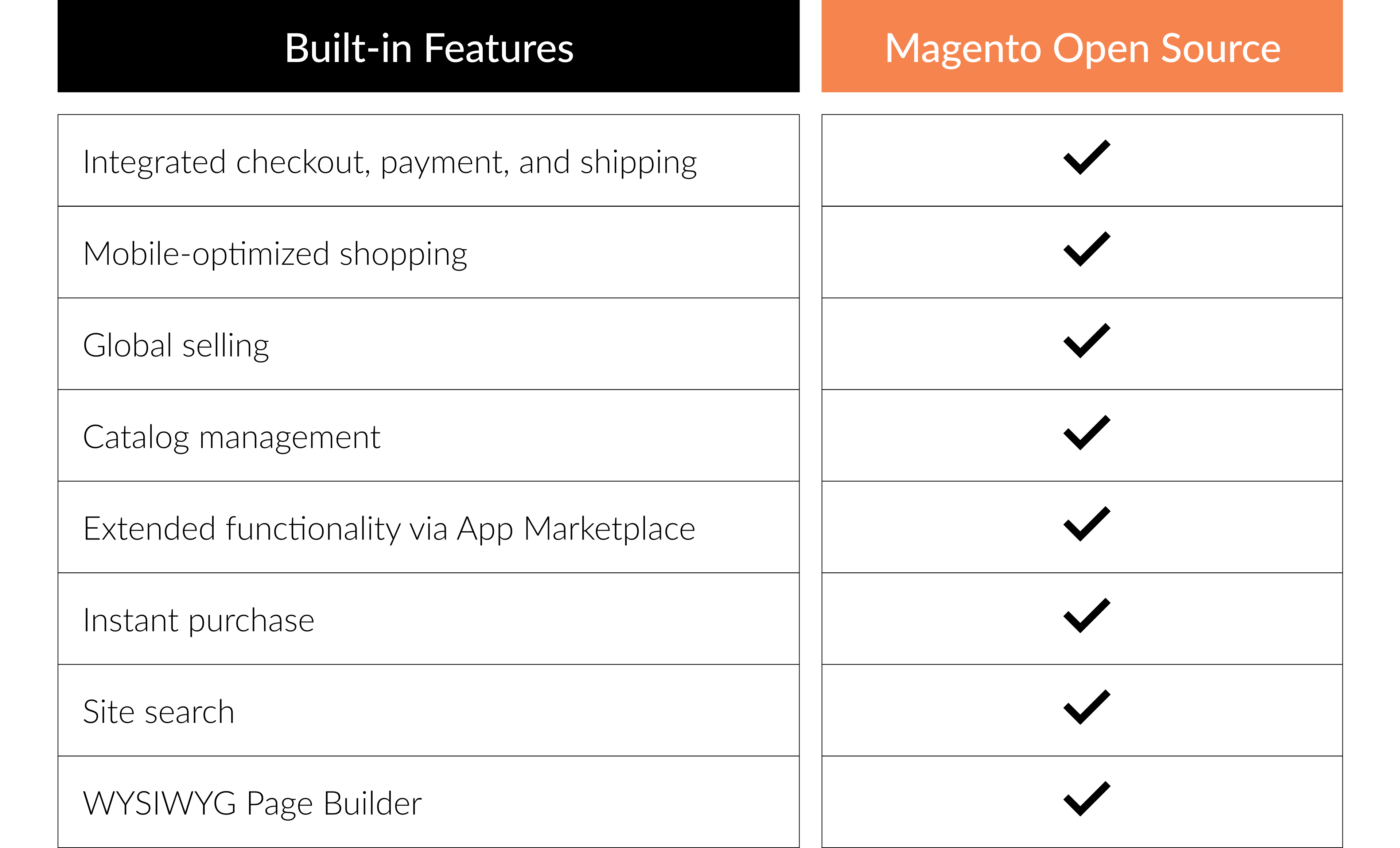 The Magento Community Edition (also known as Magento Open Source) is completely free to install, modify, and use to meet any business need since the full source code is accessible to everyone.
If you have the knowledge, you can supercharge the core code and add features and functionalities by yourself.
However, unlike Shopify which involves simple drag-and-drop customization that anyone can master, you will need the help of experienced tech experts and Magento developers to work with the core code to build an e-Commerce website, WeChat Mini Program, or application.
It being open source also means that there is a huge community of developers working on it on a regular basis. This ensures that the platform is always up-to-date, free of security issues, and in continuous development.
Those in both the B2C and B2B sectors (and/or B2B2B and B2B2C) can also leverage the multi-frontend setup to host multiple eCommerce stores or sites on the same backend selling completely different products to different target markets. This is excellent for implementing system integration as they can avoid creating plugins for each of the storefronts.
Other than Magento Open Source, Adobe Commerce (Magento Commerce or Magento Enterprise), the paid version, is also a fantastic option, especially for enterprise-level e-Commerce businesses.
Despite sharing the same fundamental code stack, Adobe Commerce offers a lot more advanced out-of-the-box features to practically accommodate a venture of any scale.
Brands can also enjoy the AI-driven feature embedded into Adobe Commerce. It utilizes data to help merchants deliver more relevant, personalized product recommendations and tiered pricing assignments to shoppers to boost eCommerce conversion.
In addition, B2B e-Commerce businesses in China would especially enjoy the world-class integrated B2B functionality suite of Adobe Commerce to deliver exceptional buying experiences with custom catalogs and pricing, personalized B2B experiences, and self-service customer portals for easy account management and ordering.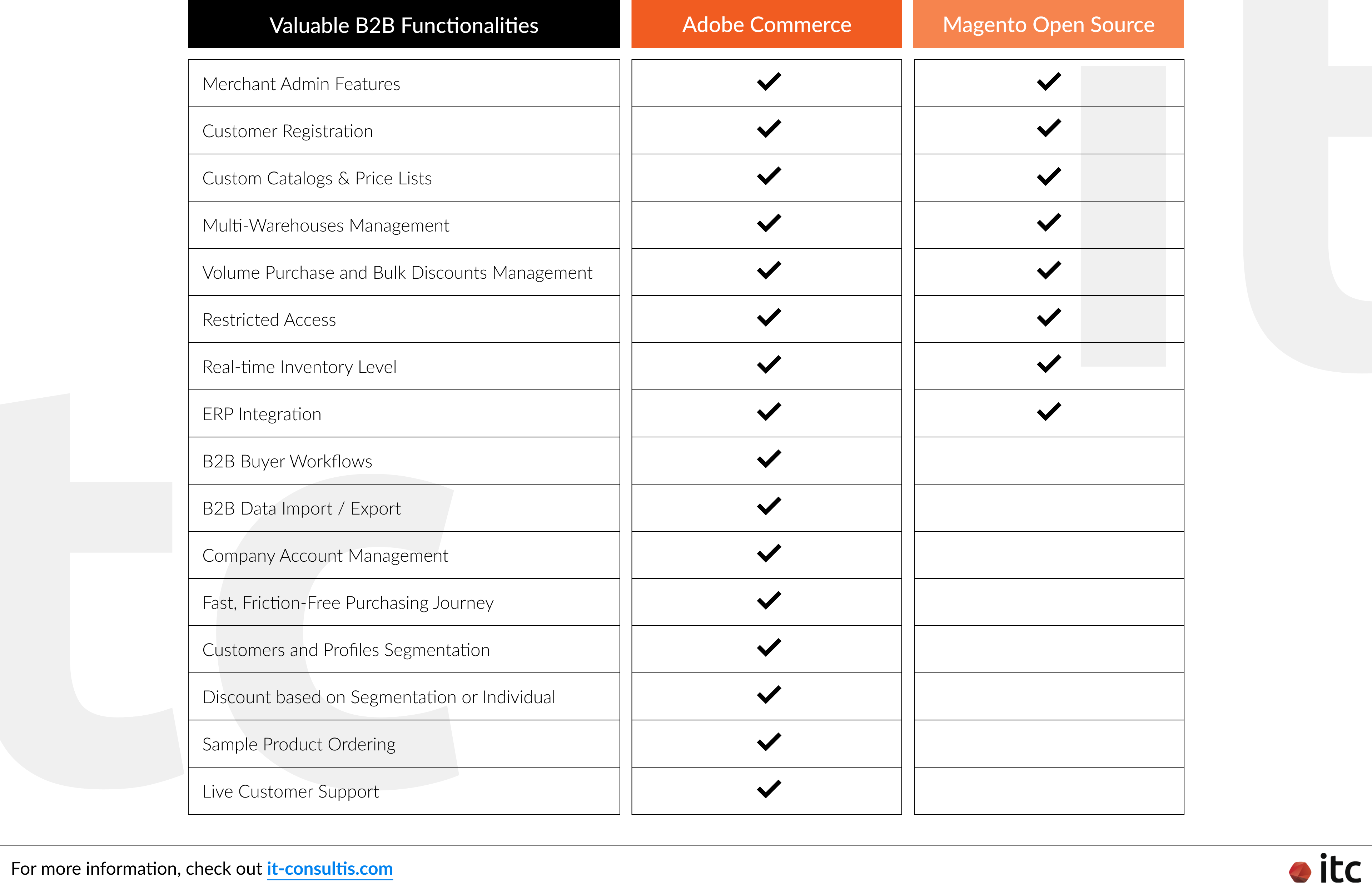 The same applies to scalability. Both Magento Open Source and Adobe Commerce can grow with your business. They are flexible enough to adapt to any changes you require and any new features your business needs as it expands or evolves.
If you are unsure about just how scalable it is, some of the biggest and most complex companies use it as their platform of choice. In China, the list includes luxury groups, Jimmy Choo, H&M, Cole Haan, and many more.
Globally, Magento also reportedly powers over $100 billion in sales transactions every year.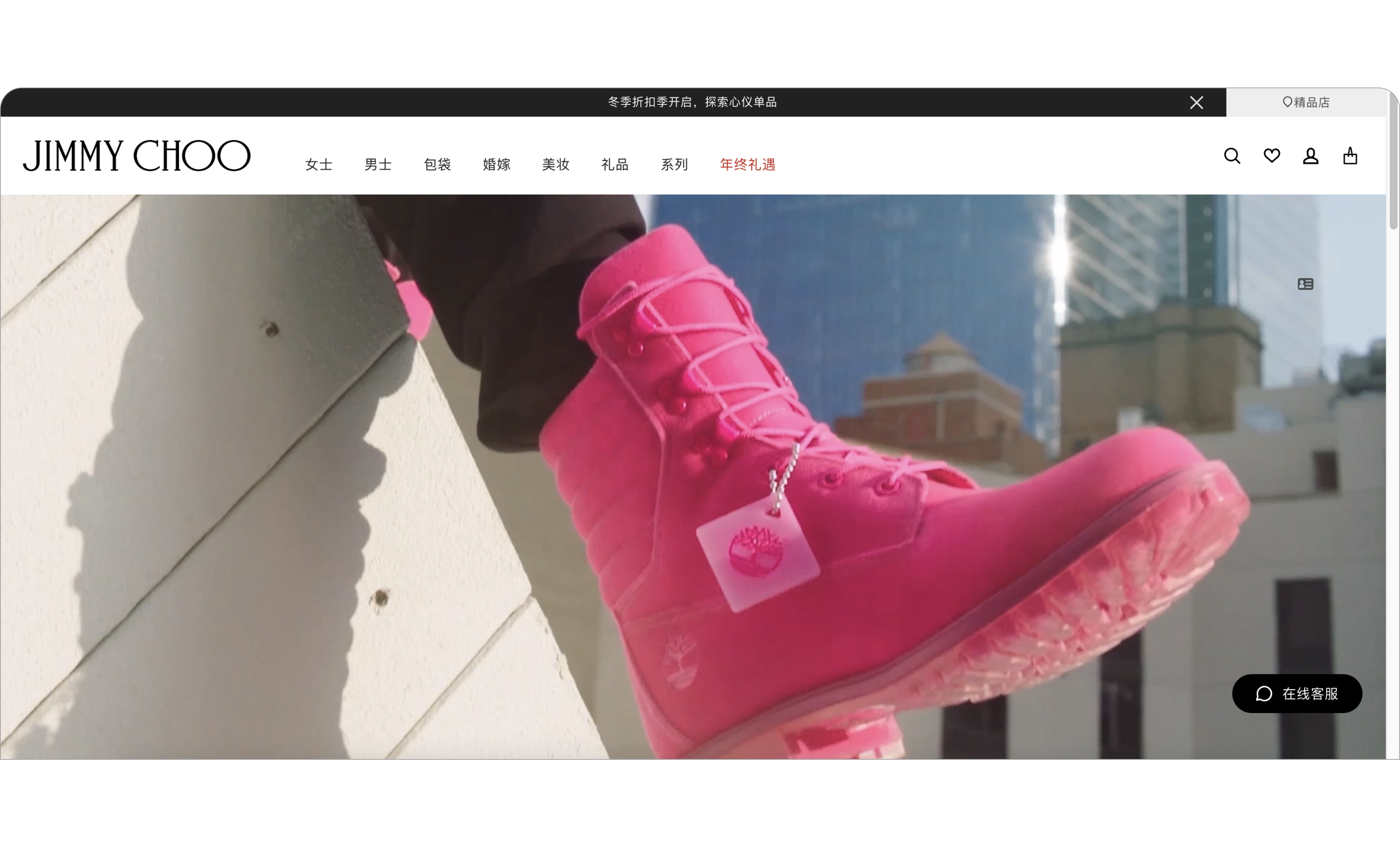 For China projects, ITC also leverages automated scaling using Aliyun which can process significant pressure on the system to meet the demand for tip-top performance and scalability.
5. Localization & Globalization
Being a self-hosted solution, Adobe Magento (Adobe Commerce) can be leveraged both locally and globally.
Expanding in a local market (China, in this case) usually calls for adapting the functionality to suit the local digital ecosystem as well as the local business workflow.
At IT Consultis, many clients also ask about the ability to customize the customer journey and experience to be consistent with their eCommerce stores in public marketplaces like Tmall, which is definitely possible.
Another unique point that brands should take into consideration when localizing to China is building an e-Commerce WeChat Mini Program, a unique-to-China and rapidly growing eCommerce private channel, rather than a regular application. It is also sometimes preferred over e-Commerce website development due to its connection to the WeChat ecosystem!
In the F&B Sector, the French alcoholic beverage leader - Pernod Ricard localized and realized its D2C strategy in China with a Magento WeChat Mini Program and e-Commerce website.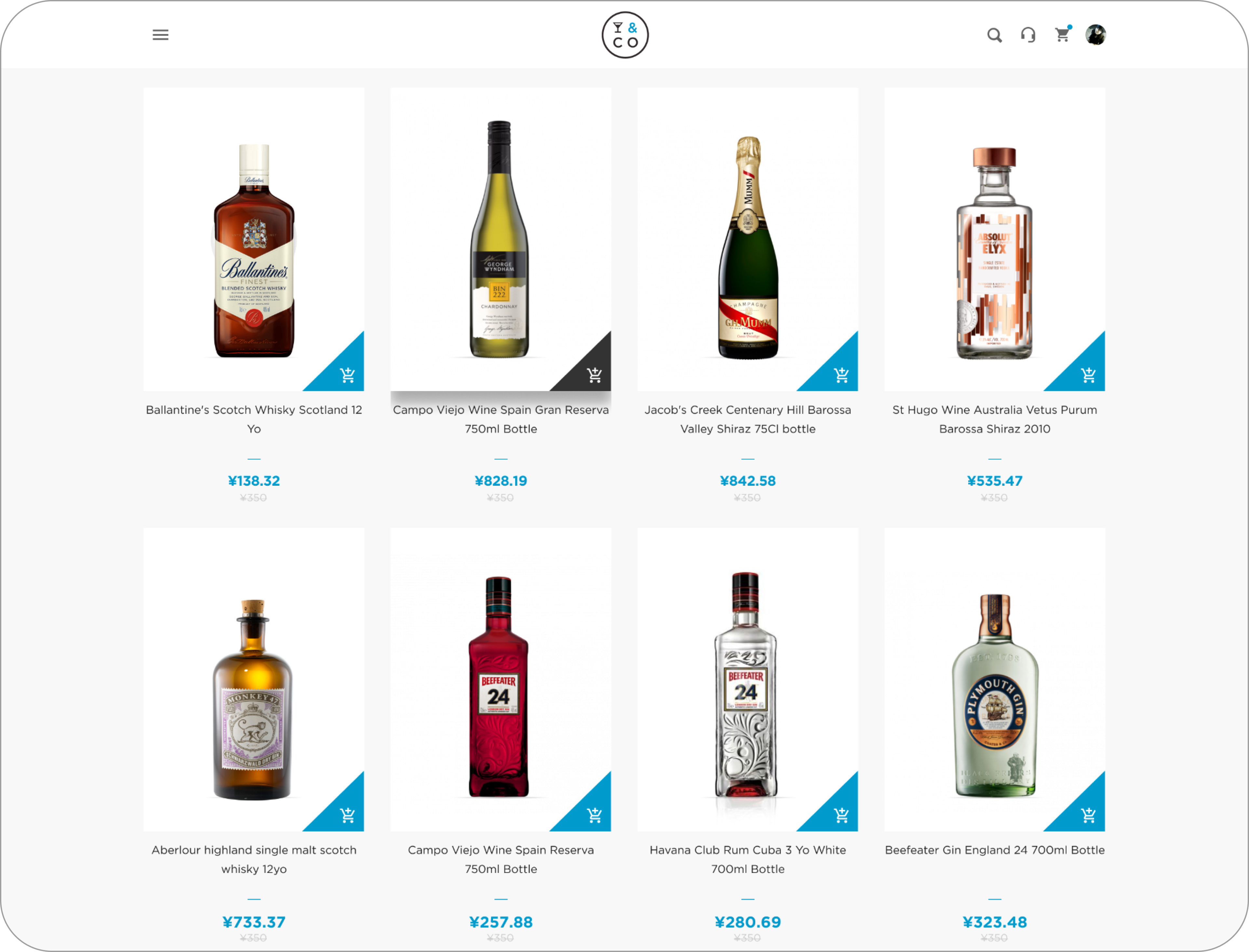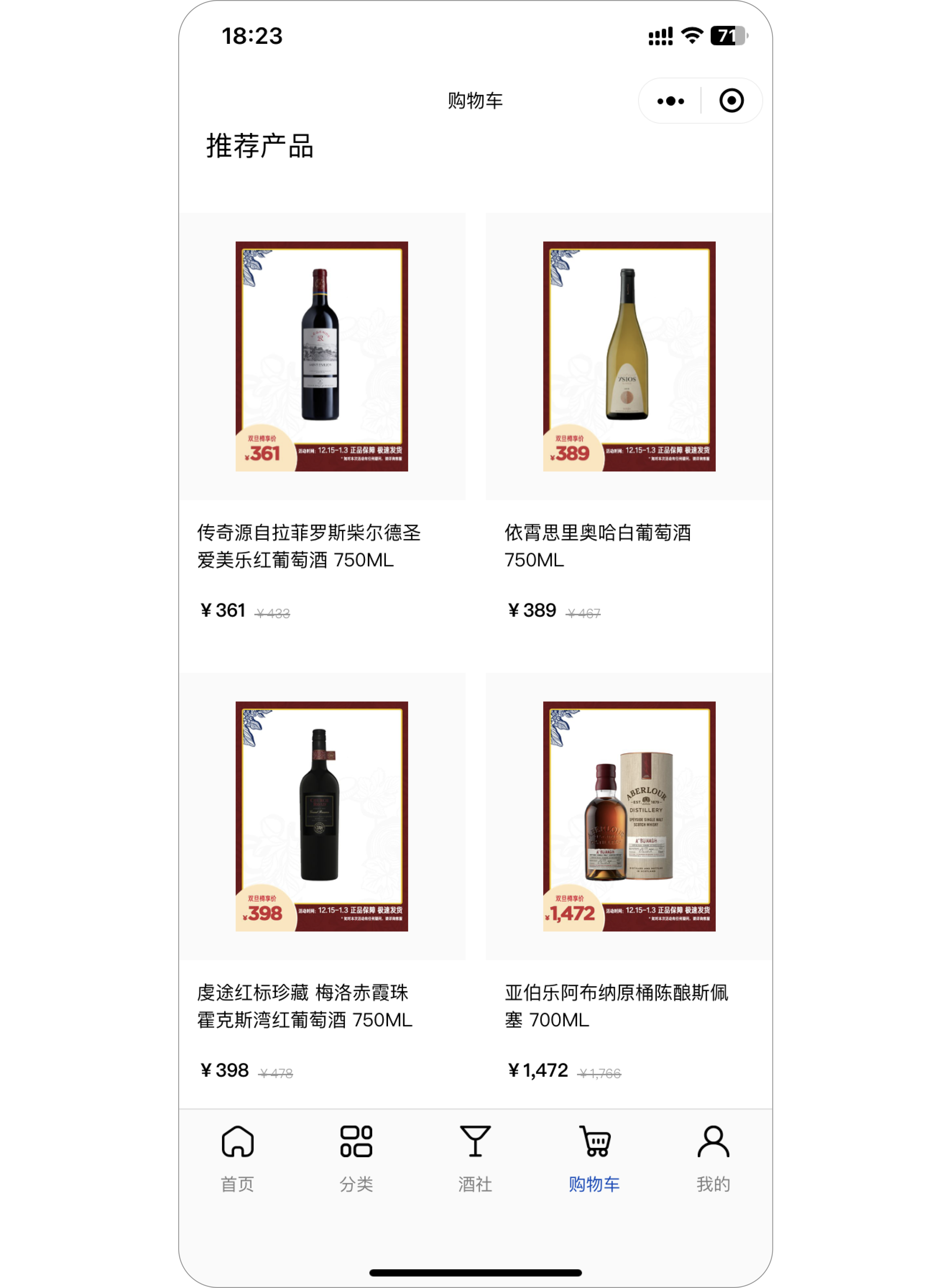 Other than the functionalities, brands can also easily localize the visual elements to match their global brand identity while living up to the local target audience's visual preferences and expectations.
In addition, Magento (Adobe Commerce) also enables the integration of local payment methods and provides translation modules and out-of-the-box language packages for localizing the storefronts and Admin panels.
In terms of globalization, as mentioned earlier, with this technology's scalability, headless connection, and multi-storefront setup features, brands can easily expand abroad or connect their unique systems in China with their global eCommerce engines while staying PIPL-compliant.
Why Use a Global Solution But Localized for China Instead of a Local Solution - Magento vs Youzan and Closed-Source Technologies?
While Shopify does not work, there are other alternatives similar to Shopify available in China - these include Youzan.
Many consider Youzan to be the Shopify of China. It is a low-cost eCommerce solution with pre-designed templates to choose from and drag-and-drop customization. Therefore, it is most suitable for smaller businesses with a tight budget and those looking for a simple solution.
For mid to enterprise-level companies that need to take scalability into account, building an eCommerce Mini Program or website or scratch with Adobe Magento is a much better option.
Furthermore, when working with a global solution like Magento (Adobe Commerce), brands can benefit from:

Global Community
There is an established global community with many expert Magento developers working on projects and contributing valuable knowledge, resources, modules, and updates (especially for Magento Open Source)

Data Ownership
You will own 100% of the users' data captured via the private eCommerce channel, which is not guaranteed with third-party eCommerce sites like Youzan and public eCommerce platforms

Ease of Takeover
Since it is a global solution, anyone can take over the Magento eCommerce platform, allowing the brand to own 100% of the source code, easily switch vendors when needed, and expand
To Wrap Up - Why Choose Magento (Adobe Commerce) for eCommerce in China?
Those are the 5 key reasons why Magento is the best eCommerce solution, be it in China or global markets.
In 2022, Adobe Magento was named a Leader in the Gartner® Magic Quadrant™ for Digital Commerce report.
Additionally, according to a study carried out by Forrester Consulting, merchants that migrated from other e-Commerce solutions to Magento "[...] experienced an average revenue uplift of 17.3%. Of this, 20% is attributed directly to the Magento platform".
So why aren't you considering the move as well?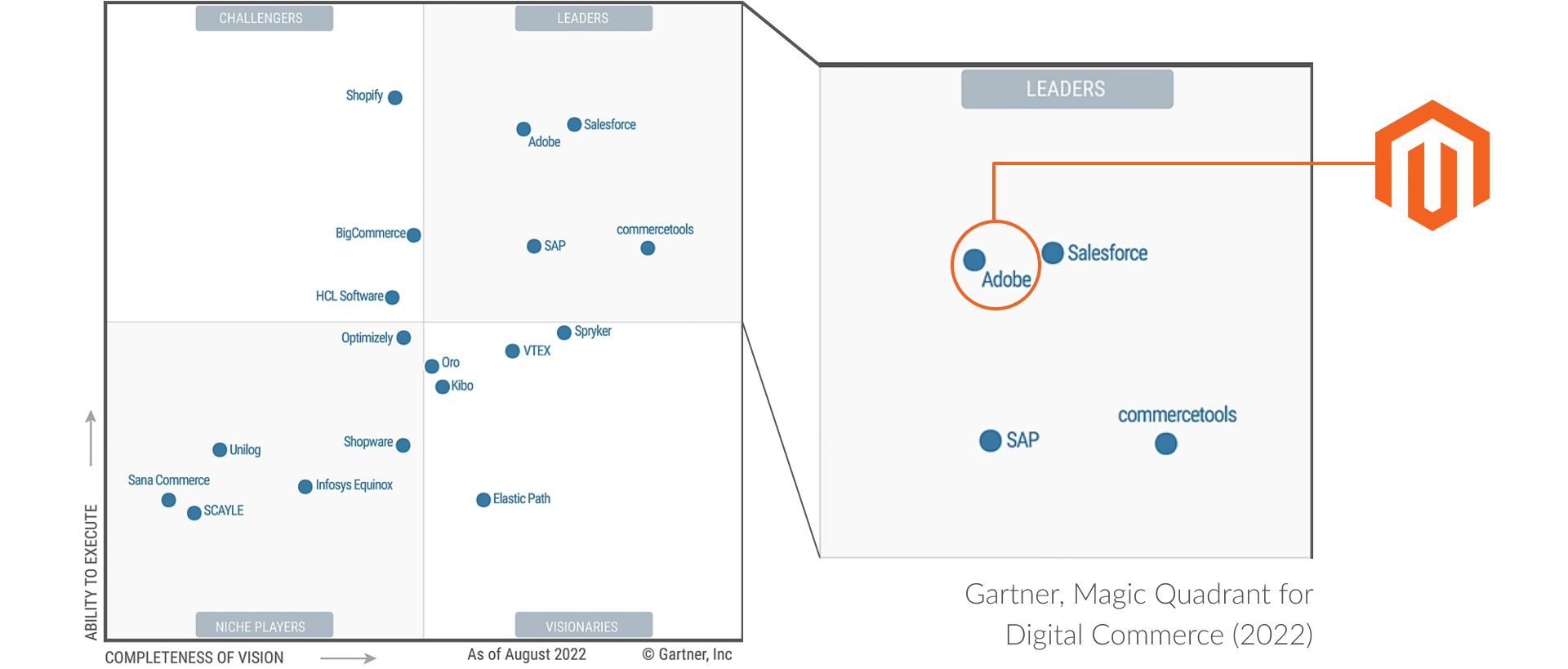 FAQs
What is Magento Used For?
Magento is an eCommerce platform with built-in PHP for building eCommerce sites of any size.
Does Magento Work in China?
Yes, Magento and Adobe Commerce can become fully localized for the China market technologically, functionally, visually, and legally.
Is Cloud Hosting the eCommerce Website Outside of China Possible?
No, if you are serving the China market, you need to host the eCommerce site on your own infrastructure in China, rather than cloud platforms, to comply with the local data regulations, ensure access, and deliver optimal performance.
Can I Integrate Alipay and WeChat Pay in Magento?
Yes, you can easily integrate Alipay, WeChat Pay, and any other local dominant payment systems and credit cards in Magento to make sure the e-Commerce platform can serve Chinese customers.
Yes, with a little customization, you can create a coupon process like your Tmall or JD.com stores on your private e-Commerce platforms powered by Magento to deliver a localized and seamless user experience across channels.
Yes, Adobe Magento allows you to flexibly tailor the default checkout, including customizing the one-step checkout process, editing the view, and adding new checkout steps, payment methods, and forms.
Can I Have a Loyalty Program Directly Within Magento?
Yes, you can also build a loyalty program system using Magento for your e-Commerce store. With the data captured, you can easily build user profiles, generate insights, and manage loyalty activities.
Can I Easily Integrate Magento with the Order Management System (OMS) and Coupon System?
Yes, the headless architecture enables your Adobe Magento backend to integrate with all of your intelligent business systems, including the OMS and Coupon system, powering a seamless data stream.
Is It Difficult to Manage a Magento Store?
Generally, a Magento eCommerce store is not difficult for webmasters to manage with backend customization to match your business workflows and adequate training to become familiar with the Magento system. For Chinese e-Commerce businesses, working with Chinese project managers and developers or installing the Chinese language pack can help them overcome the language barrier to become fully capable after the handover.
My Tmall Partner is Telling Me Magento is Not Good for China
DO NOT trust the local Chinese tech vendors that are grouping Magento (Adobe Commerce) with other global solutions that do not work in China (e.g. Shopify, Oracle Commerce Cloud). Using Magento is most likely the only way your e-Commerce store will remain vendor-independent in China.
Can You Use Magento as a CMS?
Yes, Magento (Adobe Commerce) can be used as a CMS. The drag-and-drop content management functionalities are making Magento easier to manage and maintain from a marketing standpoint. However, if you are looking for a strong dedicated CMS, WordPress or Drupal is definitely the better choice as Magento is more e-Commerce driven.
Is Magento Better than WordPress?
Depending on your needs, the answer can be different. Though WordPress is much easier to use and create content with more free themes, Magento excels as an eCommerce platform with more flexibility for a seamless omnichannel experience.
Which is Better, Shopify or Magento?
Shopify is more user-friendly with more themes and sales tools, but Magento supports more payment gateways and offers a wider range of SEO features, suitable for eCommerce needs. What's more, if you are targeting China, Magento is your best choice because Shopify is not available.
Which is Better, Magento or WooCommerce?
WooCommerce is suitable for a small business thanks to its affordability and user-friendliness. Bigger brands with a larger database should use Magento for its better performance, security, customizability, and scalability.