In this article, we will explore the 6 top Magento features (or Adobe Commerce) for CDOs, CTOs, and CIOs of leading brands to develop powerful eCommerce digital enablers in China.
As a company seeking to expand its eCommerce footprint in China, you need a robust platform that can be localized and customizable to fit the local digital system and your unique business needs.
This is where Magento (or Adobe Commerce) comes in. Its ability to integrate with any business system via APIs and, especially, unparalleled customizability and flexibility make it the ideal choice, especially for large enterprises looking to empower their eCommerce strategy in China.
Key customizable Magento eCommerce features include everything from page building and stock management to special invoicing methods and local payment system integration.
Continue reading to explore the 6 powerful functionalities of Magento that can take your e-Commerce business in China to the next level.
Table of Contents
What are the Top Features of Magento (and Adobe Commerce) for China eCommerce Enabler Development?
1. Custom Page Builder Solution
In addition to showcasing and selling products and services on e-Commerce enablers, content management is also one of the key aspects that brands usually look for.
It is important to note that Magento's native page builder is not very flexible and does not allow brands to leverage all valuable options in the headless setups. The headless architecture benefits many ventures in China that have more than 1 storefront (frontend), including an e-Commerce website and e-Commerce Mini Program.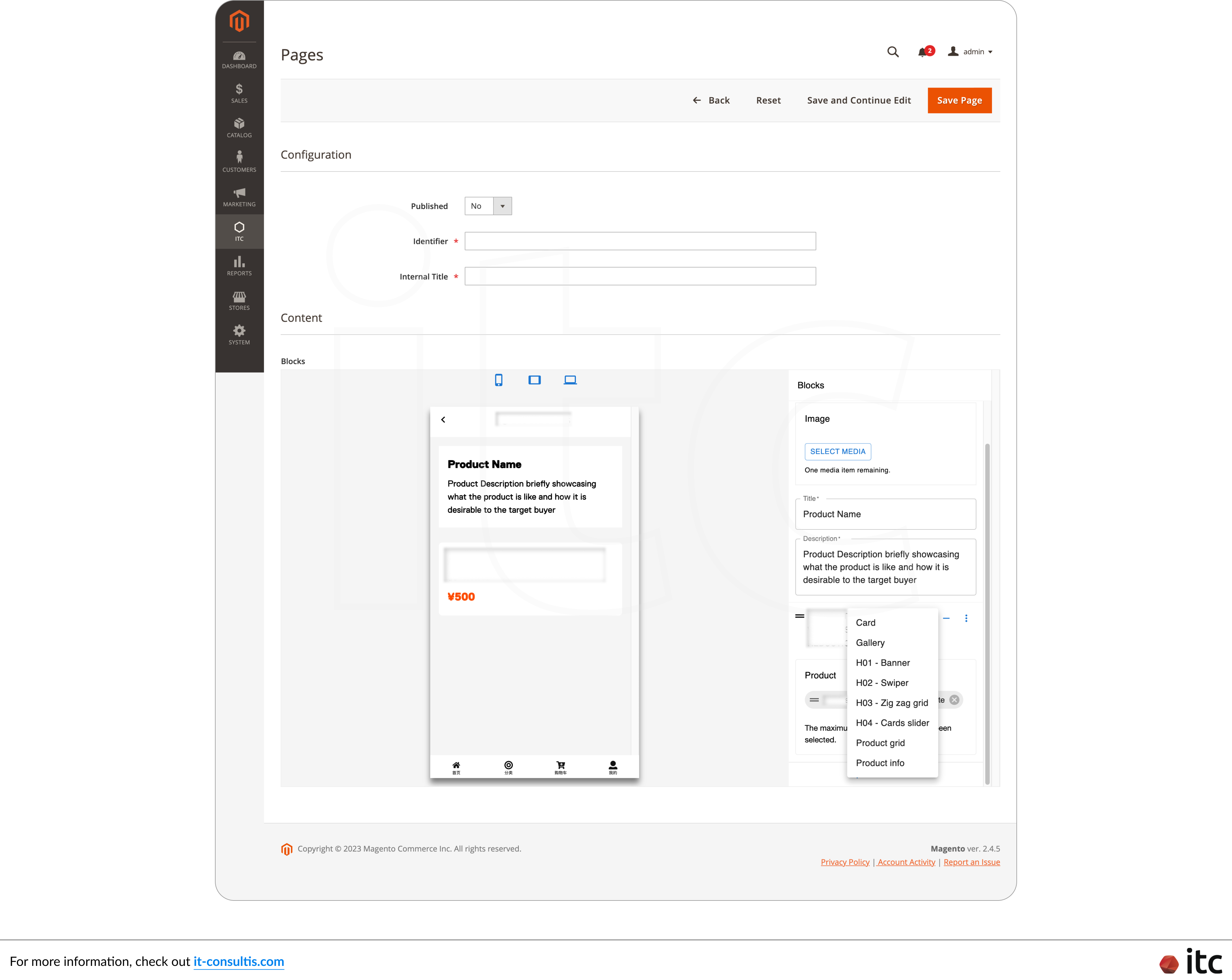 Nevertheless, expert Magento developers in China like ITC can help brands leverage a tailored page builder solution that can integrate multiple storefronts with the same Magento (or Adobe Commerce) backend and local intelligent business systems via APIs.
According to Statista, every month, over 920 million WeChat users, which translates to nearly 90% of the super app's total userbase, are actively engaging with various Mini Programs, as of September 2022.
Moreover, among the many different types, eCommerce WeChat Mini Programs ranked 2nd in popularity, taking up around 17% of the total usage time in China (2021), making this a highly valuable platform for brands to develop and leverage to drive both online and offline sales in the region. This includes those in luxury retail.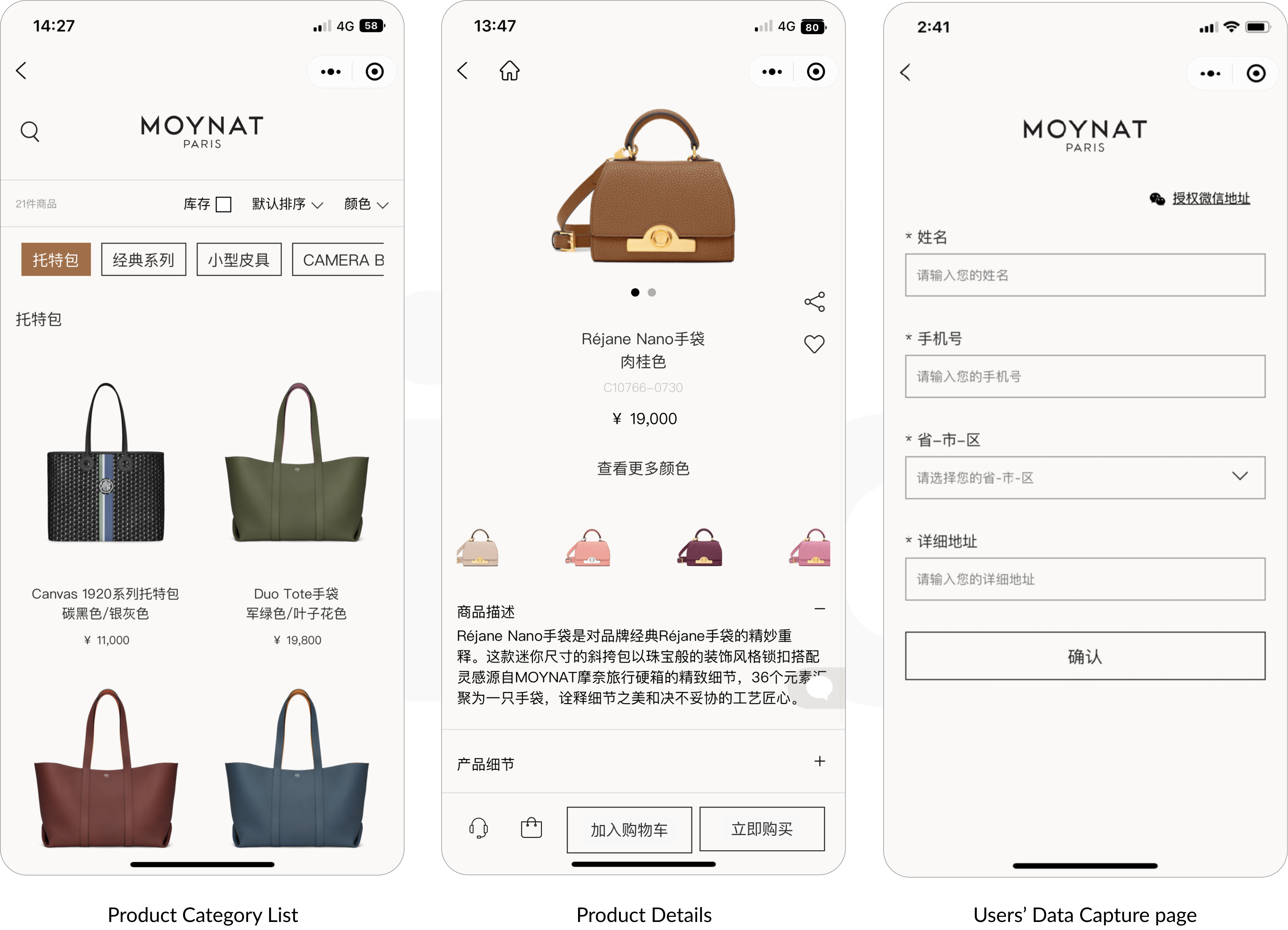 Furthermore, brands can expect added support for WeChat in the backend and integrate everything that WeChat API offers, including authentication, synchronization of account details, payment methods integration, and so on to effectively localize their business.
2. Stock Management
Above all, out-of-the-box Magento can offer all you need to run a complex eCommerce business. Combining them with Adobe Commerce's advanced features, such as product returns and customer support, our clients can expect everything in one place, which is what many other technology platforms are missing due to focusing more on "content-first".
Among the key eCommerce features, Magento and Adobe Commerce also support stock management as it is part of catalog and inventory management. With assistance, brands can employ custom integrations between the Magento backend and their logistics partners to:
Oversee their multiple warehouses in different locations
Manage their stock levels automatically via a dedicated system
Track and trace packages in real-time
One useful feature of Magento and Adobe Commerce is the ability to manage stock levels for individual products, product variants, and bundles. This allows brands to closely monitor their inventory, detect low stocks early on, and avoid overselling and stockouts, which can be especially costly in the highly competitive Chinese eCommerce market.
Brands can set up automated alerts to notify them when stock levels fall below a certain threshold, enabling them to replenish their inventory quickly.
In addition, Magento and Adobe Commerce provide powerful reporting and analytics tools that allow brands to gain insights into their inventory performance. This data can identify trends, make informed decisions about stock levels and purchasing, and optimize inventory management processes.
For example, brands can use analytics to identify fast-moving products and adjust their stock levels accordingly, reducing the risk of overstocking or stockouts.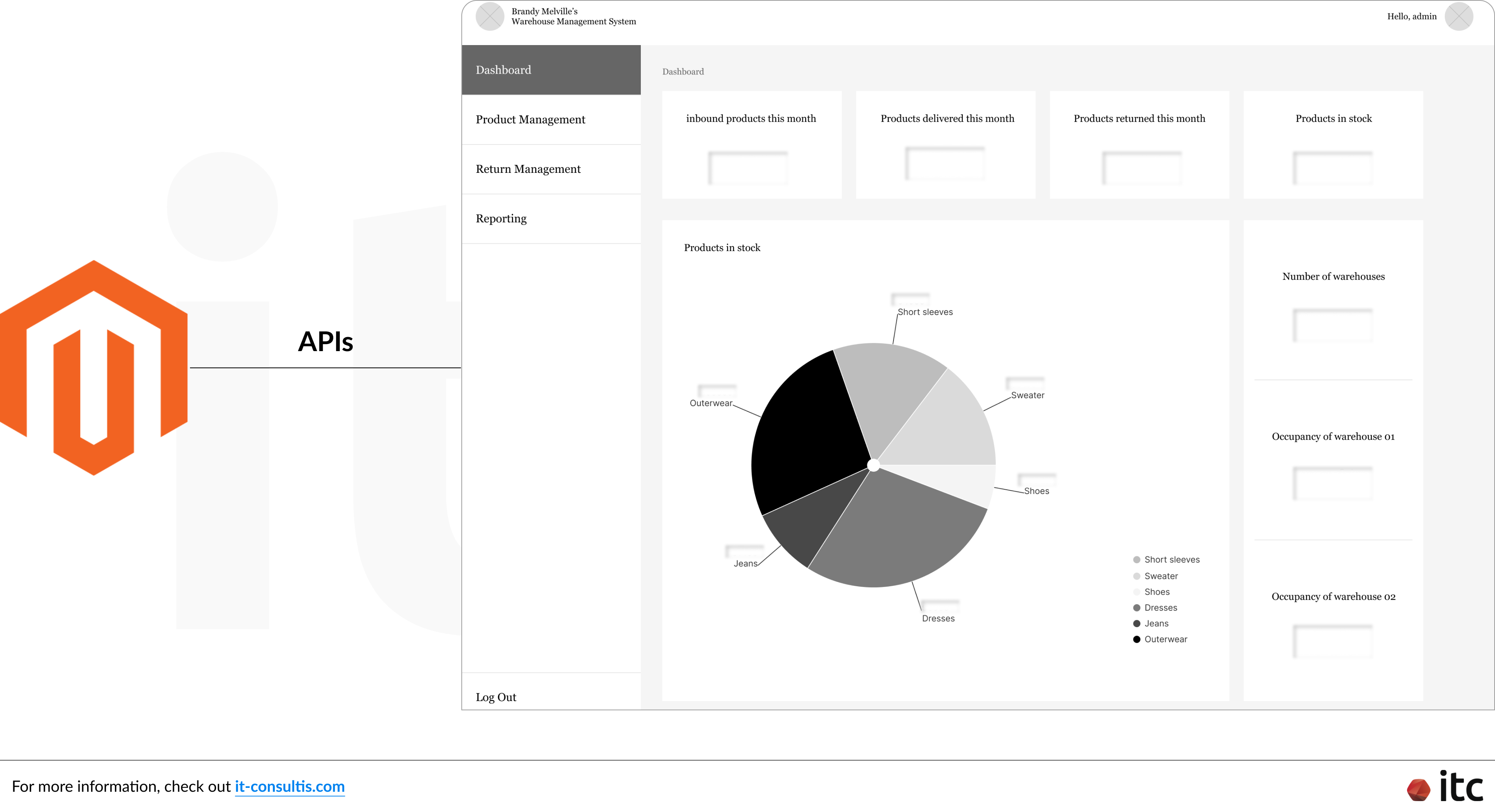 One thing to keep in mind is, for eCommerce businesses whose inventory originates from multiple sources, inventory management can be more complicated and require different configurations. Particularly, misunderstandings can arise as:
When the customer makes a purchase, at this point, it might be unclear what source the product will be sent from
It can be harder to track what stage a product is at, along with the number of stocks in the warehouses
To solve this, Magento would:
Place an initial "reservation" to make sure an item is not sold twice
Aggregate the inventory from all sources to learn what the total salable quantity is
Ship the product to the customer based on the business's pre-determined process (e.g. from the nearest warehouse)
The stock number can then be deducted and the reservation is removed
The key to working out this system on Magento (or Adobe Commerce) is communication between the brand and the developers to make sure the buying process works as intended and there is a clear source of truth.
For brands with only one warehouse, brands can ask their eCommerce agency in China to disable the complicated system and directly sync the placement of orders with the stock inventory in Magento (or Adobe Commerce).
If there is an external stock system, it can be set as the source of truth and automatically update the digital enablers' backend, ensuring that everything runs smoothly with zero to minimal contradictions.
3. Payment Methods Integration & Refunds Processing
Similar to the page builder, the Magento Core by default only comes with common global payment methods, including Amazon Pay and PayPal. However, these are not available in China.
This is essential to succeed in China's e-Commerce market to deliver a convenient, localized, and seamless checkout experience for customers. It is especially remarkable within the WeChat ecosystem, where a customer can go from discovery (e.g. WeChat Moments), interest, consideration, and engagement (e.g. Official Account, WeCom, Mini Program), to conversion (e.g. payment via WeChat Pay) without ever leaving the super app.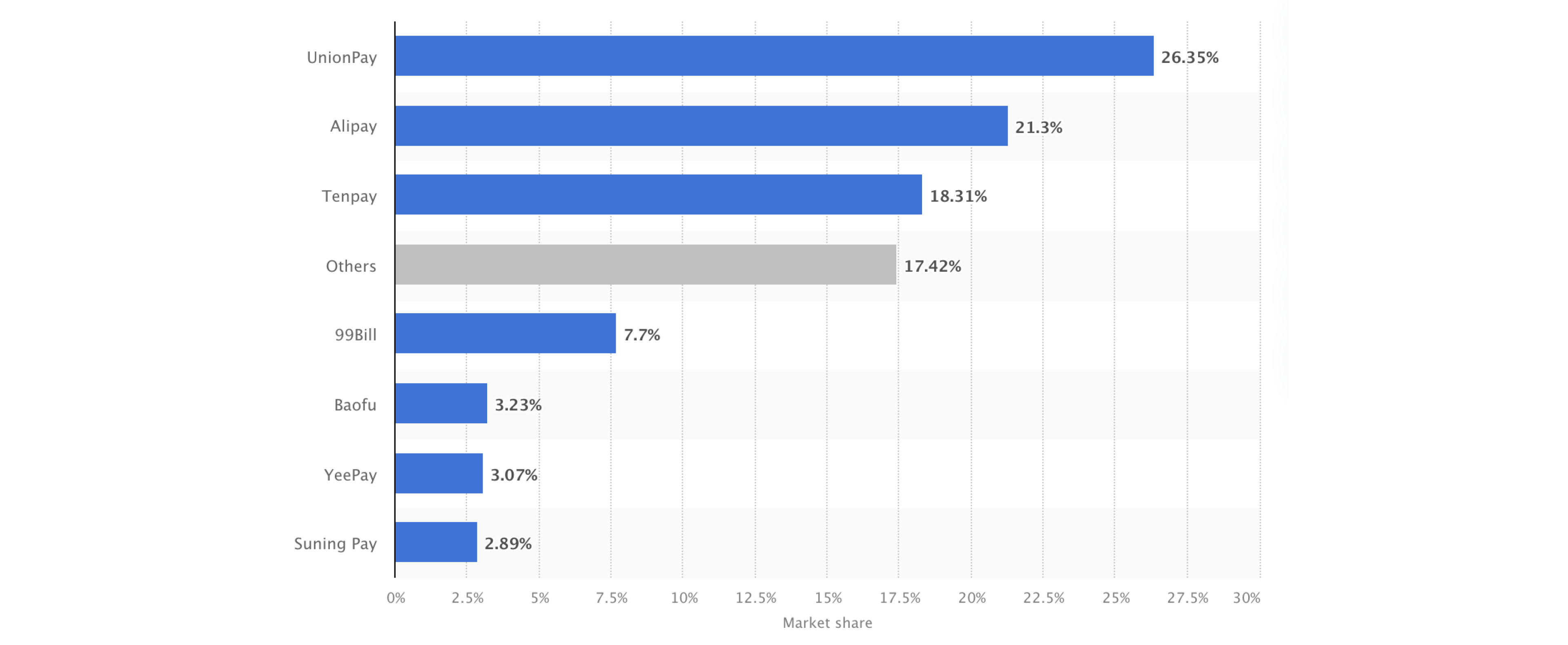 When a customer requests a refund, the customized payment module can be designed to initiate the refund process and handle any necessary calculations or adjustments to inventory levels. This can all be done with Magento or Adobe Commerce, making it a seamless and efficient process for both the customer and the brand.
To develop a customized payment module for refunds, it is important to work with experienced Magento or Adobe Commerce developers who understand the specific needs and requirements of the brand and payment gateways being used, and its refund capabilities.
This module can be integrated with the payment gateway to ensure that refunds are processed correctly and reflected in both the gateway and the Magento or Adobe Commerce backend. When one is requested, the module can communicate the refund request to the payment platform that it was paid on and handle the rest.
The refund module can also be customized to include any additional functionality required by the brand, such as partial refunds or refunds with store credit. This can help to improve the overall customer experience and increase customer loyalty.
4. Product Bundles Customization
It is not uncommon for brands in China to offer products in bundles as part of their sales promotion strategies, including in online retail. However, they can also be very complex to manage.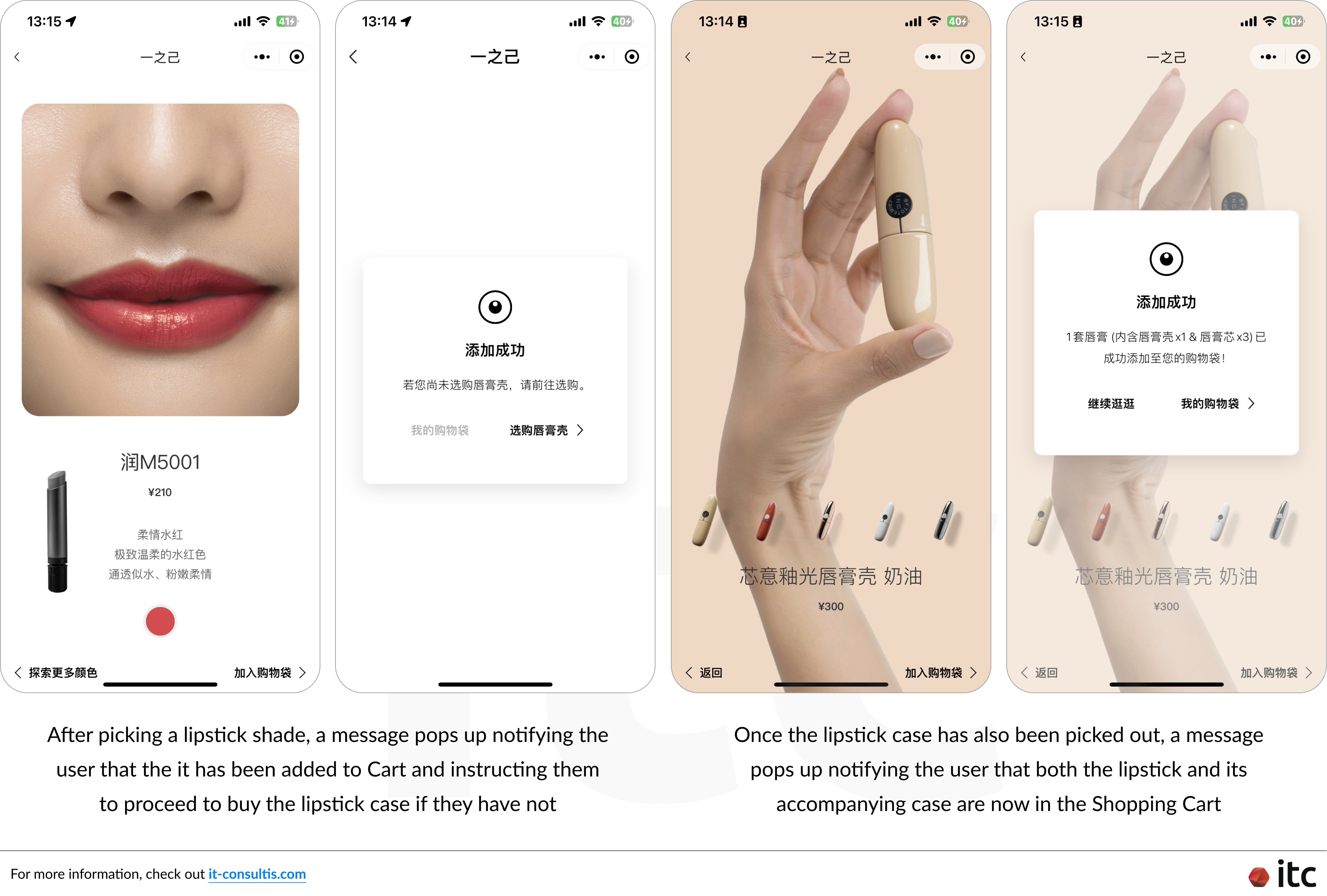 Product bundles, grouped products, and configurable products are complicated by nature as they involve multiple items that all have their own stock and management. Therefore, it can be difficult to keep track of inventory and fulfillment when offered together. This complexity can be especially challenging for brands that offer a wide range of product bundles.
To resolve this, expert Magento or Adobe Commerce consultants and developers can help brands break them down and clearly define the tailored setup request.
Thereby, they can find the best solutions, including simplifying the structure of the product bundles internally, the APIs, the mechanics, and the interactions between the front end and the back end as much as possible. Ultimately, the goal is to make them easier to understand and minimize the risk of errors and delays.
The backend developers would then need to translate it into the core logic of Magento and work with the frontend developers to realize it on the customers' screens.
5. Marketing & Sales Automation
According to Dynamic Yield, in January 2023, the shopping cart abandonment rate was reportedly recorded at around 74%. The Luxury & Jewelry sector, particularly, has seen the highest cart abandonment rates over the past 12 months. Moreover, APAC, which includes the China market, also saw the most carts abandoned overall.
Therefore, many companies want to integrate marketing and sales automation with eCommerce platforms to effectively retarget and improve conversion.
With Magento (or Adobe Commerce), brands can track abandoned carts and integrate any channels to automate follow-ups with the users. Companies that are already leveraging a dedicated Marketing Automation system can also integrate it with the Magento backend. Magento can track and send relevant data to the system which will handle data processing and marketing activities.
However, when operating in China, brands should be very mindful of local data regulations like the Personal Information Protection Law (PIPL), especially if they implement Cross-Border Data Transfer to their global systems abroad. To stay PIPL-compliant, brands need to:
Develop a dedicated eCommerce channel in China with a feasible backend hosted on a Chinese server
Clearly communicate with users the data processing intentions and approaches to gain their consent before proceeding
Work with a law firm specialized in China's legal landscape to ensure the Terms and Conditions (T&C), Privacy Policy, etc... are properly set
6. Loyalty Features
While there are no default loyalty program modules in Magento Core, customizable ones can be developed and highly recommended due to the differences in the mechanics of loyalty strategies and design as well as the uniqueness of the China market (as opposed to Europe or North America).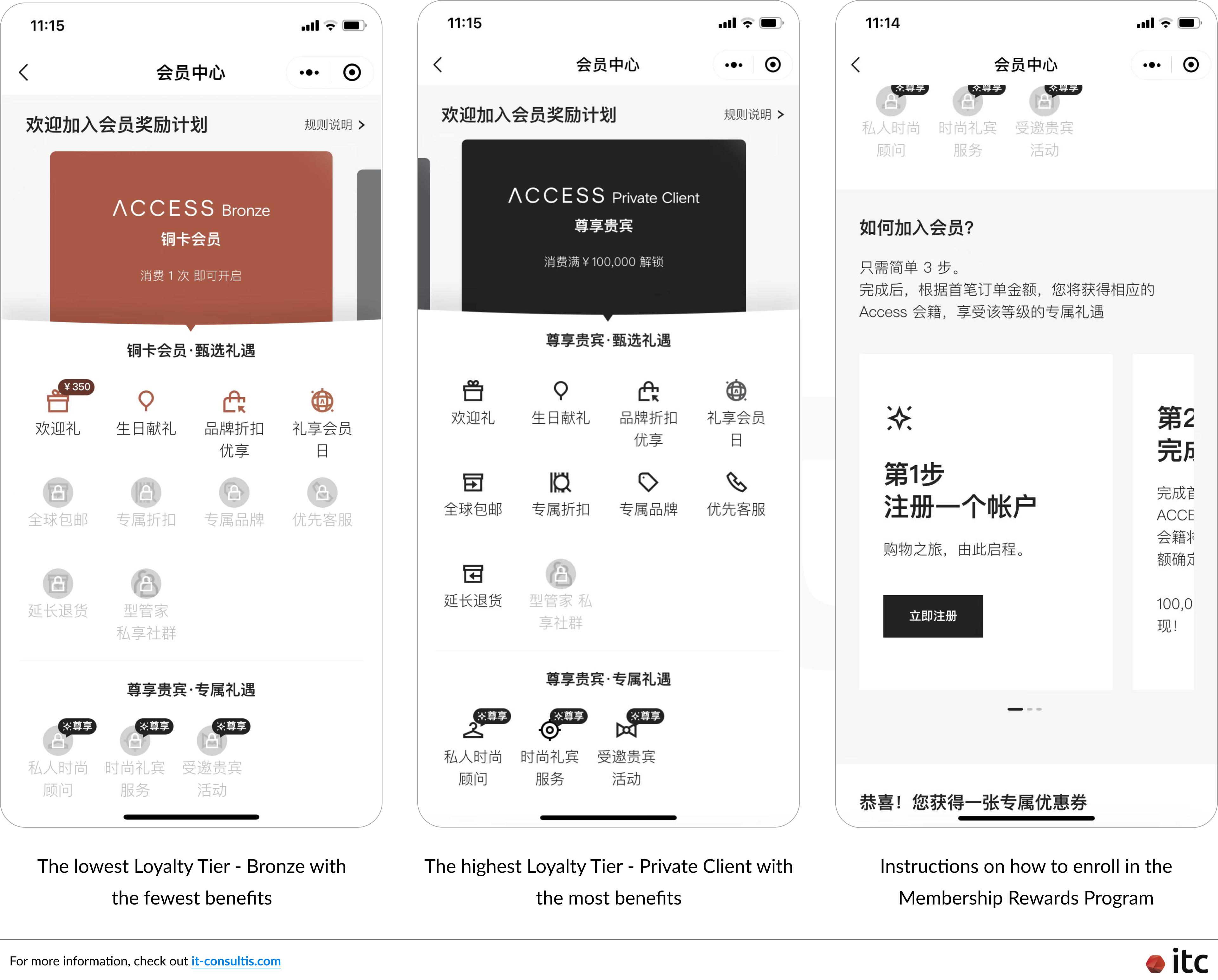 These loyalty features include:
Points and rewards: Brands can offer points or rewards to customers based on their purchases or other actions, which can then be redeemed for discounts or free products.
Tiered loyalty programs: Brands can create tiered loyalty programs that offer increasing rewards or benefits as customers move up through the tiers based on their loyalty.
Personalized promotions: Brands can offer personalized promotions and discounts based on customers' purchase history or other data to encourage repeat purchases and boost loyalty.
Referral programs: Brands can offer rewards or discounts to customers who refer new customers to the platform, encouraging word-of-mouth marketing and customer acquisition.
Membership programs: Brands can create membership programs that offer exclusive benefits or early access to products, helping to drive customer loyalty.
Additionally, brands can also track and analyze customer behavior and loyalty metrics using the analytics tools, enabling them to optimize their approach over time and drive greater customer engagement and retention/repurchases.
Other Custom Development for Business Requirements
For example, brands that offer subscription services can leverage third-party modules or work with Magento developers to build custom ones to easily integrate them with the backend.
It is especially convenient with Chinese payment methods, which typically already have built-in mechanisms to handle subscriptions and can be integrated into your Magento eCommerce system in China.
Furthermore, many B2B enterprises and luxury houses in China may have special invoicing methods, which require customization to accommodate their special transaction processes. This is because payment platforms like WeChat Pay and Alipay have a maximum upper-limit amount in one transfer, which may not be sufficient for luxury or B2B products and services that cost much more.
To overcome this challenge, brands can work with tech experts to work out a special system that can be easily managed from the Magento or Adobe Commerce backend. One common approach is to split up the invoicing amounts into a deposit and a final amount.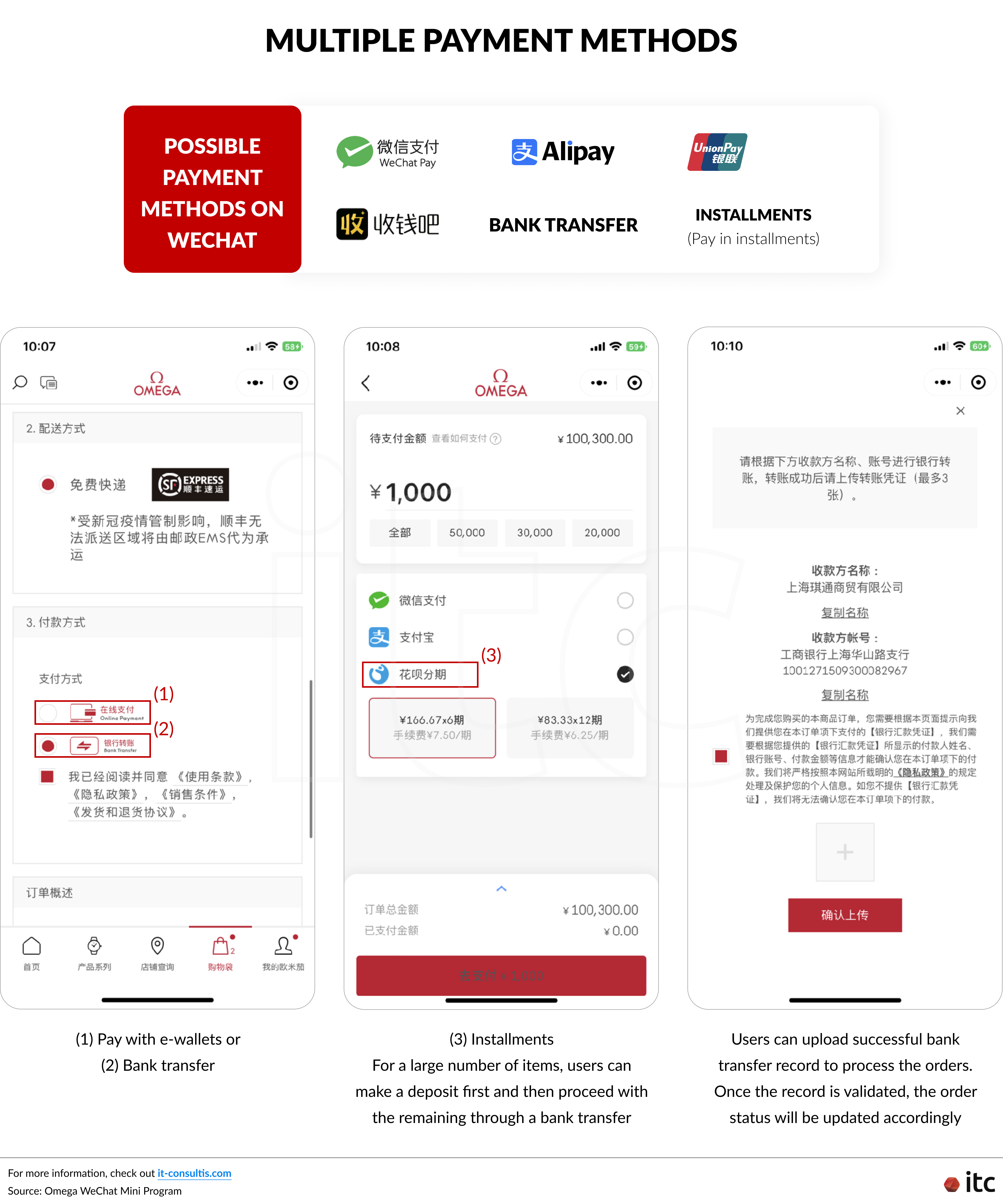 The customer can pay for the deposit via a popular digital wallet, which would push the order into a specific status. A customer service representative would then follow up with the customer to do an additional bank transfer to complete the total payment for the product or service.
Finally, once there is confirmation of the bank transfer, they can push for the order to be processed internally and fulfilled.
Overall, there is a huge variety of solutions for each business with its own specific way of processing orders. With Magento and Adobe Commerce, brands can customize and optimize their e-commerce platform to accommodate their unique requirements, ensuring a seamless and secure buying experience for their customers, and so much more.
To Wrap Up
Those are some of the key features Chief-level executives of leading brands care the most about as they choose Magento (or Adobe Commerce) as their eCommerce technology of choice in China.
To leverage the power of Magento and Adobe Commerce, work with expert e-Commerce consultants and developers in China to tap into the vast potential of the Chinese eCommerce market and accelerate your business growth.
FAQs
What is Magento Best for in China?
Magento and Adobe Commerce are the most sought-after eCommerce solution in China and globally due to their robust customizability and flexibility to fit the local digital ecosystem and expand to meet enterprise-level business requirements.
It also enables ease of system integration with any third-party business systems to accommodate all unique business processes, including popular Chinese payment methods such as WeChat Pay. Their incredible eCommerce capabilities include custom solution development for product bundles, refund processing, loyalty, and many more.
What Makes Magento Unique in China?
What makes Magento and Adobe Commerce the best eCommerce solutions for the Chinese market is their customizability and flexibility, enabling outstanding localization in terms of functionalities, visuals, and legality - they can work with China's special digital ecosystem and data regulations.