In March, IT Consultis had the incredible opportunity to lead a full-day workshop for Coty, one of the world's biggest luxury Fortune 500 companies.  
Our goal was to guide top global executives on an inspiring journey, delving into China's digital landscape, eCommerce strategies, and the ever-evolving world of digital transformation.
Throughout the day, we conducted 3 comprehensive sessions, covering everything from navigating the intricacies of China's digital landscape to exploring the best pathways in digital transformation for 2023.
Here are some of the key takeaways from those engaging sessions:
Table of Content
1. How to Navigate China's Digital Landscape, Latest Trends, and Best Practices
2. The eCommerce Landscape in China: Private Traffic & Public Traffic
3. Digital Transformation in China: How to Succeed in 2023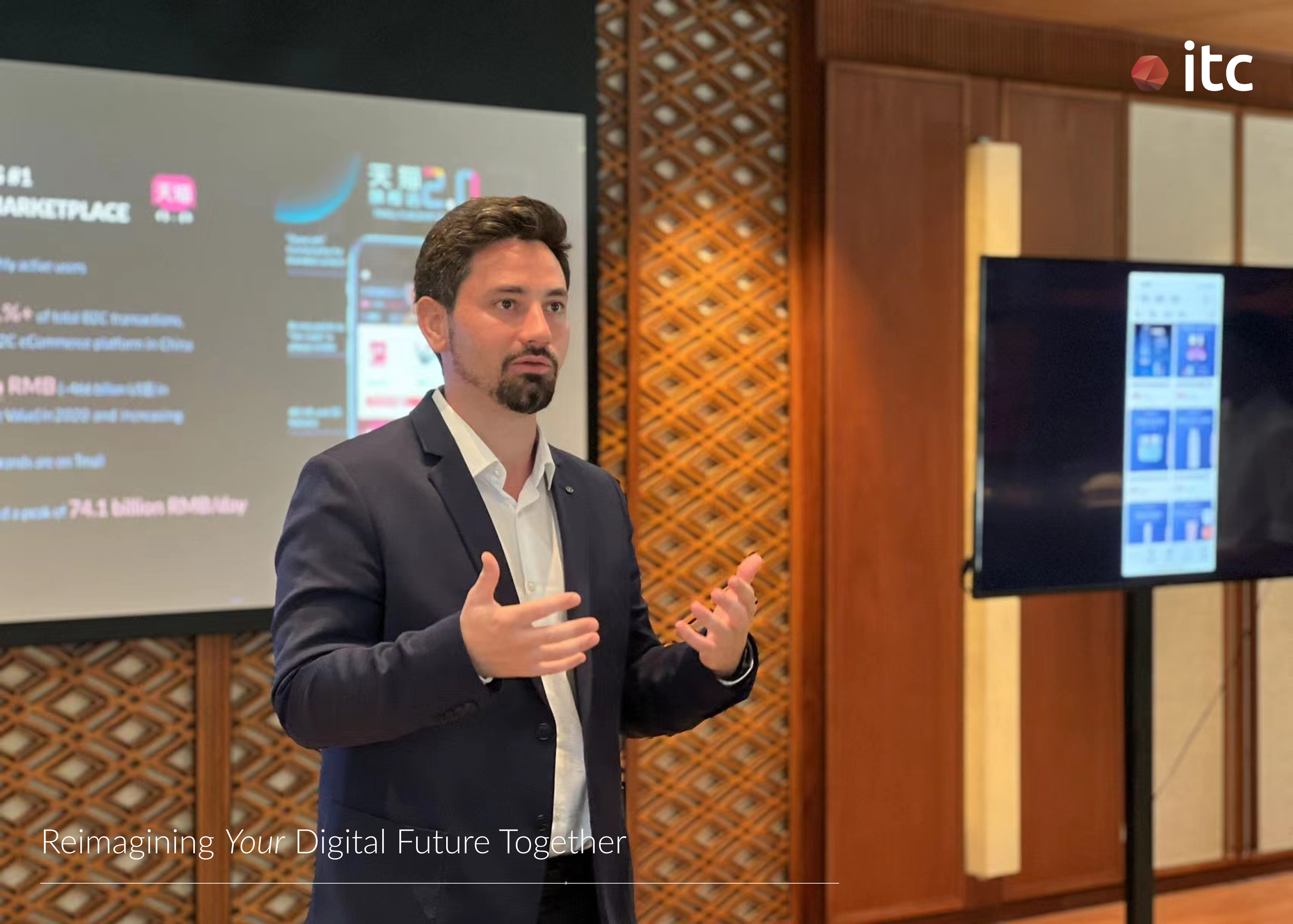 1. How to Navigate China's Digital Landscape, Latest Trends, and Best Practices
The first session of the workshop aimed to provide a holistic understanding of the unique digital landscape in China.
At the forefront of retail e-Commerce, China boasts a staggering 50% share of global retail e-Commerce spending (CNNIC, 2022). This success can be attributed to its mobile-driven economy, fostering a culture of advanced digital adoption.
In China, Social Commerce has become the norm, with the entire customer cycle taking place within social superapp ecosystems like WeChat.
The power of social media in shaping consumer choices has never been more evident, as people seek validation and recommendations from their peers and trusted influencers before making a purchase.
Now, how can brands stay ahead in this realm of digital advancement?
To address this, let's explore the top four digital trends in China:
Livestream Commerce
Short-form videos
Social Commerce
Metaverse, AR/VR, and beyond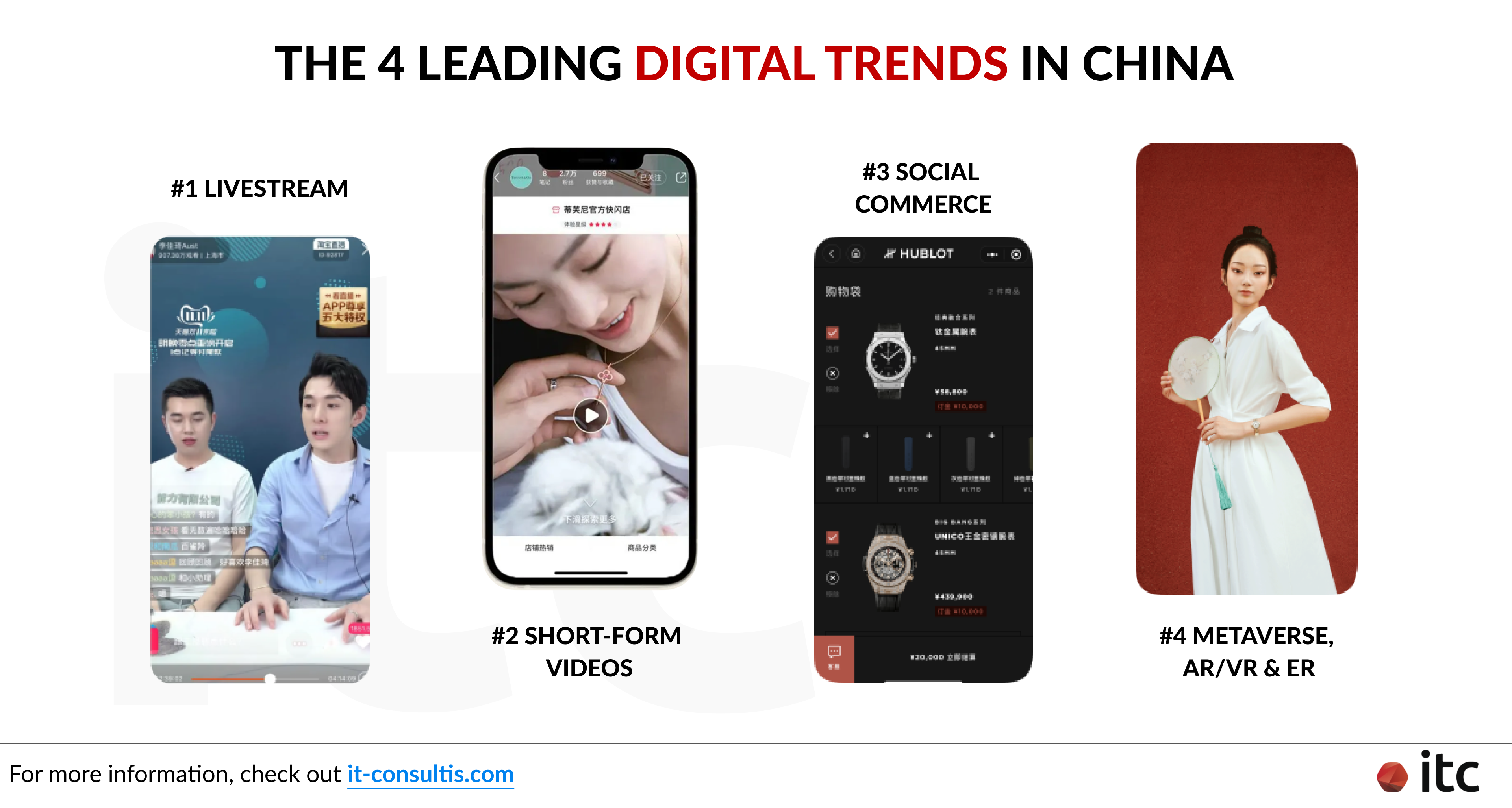 In addition to its digital dominance, China has nurtured a robust QR code economy through the widespread adoption of WeChat Pay.
The prevalence of E-Wallets and Digital Payment in the country is truly remarkable which you can see through the numbers:
90% + of China's mobile payments are made via QR codes
11 trillion RMB Offline code scanning value of digital transactions in China Q1 2021
These impressive figures further underscore China's relentless march towards technological innovation and digital prosperity.
As we explore the top digital trends in the country, it becomes increasingly evident that embracing these unique trends and technologies is not just an option but a necessity for brands to thrive in this dynamic market.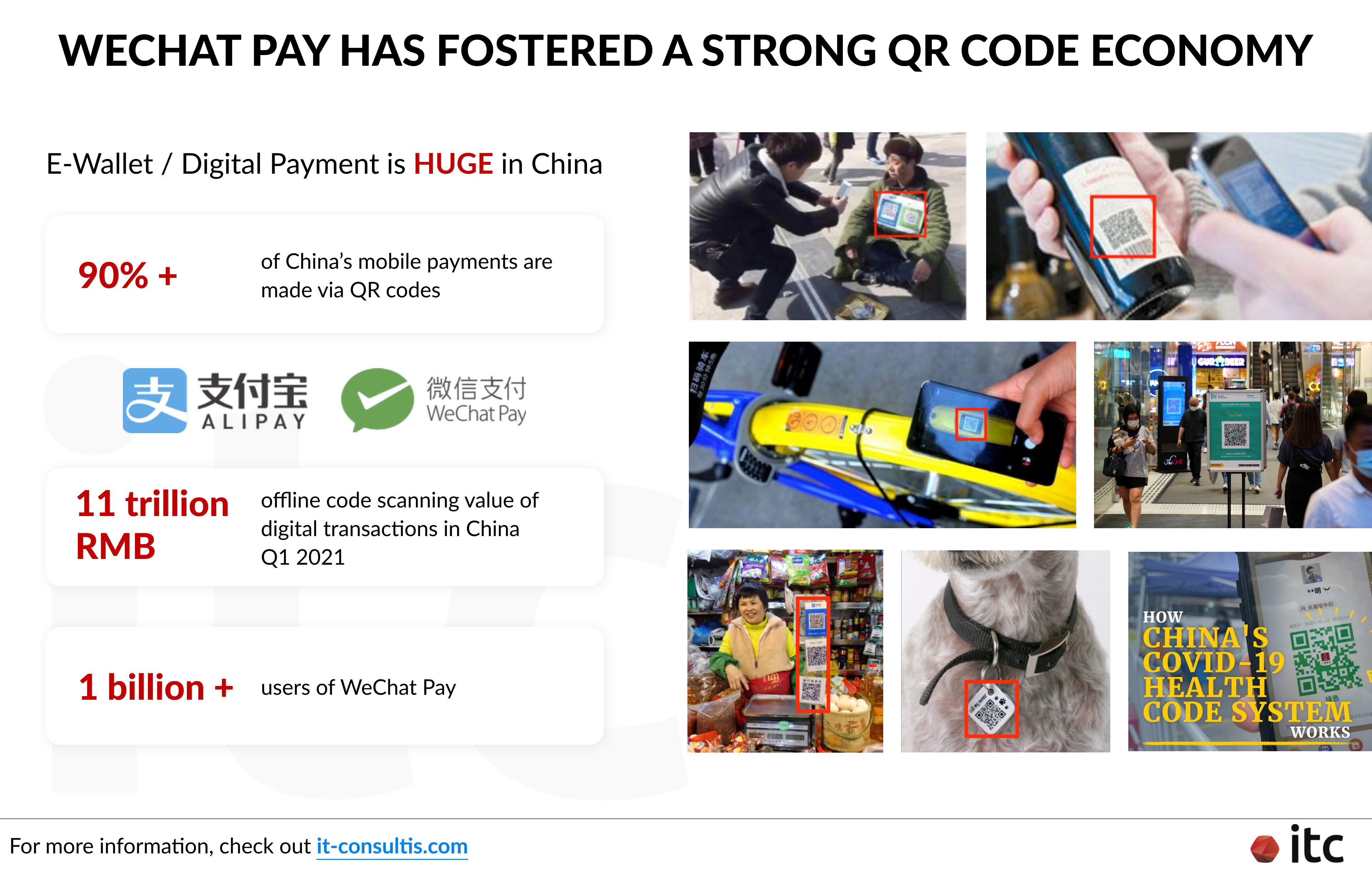 2. The eCommerce Landscape in China: Private Traffic & Public Traffic
As the world's largest eCommerce market, China offers immense opportunities for companies to expand their online presence.
In this workshop, we discussed the essential concepts of Public Traffic and Private Traffic, diving into the key players in each domain.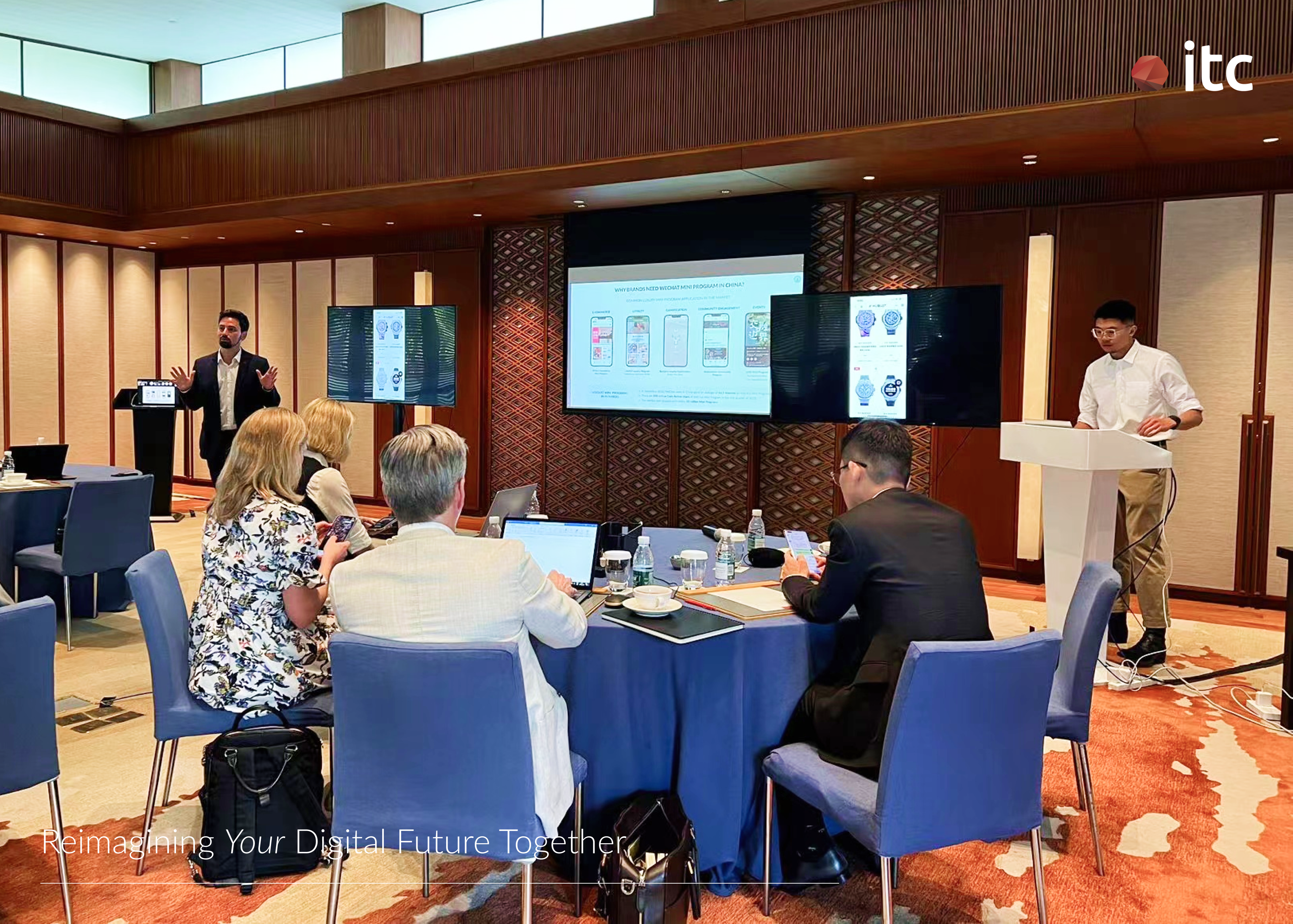 E-Commerce Public Traffic platforms like Tmall and JD.com play a pivotal role in helping brands drive significant impressions and purchase volumes. Brands can effectively build awareness and establish a strong online presence by participating in platforms' campaigns and shopping events.
Meanwhile, Private Traffic characterized by brand-owned channels like WeChat Mini Programs, has emerged as a crucial strategy for brands to engage customers with remarkable impact. They enable brands to have 100% ownership and control over customer interactions and captured data, which is not possible with Public Traffic.
By maximizing the values of Private Traffic domains, brands can expect:
Stronger customer loyalty
More holistic customer profiles and data-driven insights
Greater impact on customers' decision-making
Overall, to truly thrive in the Chinese market, it's imperative to harness the synergy between the three funnels - Public Traffic, Private Traffic, and Offline Retail. This harmonious integration will be the key to unlocking success in this dynamic landscape.
3. Digital Transformation in China: How to Succeed in 2023
During the final session of our workshop, we discussed the key pillars for success in the China market and long-term competitiveness, including: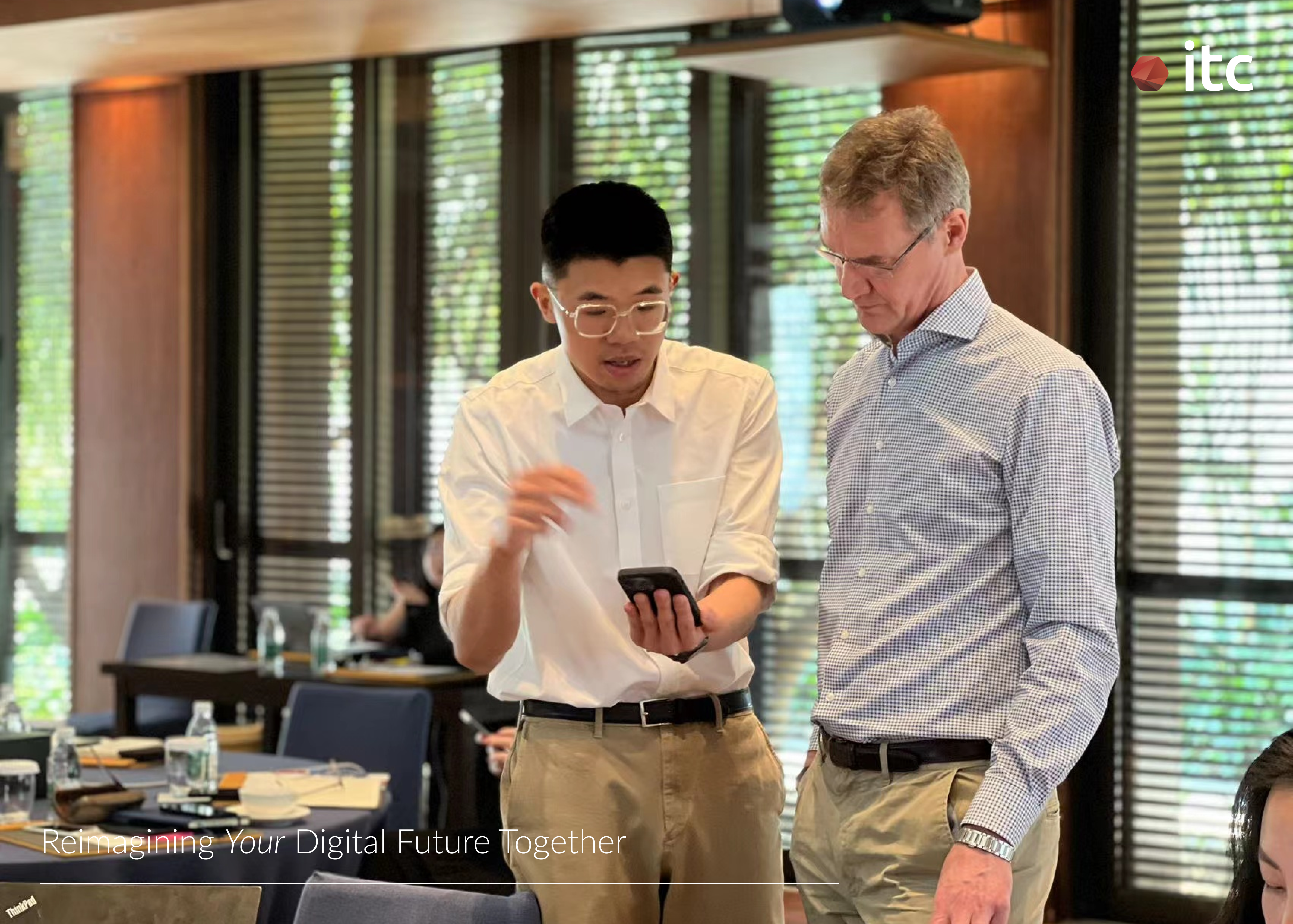 The full-day workshop conducted by IT Consultis (ITC) in Sanya for Coty was met with resounding success. All global CIOs, CMOs, GMs, HRD, and other C-level executives of Coty, including the legendary CEO Sue Naby, attended the training, which was fully customized for them. Additionally, the APAC and China GMs were also in attendance. It has been a privilege to work alongside them as they embark on their digital transformation journey