In this IT Consultis case study, you can learn more about a Drupal web development project to transform Rexel's digital identity - a renovated website with a straightforward content management system, smooth navigation, and flexible structuring.
About The Client: Rexel
Rexel is a top-performing global company specializing in the multichannel distribution of electrical products and services.
Founded in 1967, the French company has expanded its offerings to providing innovative, bespoke, scalable, and sustainable electrical solutions in a myriad of fields such as technical supply, construction, and energy management.
Rexel first penetrated the China market in 2000. Since then, it has established 53 branches and offices, 6 entities, and over 50 distributed brands in the country!
Thus, in order to maximize its ROI and further establish itself as the key player in the energy market, Rexel partnered with IT Consultis (ITC), a digital transformation consultancy agency with expertise in Drupal to transform its digital presence in China.
Objectives
Prompted by the logo change, the company also realized the need to revamp other outdated digital assets as well. The main goal that the brand informed ITC of was to revamp 2 of its outdated Chinese corporate websites.
With a fresh, professional, and unified visual identity across all digital entities, Rexel expected to:
Increase its brand awareness in China
Re-establish itself as the go-to global expert in the energy market
Solutions for Rexel
As a digital transformation consultancy, the ITC team devised an innovative Drupal web development solution for Rexel that perfectly aligned with its core values and expansion goals. We revamped the brand's multi-lingual website that can support both English and Chinese. Ultimately, we wanted to unify the looks of its outdated digital identities in China.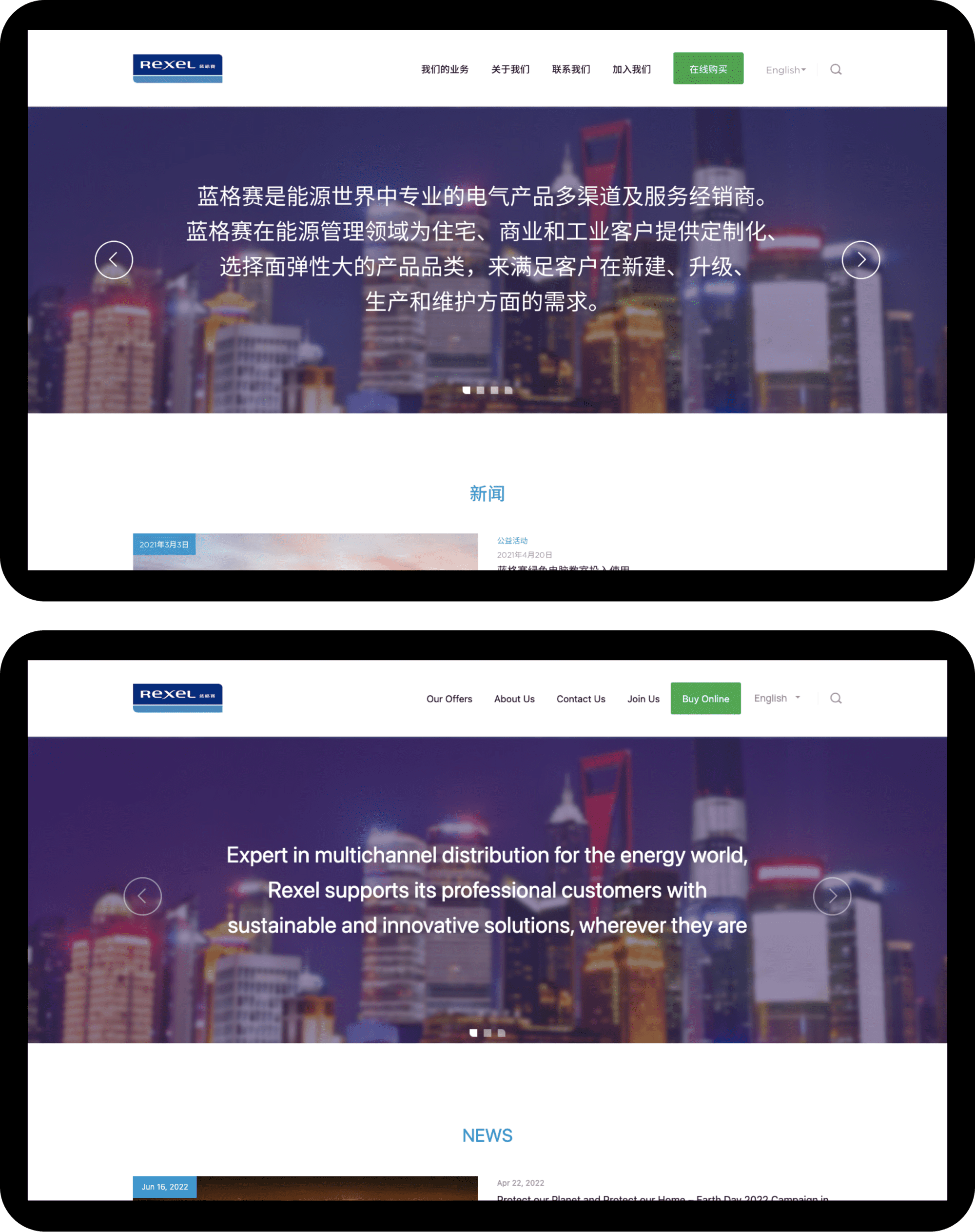 Functionality & Flexibility
Firstly, one of the most outstanding features that ITC renovated to substantially improve the website's efficiency was the straightforward content management system.
The new system could respond directly to Rexel's needs. It enabled the brand to easily publish company information and other details to promote its products, services, and solutions.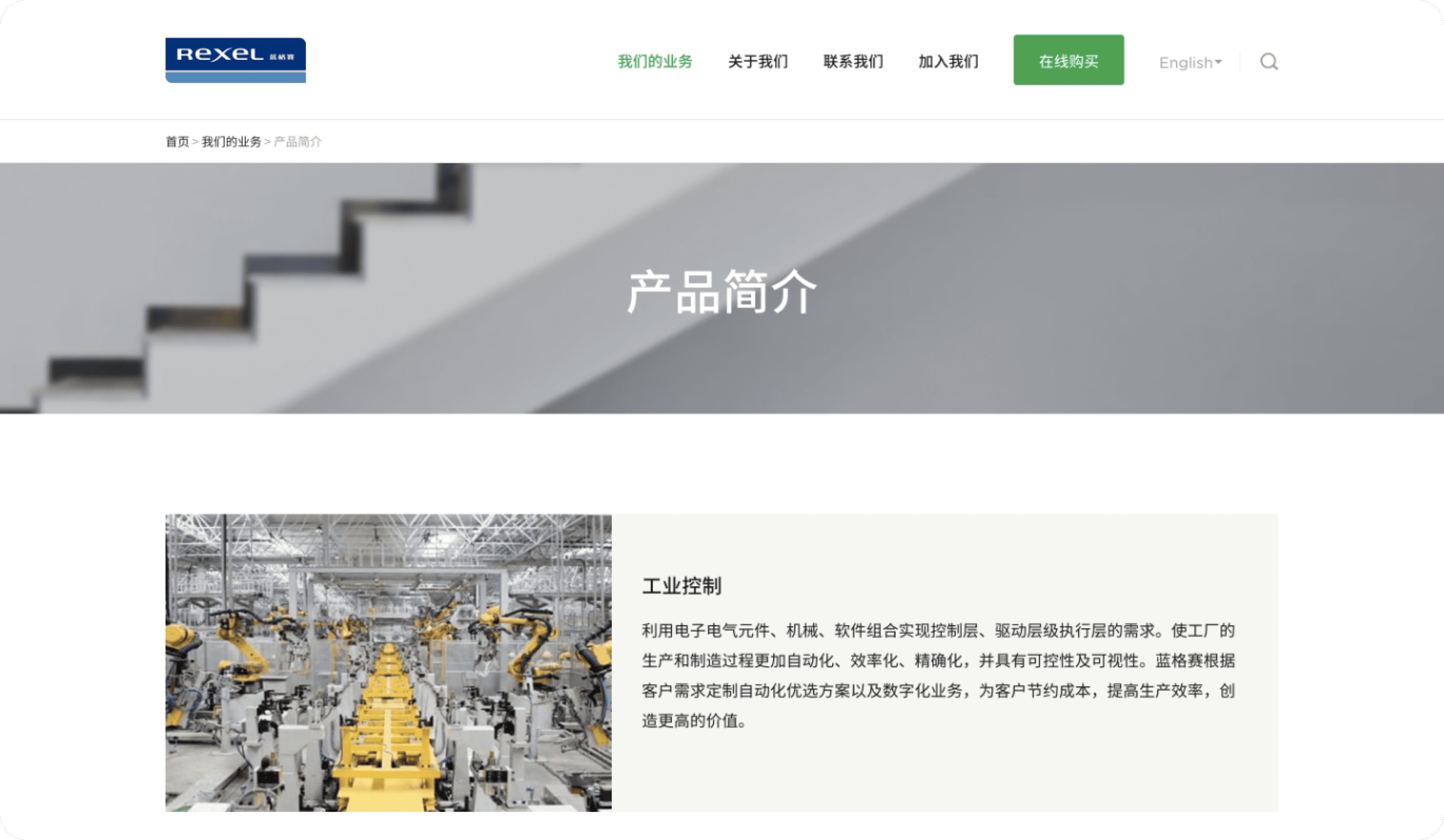 In addition, users could enjoy clear and smooth navigation throughout the website. There were also light animations to break up the blocks of text, add a little bit of pep and energy to the site's design, and enhance interactiveness.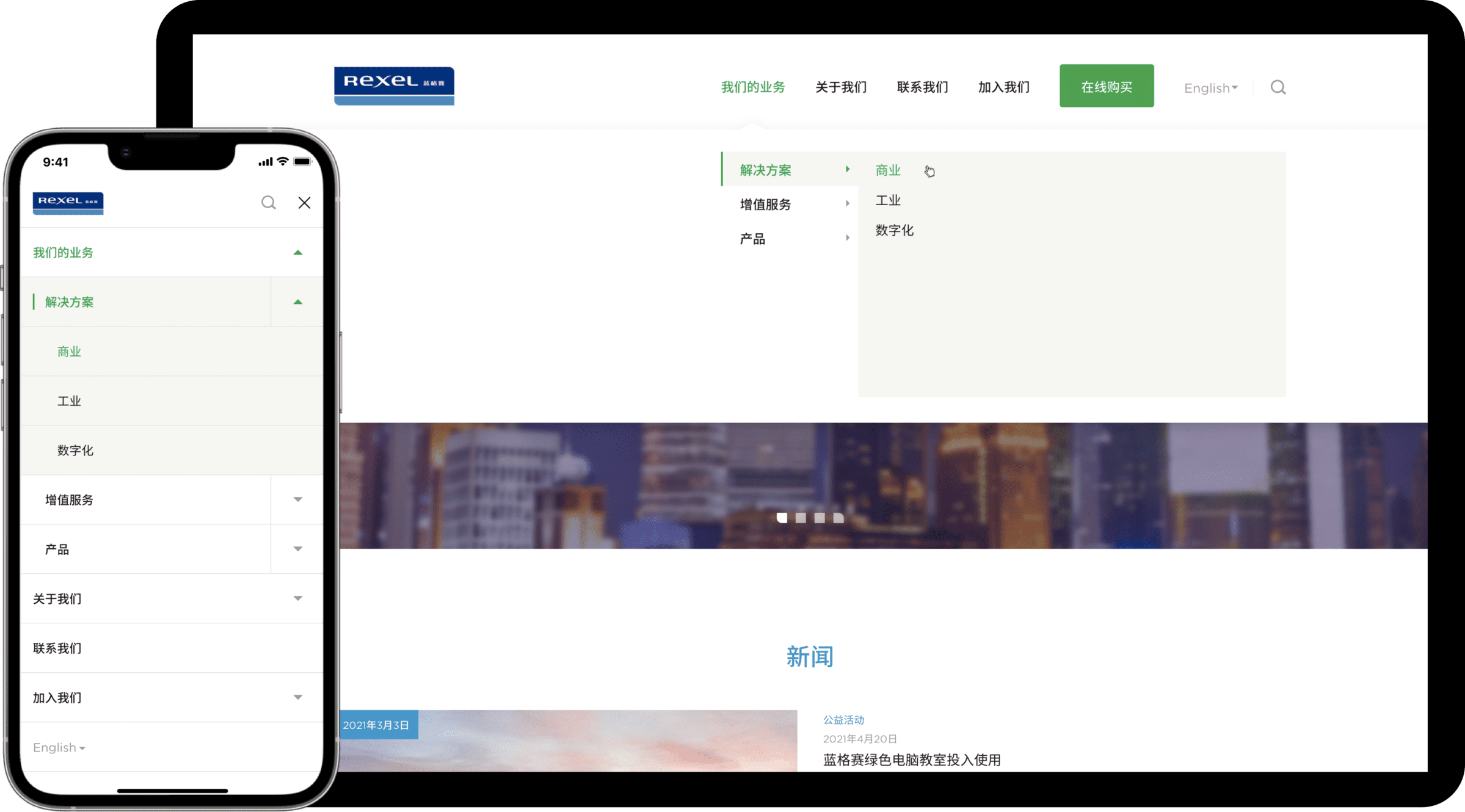 And the most significant achievement of this project was the flexibility IT Consultis managed to encapsulate in the back-office. As Rexel's mid-term goal was to unify the look of all their entities' websites, we decided to think forward to support Rexel's growth in China.
Thus, we developed a clear and multi-functional back-end so the website could be multisite and host future entities' websites as sub-sites. This in turn reduced the complexity of the website's structure as the entire network could be managed from one place.
Design
With their new logo, Rexel wanted a new design for their website that would be modern, clean, and simple. Moreover, the layout should also align with the brand's global visual identity and core values.
Therefore, IT Consultis led the revamp with the latest design trends using:
Flat icons
Widescreen pictures
Play-on transparency
Neat hover effects
At the same time, we ensured to maintain a professional corporate look nonetheless.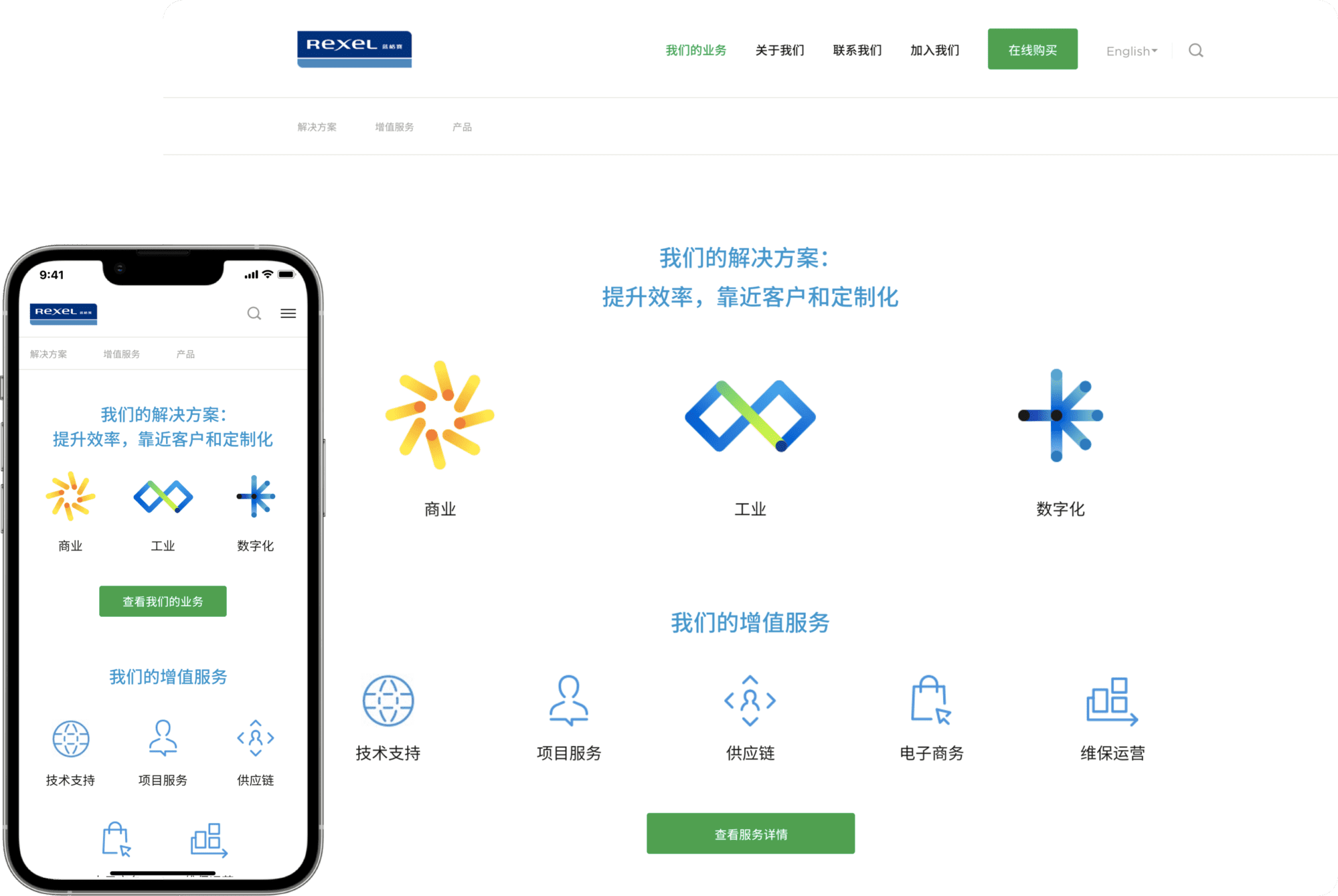 In terms of the core color identity, ITC made use of the 2 shades of blue that composed the new logo, together with white spaces to give the website a fresh and calming look.
Additionally, we chose to keep some touches of the green that used to be in the former logo as accent colors to give some contrast and dynamic to the design as well.
Technologies
On the technical side, our ITC team decided to build the website with Drupal - a scalable technology and an excellent content management system (CMS).
Furthermore, we also utilized HTML, Javascript, and CSS to:
Increase production efficiency
Make consistent changes
Improve the page load speed via minimal code input
Increase the site's adaptability
Overall, these technologies made the perfect fit for our client's need to easily publish necessary promotional content.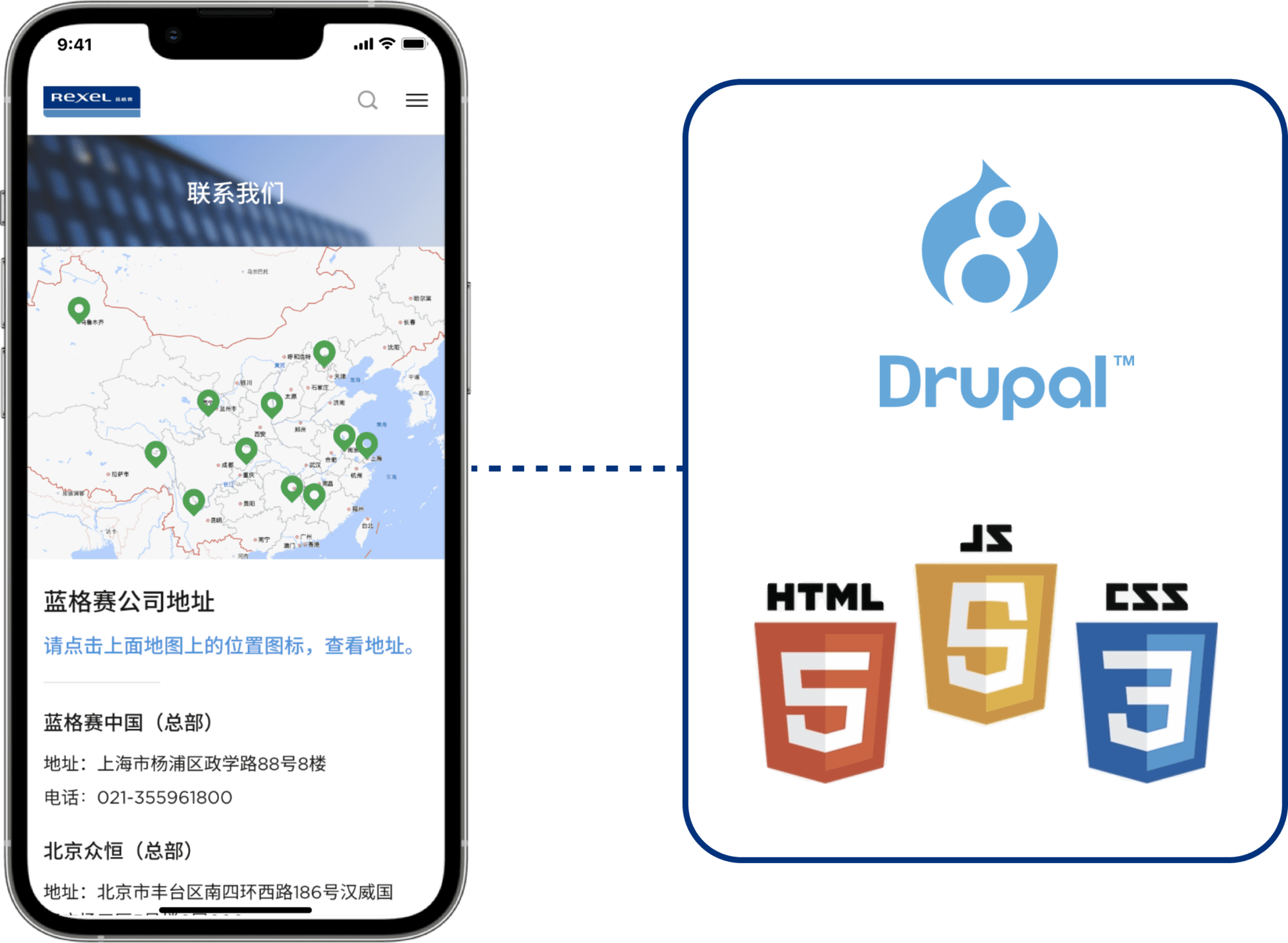 Results
Ultimately, IT Consultis succeeded in delivering a modern set of Drupal websites for Rexel in China with an optimized User Interface (UI) and enhanced interactiveness. This is clear evidence to prove that corporate websites do not necessarily have to be boring.
During the course of this Drupal project, we were able to suggest many creative ideas and deliver a more disruptive branding solution, as opposed to simply following the corporate Visual Identity guidelines.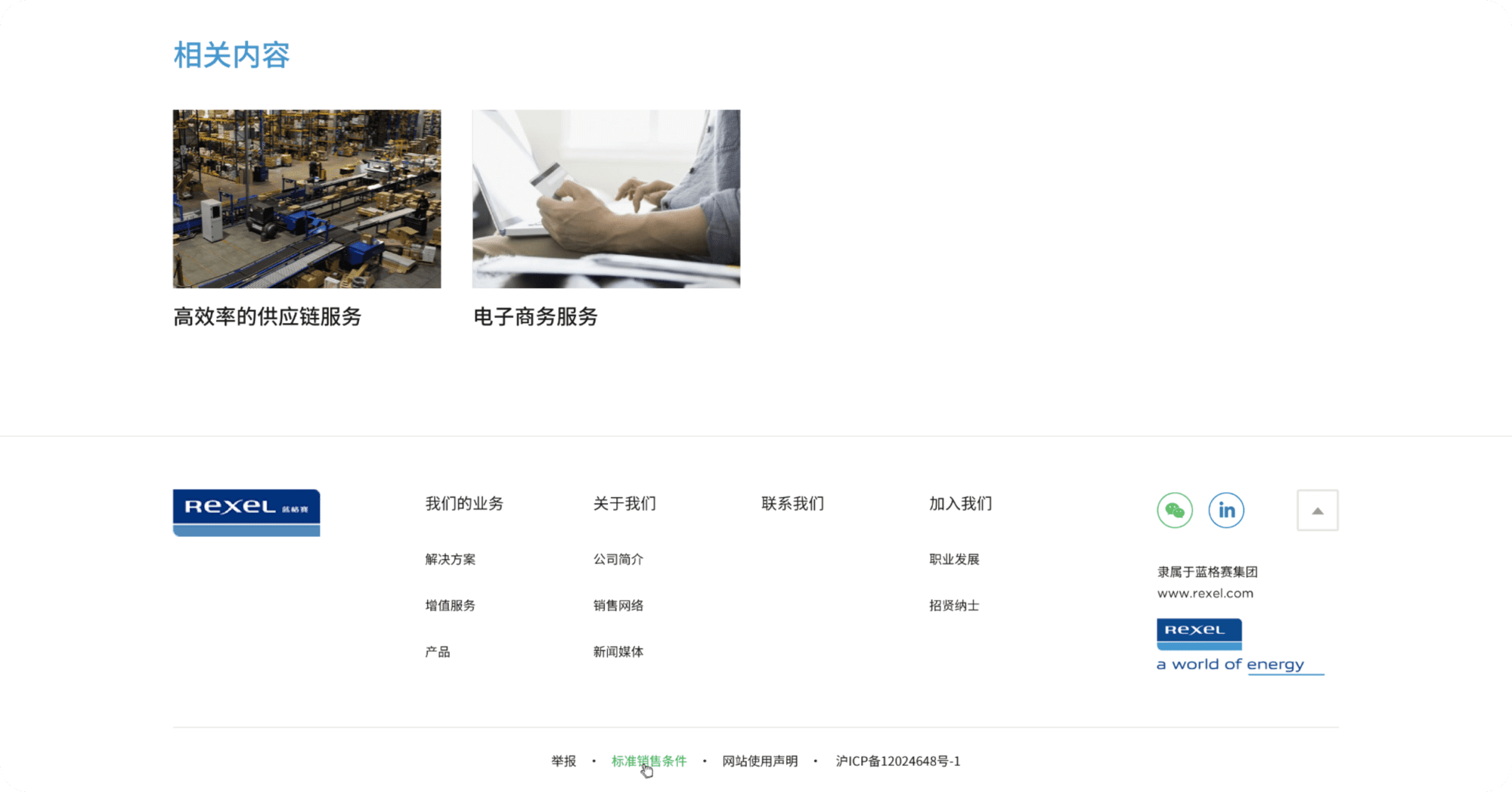 Marion Berger, the Communication & Sustainability Officer Asia Pacific of Rexel, also left a comment on our collaboration:
"It was a real pleasure working with IT Consultis, which has the qualities expected from a partner agency.
First, availability. IT Consultis was always ready to respond to our requests and did their best to respect our constraints and timing.
Second, adaptability and expertise. As a customer, sometimes our expectations and our objectives are not clearly formalized, and they evolve as the project goes on. IT Consultis helped us in our reflection, advised us, and has always met our changing needs.
Finally, one of the most important qualities is diligence. As a design agency, it is crucial to pay attention to details. Working with IT Consultis was pleasant and reassuring since we shared the same level of expectations in terms of aesthetics and quality, which is very valuable in the Chinese professional sphere."