In this IT Consultis case study, we'll discuss how we launched a gamification campaign to help educate Porsche owners and improve their After Sales experience.
About The Client – Porsche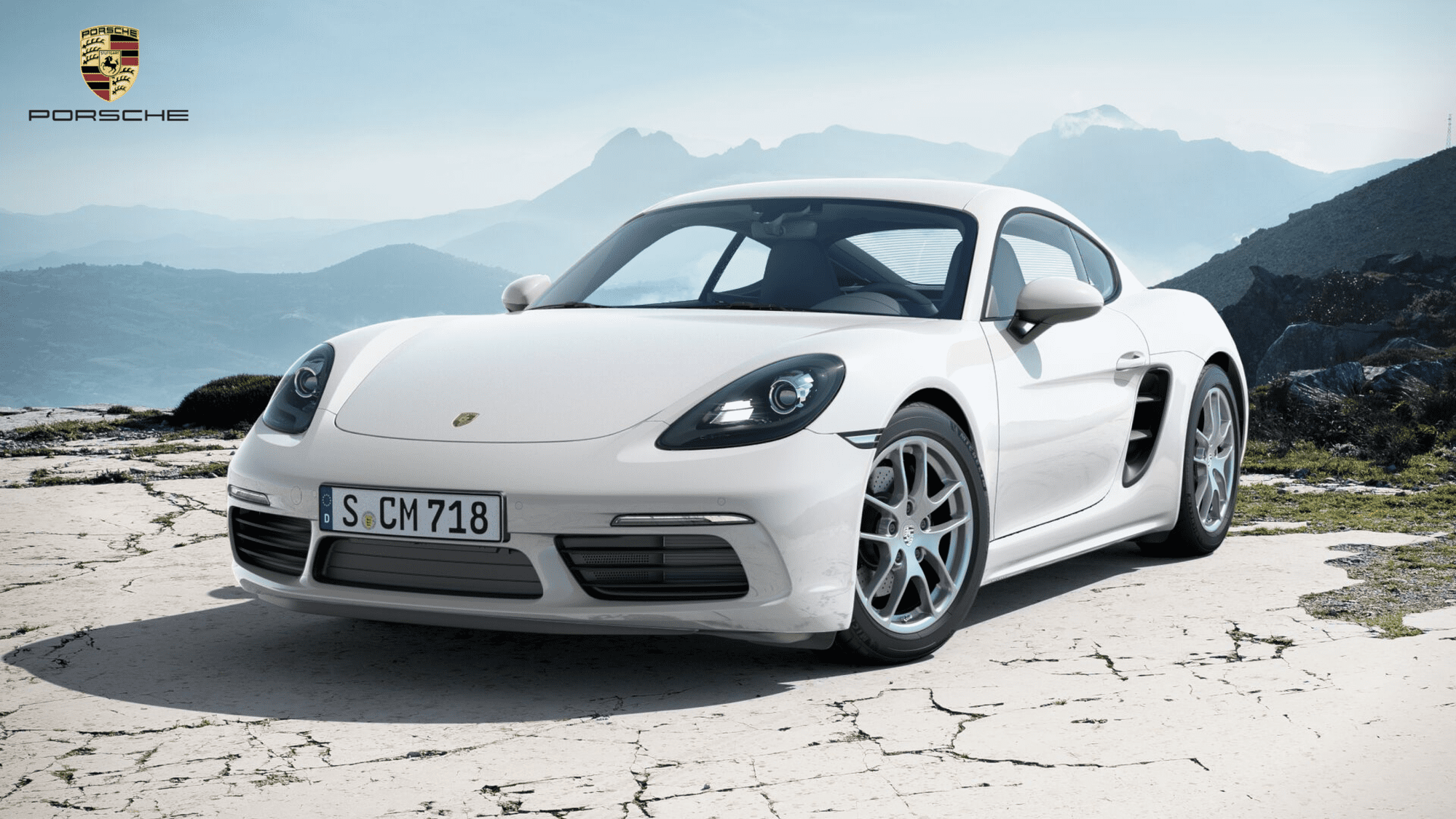 Porsche is a premium German automobile manufacturing company, specializing in making powerful sports cars.
In 2001, Porche China was set up as the subsidiary of the parent company to support its partners in China.
And today, China still remains one of Porsche's biggest individual markets in the world. In 2021, it recorded over 95,000 deliveries across Mainland China, Hong Kong, and Macau, accounting for nearly 1/3 of the brand's worldwide sales, despite issues with the supply chain.
In addition, its fans in China also set up a Porsche Club! This is where Porsche owners all around the country gather to share their passion for this iconic automobile brand.
Objectives
As Porsche planned to launch a new product line, one of its biggest challenges was to tackle the customers' lack of knowledge on car maintenance.
Thus, it needed a way to effectively educate the customers, especially new Porsche owners, on how to take care of their Porsche. This would allow them to prevent unwanted damages and lengthen their car's life cycle.
Solutions for Porsche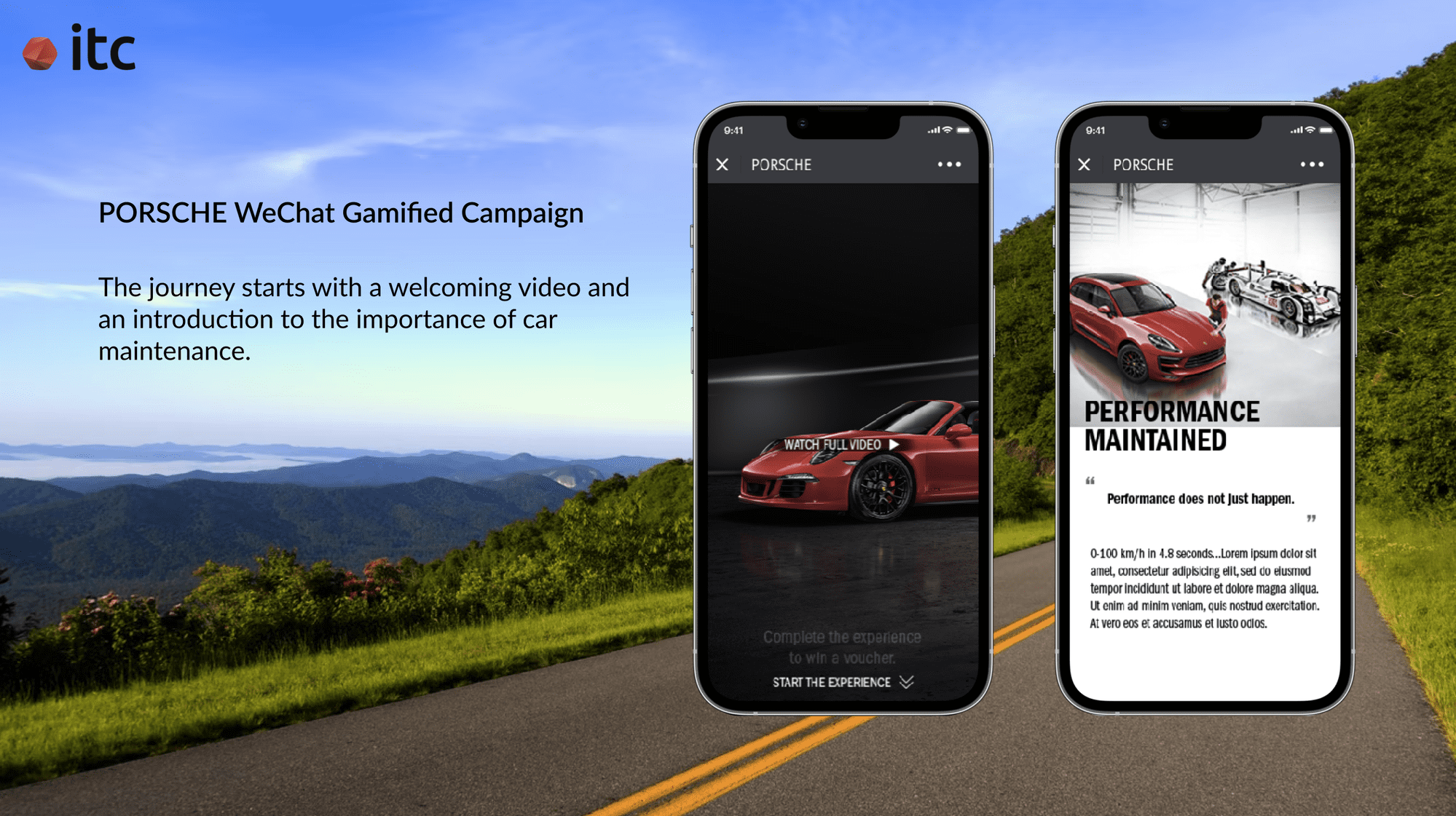 To tackle this, IT Consultis (ITC) decided to launch a gamification campaign on WeChat in the form of a racing game with maintenance stations along the way.
This way, users can learn about different sections of car maintenance depending on their milestones on the gamified educational journey.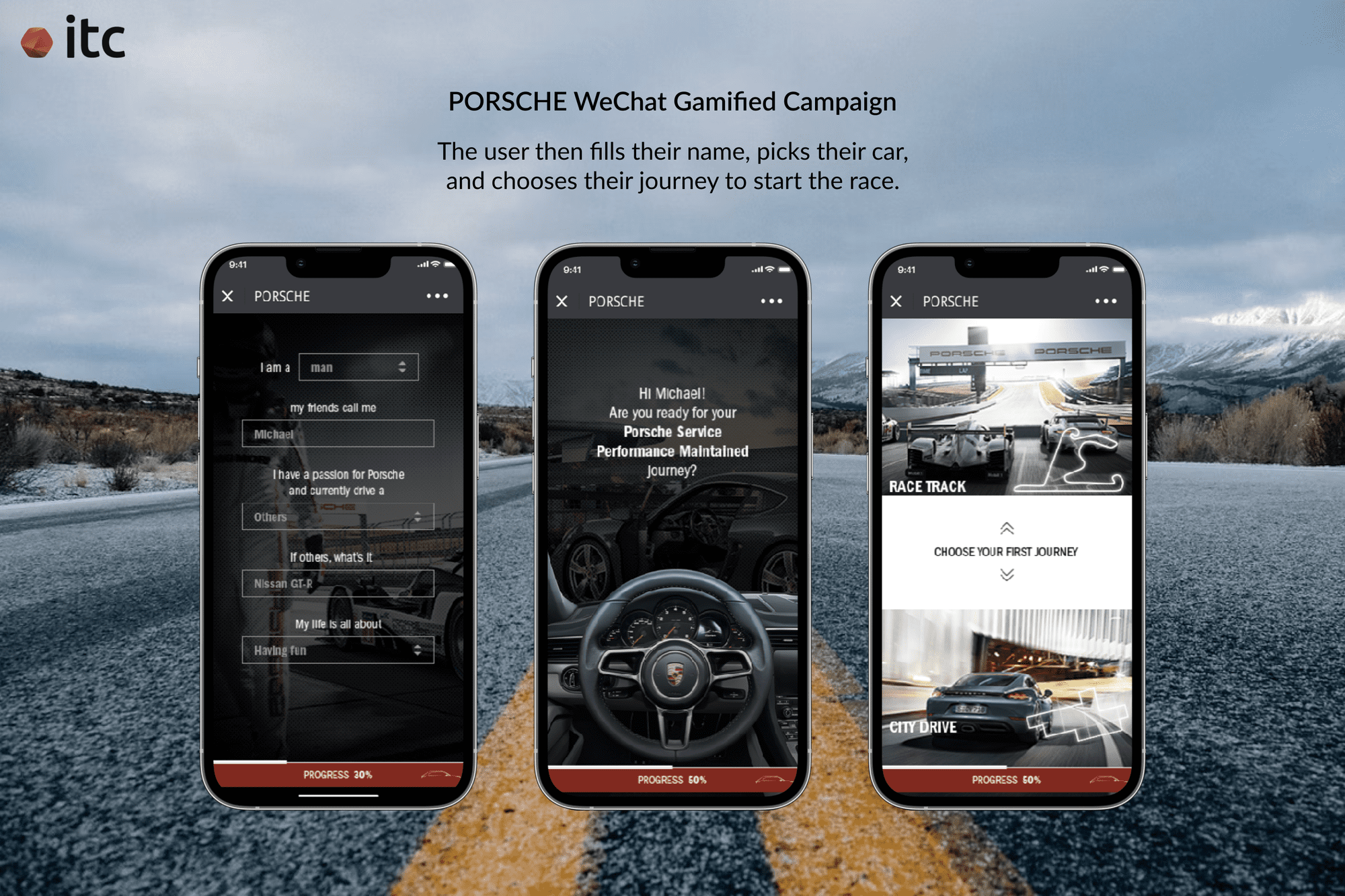 And, users who successfully completed the experience could get rewarded with exclusive gifts from Porsche! For example, a discount for their next maintenance.
To make this happen, our Art Director (Max) and Architect (Rich) took on leadership roles in the design and development of the project together with our partner Palmer Hargreaves. Thus, a fresh-new high standard was set from the very beginning.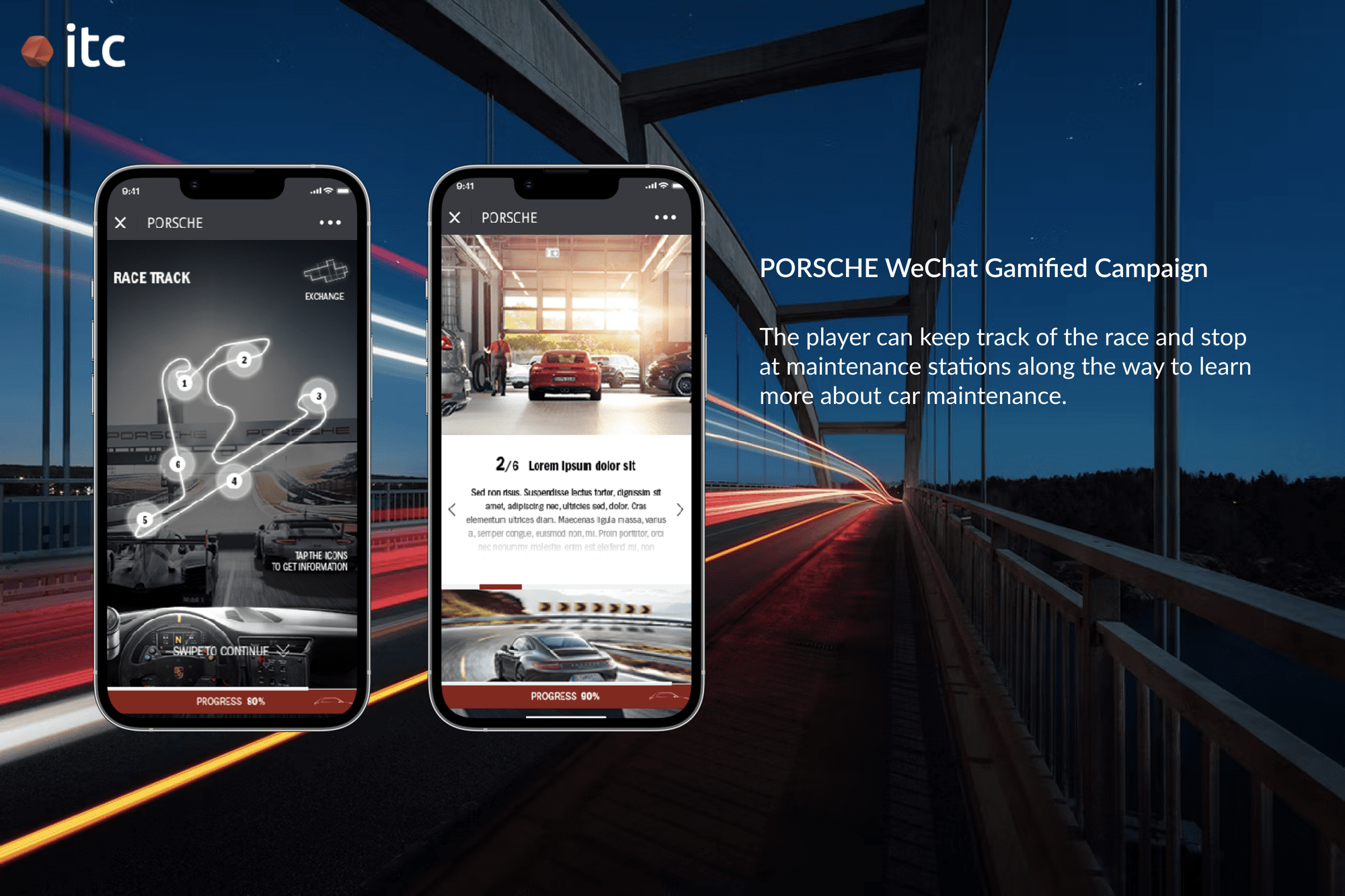 For an optimal user experience, ITC chose a journey approach to best display the services, products, gallery, and even the soundtrack to appeal to the audience, especially those who care about both:
Tradition and innovation
Design and functionality
Performance and usability
Exclusiveness and social acceptance
Regarding the technologies involved, ITC made an interactive campaign that highlights a sense of speed and power with a wide breadth of Node.js mechanics.
From seamless video and motion graphics integration, ITC put together:
HTML, CSS3, and JS mechanics to optimize the frontend;
Laravel framework to handle the backend functionalities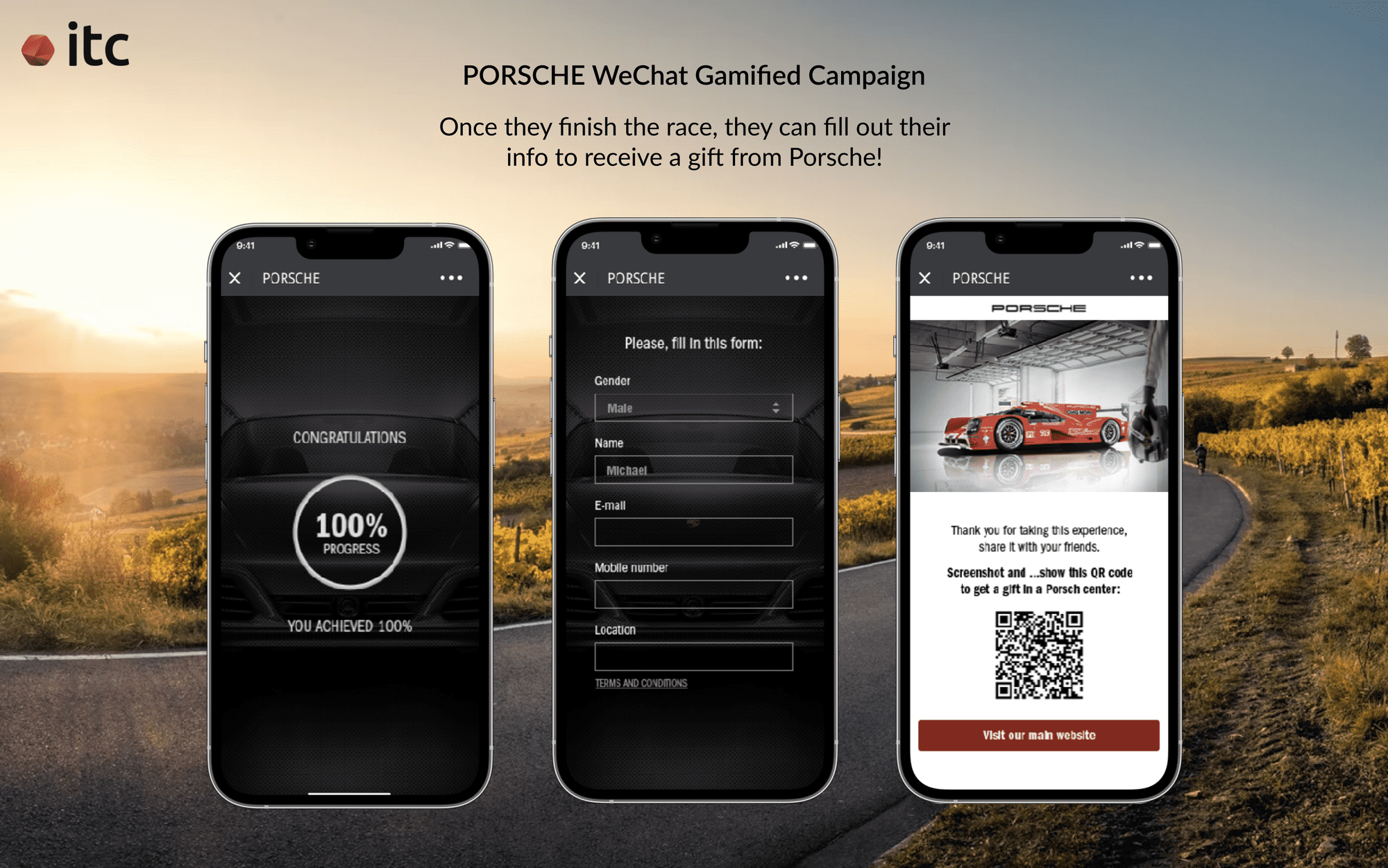 A major challenge was that the project required way more JavaScript than ITC had expected. Nonetheless, we had to put together a great team to fine-tune every detail to give users a smoother experience interacting with the campaign.
Results
In this campaign, customers could:
Enjoy a visual-audio feast
Know more about Porsche After Sales branding, products, and service
Win gifts when interacting
It was an honor to have worked with one of the leading automobile companies in the world. IT Consultis was able to deliver a clear message to its customers and help improve its After Sales customer experience.
Looking for the best WeChat solution for your brand?
At IT Consultis, we are experts in WeChat integration. ITC has the experience and technical skills to create custom digital transformation solutions to meet our client's specific needs to turn complexity into a seamless user experience.