In this article, discover how WeChat Channels transforms customer engagement by seamlessly connecting with WeCom clienteling and WeChat Customer Services.
Table of Content
What is WeChat Channels?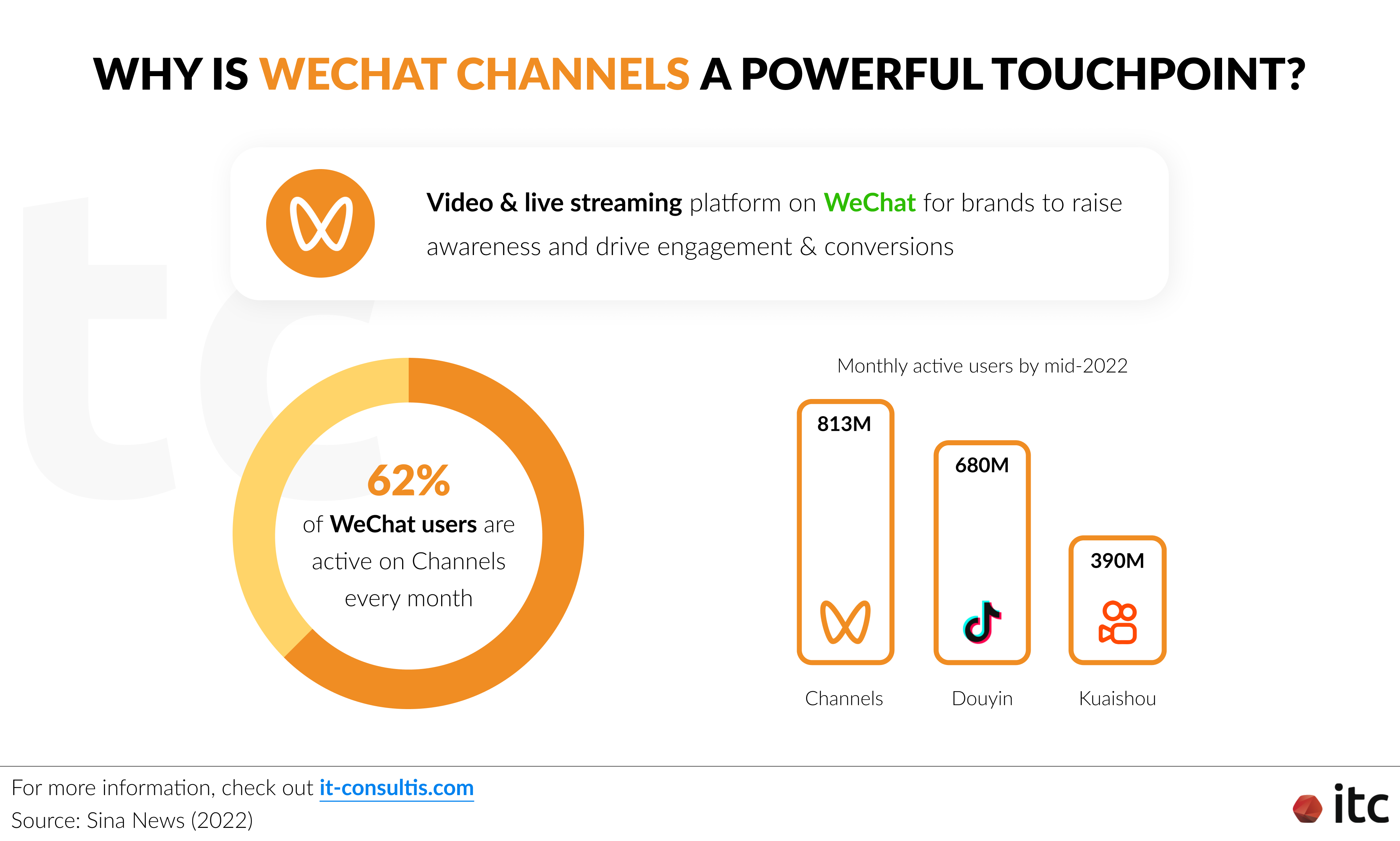 Launched in 2020, this platform is growing to become a strong contender in the video platform space, amassing over 800 million monthly active users (MAUs) by mid-2022. In other words, over 60% of WeChat users are active on Channels every month.
Notably, WeChat Channels has outperformed major players like Douyin (Tiktok) and Kuaishou, which only garnered an audience size surpassing 680 million and 390 million MAUs, respectively.
To further enhance the pivotal role of the WeChat ecosystem in elevating the customer experience, Tencent recently enabled a game-changing feature: 1 click from Channels to WeCom and WeChat Customer Service.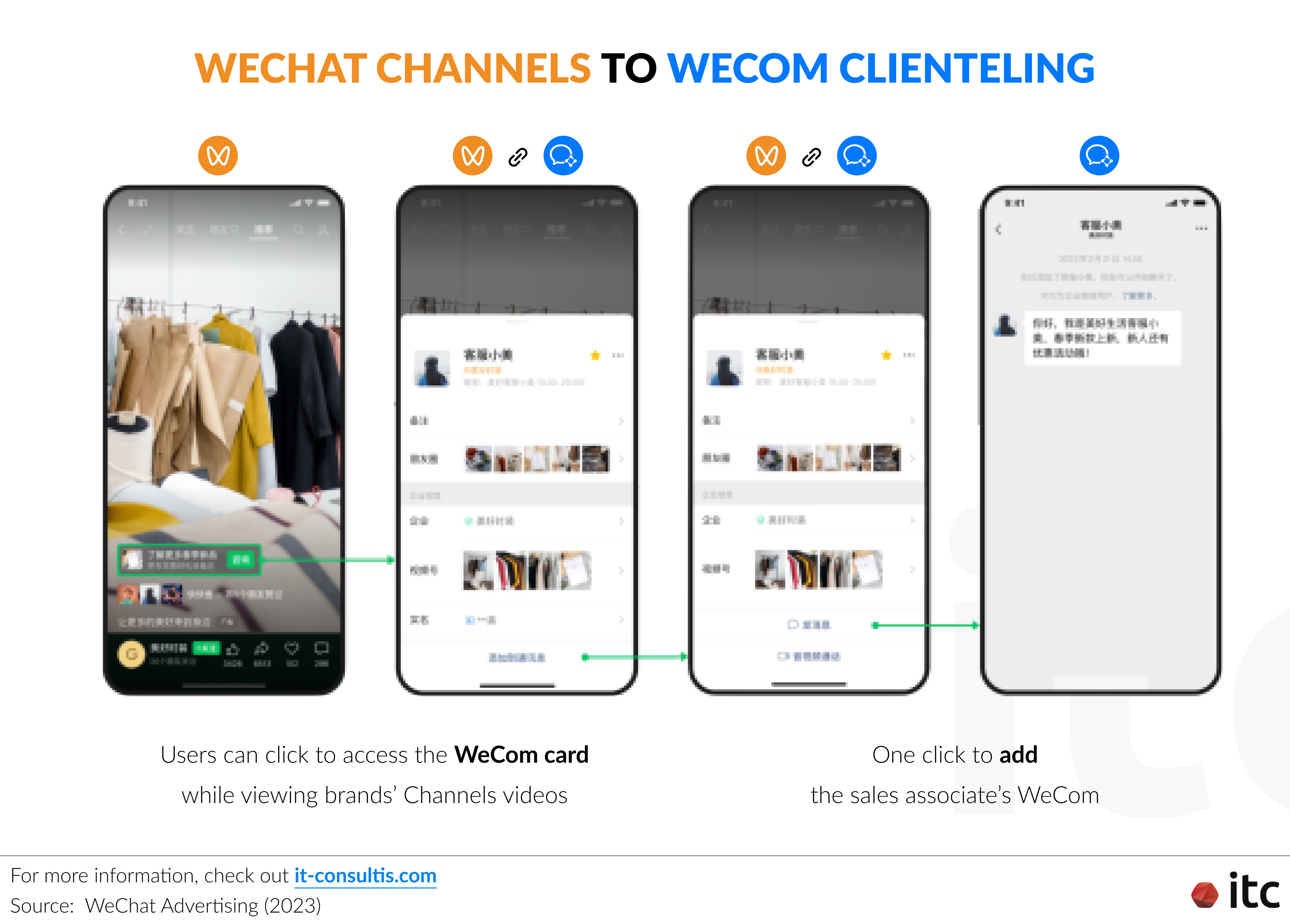 The call-to-action box appears in the lower area of the video, directly invoking the WeCom contact card. Once the user confirms adding the WeCom contact, they are automatically redirected to the chat interface with the sales associate.
This move has allowed brands to:
Boost 1-on-1 clienteling via WeCom to accelerate lead nurturing to conversion (for both new and existing users) and build long-term relationships
Drive direct data capture
Identify high-value clients
In fact, some brands have witnessed a 50% increase in conversion rates and a 40% decrease in conversion costs.
From Channels to WeChat Customer Service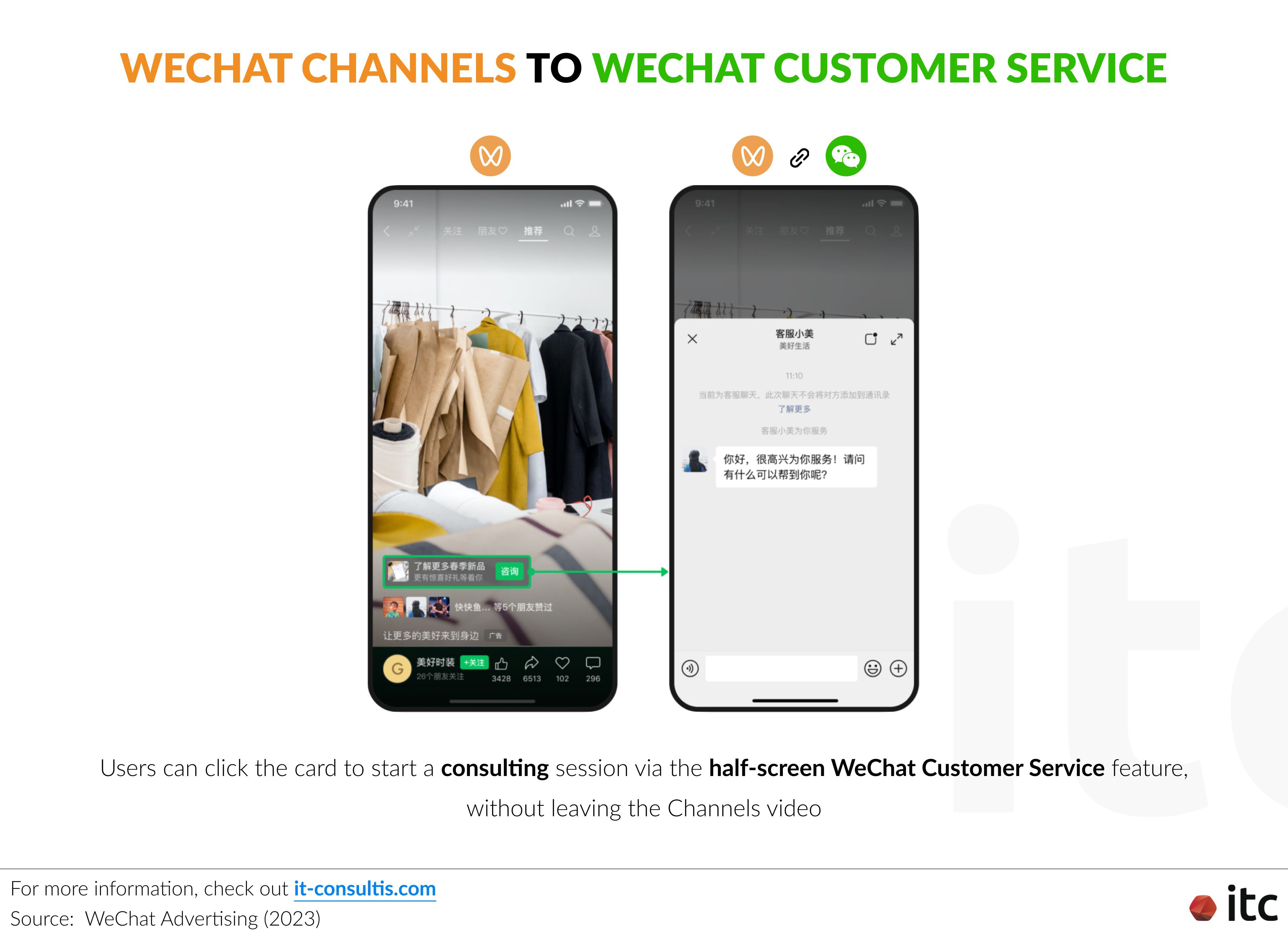 To elaborate, the half-screen WeChat customer service interface allows users to join the temporary chat while seamlessly staying in the Channels environment. Brands can leverage this to:
Improve customer communication experience by providing quick and professional Q&A services
Pre-screen user intentions to identify high-potential customers
Enhance conversion nurturing efforts
In the real estate sector, some brands have reported a 20 – 30% increase in conversions.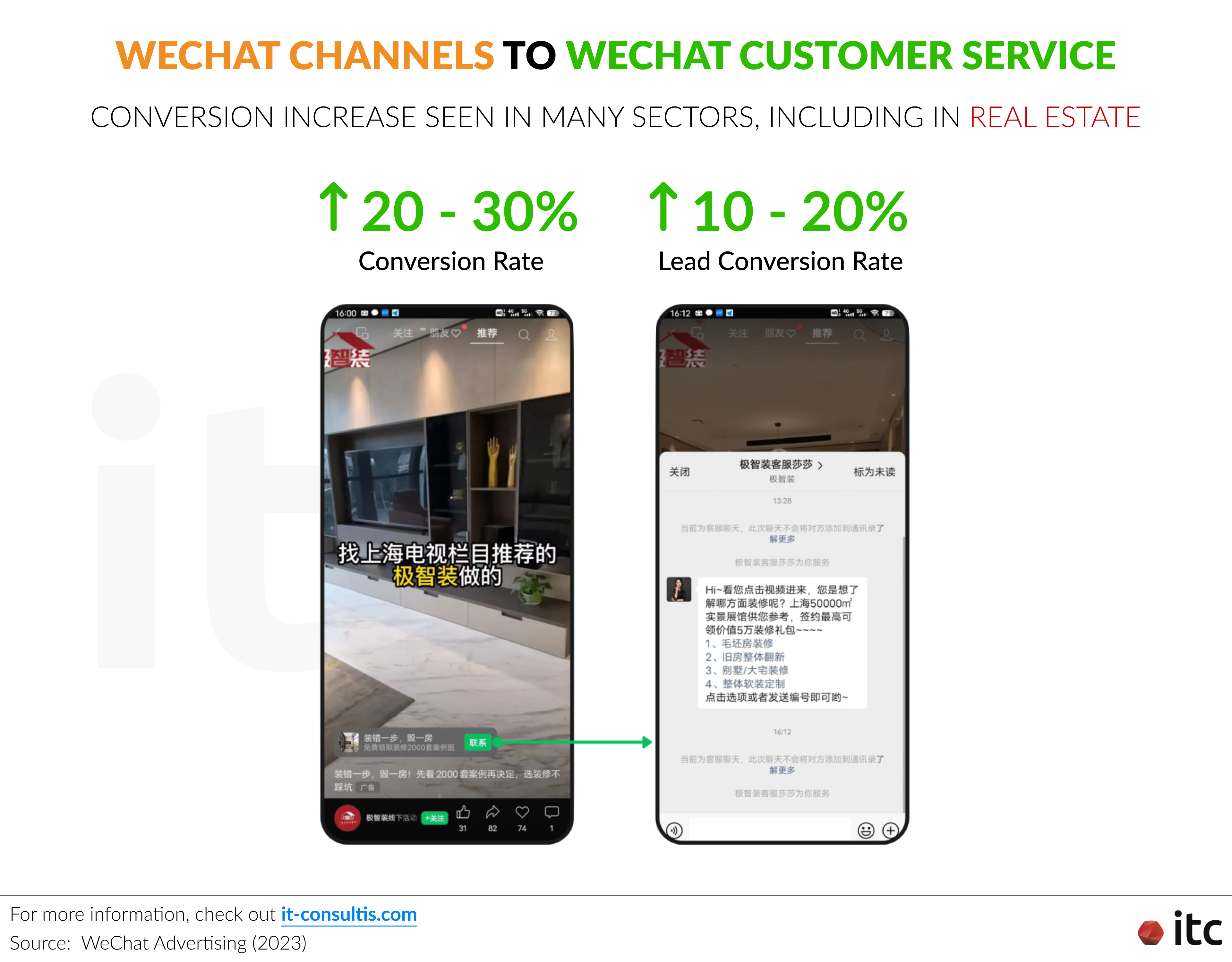 Implications for Brands - Engagement & Loyalty in China
In a competitive landscape with expensive customer attention on Public Traffic platforms (e.g. Tmall, JD.com), the enhanced interconnection within the WeChat super app ecosystem can help brands:
Boost deeper engagement and stimulate conversations for new customers
Reinforce loyalty and increase continuous repurchases from existing customers
Drive effective conversion of Public Traffic into Private Traffic "retention" pools
Moreover, engagement on WeChat Channels videos, including "commenting, liking, and sharing", helps expand the reach to the users' social circle on WeChat as well. This in turn leads to exponential fission and a steady stream of customer acquisition within the Private Traffic domain.
Considering China's leading live commerce market, projected to reach nearly $700 billion by 2023, the possibilities with Channels can expand a lot further.
Despite the dominance of Alibaba Group and Douyin, WeChat's social elements and extensive ecosystem can certainly give its video platform tremendous value to effectively amplify its impact.