In this article, we will check out 5 luxury loyalty WeChat Mini Program case studies to explore how different luxury brands stand out and boost retention in China luxury market.
Read on to get inspiration for your loyalty program strategy and execution in China!
Farfetch - Exclusivity & Personalization
The global luxury fashion retail platform Farfetch first set up its Chinese office in Shanghai in 2015. Since then, China has become the brand's second-biggest market in the world thanks to well-informed and extensive localization efforts, including the loyalty program feature in its WeChat Mini Program.
Overall, Farfetch offers a standard tier-based loyalty program with 5 ACCESS membership tiers that differ by monetary spending: Bronze, Silver, Gold, Platinum, and Private Client. And, the higher the tier, the more access to exclusivity and personalization.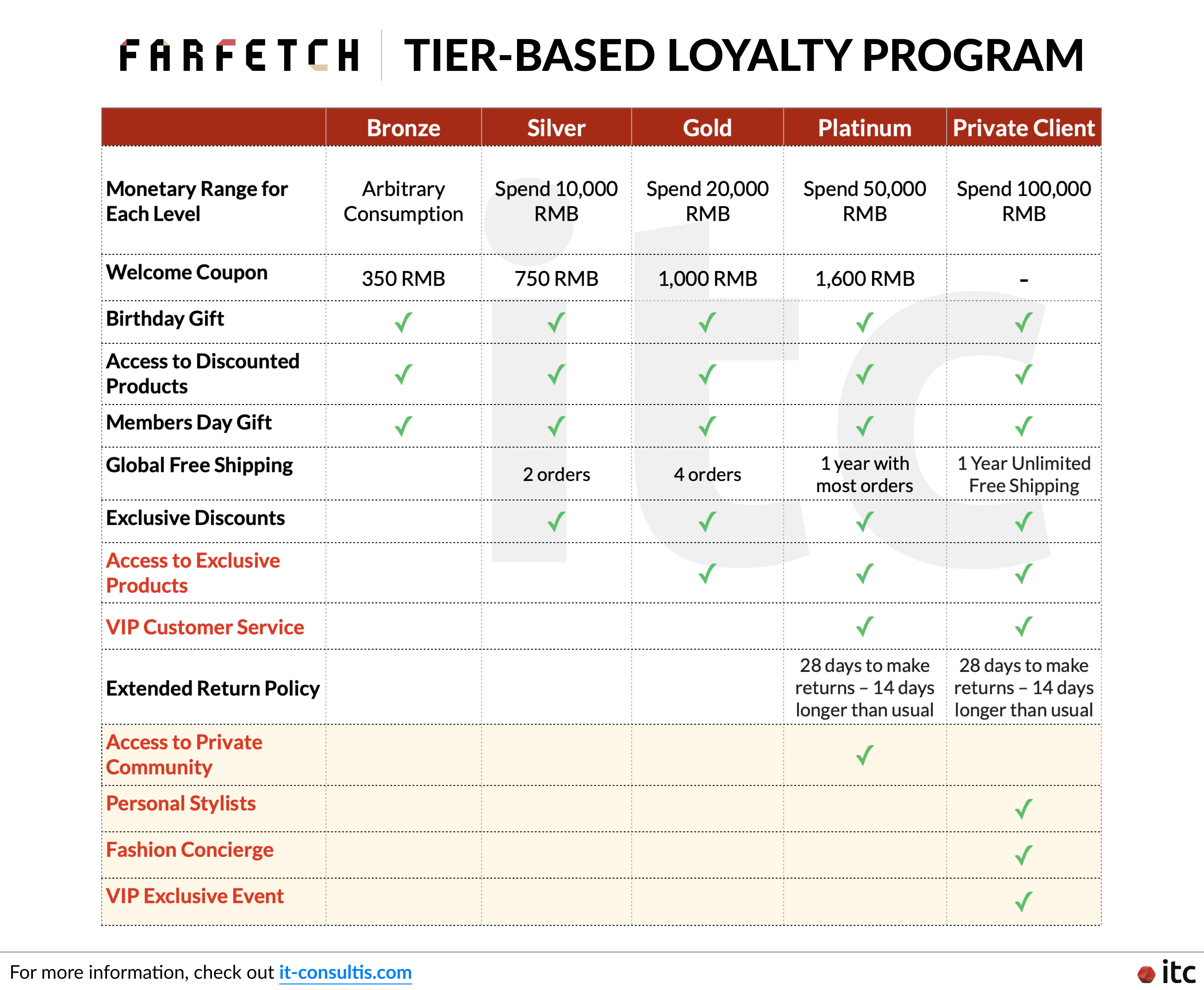 While the first 3 standard tiers can enjoy certain aspects of this (e.g. a birthday gift, exclusive discounts, and access to exclusive products), the perks are especially elevated for the 2 most VIP segments - Platinum and Private Client.
Despite accounting for only 1% of the clientele, this key group contributes 20% to the brand's total revenue. Therefore, the Farfetch team makes extra efforts to deliver extra premium services in return for their loyalty and repeated purchases.
Notably, there is also a very clear distinction between the 2 top tiers.
Although Platinum members can join the brand's exclusive "Private Community", this is limited to only fashion consulting services and an entry to a community where participants can receive gifts.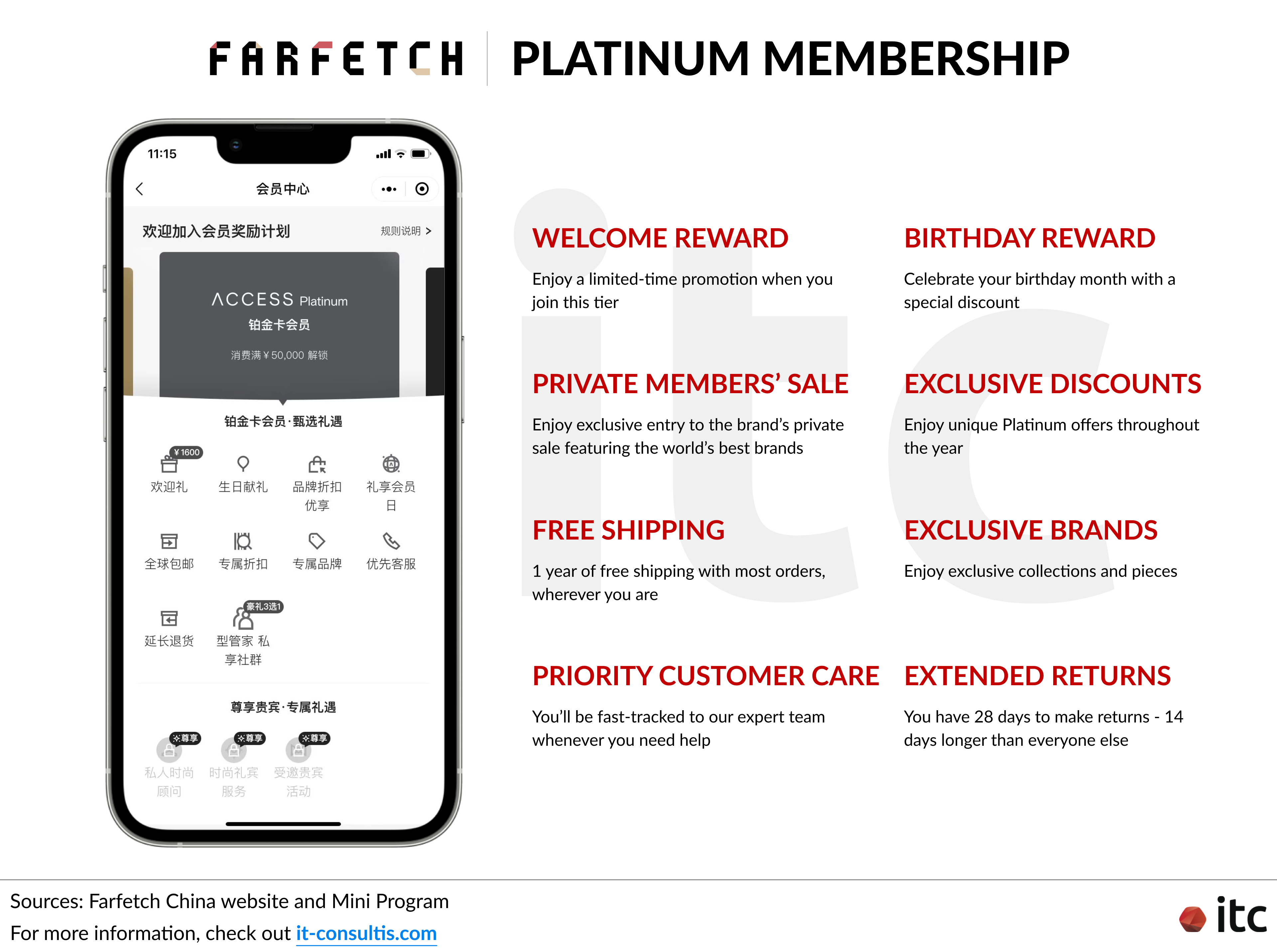 On the other hand, as the highest-tier group of customers, Private Clients can enjoy a bespoke hyper-personalized shopping experience specifically designed to suit VVIP customers.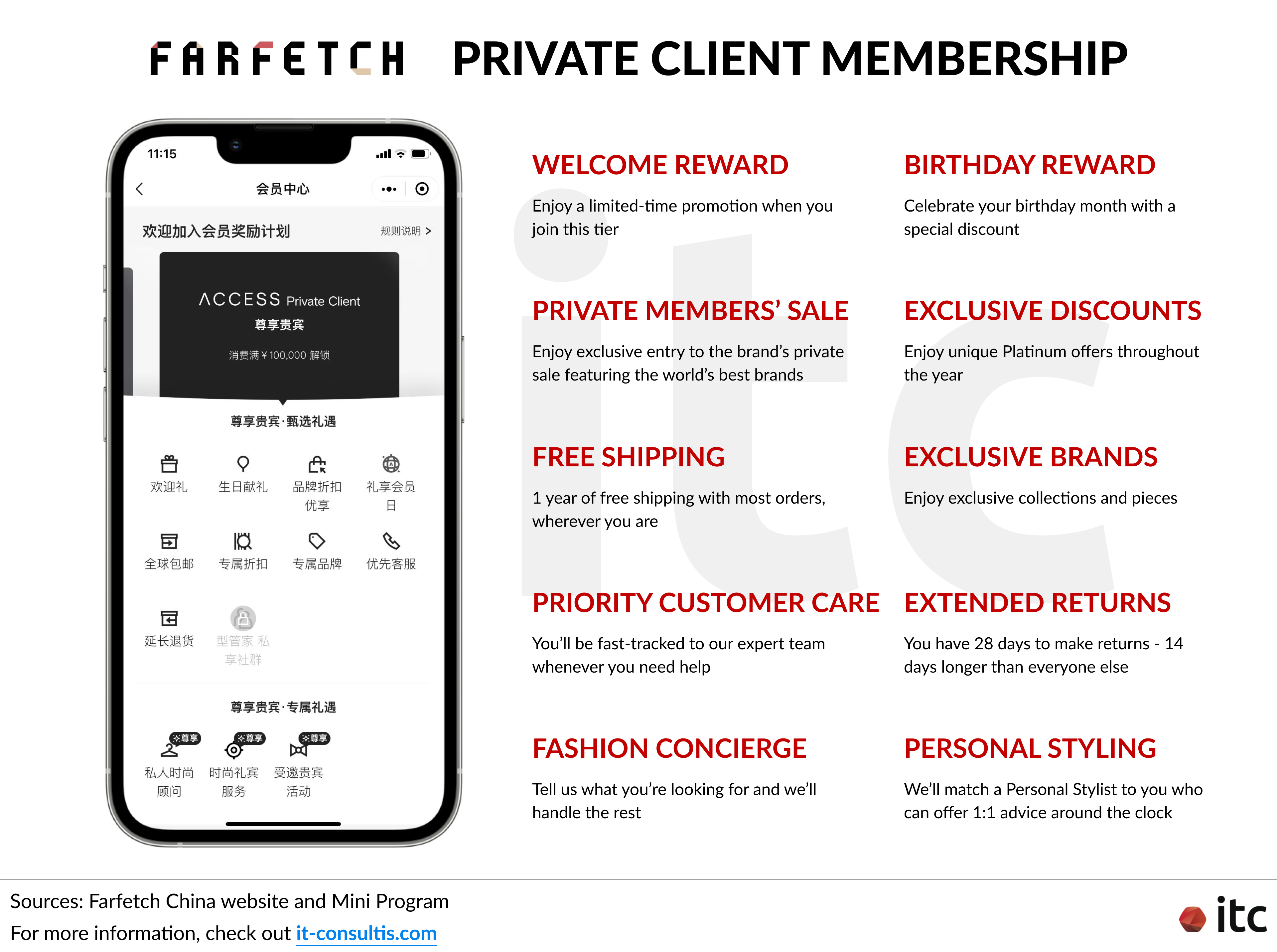 This includes access to:
This is one of the most exclusive communication channels between Farfetch and the VIP segment. Additionally, the more the stylists work with Private Clients, the better they understand their personal tastes and preferences to further enhance the service quality.
The Farfetch stylists are available in 19 cities around the world to meet the demands of Private Clients
Other than online styling services, they can fly directly to VIP members' aid and take the experience offline and more personally
Private Clients can gain exclusive access to the latest pieces
The stylists may connect their premium customers with luxe fashion houses and designers
2. VVIP Fashion Events
As VVIP customers of one of if not the biggest luxury retail platforms in the world, they can also receive invitations to premium private experiences and events, such as the Dior Shanghai exhibition, Private Client dinners in Chengdu, and Master Classes in Beijing.
All they have to do is detail what they are looking for and curated shopping service providers at Farfetch would do the rest - tracking down even the most coveted pieces in the fashion world. This shows the loyalty program's attention to detail and clients' personal experience.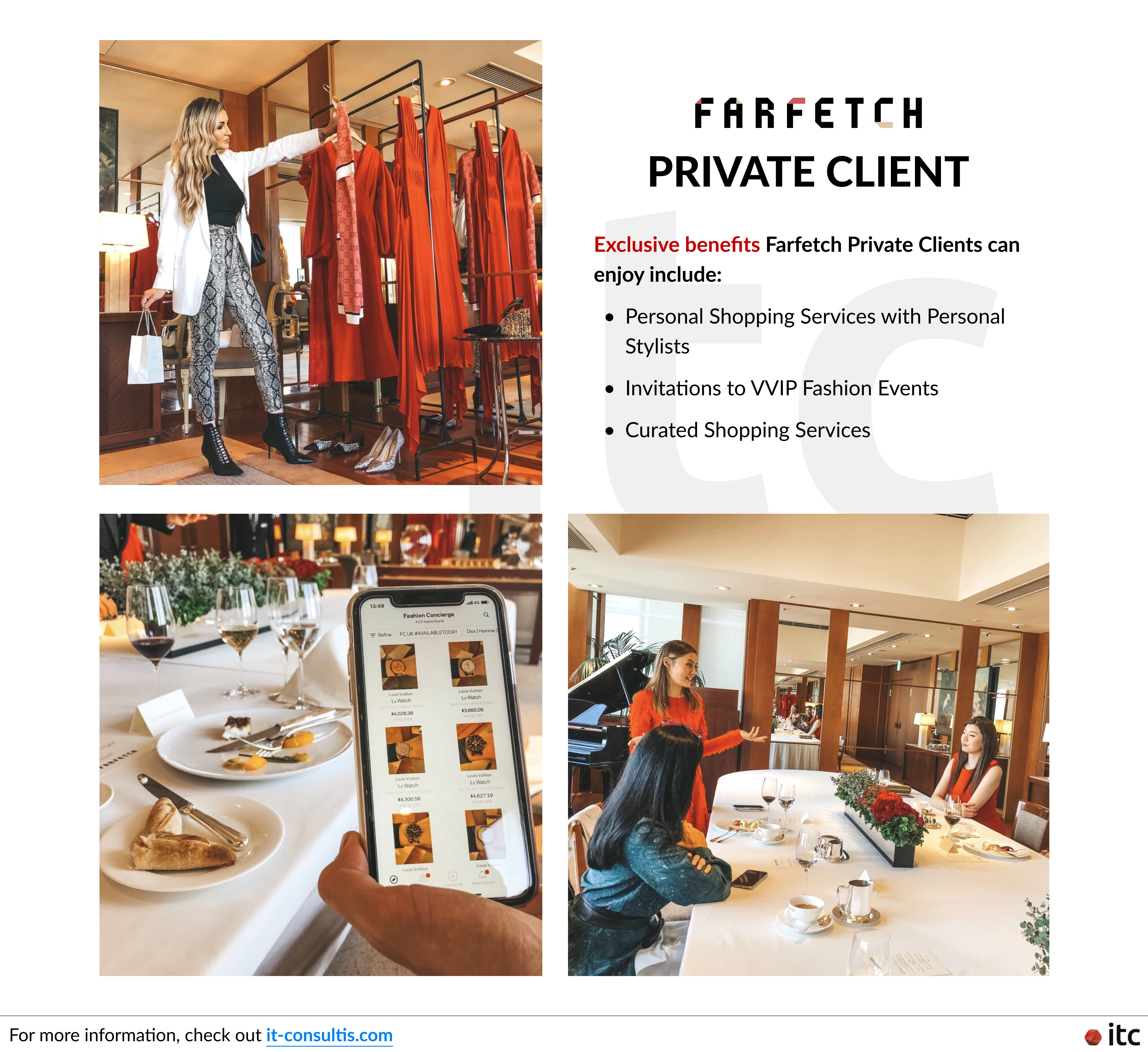 In 2020, the luxury retailer Burberry launched an ambitious loyalty program leveraging Digital Transformation and WeChat Mini Program.
In particular, users can unlock exclusive content and perks, enjoy personalized experiences, and share them with the communities via an innovative and engaging dedicated WeChat Mini Program and Social Retail store.
Gamification
One of the most notable features of the Mini Program is the incorporation of Bobo the Deer - the brand's symbolic character. Bobo is illustrated to be the mascot of the loyalty program and is one of the keys to driving users' engagement and enhancing their shopping experiences.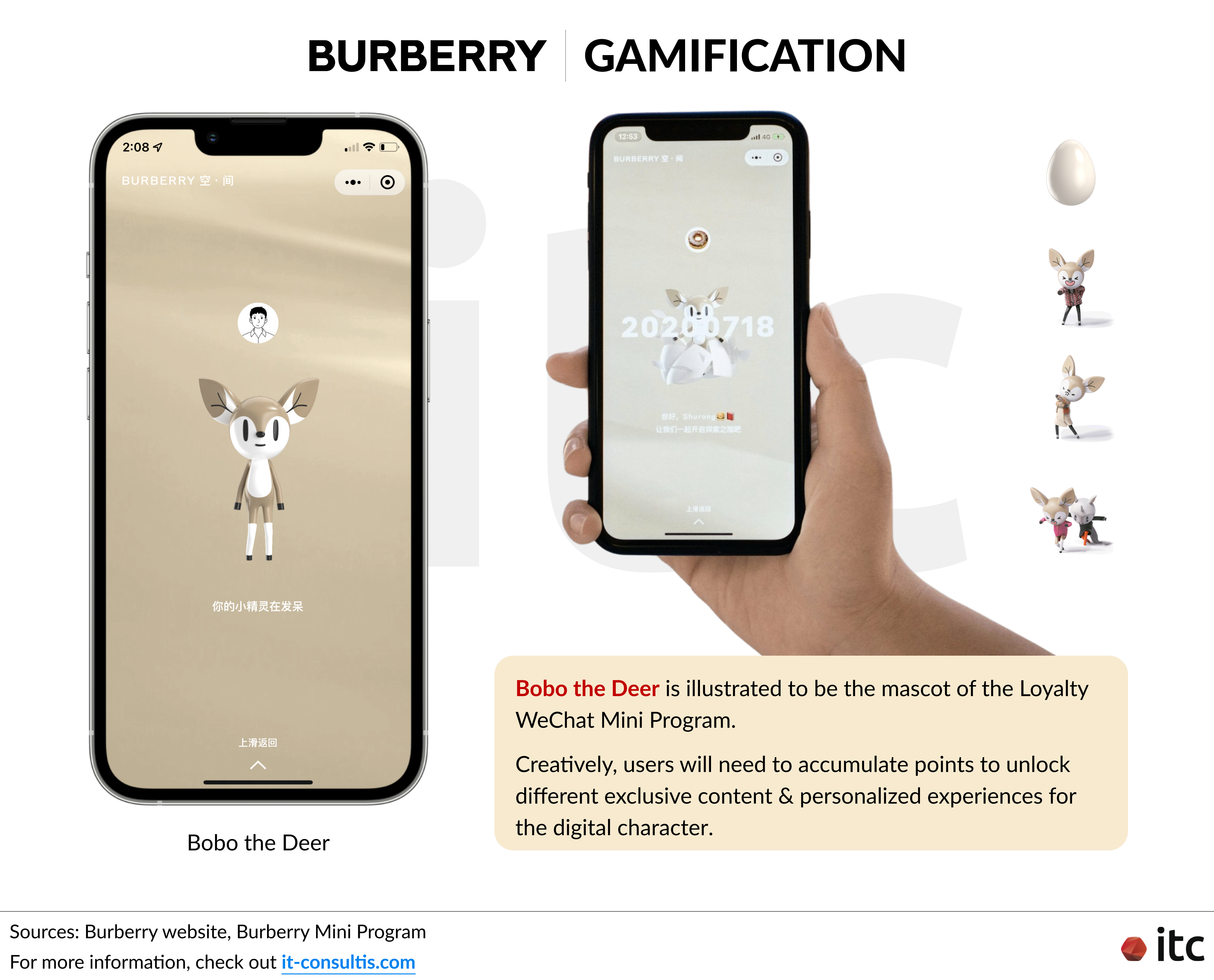 As a way to spice up the typical point accumulation feature of B2C loyalty programs, Burberry allows users to unlock exclusive content and personalized experiences with their digital character Bobo the Deer. This includes customizing Bobo's clothing, which can be redeemed via reward points.
Another interesting aspect of this gamified WeChat loyalty program is that loyalty points can be collected beyond online orders or retail shopping. Other activities that generate them include participating in engaging activities at the Social Retail store in Shenzhen, such as the Metaverse initiative below.
Burberry aimed to enhance the shopping experience as well as the connection between the brand and the users by enabling customers to explore and interact with all the store features through the Mini Program.
In particular, the luxury fashion house installed many specialized and parametric QR codes in different areas o the store. Customers could scan them to receive interactive brand values, product information, and different surprises! These include:
Fixed amount of Membership points
New appearance for Bobo the Deer
Customized Emoji 表情包
Exclusive Hongbao 红包 cover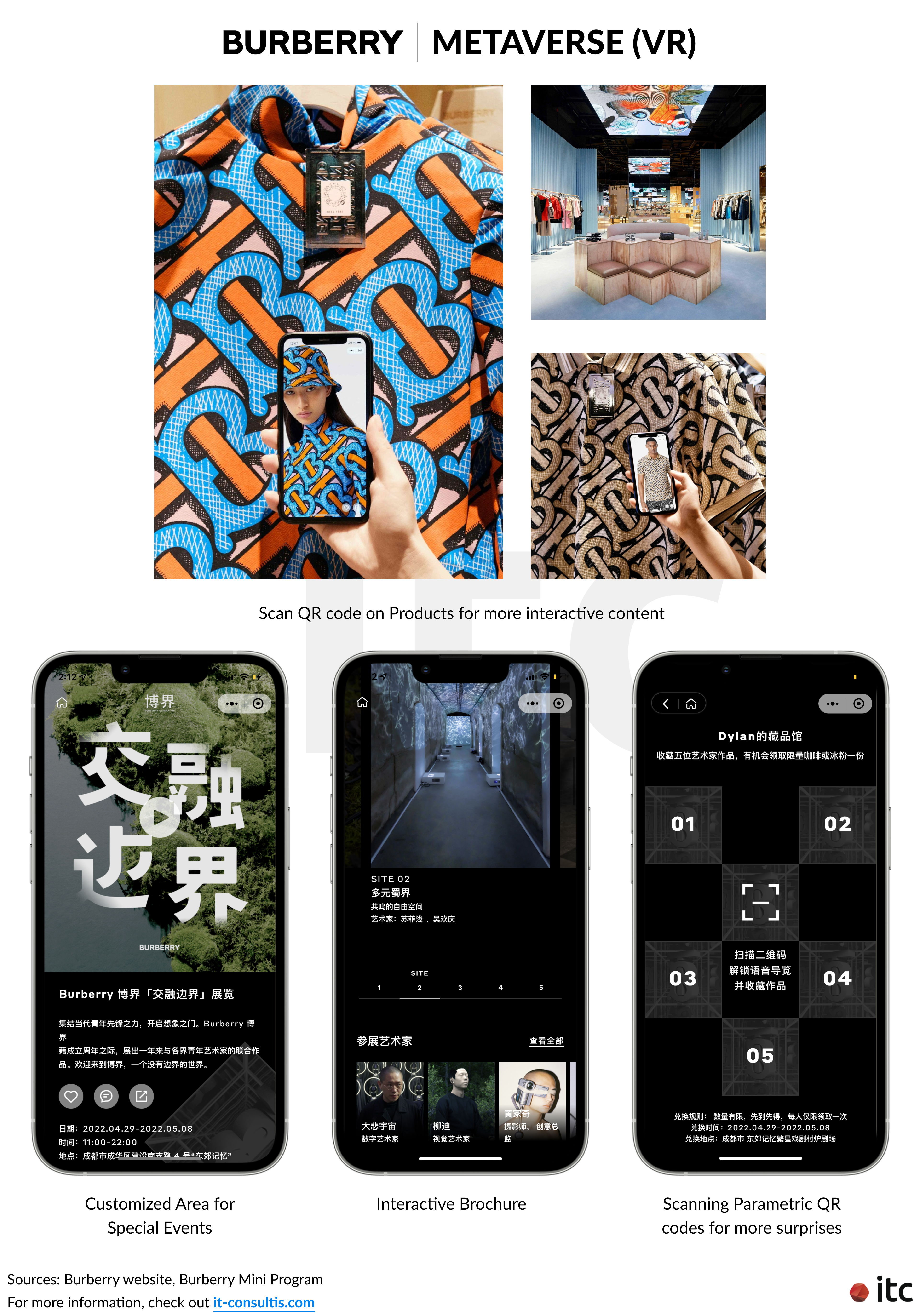 Here is a reminder: These loyalty programs are hosted in WeChat Mini Programs, sub-apps inside the ginormous WeChat social ecosystem. Therefore, Burberry decided to take advantage of this to enhance sharing and build a digital Burberry community on WeChat.
Other than the introduction of the digital character Bobo the Deer, exclusive and personalized rewards, and interactive metaverse-like experiences, the program also encouraged interactions and social sharing.
This is the key to accelerating the brand's position in the market, especially to the younger digitally native luxury customers.
The loyalty program also features a community space for fans of Burberry to share their Burberry outfits of the day and check-ins at the latest Burberry spots with other fans and their own communities via WeChat Moments.
In particular, users can post, view, like, and comment on fellow fans' posts. In exchange, they can receive corresponding points to unlock loyalty perks.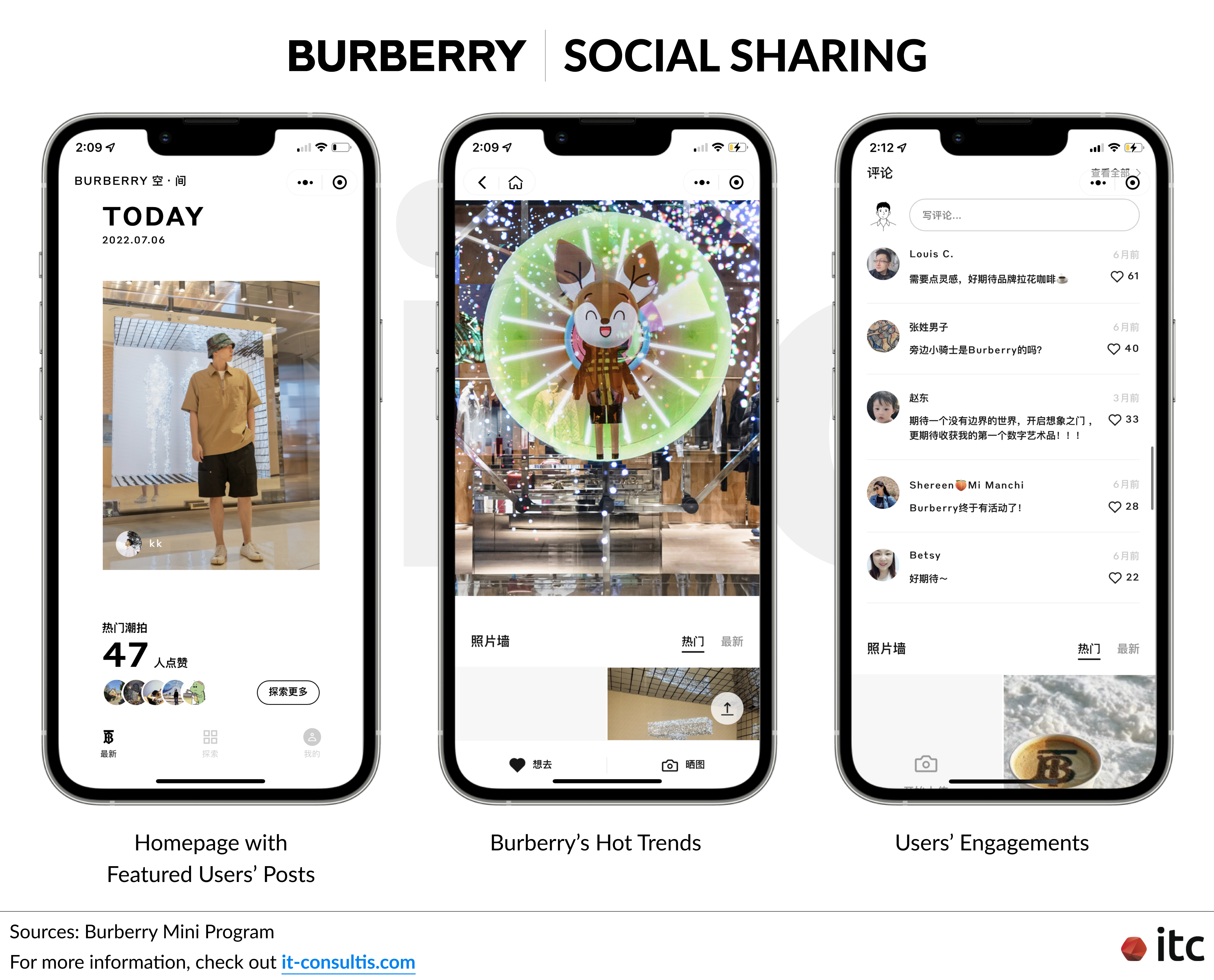 Most notably, posts with the most likes even get featured on the Homepage of the WeChat Mini Program. This not only drives user-generated content contributions, natural sharing, and relevant engagements but also helps build momentum for Burberry's digital community growth.
La Mer - Online-to-Offline (O2O)
While these loyalty programs are accessible online via the WeChat Mini Program interface, luxury brands can also utilize them to boost offline traffic and sales as well, which is exactly one of La Mer's intentions.
Higher Points for Offline Purchases
Essentially, the skincare and makeup brand's tier-based loyalty program rewards more membership points for purchases made at their physical stores than online e-Commerce channels.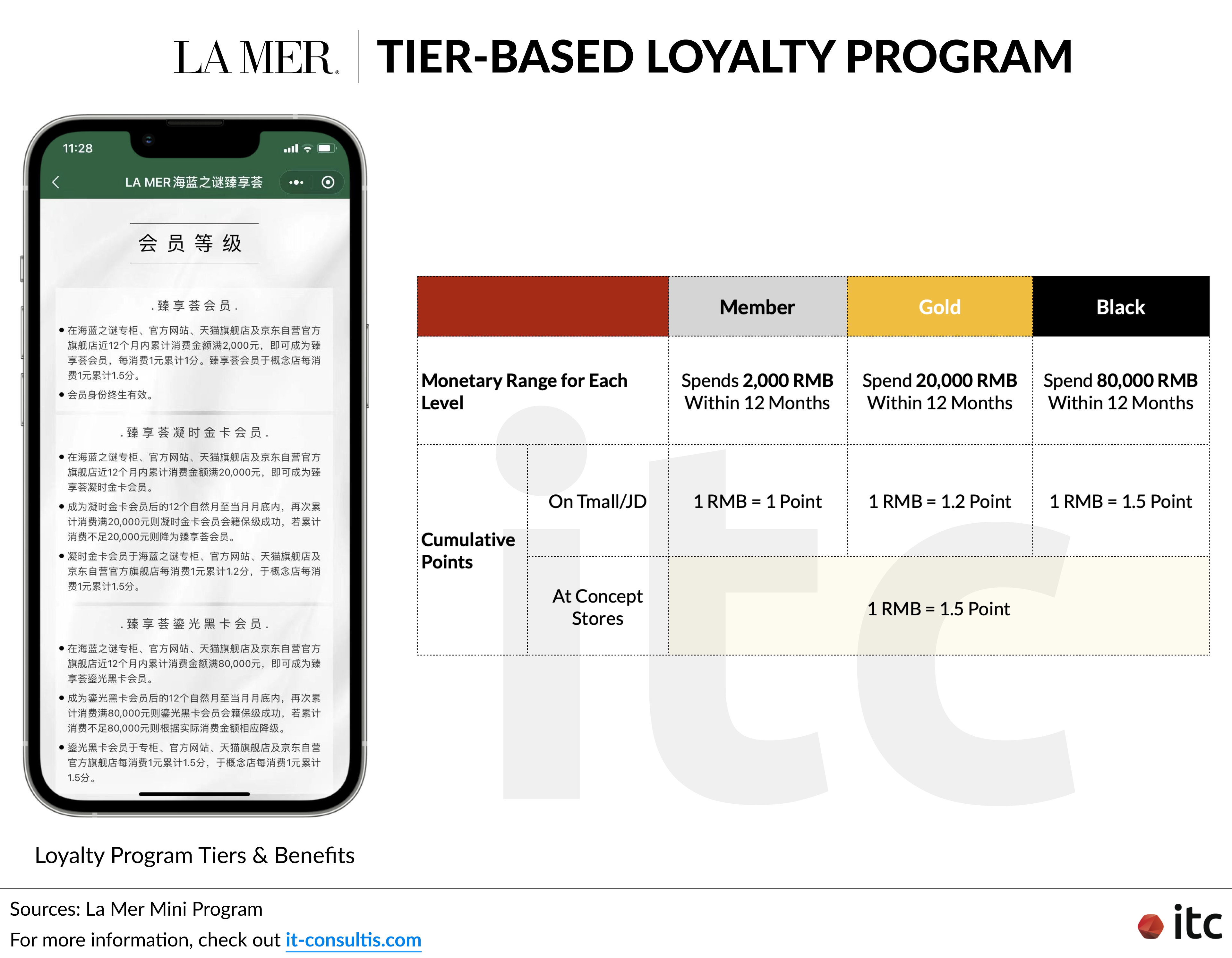 Particularly, when shopping on Tmall or JD.com, members can accumulate:
Member Level: 1 RMB = 1 Point
Gold Level: 1 RMB = 1.2 Point
Black Level: 1 RMB = 1.5 Point
However, when cashing in at any of their 18 La Mer Concept Stores in Mainland China, regardless of the customer's rank, they would gain 1.5 points for each RMB. Meanwhile, the same amount is not achievable until they have reached the Black tier, which requires accumulative spending of 80,000 RMB within 12 months!
With this online-to-offline (O2O) strategy, La Mer can effectively drive more customers to check out at offline stores instead.

Exclusive In-Store Experiences
In addition, the brand also introduces exclusive perks that power the O2O move. Once users have accumulated 8,800 points, they can redeem them for an exclusive in-store healing journey.
As a result, La Mer can provide elevated values - a luxurious relaxing spa treatment - to its loyal customers while boosting traffic to its offline Concept Stores.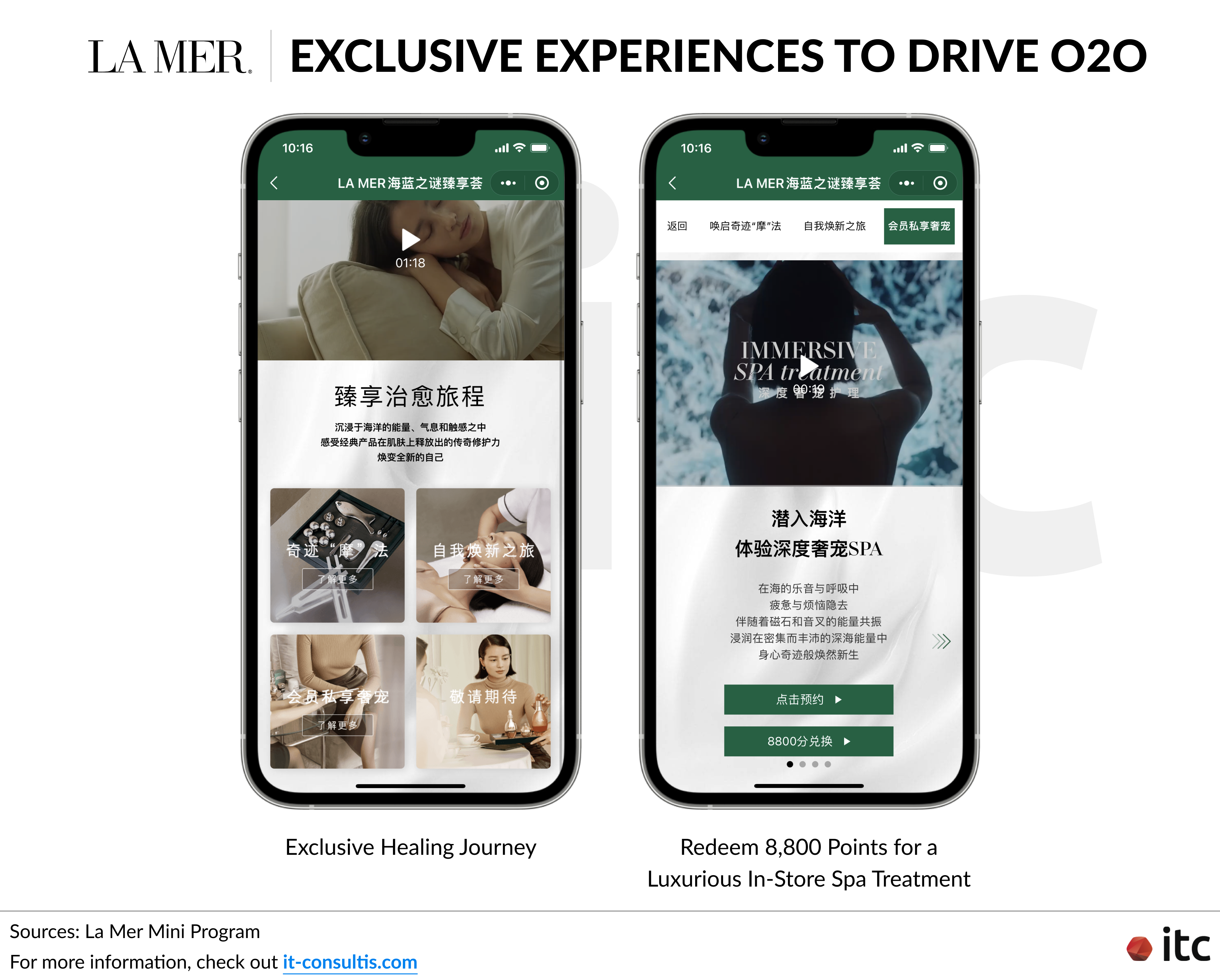 Our previous example, Burberry, also leveraged its luxury loyalty WeChat Mini Program and VR and AI technologies to drive users to its 5,800-square-foot Concept Store in Shenzhen and deliver an immersive omnichannel experience.
Net-A-Porter - Missions and Gamification
While the luxury platform Net-A-Porter also leverages the tier system, what sets it apart is the application of mission-driven and scenario-like themes to its loyalty WeChat Mini Program strategy.
To elaborate, Net-A-Porter took advantage of the burgeoning growth of idol economies and the rise of tier-based games in China.
The market value of the fan/idol economy in China was estimated to exceed $860 billion (around 6 trillion RMB) in 2023. Therefore, Net-A-Porter saw this as a very interesting and promising concept to apply to its own loyalty program to attract and maintain the audience's attention.
In particular, the tier-based program simulates the career ladder of a typical Chinese idol. Additionally, rather than using regular loyalty tier names, Net-A-Porter also applies these industry-specific titles to its members, from an onboarding trainee to a highly sought-after celebrity and EIP (extremely important person).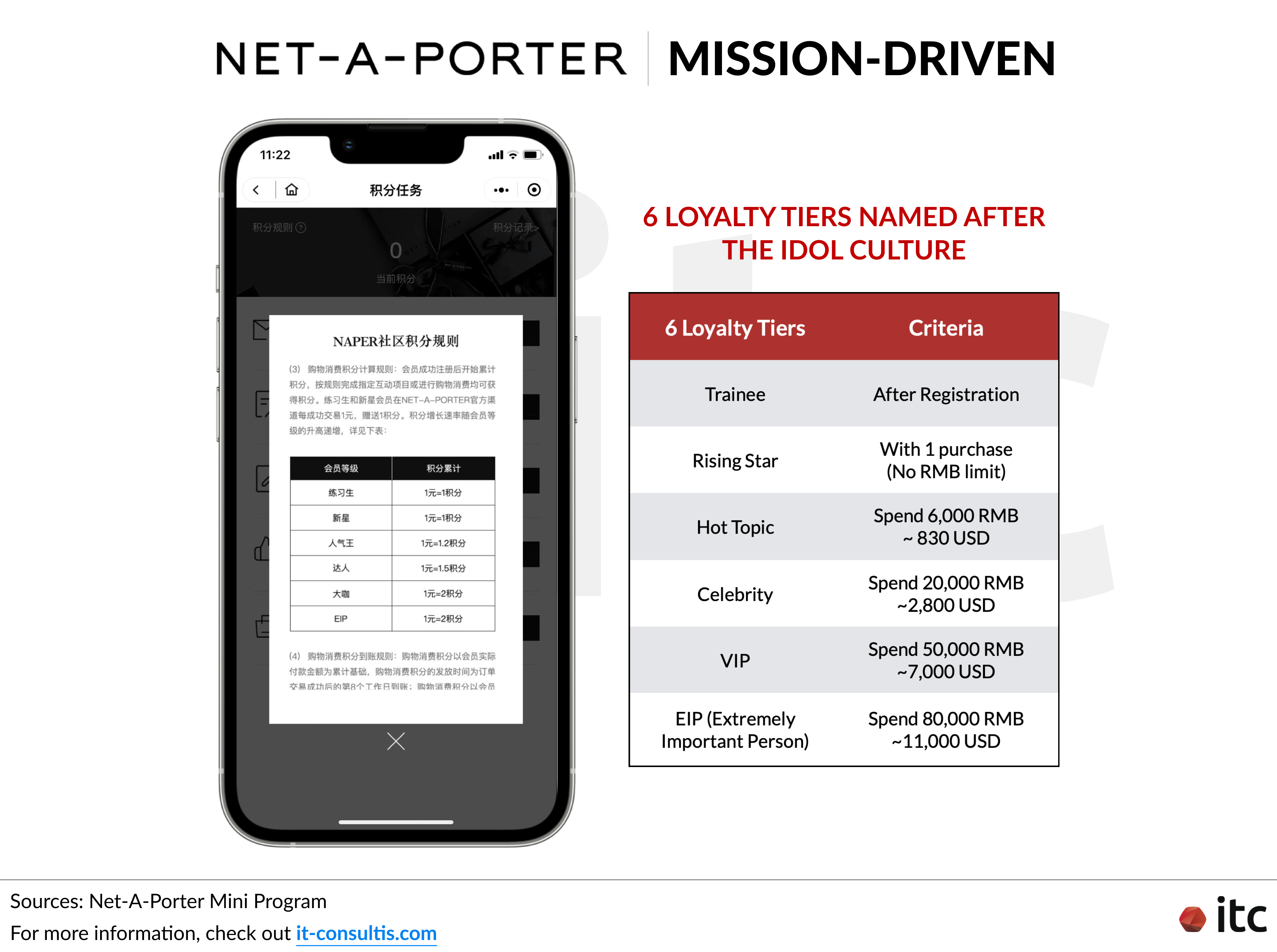 In order to move ranks, users have to fulfill the list of missions to retrieve points, which spans beyond just making purchases with Net-A-Porter. For example, they can also earn loyalty points by:
Inviting a friend
Filling in their information to complete their profile
Publishing a social post
Liking or commenting on posts on the platform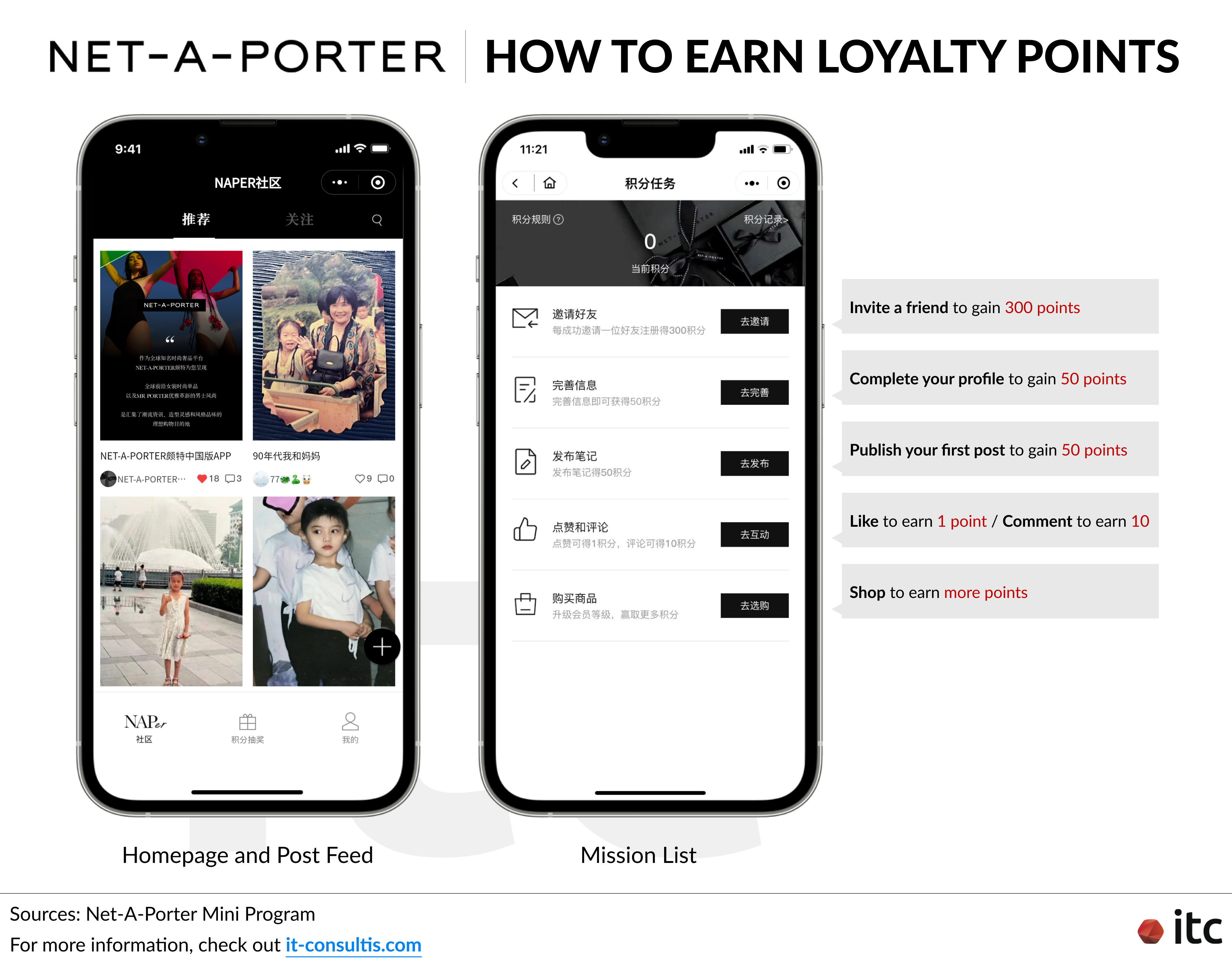 Customers do not always have a need to buy a product from Net-A-Porter. However, these missions can be repeatedly fulfilled with little difficulty, allowing members to regularly garner loyalty points that can help them rise in ranks and power future actual purchases.
Furthermore, on the other side, Net-A-Porter can enjoy repeated interactions with members, a regular generation of user-generated content, and data capture for future targeting and retargeting strategies.
The sharing mission also brings the luxury platform more loyalty members, WeChat followers, and other promotional benefits via natural word-of-mouth within the WeChat ecosystem.
In terms of rewards, like most loyalty programs, the higher their tiers are, the more they can enjoy.
However, a little more unusual perk that members can enjoy when joining Net-A-Porter's program is the cumulative points will also increase in correspondence with their idol title. This means it is much easier for more loyal members to gain points and climb the loyalty ladder.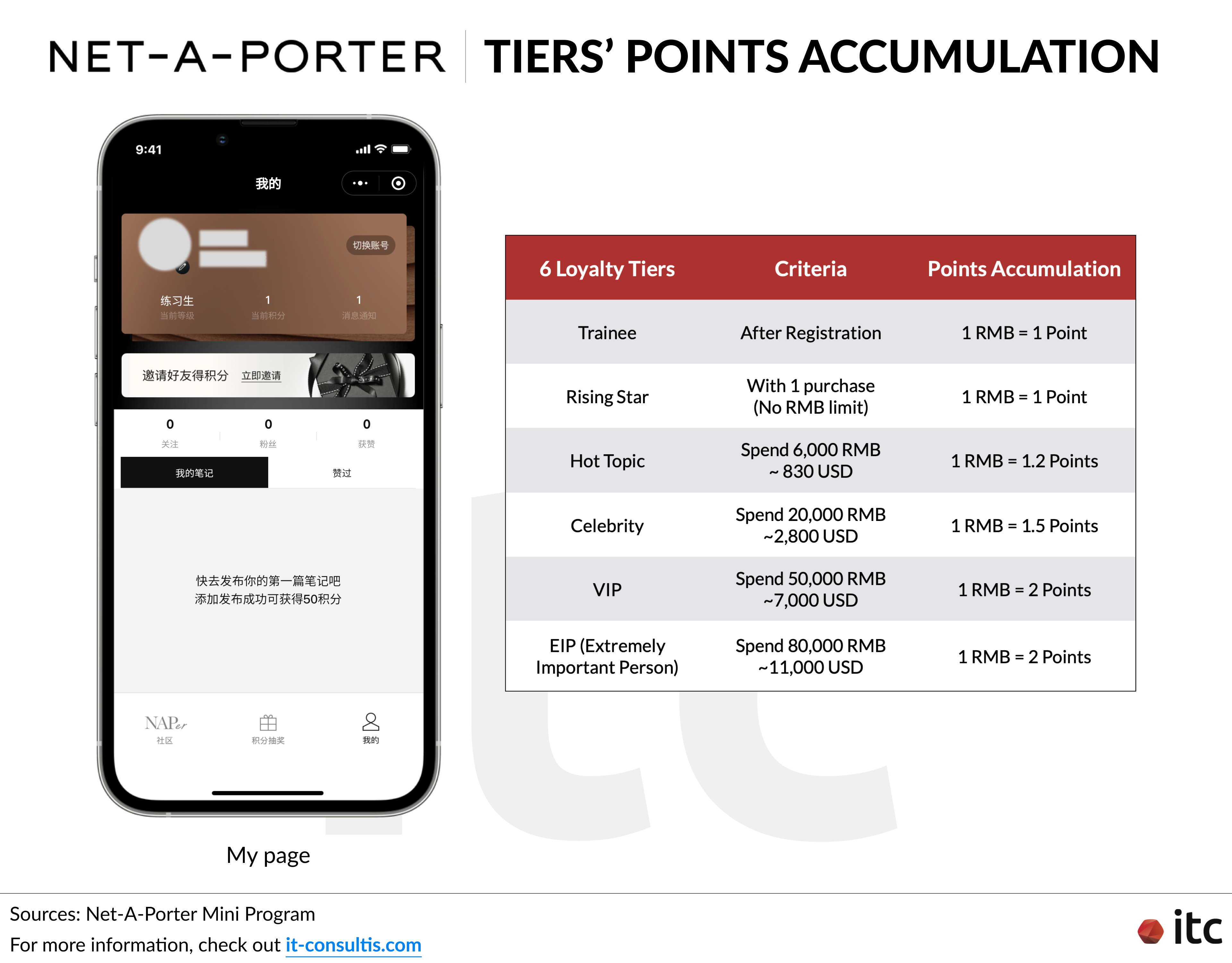 Shiseido - Gift Redemption
In the previous case study, La Mer featured some elements of loyalty points redemption in exchange for exclusive experiences. Shiseido, on the other hand, leverages this system as one of the key aspects of its loyalty Mini program.
At its core, Shiseido's loyalty strategy is still a tier-based program with defined levels corresponding to the accumulated monetary amount customers have spent with the brand. And the higher the tier, the more gifts and experiences they can enjoy.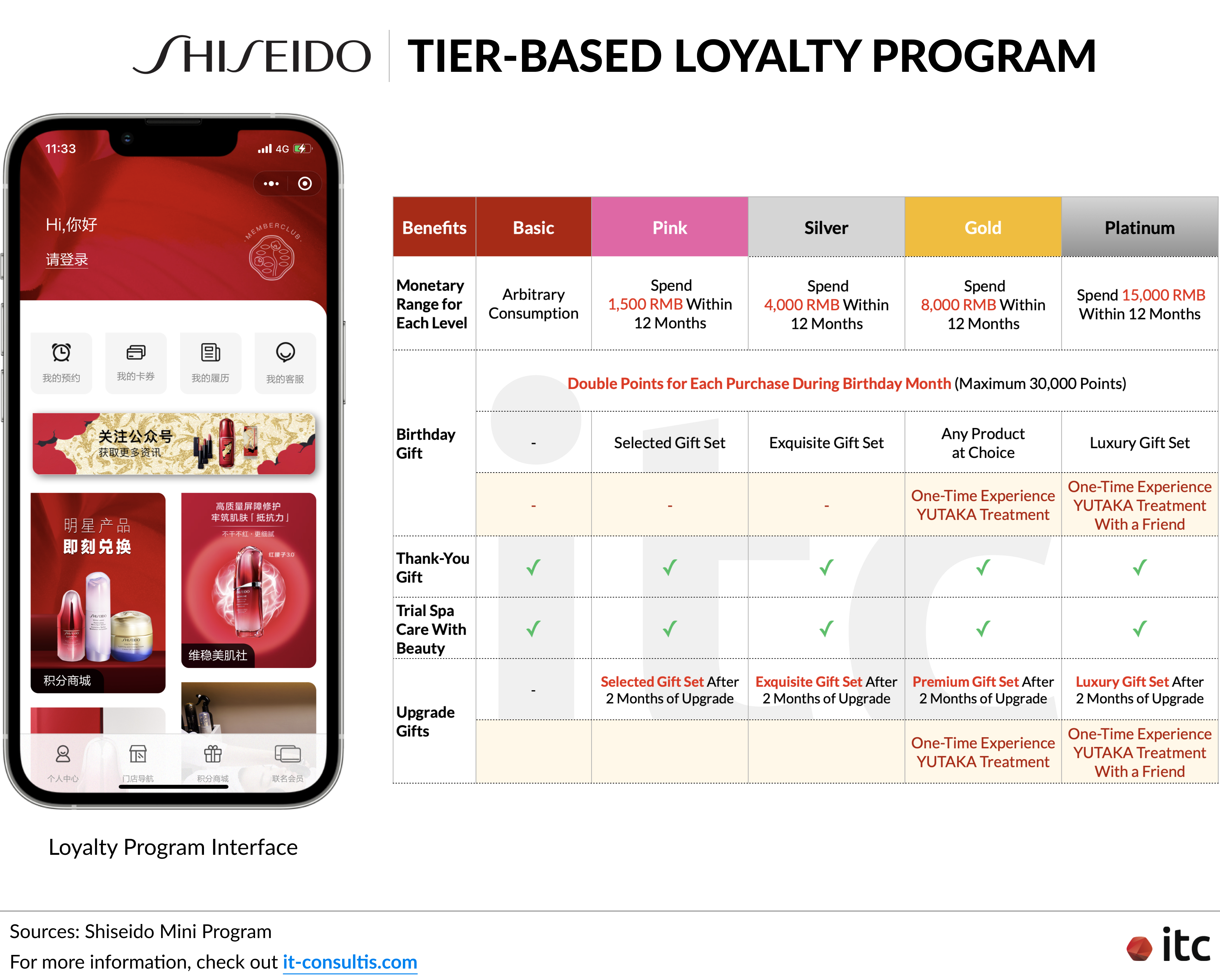 In addition, Shiseido also offers a Gift/Product Redemption function that allows customers to redeem products with their loyalty points. Members of each tier can see a predefined set of products that they can choose from.
Receiving an actual product in return for their loyalty can feel considerably more rewarding than just coupons and discounts that most brands offer. This is because the latter still requires additional purchases to be made for customers to enjoy the perks, and for the built-up relationship so far to be worthwhile.
The gift redemption system, on the other hand, prompts users to retrieve products "for free".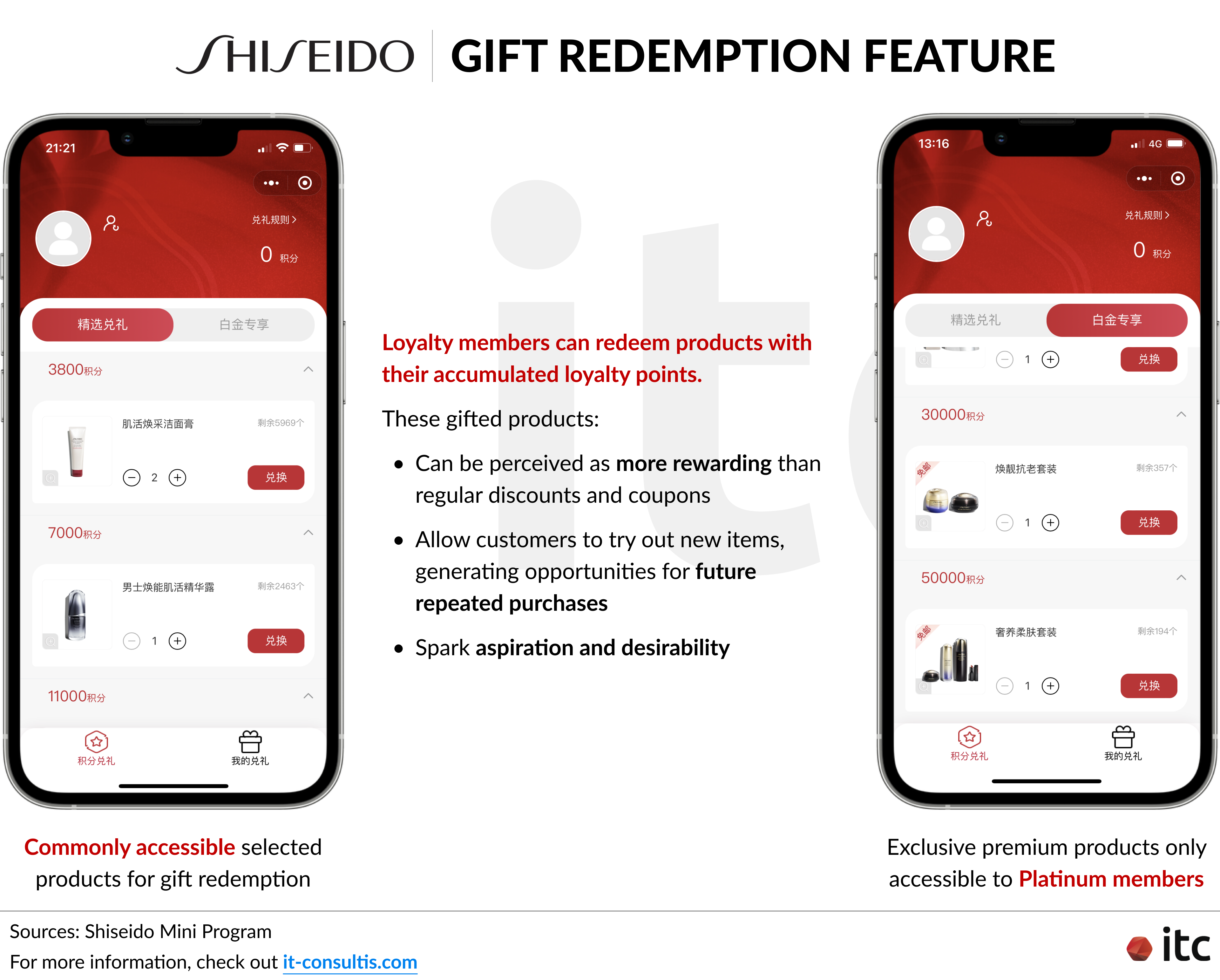 Moreover, this is a great opportunity for customers to try out products that they are not familiar with, positioning them as samples. And, if the experience is positive, it can spark future repeated transactions, extending the meaningful relationship between the loyalty customers and Shiseido.
But that is not all. There are also certain high-end products that are only reserved for members of the highest tier - Platinum. Only when they have reached this exclusive rank will the Premium Exclusive Products button on the WeChat Mini Program become toggleable and accessible.
By making this option exclusive, they can be deemed aspirational and desirable in the VIP customers' views.
Key Takeaways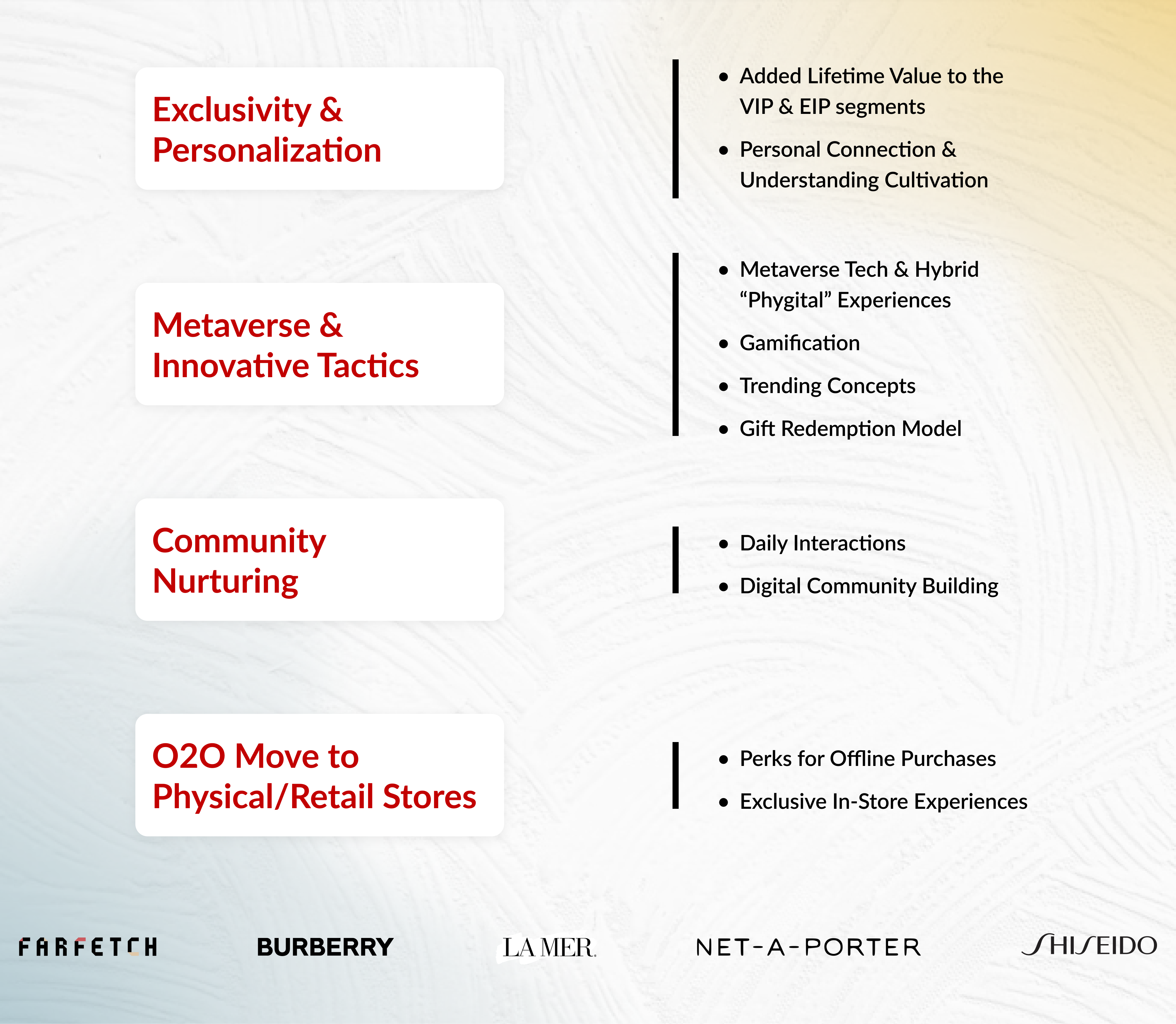 To sum up the above 5 case studies, luxury brands can consider these strategies when building their own omnichannel loyalty program in China to enhance the Lifetime Value and lengthen the customer loyalty life cycle:
1. Highlight the exclusivity and personalization aspects that higher member tiers can benefit
2. Utilize technologies & interesting tactics to gain customers' buy-in & spice up the long-running relationship, boost repeated interactions, and nurture and maintain members' attention
Metaverse technology & Hybrid "Phygital" experiences
Gamification
Captivating trending concepts
Gift redemption models
3. Nurture an ever-growing community
Encourage users to participate in relevant daily interactions - posting, tagging, liking, and commenting - to accumulate loyalty points. In return, they can build a loyal digital community that effectively drives promotions and engagements among themselves
4. Drive customers to retail stores by leveraging O2O strategies
FAQs
Are Loyalty Programs Effective in China?
Yes, the loyalty programs market in China is growing rapidly and is expected to reach nearly USD 30,000 million by 2026, along with the development of the e-Commerce market. The adoption of loyalty programs in China can be observed in a variety of industries and sectors, including both local and global brands.