Operating on marketplaces is a fantastic way to reach out to customers and build visibility. However, should brands rely on marketplaces all the time? Will marketplaces be effective in the long run? Are there other ways to strengthen your online presence in China's increasingly competitive market? Let's discover that in this article.
This year's 11.11 ended with $38 billion worth of goods sold, marking a new sales record compared to last year's season, one more growing at a staggering pace.
The total e-commerce sales in China reached 1.52 trillion in 2018 and have been forecast to reach 1.935 trillion in 2019 and $4 trillion in 2023, making it the largest e-commerce market in the world. With a huge customer base and several shopping seasons happening throughout the year, marketplaces such as Alibaba and JD.com are occupying a lion's share of the total e-commerce revenues in China.
Because of this, unless you live under a rock, you have heard something along the lines of "in China websites are useless, I just need to have my Tmall and JD ", and that "marketplace platforms are 90% of our revenue, why would I bother doing anything else?". At first sight, that sounds straightforward, but the situation is more complex than that. Despite being the main source of traffic and revenues, there are other factors at play. Brands are finding it harder and harder to grow on marketplaces because of two main structural problems:
1 - Increasing Competition
2 - Walled Customer Relationship
Structural Problems Hinder Brands' Growth in Marketplaces
Increasing competition is the first structural problem. A recent report by Gartner L2 stated that 51% of 45 top global fashion brands have official flagships on Tmall. Tmall Global - the largest cross-border e-commerce site in China - is hosting 20,000 international brands in 77 countries, with 4,000 product categories. The number of international brands on Tmall Global is expected to reach 40,000 in 3 years after Tmall Global introduced the new e-commerce portals in different languages. Marketplaces are becoming more and more saturated, and your products are being diluted among millions of listings. At the same time, advertising price goes up as more and more brands are fighting for visibility on marketplaces. Because of this, brands are struggling to find growth and ROI on marketplaces.
hThe second structural problem is the customer relationship. Once brands do acquire customers, they cannot leverage any of their customer relationships on these marketplaces. The relationships you've built with your customers are dependent on the marketplaces, but these platforms have their own interests. People who buy your products on marketplaces are not your customers - they are the marketplaces' customers. Marketplaces set the rules in their favor, and your brand is just one of many listings. The same goes for designing the user journey or acquiring meaningful insights into your customers. Marketplaces limit your ability to understand the need of your customers and provide them with personalized products and services. In fact, why wouldn't they do it?
In this landscape, marketplaces are no longer a perfect solution for brands. Operating on marketplaces is a fantastic way to reach out to customers and build visibility, but by far they are not the best solution for brands in the long run if the main goal is growth, especially as more and more brands join the marketplaces and costs keep going up. To continue surviving in China's competitive market, brands need to generate traffic from a source that is fully controlled by them, or what is commonly referred to these days in China as "private traffic" (私域流量) or First-Party Data.
What is Private Traffic and Why is It Important?
Private traffic has recently become a buzzword in China. I had the chance to see its popularity first-hand at two of the best annual conferences this year: ChinaChat by China Channel and Mathew Brewman (Co-Founder and Managing Director at ChinaChannel) and Digital Luxury Keynote by Pablo Mauron (Managing Director and Partner at Digital Luxury Group). I noticed that at both of these conferences, Private Traffic and creating omnichannel experiences took center stage at presentations.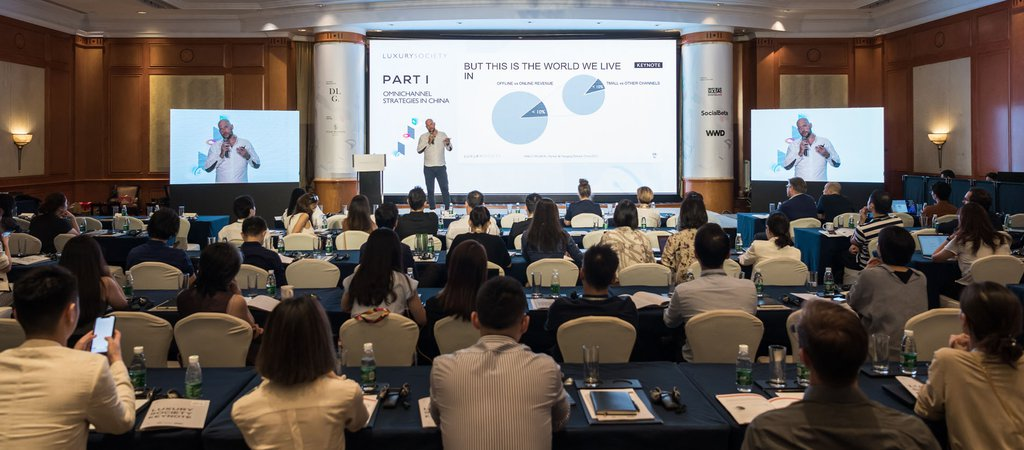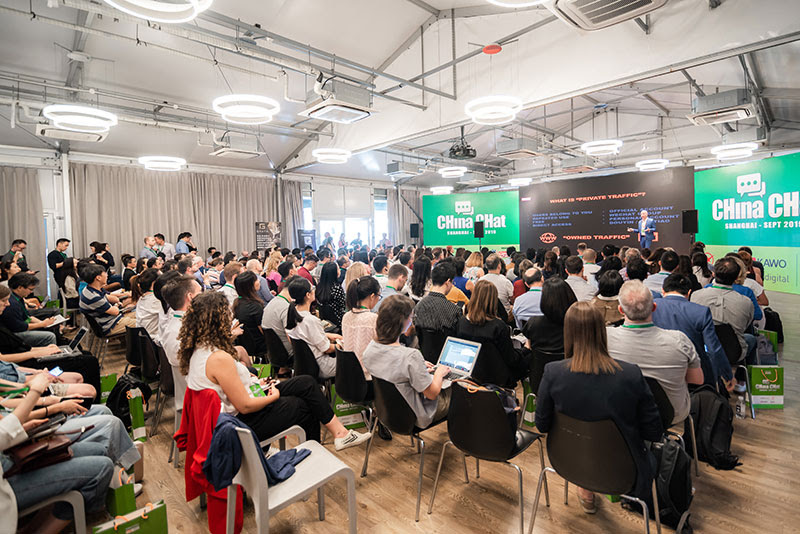 So, what is private traffic, exactly?
As mentioned earlier, the majority of e-commerce traffic in China comes from marketplace platforms such as Tmall and JD. This is "public traffic" because brands share this traffic with their competitors on marketplace platforms.
Private traffic (私域流量), on the other hand, brings full control of traffic back to brands and helps them establish real connections with their customers. In China, private traffic comes from personal WeChat accounts and private WeChat group chats, where you can develop quality and focused connections through conversations with your customers. Besides WeChat personal accounts and group chats, the continuous development of WeChat Mini Programs as a customized solution for e-commerce is also an important factor that drives the adoption of private traffic. Recently, the WeChat ecosystem has become even more powerful when Samsung allows WeChat Mini Programs to be accessed directly from its phone menu, without needing to open the WeChat app. Following this trend, Huawei is starting its own version of Mini Programs along with Xiaomi and 7 other manufacturers, together with the launch of ByteDance's Mini Programs on Tiktok and Toutiao, Alibaba's Alipay Mini Programs, and more.
On top of this, more and more features are flocking to WeChat, such as live streaming, AR, and more. The readiness of the WeChat ecosystem, together with the saturation of marketplaces, enables private traffic to evolve in China.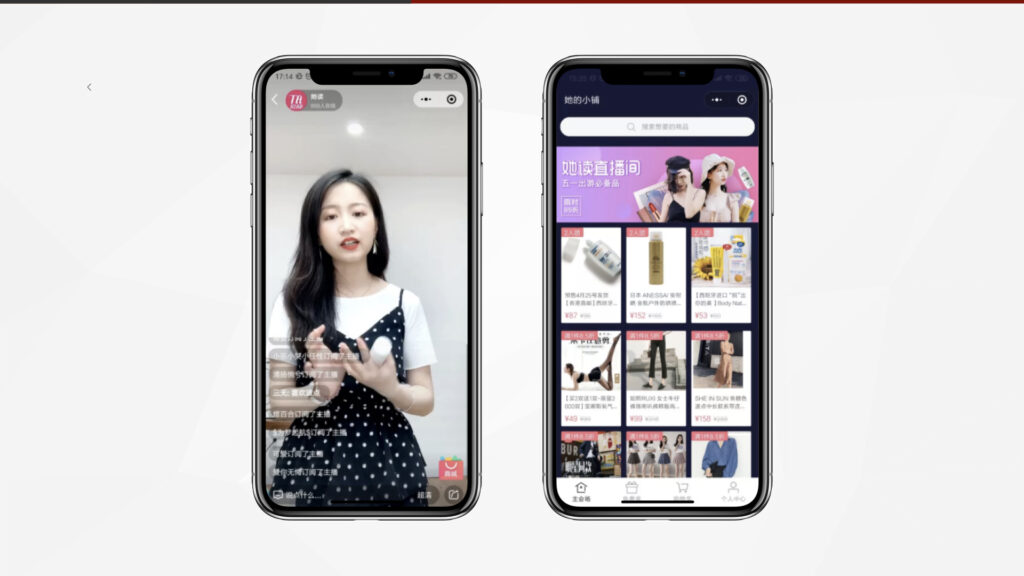 How Brands Can Leverage WeChat to Drive Private Traffic
To maintain the long-term growth in China e-commerce market, brands must leverage WeChat to "convert" their public traffic from marketplaces to private traffic. Let's have a look at how to create a private traffic loop.
The journey starts when the customers discover your brand and products via KOLs' endorsement posts or product reviews on Xiaohongshu or similar platforms. Then, as these customers decide to go on marketplaces to purchase your products, you can take this chance to convert them into private traffic. Potential ways to do so would be to either have customers follow your WeChat account and then leverage a social CRM, or even go one step forward and add them directly into WeChat groups.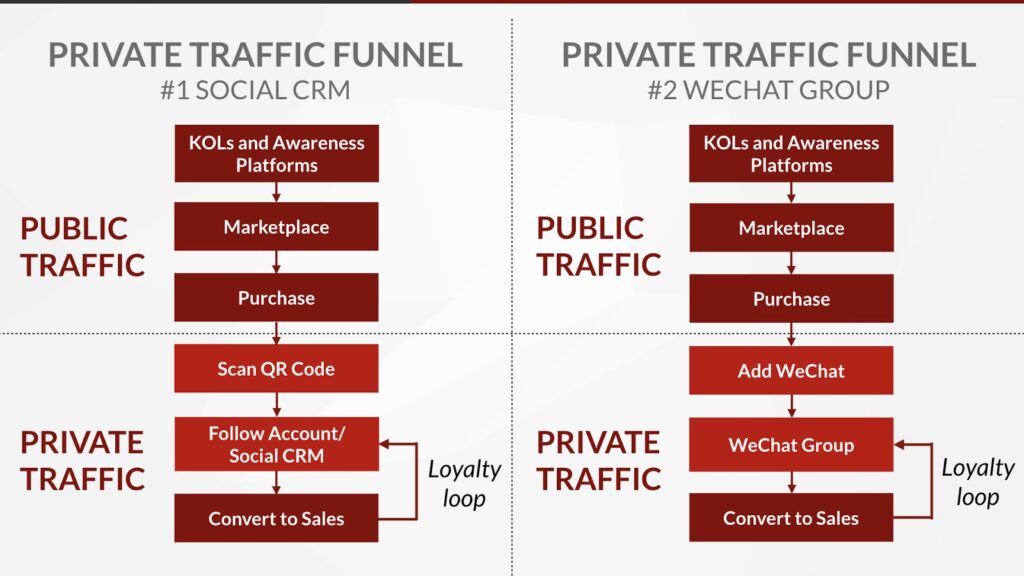 China's traditional funnel ended at the purchase. In a private traffic environment, brands are able to have direct communication with their customers and drive more sales.

You can then implement a segmentation strategy and launch targeted campaigns and promotions to provide a more personalized experience to your customers. The result would be a win-win: these customers get the content they want, and your brand converts a public-traffic customer to a private-traffic one. As these customers follow your WeChat account or join your WeChat groups, your brand can establish a direct connection with them and gain deeper insights into their behaviors. With this approach, you can create a community of customers who can interact with your brand either via messaging or by making purchases on your WeChat Mini-Program. In the long term, they can become raving fans who will help you spread out your brand message and bring you more leads.
This is just one example, with potentially endless possibilities. What counts is that, in order to achieve long-term growth, brands need to work towards creating and fostering a private traffic ecosystem, switching from a 90/10 public-private split, to a more sustainable 70/30 one similar to what Nike is doing.
We will explore how you can create an ecosystem to foster such an ecosystem in the next article.
Bonus: If you want to know more about private traffic, listen to this podcast episode by Technode where Matthew Brennan talks about it.