Today, we are very excited to announce the two new features that were recently deployed by WeChat as an initiative to improve interactions between businesses and their users within the WeChat platform. The features that were strategically added to WeChat are:
Free advertisement (yes, you heard that right)
Brand Homepage in the search result
What do these two new features bring? Let's find out.
1. Free advertisement
In WeChat's announcement on July 7th, the WeChat team introduced a new feature that allows businesses in the F&B and offline retail industries to advertise on WeChat Moments for free, as long as they have completed more than 100 orders offline. Such functionality was provided to stimulate brands to promote customer payments through WeChat Pay. For these brands, they will benefit from high traffic exposure and intelligently targeted delivery of advertisements.
Advantages for brands to advertise on Moments:
Rely on WeChat's extensive consumer data to target new and existing audiences.
Take hold of consumers' scattered free moments throughout the day on Moments.
It's FREE!
WeChat also noted that this new feature will be available to other industries in the near future.
2. Addition of a 'brand homepage mini program' to promote brand awareness
Besides giving out free ads to business owners, WeChat also added a "Brand homepage" mini program which directs the users to a summarized brand homepage mini program in a faster and more convenient fashion. Such a feature allows the users to discover a brand and its services visually.
Users can utilize this new capability by simply typing in any brand name into the search bar on the top of the main chat page. As WeChat runs the keyword, the brand's mini-program homepage will appear in an exclusive section of the search result (the top, to be exact!), separated from the Mini Programs and Official Accounts results.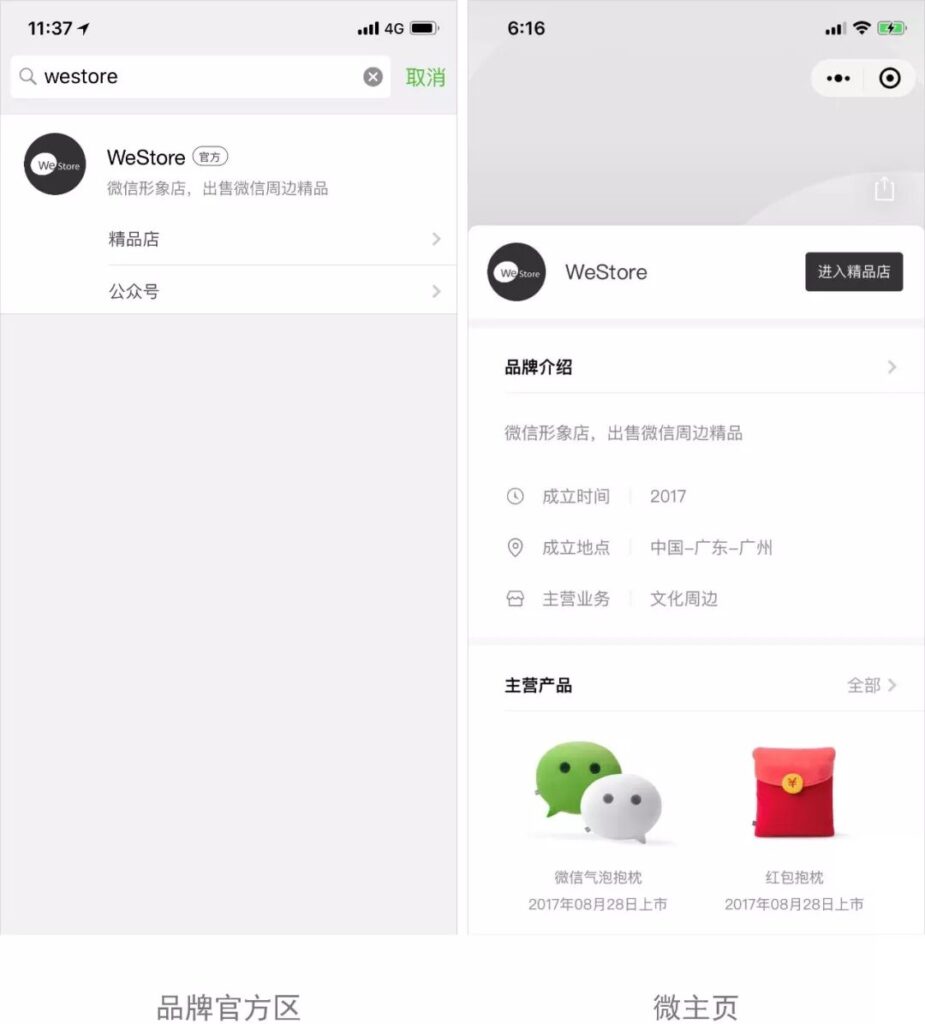 Users will then have the option of entering the brand's mini store or its official account page. If the user selects the brand icon, they will be redirected to the brand's homepage. Once inside the homepage, the users will have access to the brand introduction, main products, services, and contact information to help spread its influence. In addition, users have the option to forward the brand homepage to their WeChat friends or save the page QR code as an image, which can be shared through multiple outlets - leading to higher brand exposure.
So how do you open the brand search function for your business? Follow these 3 easy steps in the WeChat Backend (公众平台) to unlock the capabilities to increase brand identity on WeChat:
Read the relevant terms on how to add the "Search Open Platform" plugin
Certify your brand name and activate the "Brand Homepage" mini program.
Configure it.
With the two new developments that WeChat has recently offered, make sure to capitalize on the opportunities it holds for your brand. This is it for today! If you want to be updated on the latest WeChat news and op-ed, be sure to subscribe to our newsletter!