In this article, IT Consultis will address all of your concerns about eCommerce replatforming to help you weigh your own pros and cons and start planning.
When opening an eCommerce business, many usually turn to custom-made solutions or the most basic, free CMS options they can find to function and start generating income.
However, as your business grows, at some point, you will have to ask yourself whether the current eCommerce platform is still the best choice for your rising needs.
Additionally, the current rate of technological advancements is prompting many corresponding changes in market conditions that require businesses to keep up with. As a result, eCommerce replatforming has become a must for most.
In fact, according to an Econsultancy report (1), only 1/5th of the participating companies found their eCommerce solutions satisfying. Therefore, "many companies have either replatformed in the past (22%), are replatforming now (20%) or are considering doing so in the future (32%)".
First, let's settle the basics.
What is eCommerce Platform Migration?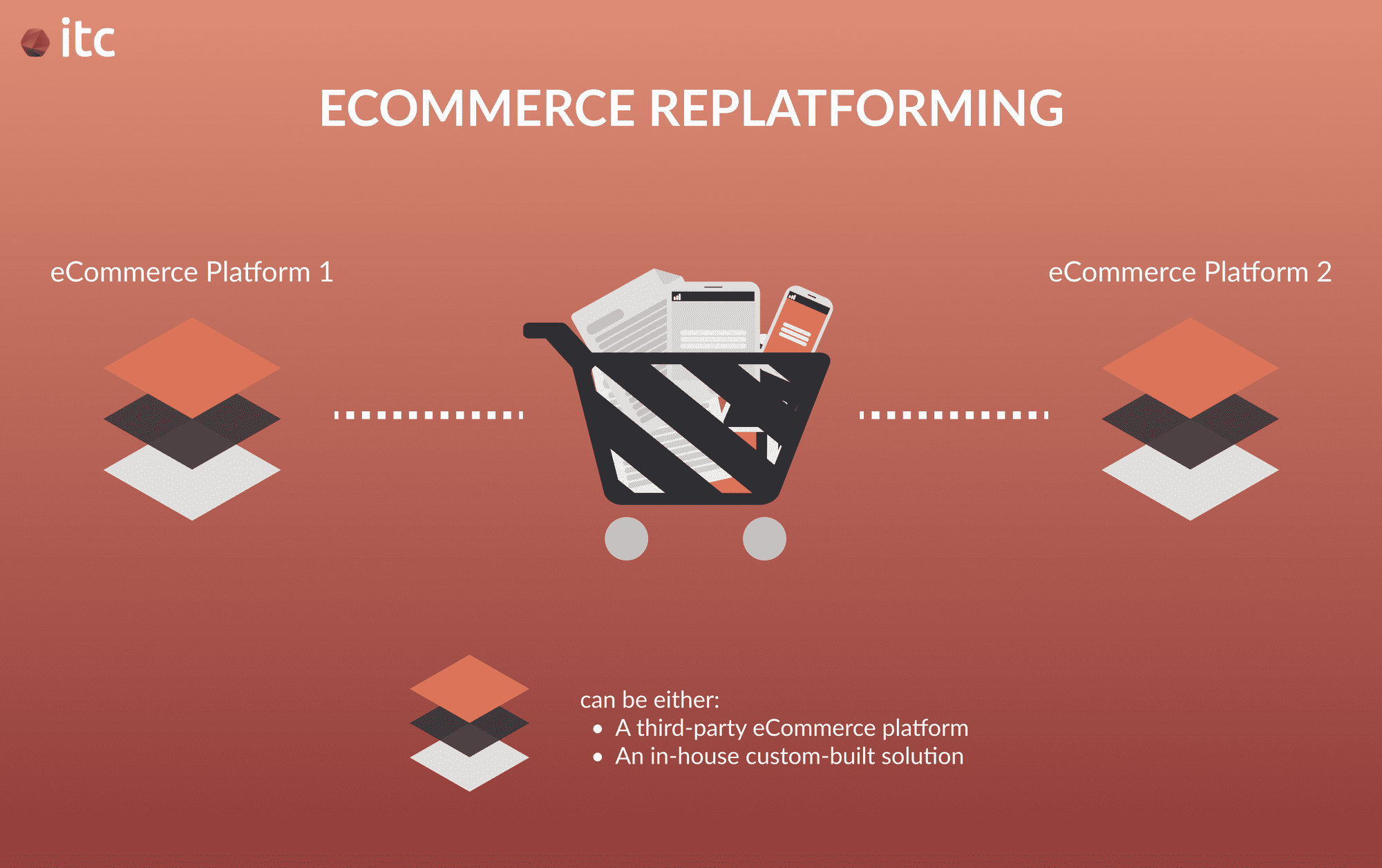 eCommerce platform migration, or eCommerce replatforming, is the process of migrating your online business operations from the eCommerce platform your website is built on to another. This can involve switching:
From a third-party eCommerce platform to an in-house custom-built solution
From a custom website to a third-party platform
Between third-party platforms
Between custom websites
This is a labor-intensive and time-consuming process. It requires you to make all the right decisions to mitigate the risks and maximize the benefits. So, what are they?
Advantages of e-Commerce Re-platforming
1. Better Customer Experience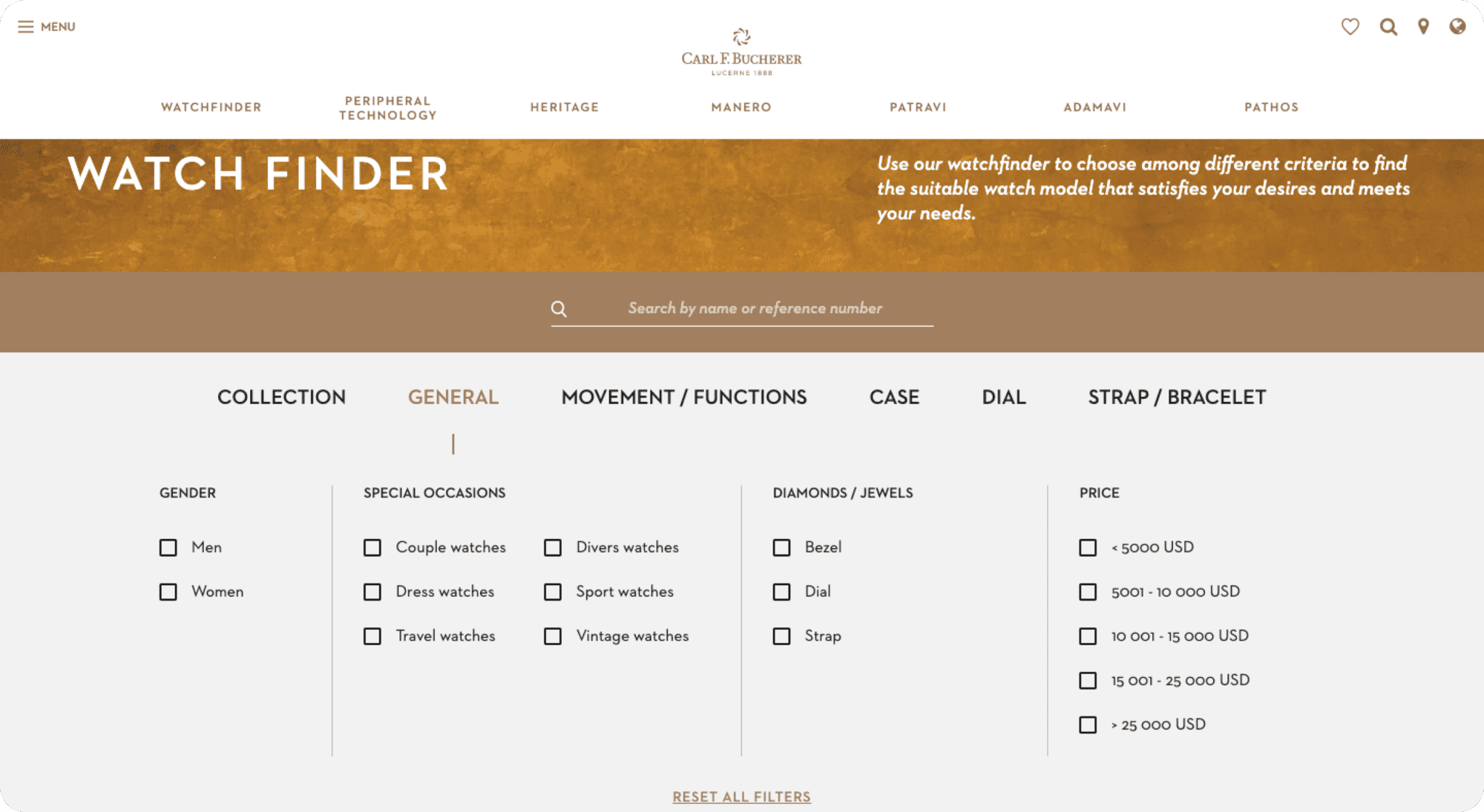 Users have come to expect only the best from the sites they visit. And for e-Commerce sites, UX design matters a lot. Users want to find what they are looking for and pay for it as quickly and easily as possible.
Thus, switching to a better eCommerce platform can significantly improve search and navigation, loading speed, product catalogs, checkout, etc. This will enable a better user experience that ultimately improves the conversion and retention rates.
2. Higher Mobile Traffic
In 2021, nearly 73% of the global retail e-Commerce was expected to be generated via Mobile Commerce (m-Commerce), up from around 59% in 2017. And, if your target market is in China, around 84% of its total Internet users shop online via mobile devices.
Therefore, it is important to make a switch to a better e-Commerce platform to implement a responsive web design. In fact, a survey among web designers in 2021 reported that a non-responsive design is the 2nd-biggest reason why a visitor would leave a website.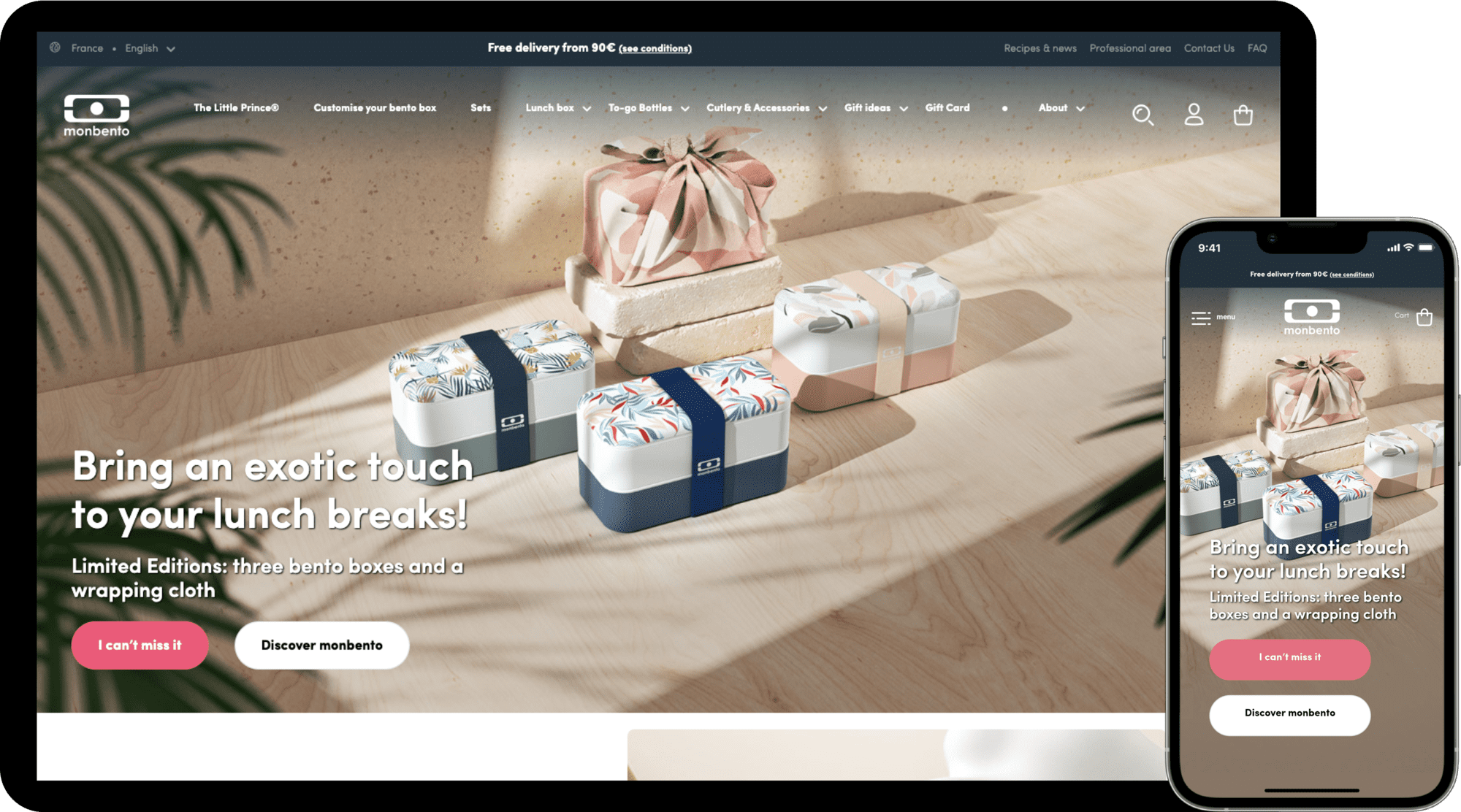 As you can tell by its name, this design can dynamically rearrange itself to fit any screen size. This includes mobile devices like smartphones and tablets.
Naturally, this would improve the site's visuals and users' accessibility to your site. Moreover, businesses can also benefit from lower maintenance needs and faster loading speeds. As a result, it would boost the eCommerce site's mobile traffic and increase the conversion rate.
Nevertheless, how urgent this responsive switch is will definitely depend on the nature of your business and your target customers.
3. Better Scalability, Integration, & Customization
A feature-rich e-Commerce platform will prepare your business for enhanced technologies that you might have been missing out on. Scalability nowadays has become more nuanced as technologies mature, and the best e-Commerce platforms out there are quick to adapt.
Business growth demands more eCommerce features to be added, such as customer profiling, email marketing, CMS, CRM, ERP, advertising, logistics, etc. Therefore, with so many extensions available for all major e-Commerce platforms, it makes little sense not to make the big move to make the site more stable, scalable, and easier to integrate more features.
At IT Consultis (ITC), we always recommend open-source solutions like Magento to our clients.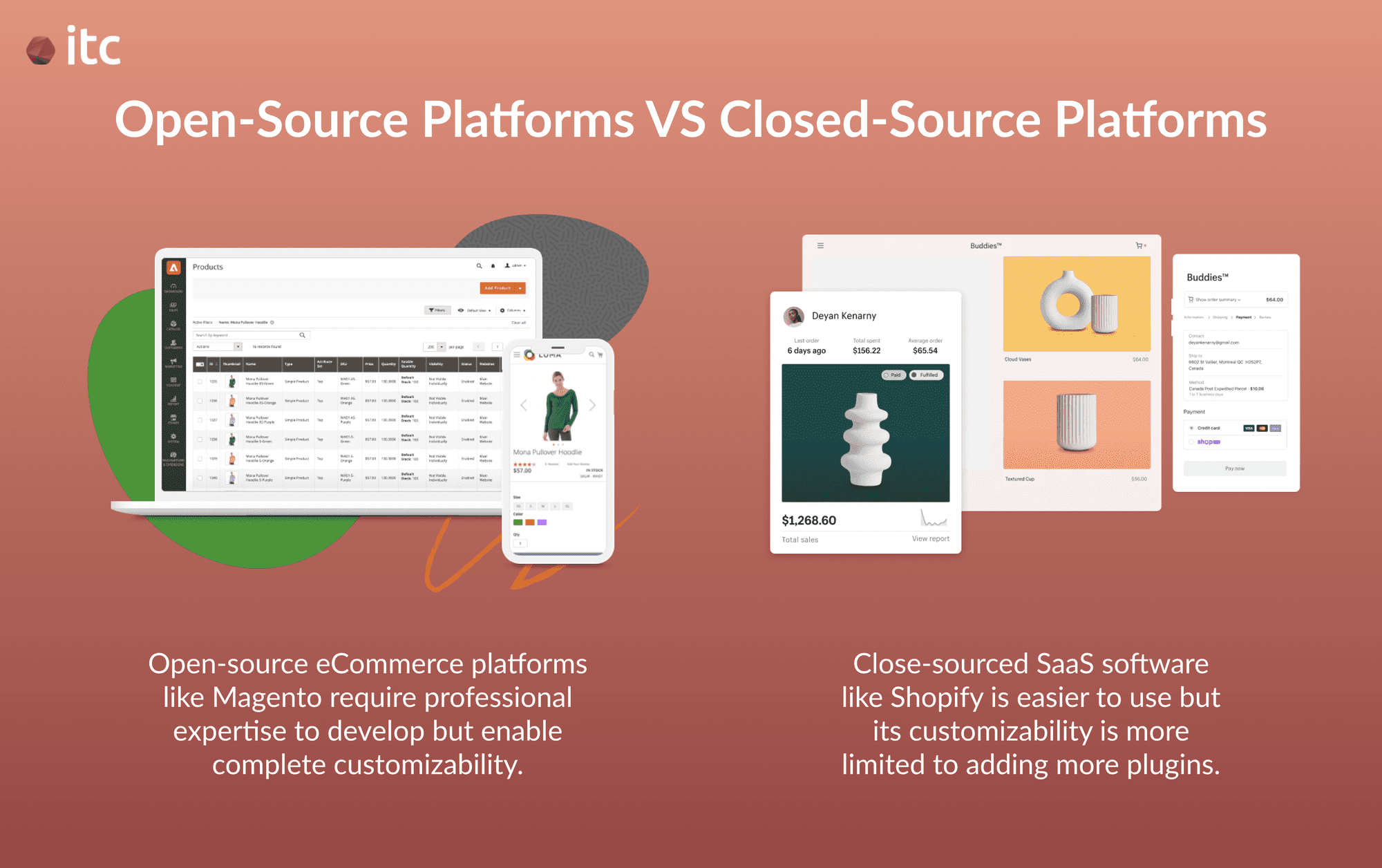 Open-source eCommerce platforms are free to access and enable complete customization with virtually no restrictions. On the other hand, although SaaS software offers great assistance for SMEs, its customizability is more limited to adding more plugins to the mix.
This can pile up a lot over time and slow down the website while still not meeting growing business needs. Therefore, migrating to open-source platforms with more flexible APIs can enable smoother integrations.
Continue reading to find out which eCommerce platforms we recommend migrating to.
4. Reduced Operational Costs
Granted, switching to a new eCommerce platform is costly, both in terms of finances and time. However, sometimes, fixing your current platform can be more expensive than simply migrating to one that supports more features.
The costs are inevitable at first. But over time, they will pay for themselves with an increased ROI. Take the responsive design for example.
The one-size-fits-all approach is actually cheaper to implement in the long run than the "standardized sizing" approach - adaptive web design. The latter requires you to make multiple fixed layouts for the most common screen sizes. But, even then, they still cannot adapt to more uncommon ones, negatively affecting these users' experience.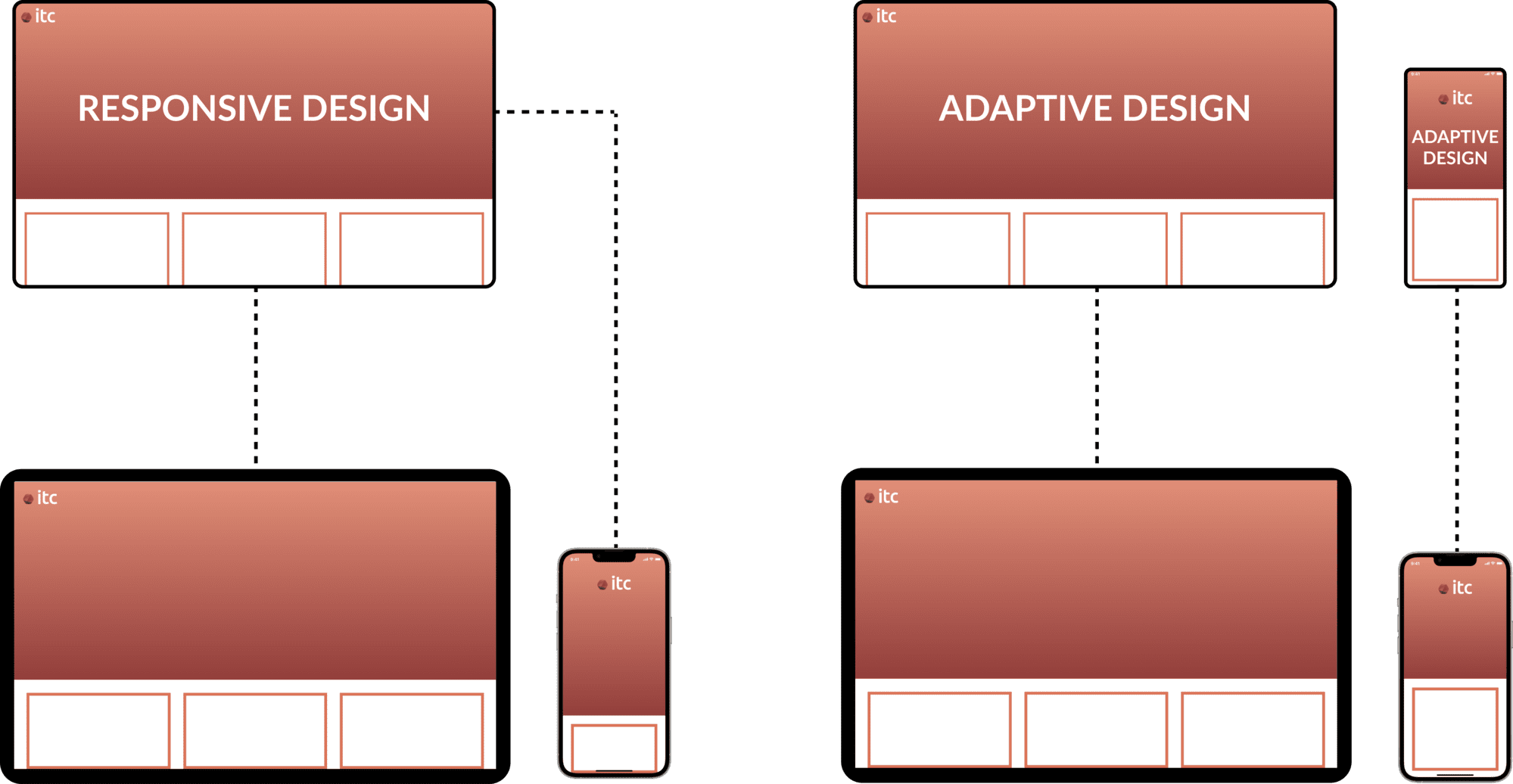 Furthermore, you can also reduce costs in hosting when switching platforms by optimizing with web accelerators like Memcache or Varnish Cache.
But, most importantly, make sure you receive quality eCommerce migration services. The web agency should fully train you in how to manage your back-office.
This will reduce your reliance on them for small modifications to implement promotions or administrate categories. Thus, you can cut down the recurring costs invoiced each time something needs to be done on your eCommerce website.
5. Better Control & Improved Reporting
As your business grows, you'll want to stay in control of as many aspects as possible. That way, you can develop suitable Marketing strategies, including SEO, monitor them, and make adjustments to maximize results.
Thus, if analytics of these important performance indicators (e.g. conversion rates, bounce rates, search engine optimization, etc.) is not available in your current platform, eCommerce site migration is a must.
6. Wider Variety of Payment Methods
Depending on your target market and business scale, you should accommodate as many relevant payment methods on your online store as possible. As a result, you can optimize the user experience and open your door to more transactions.
However, not all eCommerce platforms accept every method. Thus, digital replatforming enables migration to a more suitable one allowing access to more relevant payment gateways.
Just make sure to keep this factor in mind when choosing your prospective eCommerce platform. And, if you are building a custom website, gauge the difficulty of setting them up to see if they are worth the cost and effort.
For open-source platforms like Magento, any payment method can be added. However, the integration process likely requires professional help.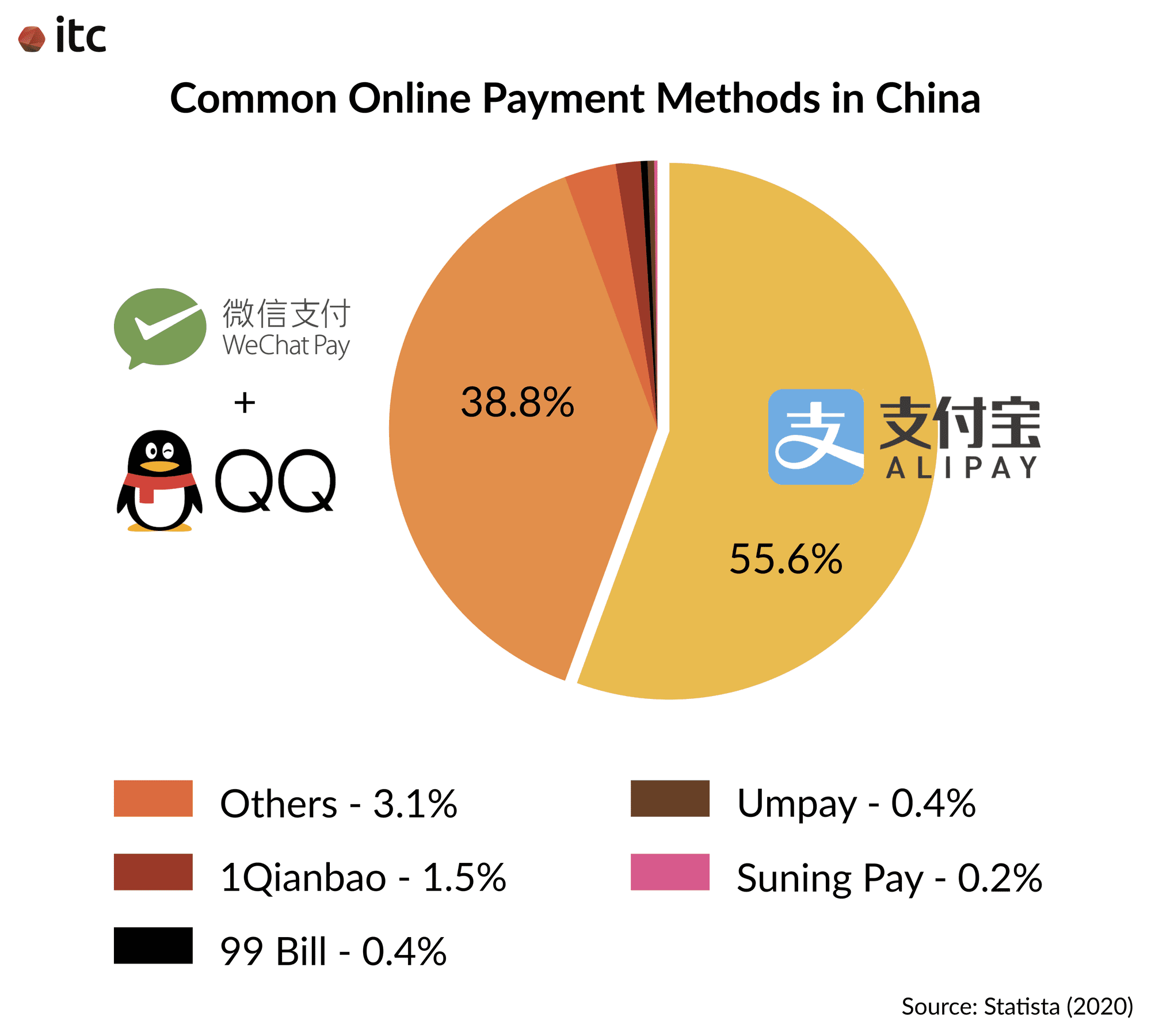 7. Stronger Security
eCommerce replatforming is also a great chance to strengthen the security of your online business. Avoiding cyber attacks means you can protect your hard work as well as your customers' personal and financial data. Thus, you should consider this among other factors when comparing different prospective platforms to migrate to.
e-Commerce Re-Platforming Risks
1. Budget Overruns & Restraint
The process of moving your eCommerce store to a completely different platform is very complex. Thus, it is not surprising if more and more money seems to pile up the longer and deeper you go into this.
At one point, you may overrun the initial budget that you estimated it would cost. And, stakeholders are usually not stoked about this. They may impose budget restraints that prevent you from seeing the project to its happy ending.
To avoid this scenario and minimize the cost as much as possible, work with your web agency and internal stakeholders to determine the scope of the project and necessary tasks right from the beginning.
Basically, ensure that every little step is planned before kickstarting your eCommerce replatforming project so you always know what to expect.
2. Disruption to Website Structure & SEO
Since it is a very big move, without proper preparation, your e-Commerce website may take a hit in the process.
Business operations can get disrupted in terms of accessibility and functionality (eg. temporary downtime). As a result, this would affect the user experience, reduce your traffic, and likely tank your sales volume in the short term (if you can fix the problem quickly).
However, the site may also suffer longer-term consequences if you do not plan out your SEO strategy carefully. When you have tons of product URLs to migrate, wrong redirections may happen and you can end up with a bunch of error pages.
This not only impacts the user experience but also the search engines' perceptions of your site, causing your rankings to drop. And, when you drop out of the 1st page, you lose a significant amount of traffic because 3/4 of users never scroll past it.
Therefore, to avoid losing your hard-earned SEO progress, make sure to map out your redirections early on. Always hope for the best and prepare for the worst.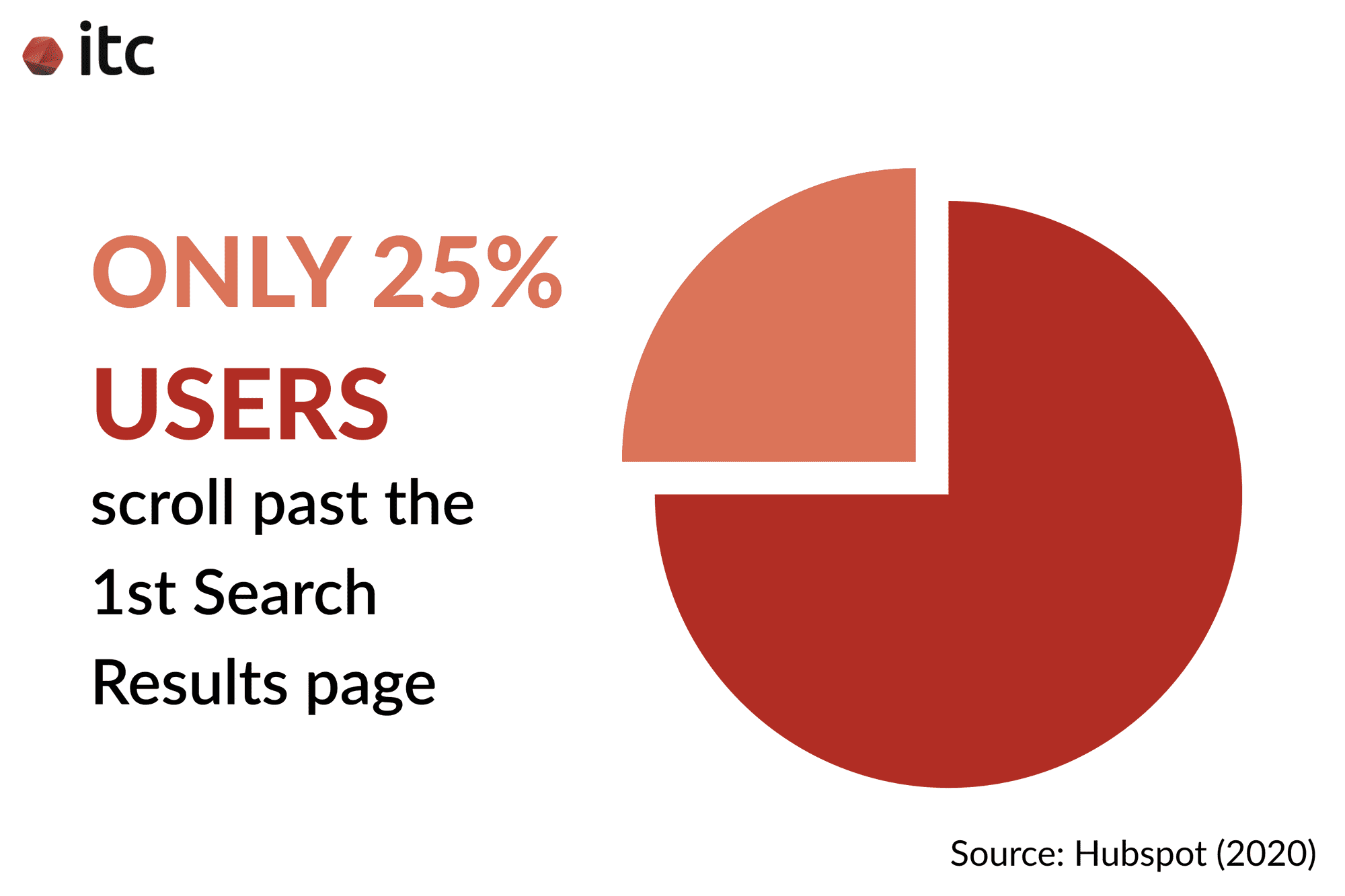 3. Poor Scalability
Another huge issue that can arise from poor researching and planning is picking the wrong platform to migrate your eCommerce business to.
When you only look at your short-term needs to choose one, you may have a hard time scaling up as you expand more, due to the lack of a few key features that you failed to foresee when organizing the re-platforming.
This leads to a need for another migration shortly after that costs more time, effort, and money that you may not even be able to afford.
4. Skill Gaps
Other than planning the digital replatforming process, brands also have to schedule training for employees. They need to know how to operate with the new system and technologies. This will mitigate the risks of arising skill gaps that can negatively affect daily operations.
In addition, avoid introducing everyone to the new eCommerce platform on the launch date. Have the employees familiarize themselves in a test environment to be all ready when using the real deal.
5. Data Loss
Similar to other issues caused by inadequate preparation, your data may also get lost during the e-Commerce re-platforming process.
However, it goes beyond your own mistakes. Your business data can be very vulnerable in this period. And they become the perfect target for hackers to take advantage of. This will, inevitably, affect your company's operations and reputation if your customers' personal and financial data are cracked as well.
Thus, make sure to consult with the web agency on establishing sound security countermeasures to prevent these potential data issues.
Moreover, plan your data migration process carefully to make sure they all go to their designated destinations. Finally, before launching, start testing to confirm that everything works properly and no data are missing.
6. Late on Schedule
For such a big project, there tends to be a delay in progress, usually resulting from:
Indecisiveness: Tough decisions take time and are hard to make
Collaboration: A huge task requires collaboration from many stakeholders, which can be difficult to organize for everyone to be available
Perfectionism: Striving for "perfection" among multiple stakeholders can be a long and hard process
Properly plan and communicate with all stakeholders right from the beginning to match everyone's expectations on the replatforming project going forward and minimize delays on schedule.
It is also important to set clear priorities to efficiently determine the most desirable choice for difficult decisions that seem impossible to settle on.
7. Internal Resistance
As repeatedly stated, re-platforming requires a lot of time, money, and human resource while causing drastic changes in how the online business may function. Not to mention all of the risks above.
Therefore, there is usually internal resistance when the issue is brought up. Make sure to clearly communicate with all of the involved stakeholders how the pros of eCommerce site migration outweigh the cons.
Do your research and create a timeline as detailed as possible with an estimated budget and expected ROI on the eCommerce platform migration project to effectively gain support.
When to Replatform?
Can your current e-Commerce platform handle increased traffic during popular seasons (i.e. holidays)?
Are you stuck with your current platform because only the developer who built it knows its ins and outs?
Are you eager to implement new features that will enhance the user experience but unable to because your current platform does not allow you to integrate them?
Is your site becoming considerably slower due to the number of plugins you have installed?
Are your operating costs getting higher than what you can handle due to investing in custom-made functionalities to meet your growing business needs?
Is the adaptive web design negatively affecting the user experience on mobile devices?
Are your platform's security measures becoming outdated?
Do you think you are missing out on key analytics that can help you devise better targeting strategies to get ahead of competitors?
Do you feel that your competitors are enjoying a better experience and functionality than you?
If you answer yes to any of these questions, it is time to consider a platform switch if you want to remain competitive.
If you answer yes to 3 or more, you should already be implementing it and accelerating the process to build a better business.
Best Online Store Platforms for Migration
At IT Consultis, we swear by open-source CMSs for their unlimited capabilities. However, we understand that some may find close-sourced platforms easier to work with. Below are 6 e-Commerce platforms we highly recommend you consider for your big move:
Shopify
Shopify is one of the most popular e-Commerce platforms globally. It ranked 5th place in terms of market share according to Statista in 2021. There are currently nearly 4 million live websites in operation thanks to Shopify.
This fully integrated eCommerce platform supplies users with tons of ready-made themes. Even those who are not very tech-savvy can easily customize or build a storefront from scratch using drag-and-drop boxes to match their aesthetic and functional needs.
In addition, Shopify also has an impressive in-house App Store providing over 1,200 plugins and apps. This enables users to install more automation tools to streamline the operation process, including SEO and marketing add-ons.
Shopify is also a fully hosted eCommerce platform. This means users do not have to pay extra fees for server maintenance or hosting.
But, keep in mind that Shopify is not free. You will have to pay for the themes you want to use, a transaction fee, as well as a monthly subscription fee. And, the more you pay, the more services there are to access.
For example, with the Advanced Shopify plan, more manual e-Commerce tasks can be automated to boost workflow efficiency.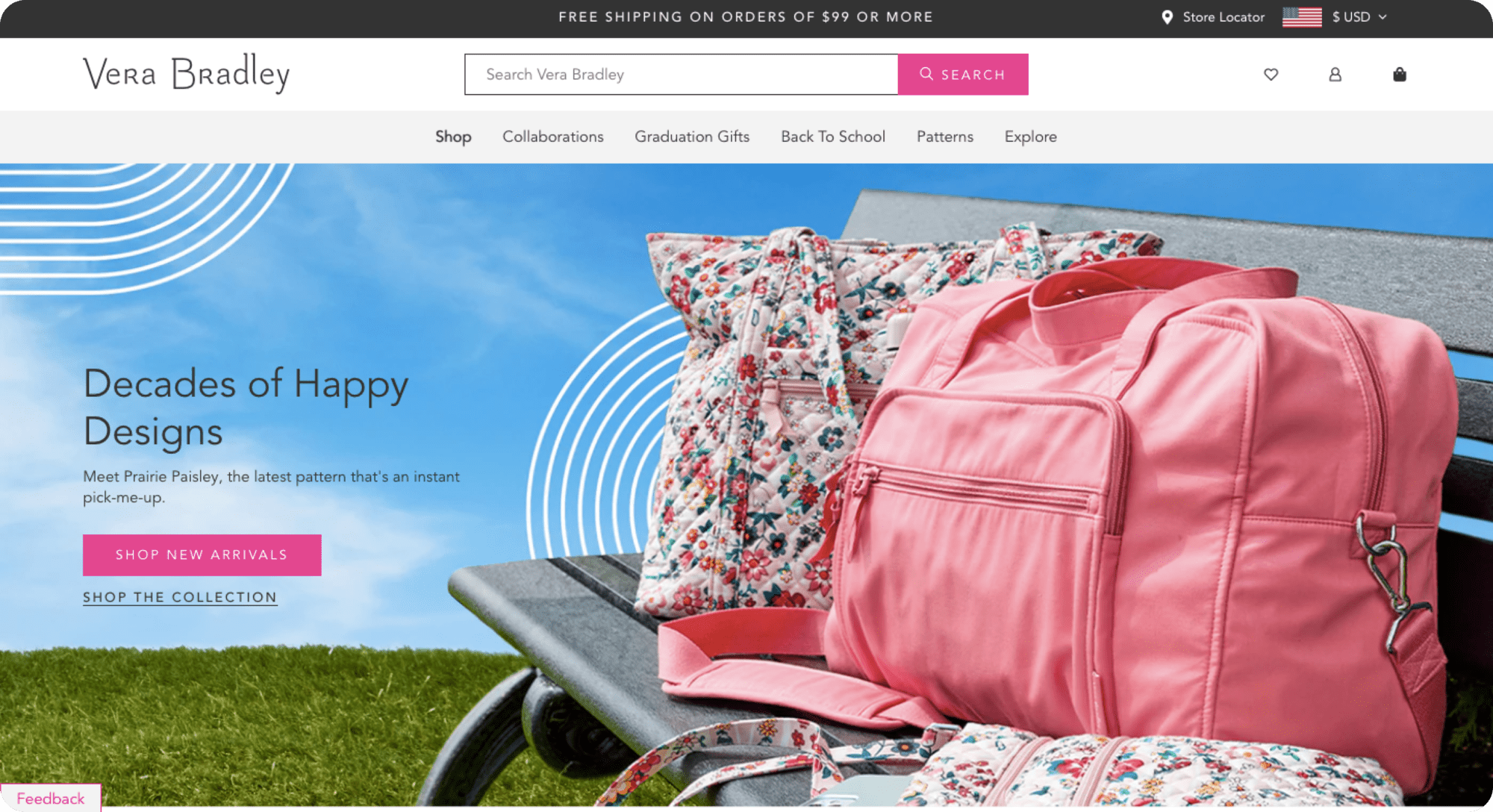 Overall, it is an excellent option for startups and SMEs with a low budget, a priority on ease of use, and a gradual expansion outlook.
WooCommerce
If you are familiar with WordPress CMS, you must have heard of WooCommerce. This is the most popular WordPress plugin that allows you to turn your website into an integrated e-Commerce platform.
In 2021, WooCommerce reportedly had the 2nd-largest global market share, losing to Squarespace by just 0.08%! Both of them accounted for over 50% of the eCommerce market.
And, according to BuiltWith, there are currently over 6.6 million live websites picking WooCommerce as their platform of choice.
One of the best parts about WooCommerce is that it is free. Thus, even though it is not as feature-packed as other alternatives, it is still a great option for those small businesses thinking of making their first platform switch.
There are a lot of ways to extend and customize the functionalities that it originally lacks, including extended payment options, shipping, and inventory management. These can be found in the endless list of plugins and themes that WordPress offers in its Plugin and Theme Directory.
But, keep in mind that some extensions do require payment. They should be taken into consideration prior to your move to avoid being surprised by these seemingly "hidden" costs later on.
At ITC, we have taken over the maintenance of the RS Components Southeast Asia website using WooCommerce. Our team significantly improved their eCommerce workflow and website structure, which ultimately boosted web traffic and enhanced user engagement.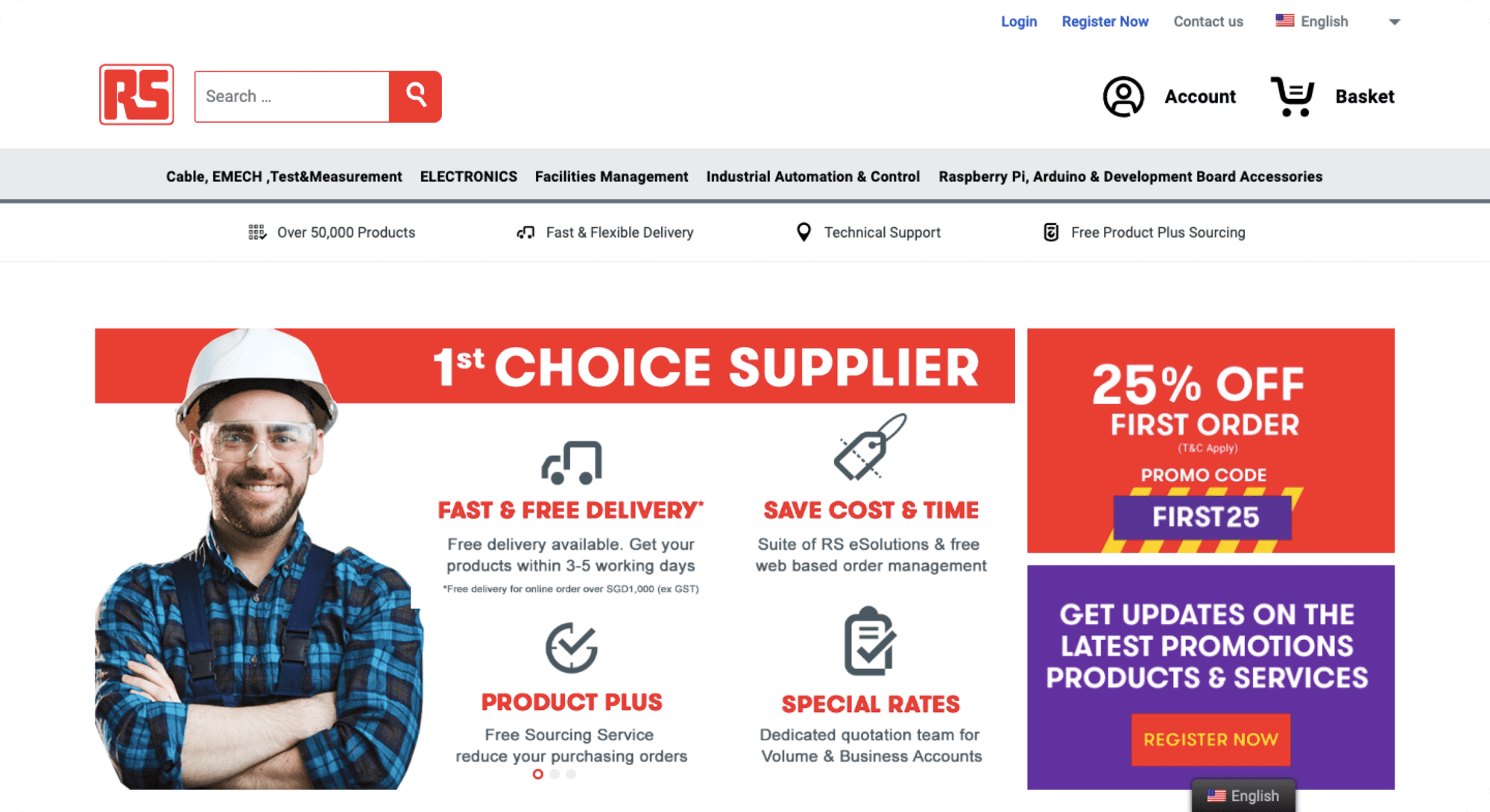 The brand's Southeast Asia website was deemed the highest quality and used as a reference for other regions' websites.
Magento
Magento is among the top 10 eCommerce platforms with the largest market share in the world in 2021, currently powering over 170,000 live websites.
Unlike WordPress, Magento is 100% specialized in e-Commerce solutions. It offers different levels of service depending on your business needs with tons of plugins and extra features that can be integrated. Thus, you can rest assured that there is something for everyone.
Another good thing is that, when plugins and extensions are not quite what you are looking for, custom-made extensions can also be programmed and implemented within Magento to ensure all your needs are met.
The only downside (cost-wise in the short term) is that being such a specialized platform, it really needs to be set up and developed by IT professionals. Magento is not the kind of CMS you can DIY and expect a 100% successful outcome.
Besides being scalable, it is also extremely flexible, customizable, and most importantly, stable.
Moreover, in 2020, it was among the top 3 platforms that observed the most merchant migrations! So, why shouldn't you consider it as well?
Particularly, if your target market is in China, you would know that hardly any of these common platforms are accessible there. But not Magento.
It is one of the top eCommerce solutions in Mainland China. This is evident in how global brands like H&M and Starbucks penetrated the Chinese market with websites built with Magento.
At ITC, we always highly recommend our clients to pick Magento for building their e-Commerce operations in China.
Notably, we have used Magento 2 as the backend framework to create a new powerful e-Commerce platform serving both B2C and B2B customers for Monbento, a French brand specializing in designing and distributing lunch boxes.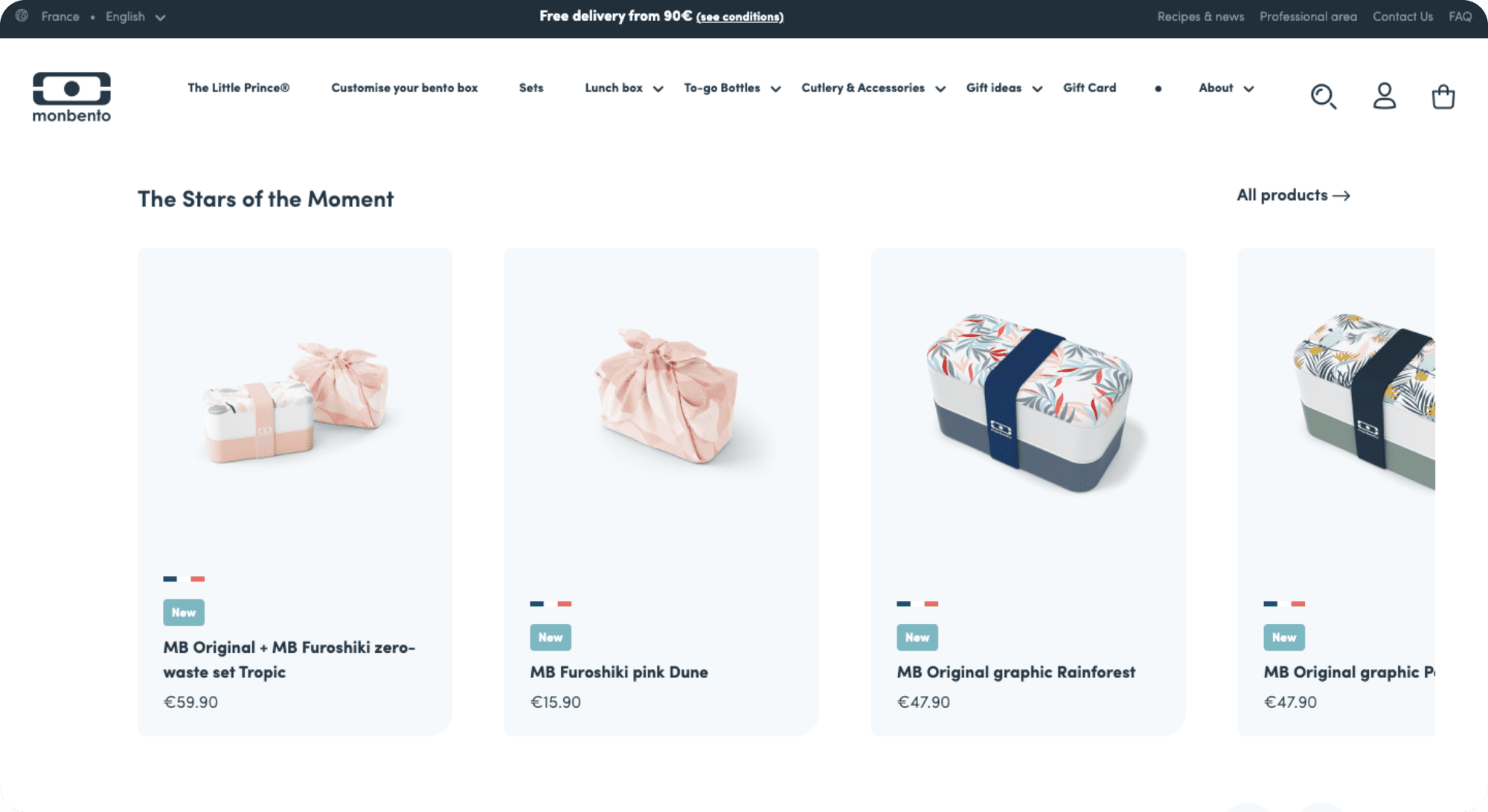 More in the consumer goods sector: ITC also used Magento to help the premium Asian shoe brand, Stella Luna, develop its conversion-oriented e-Commerce website.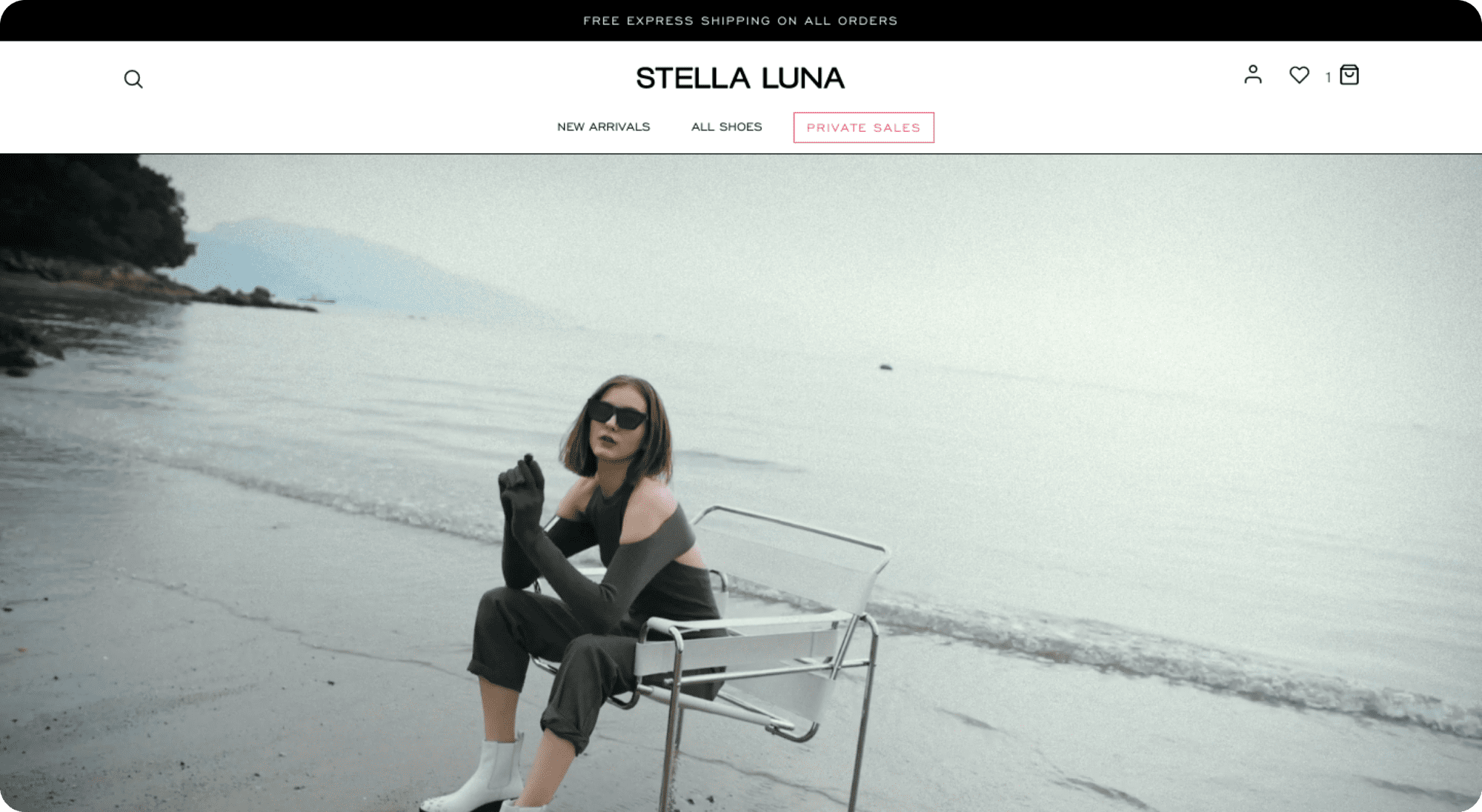 For a more comprehensive analysis of this platform, check out this deep dive into how exactly Magento can meet your eCommerce needs!
Oracle Commerce
Similar to Magento, Oracle Commerce is suitable for larger-level enterprises, although it is not as widely used as its counterparts. There are around 8,000 live websites currently using this platform, the majority of which are in the US.
Oracle Commerce offers an all-in-one cloud platform that comes with secure hosting services. It has easy-to-use functionalities and web design features that require minimal programming on the backend. This makes it very approachable for your employees.
One of the best things about Oracle Commerce is its A/B splitting tests. They allow users to easily test out marketing strategies to get the best results. And the winning variables can be automatically implemented in the real system.
However, when compared to Magento, Oracle Commerce cannot provide as much flexibility and compatibility. This is mainly because its proprietary code base requires expertise to implement and customize, which not only limits customizability but also incurs more costs over time.
Nonetheless, it can be a good choice for medium-large companies trying to migrate from a more restricted platform to gain more control and features to operate their expanding businesses.
And, if your target market is in China, you will be happy to know that Oracle Commerce is accessible here as well. In fact, the luxury fashion brand Lane Crawford built its Chinese website with this platform as well!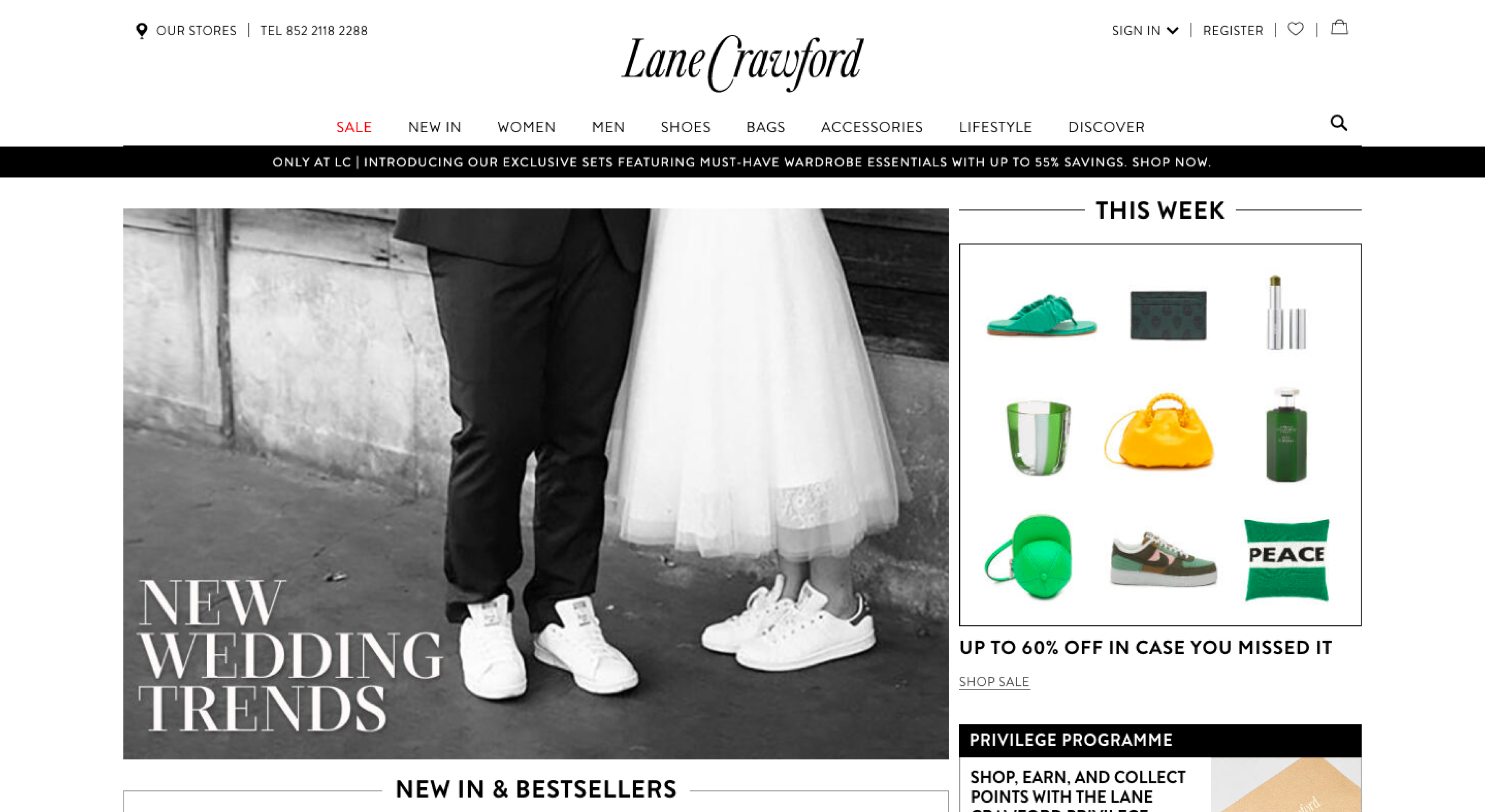 BigCommerce
BigCommerce is another alternative for enterprise-level brands looking to re-platform.
Although it has not reached the top 10 solutions with the largest market share in the world, its usage has been growing consistently since 2011. Today, over 50,000 live websites are using BigCommerce.
Similar to Shopify, BigCommerce is a SaaS solution that requires users to pay a monthly fee to use it. There are themes that the non-tech-savvy can make use of, while experts can adjust the HTML and CSS to customize the site further.
In addition, users can integrate a large range of payment gateways, including PayPal, into their online business.
And, for enterprise-level companies, the BigCommerce Enterprise plan enables users to build and maintain multiple versions of the store, create a tiered price list, and make unlimited API calls. You can also expect more extensive supporting services with data migration and account management.
Notably, there is no transaction fee imposed on any plan you pick.
The biggest drawback of this platform is its awfully limited and lackluster selections of themes and typefaces.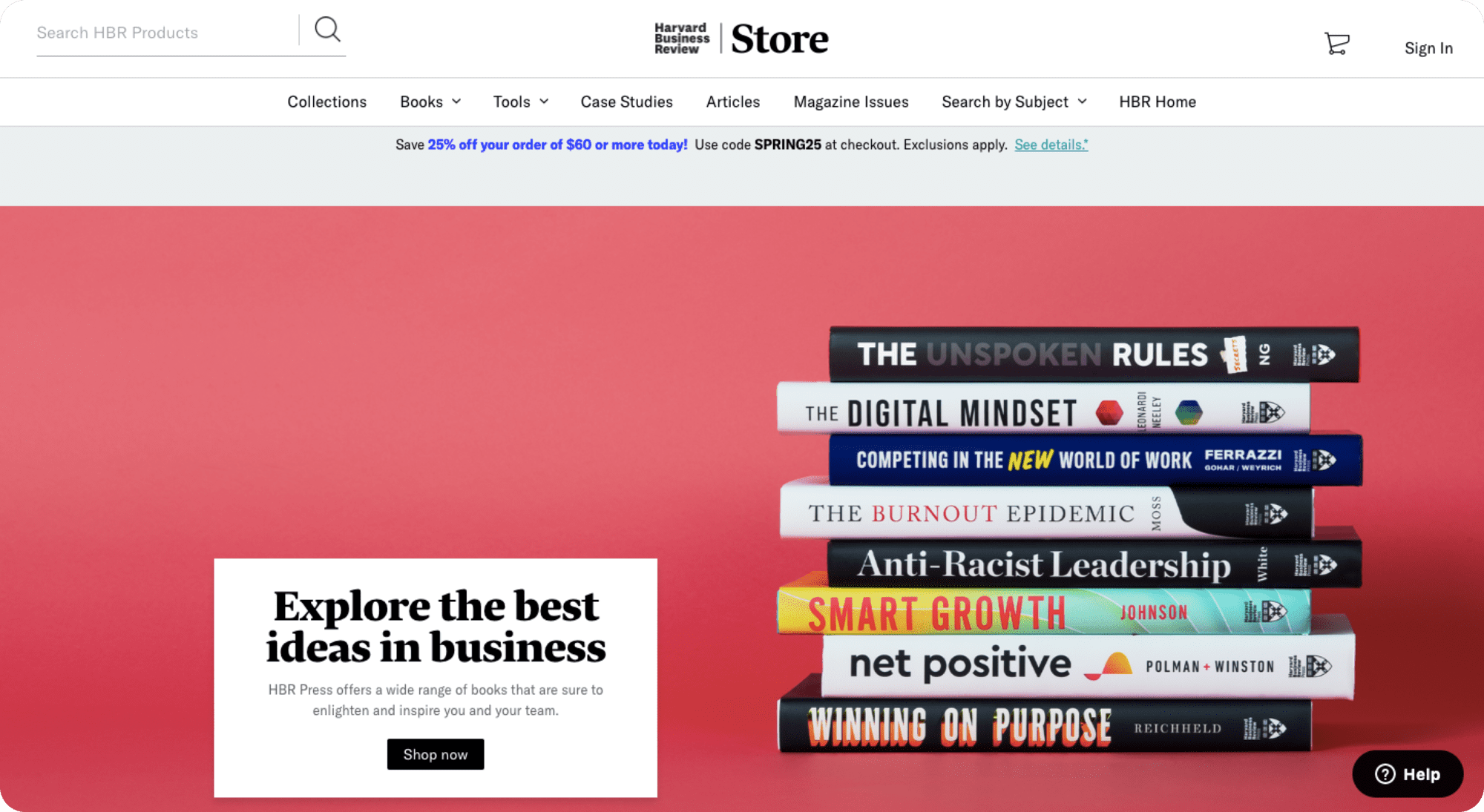 Salesforce Commerce Cloud
For even more advanced eCommerce needs, consider replatforming to Salesforce Commerce Cloud (SFCC). Although not many websites are using it (over 5,600 in 2022), many tech experts still consider it one of the most powerful eCommerce platforms in the market.
Why? Because it can unite the management of eCommerce, offline operations, and order management in one place.
For example, Michaels, one of the top DIY tools sellers in North America, reportedly utilizes SFCC for its website.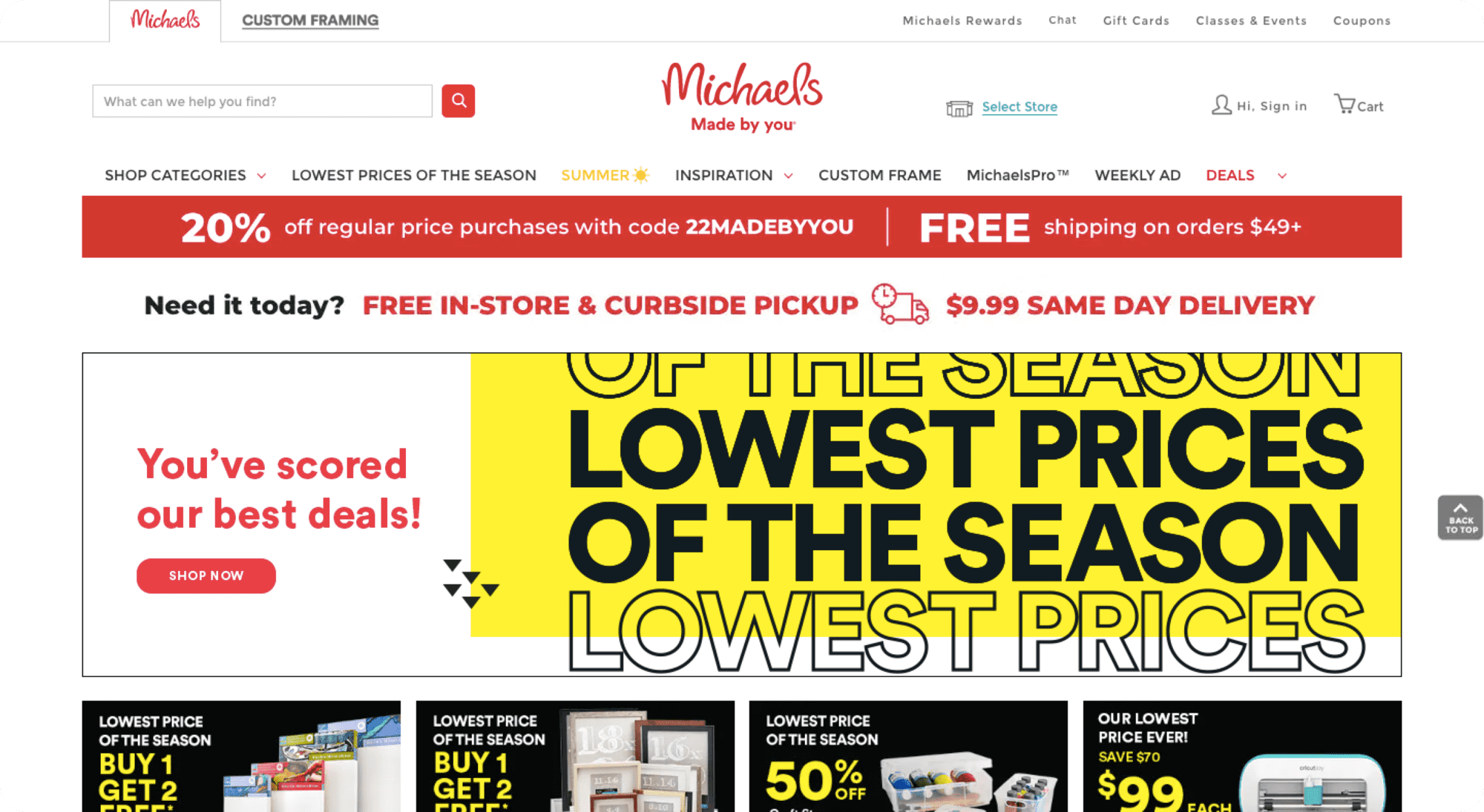 One of the most outstanding features that set Salesforce apart from all of the platforms listed here is its proprietary AI recommendation system - Einstein. This built-in technology offers tremendous help in personalizing each user's shopping experience via machine learning.
Additionally, SFCC enables advanced merchandising and catalog management which is especially helpful for companies in the fashion niche. This includes managing more complex offerings like subscriptions.
And one of the biggest reasons causing many to shy away from using Salesforce is its incredibly high price point. However, it is trying to offer more competitive pricing to become more accessible to smaller businesses as well.
Overall, although SFCC cannot offer as much flexibility as the open-source Magento, this SaaS solution is still a superb option for enterprise companies. More specifically, it best suits brick-and-click B2C companies that look for a way to manage and improve both online and offline business operations.
Ultimately, the option you choose will depend on your specific business needs and re-platforming objectives. Therefore, it is crucial to plan ahead and research how each option will fit your growing needs.
To Wrap Up
Your old e-Commerce platform might have been beneficial to you during the initial stages of your business, but sticking it out indefinitely might rob you of profit and your customers of a better experience.
Make sure to work with professionals in eCommerce migration services and do careful research and planning to mitigate any risk as much as possible.
The increase in traffic post-switch, the improved UX, and the increased conversion rate will ensure a good ROI. And the eCommerce replatforming move will be one of the greatest things you ever do to support your future business.
Need help with your digital replatforming journey?
IT Consultis is a digital transformation agency with over 10 years of experience in consulting and crafting tailor-made digital solutions for businesses in China, Asia, as well as other regions around the world.
Send ITC a message and we will help you figure out whether you need one, which platform should suit your business needs, and how to do it.
FAQs
How Long does it Take to Replatform?
Depending on the scope of work (how complex your website is), the replatforming process can take anywhere from 8 weeks to over a year to finish.
What are the Challenges with Replatform?
Budget overruns & restraint
Disruption to website structure & SEO
Poor scalability
Skill gaps
Data loss
Late on schedule
Internal resistance
Sources: