In this article, we'll delve into the latest developments in the growing synergy between two tech giants, Alibaba and Tencent, as they gear up for Double 11, one of China's most significant shopping events.
Table of Content
What is the Double 11 in China?
"Double 11" refers to China's Single's Day, falling on November 11th annually. It is also known as the largest online shopping event in China since its launch in 2009 by the Chinese eCommerce giant Alibaba, the parent company of Tmall and Taobao.
According to Syntun China, during the 11-day shopping extravaganza in 2022, the total gross merchandise value (GMV) of all major eCommerce platforms in China surpassed RMB 1 trillion ($137 billion) for the first time. Among the traditional eCommerce platforms, Tmall accounted for nearly 2/3 of the total sales.
However, in recent years, Alibaba has been experiencing the slowest growth rate ever during its annual Single's Day frenzy, with: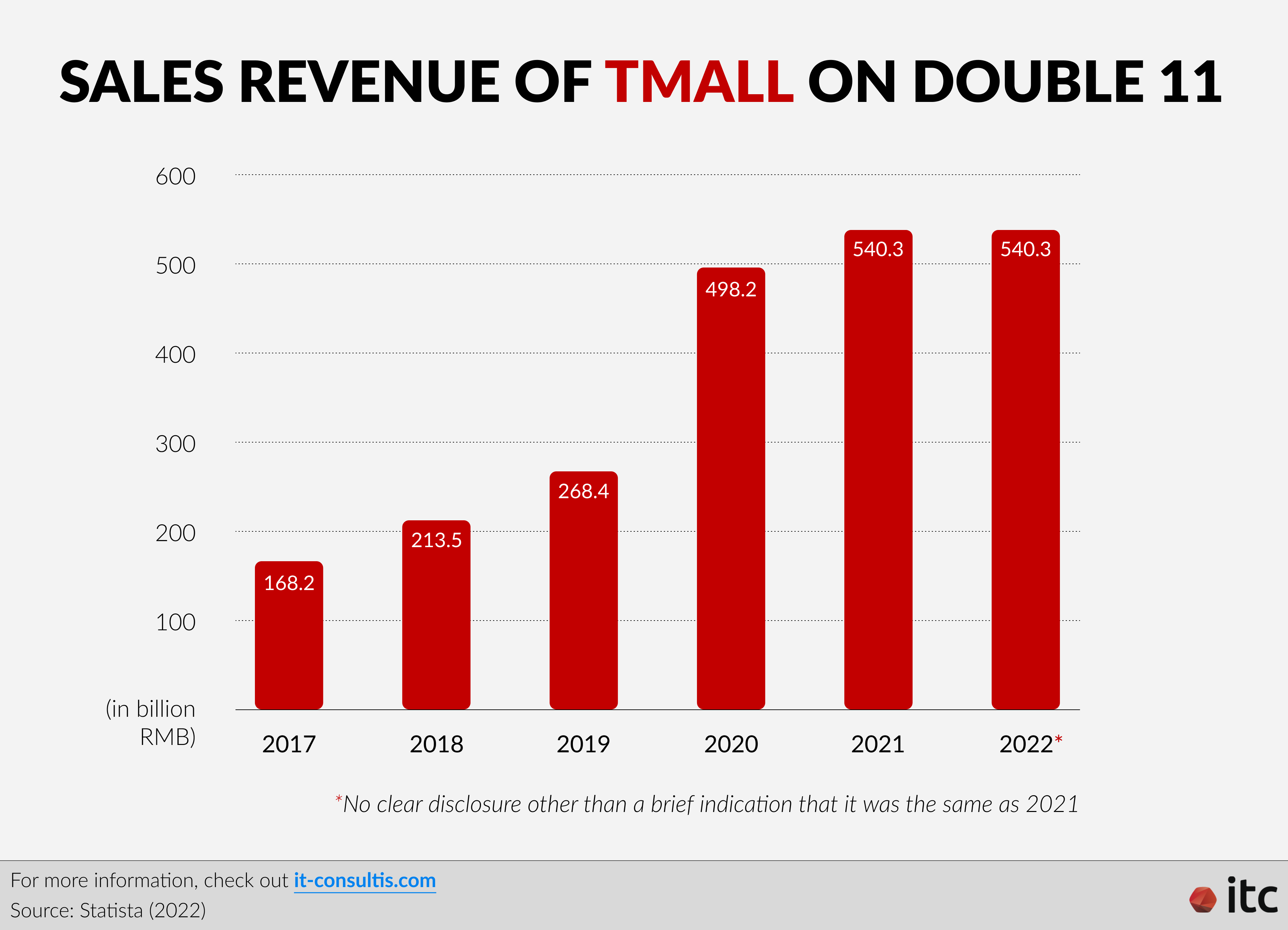 As more and more platforms (e.g., Pinduoduo, JD.com, Douyin) and brands join the game, the battle for customer attention is becoming intensely more competitive, especially on Public Traffic marketplaces.
What to Know about Tencent and Alibaba Interconnection
If you are new to China's digital landscape and social commerce market, here is a quick overview: it is mainly dominated by 4 tech giants "BATB" (Baidu, Alibaba, Tencent, and Bytedance), especially the second and the third.
While initially mirroring Western counterparts such as Google, Amazon, and Facebook, they have since evolved into "super-apps" offering a wide range of services, including social networking, e-Commerce, entertainment, payment, and more.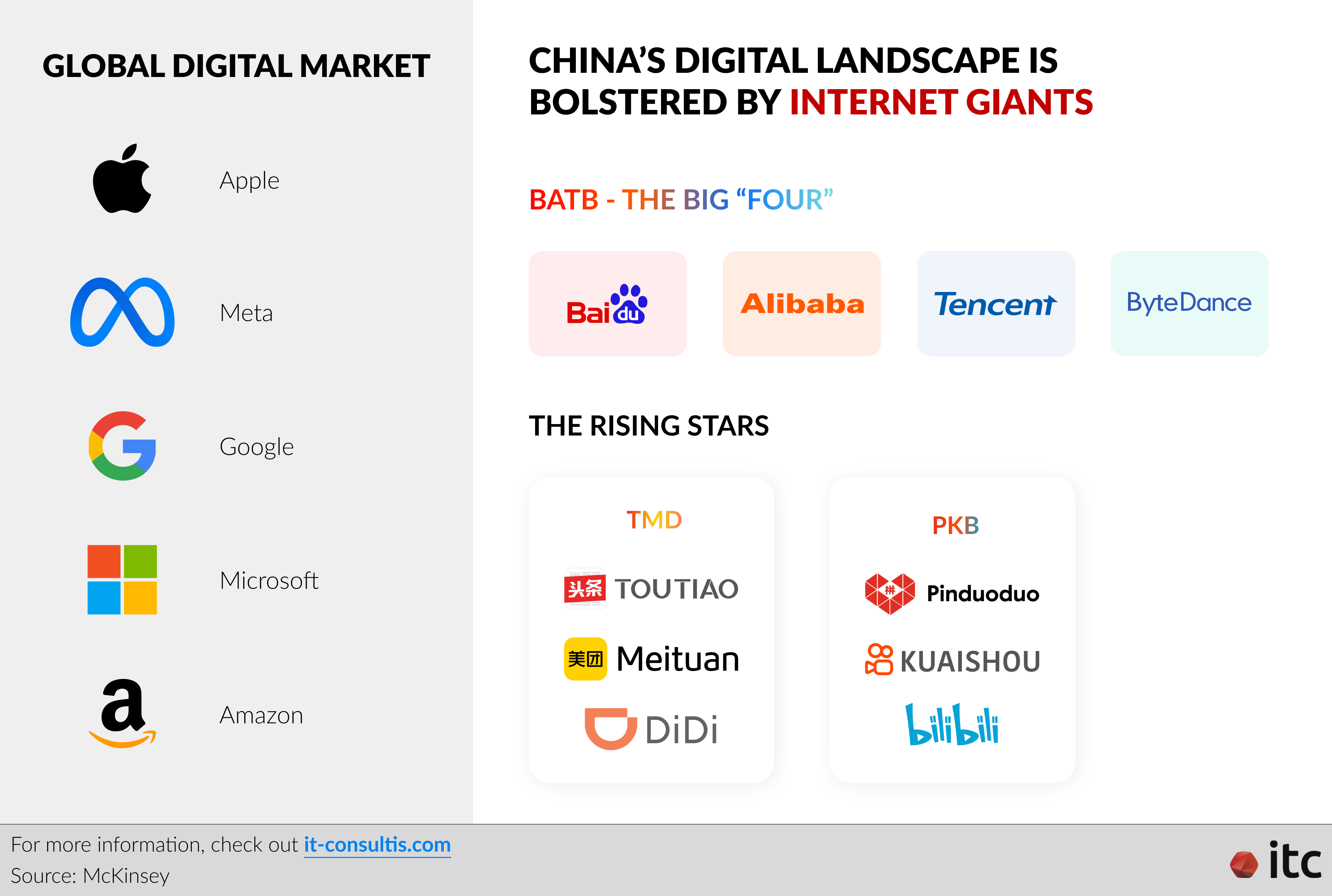 These platforms were "walled gardens" with their own separate ecosystems that minimized access to and interactions with one another.
However, as the Authorities have been pushing for a more interconnected China digital ecosystem and less monopolistic competition, since 2021, the walls have been slowly broken down to provide a better user experience.
Additionally, in light of the more complex China eCommerce space with more competitors than ever before, the tension between Alibaba and Tencent has somewhat eased, prompting them to explore more opportunities together:
Alibaba to fill the traffic gap by acquiring high-quality traffic from Tencent
Tencent to enhance its commercial offerings
Therefore, in the latest move in Alibaba and Tencent's collaboration:
WeChat Channels & Mini Programs Now Directly Link to Tmall & Taobao
By further dismantling the barriers between the tech giants' ecosystems, brands can now drive more direct traffic from WeChat's engaged user base to its key eCommerce channels, namely:
800 million monthly WeChat Channels video watchers
930 million monthly WeChat Mini Program users
780 million monthly WeChat Moments visitors
360 million daily WeChat Official Account article readers
Together with the simplified navigation to live broadcast rooms, ultimately, brands can expect to accelerate sales generation on Tmall and Taobao this "Double 11" 2023.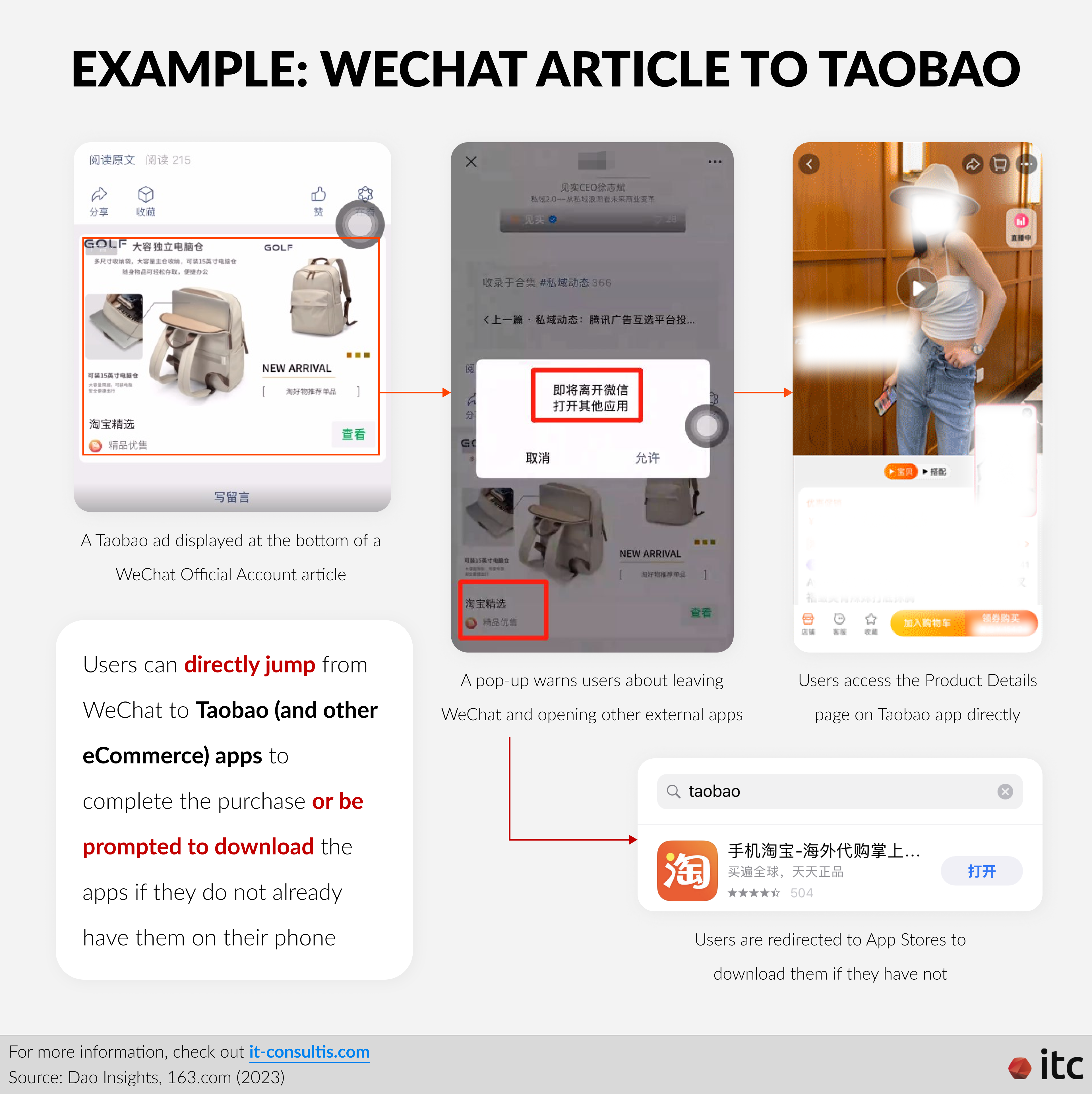 Implications for Brands – Data Collection & Return on Investment (ROI)
Nonetheless, more established brands need to be mindful of the loss of data ownership when redirecting users from a Private to a Public Traffic domain.
Less data also means brands would have less visibility into the entire user journey.